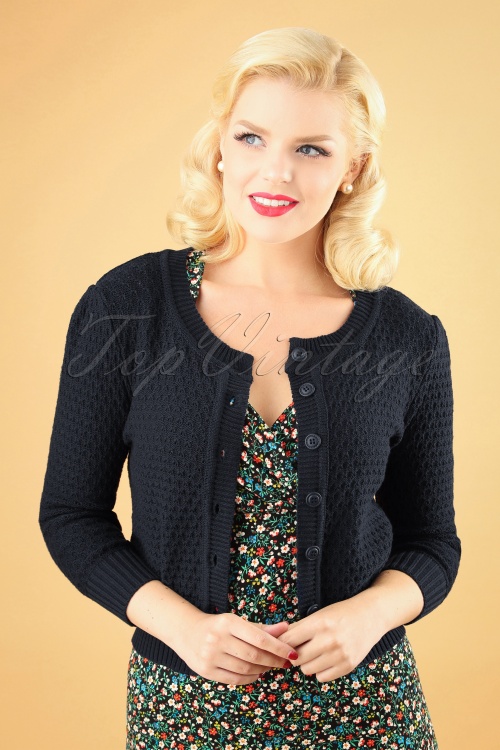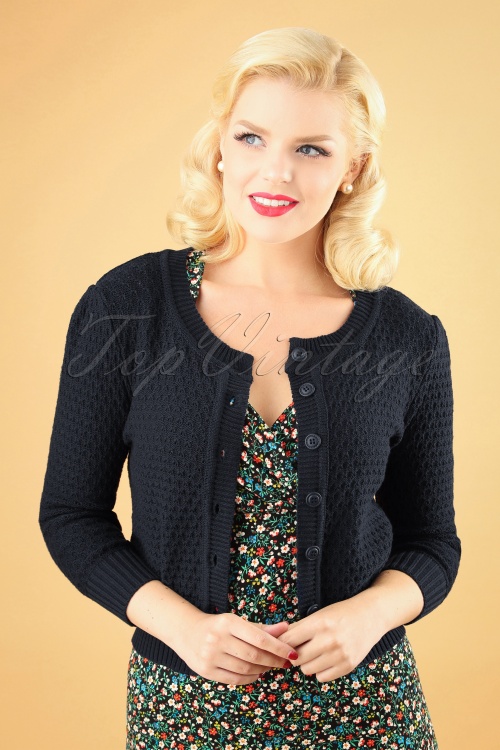 50s Jennie Cardigan in Navy
The combination possibilities are endless with this 50s Jennie Cardigan in Navy! Cardigans are often undervalued garments but let's change that. You can wear them open or closed and make it possible to enjoy your summery clothes on cold days as well. They do deserve some credit for that, don't they?! This versatile cardi features a classic cut with a round neckline, 3/4 sleeves and stretchy rib board for a beautiful fit. Made from a thicker yet lovely supple and stretchy, fine knitted navy blue cotton featuring a subtle check pattern. Jennie simply deserves a spot in your wardrobe, doesn't she?
Round neckline
3/4 sleeves
Stretchy rib board
Slightly shorter and therefor a perfect match with high waist items
Article nr.
26695
Handwash cold (don't leave it in the water)
Wash inside out
Do not dry clean
Do not tumble dry
Air-dry flat
Iron inside out on low temperature setting
Cardigan van prachtige kwaliteit ! Staat leuk bij alles. Kon niet kiezen que kleur, dus heb ze (bijna) allemaal gekocht ;)
Fabienne De Bie
&nbsp|&nbsp
2018-08-30 15:33:34
---
Wat een geweldig mooie jas! Mooie pasvorm (bij mij precies op maat), slank model, mouwen op prima lengte. Wat voor mij helaas te groot is is de kraag. Dit is dan ook de reden dat ik - met lichte pijn in het hart - de jas retour heb gestuurd.

De vestjes vind ik verschillend van pasvorm. Vorig jaar gekochte modellen maat S lijken dezelfde maat te hebben als de maat M welke ik nu heb besteld. Ook de twee maten M lijken een verschillende pasvorm te hebben. Lastig dus..

De petrol jurk past perfect en wat een fijne stof! Helaas vallen de lijnen op de buik dusdanig dat ze bij mij juist daar de nadruk op leggen, iets wat ik liever niet heb, dus ook retour.

De witte jurk? Verliefd op! Geweldige pasvorm, vrij zware katoenen stof met heerlijk twee zakken in de rok. Bij mij iets wijkend in de halslijn, maar de rest van de jurk is dusdanig fijn dat ik dat voor lief neem. Leuk te combineren met de vestjes die ik kocht!
M. de Heer
&nbsp|&nbsp
2022-09-06 11:09:14
---
Ja, der Herbst darf kommen, denn dank Topvintage bin ich bestens u schönstens eingekleidet! Die Hose von Miss Candyfloss ist der absolute Hammer!!! Der dicke Stoff fällt super u sie trägt nicht auf. Das orangefarbene Oberteil von Collectif habe ich schon in Grün, einfach ein Klassiker. Ein happy Halloween mit dem T-Shirt der illustren Grusel-Damen u dazu die passende Victor Brosche, ich schwelge. Ein grosses Danke wieder mal an euch!
Susanne
&nbsp|&nbsp
2021-09-17 16:57:01
---
Lekker zacht en degelijke kwaliteit. Niet te lang, dus een goede lengte om op kleedjes te dragen.
Evelien
&nbsp|&nbsp
2019-12-30 19:50:28
---
Voor de eerste keer besteld bij Top Vintage en is voor herhalingvatbaar!
Alles is met zorg ingepakt incl toffe give away, dus uitpakken is,al een feest op zich!
En de kleding staat mooi en zit comfortabel!
Vooral over de jumpsuite krijg ik veel complimenten!
Deze wel wat ingekort maar verder zo blij mee!

margreet berghout
&nbsp|&nbsp
2019-11-25 10:43:58
---
Voor het eerst besteld bij Top Vintage en wat was het een kadootje!
Keurig op aangegeven tijd bezorgd,mooi verpakt(met een give away!)en bovenal de kleding zit perfect en staat prachtig!
Krijg veel complimenten vooral over de jumpsuite!
Super blij mee,vul stiekum steeds mijn wishlijst aan want zeker weten dat ik mog eens bestel.
Jammer dat de winkel voor mij te ver weg is,al is dat voor mijn portomonee misschien beter! :-)


margreet berghout
&nbsp|&nbsp
2019-11-25 10:38:56
---
Dit is het derde truitje dat ik van deze serie koop, hiervoor had ik ook al de roze en de gele gekocht. Ik ben helemaal verliefd op deze truitjes. Het is de perfecte lengte voor op een kleed of rok - het eindigt net waar je heupen beginnen, zodat het je swing rok niet plat duwt. Het heeft ook een fijn patroon en zit heel goed.
Gwen Van der Smissen
&nbsp|&nbsp
2019-11-11 11:34:49
---
Wollig weich und Passform perfekt. Die dunkelblaue Farbe passt zu vielen Outfits und wird zu einem Lieblingsteil von mir.
Martina
&nbsp|&nbsp
2018-10-20 22:26:12
---
Von diesen schönen Cardigans kann frau nie genug haben, besonders wenn es kälter wird: angenehmes Material in tollen Farben und vielseitg kombinierbar. Sie sitzen schön auf Taille, bei 1,76 m.
Ich freu mich schön auf die kälteren Tage. :-)
Jutta
&nbsp|&nbsp
2018-10-14 15:04:47
---
De kleuren zijn in het echt valer dan op de website, ook het model valt tegen. Wellicht door mij verkeerd ingeschat, maar korter dan gedacht en veel breder dan gedacht. Hierdoor was zelfs de M aan de ruime kant en flateerde mij niet.
Dywen
&nbsp|&nbsp
2018-09-01 08:48:57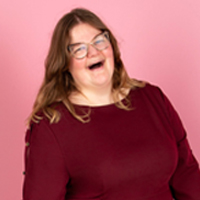 Response from Nicole

Beste Dywen, wat balen dat deze vestjes geen succes waren! We proberen de kleuren altijd zo realistisch mogelijk af te beelden, maar door verschil in pixels en/of beeldschermhelderheid kan de kleur in het echt soms toch afwijken. Onze excuses hiervoor! Mocht je de items willen retourneren, dan is dit uiteraard geen probleem en betalen we zo snel mogelijk het aankoopbedrag terug. Hopelijk vind je dan gauw een alternatief dat wél een perfecte match zal zijn ;-)
Groetjes,
Nicole
Klantenservice
---
Alles was geweldig zoals altijd!
Rokken passen perfect en zijn prachtig.

De vestjes zitten goed en zijn super schattig en ik heb al meerdere complimenten gehad over mijn tas; de kleur van de tas is in het echt nog mooier dan op de foto (en er past veel in).

Kortom, ik ben weer helemaal tevreden :)
Sanne
&nbsp|&nbsp
2022-09-15 20:04:46
---