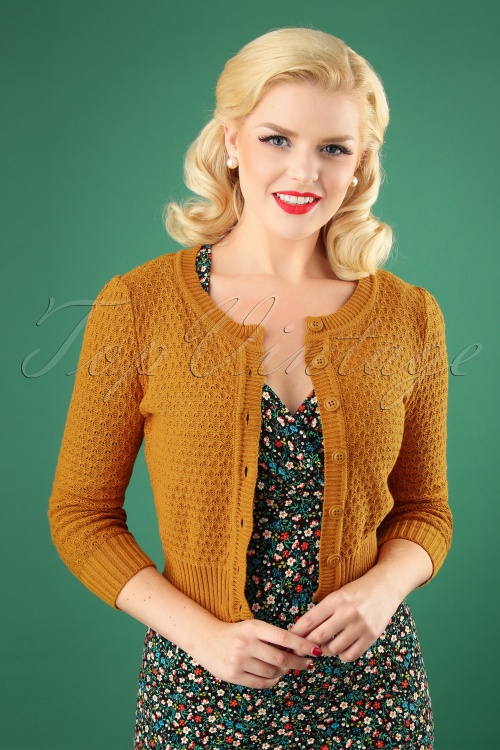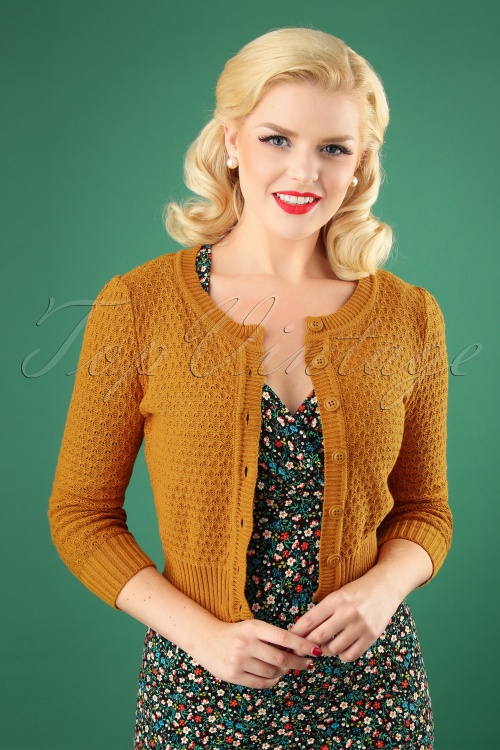 50s Jennie Cardigan in Bronze
The combination possibilities are endless with this 50s Jennie Cardigan in Bronze! Cardigans are often undervalued garments but let's change that. You can wear them open or closed and make it possible to enjoy your summery clothes on cold days as well. They do deserve some credit for that, don't they?! This versatile cardi features a classic cut with a round neckline, 3/4 sleeves and stretchy rib board for a beautiful fit. Made from a thicker yet lovely supple and stretchy, fine knitted bronze yellow cotton featuring a subtle check pattern. Jennie simply deserves a spot in your wardrobe, doesn't she?
Round neckline
3/4 sleeves
Stretchy rib board
Slightly shorter and therefor a perfect match with high waist items
Article nr.
26691
Handwash cold (don't leave it in the water)
Wash inside out
Do not dry clean
Do not tumble dry
Air-dry flat
Iron inside out on low temperature setting
Heel mooi zacht vestje, mooi patroon in het breisel, en geweldige warme kleur! Heel fijn dat het van katoen is, want dat vind je niet gauw meer. Heb wel bewust voor mt M gekozen, ondanks mijn 36/38. Liever ietsje losser, dan dat ik mij een opgestopt propje voel. Mouwen sluiten losjes aan, in de taille is het wel iets losser om het lijf. Maar zou het dicht kunnen dragen, zonder dat de knopen op spanning staan. Qua lengte valt het bij mij net op de rand van de broek, ik ben 1.63 en draag geen hoge taillebroeken. Blij met deze aankoop, ik hoop nog een ander kleurtje te mogen scoren.
Annemiek Verstappen
&nbsp|&nbsp
2018-11-09 07:13:35
---
Wauw, ik heb 2 uur geleden een bestelling gedaan voor een event komende vrijdag. Krijg ik net een mailtje van PostNL, het pakketje staat klaar. Helden!!
Manon
&nbsp|&nbsp
2018-11-06 21:54:52
---
Door de reviews heb ik een kleinere maat besteld, daardoor zijn de pofmouwtjes gelukkig ook kleiner en het lijfje wat strakker. Alleen laat de band langs de hals op verschillende plaatsen los. Gelukkig kan dat gerepareerd worden.
Marylou
&nbsp|&nbsp
2018-11-06 07:37:29
Response from Customer service

Beste Marylou, wat ontzettend balen dat de band loslaat, dit mag natuurlijk niet gebeuren... Mijn excuses hiervoor! Ik zal je meteen een mailtje sturen met een aantal oplossingen. Tot zo!

Groetjes,
Auke
Klantenservice
---
Eindelijk een miss candyfloss swing in een paarse tint! Keek er naar uit.
En prachtig ontwerp weer. Mooie plooitjes bij de taille die buikjes verdoezelen. Niet superswing maar wijd genoeg. Taille vond ik wel wat strak. Heb s genomen met taille 74cm. Zou niet meer moeten zijn denk ik.
Vestje heel mooie mosterdkleur. Heb ze in meer kleuren. Mooi simpel vestje, en fijn 100% katoen!
Iris
&nbsp|&nbsp
2018-10-28 17:35:19
---
Von diesen schönen Cardigans kann frau nie genug haben, besonders wenn es kälter wird: angenehmes Material in tollen Farben und vielseitg kombinierbar. Sie sitzen schön auf Taille, bei 1,76 m.
Ich freu mich schön auf die kälteren Tage. :-)
Jutta
&nbsp|&nbsp
2018-10-14 15:04:47
---
Sowohl die Qualität, als auch der Schnitt und die wundervollen Farben überzeugen. Der Herbst kann kommen!
Annika Bautsch
&nbsp|&nbsp
2018-09-04 16:49:29
---
Helaas, de kleuren zijn prachtig (had peacock en de mosterdgele besteld) maar de pasvorm is echt slecht. De mouwen hebben plooitjes bij de schouders die je niet ziet op de foto, het zijn pofmouwtjes. Verder vallen de mouwtjes gewoon mooi strak maar is het lijfje wijd en zelfs een beetje bloezend. De voorpanden hebben verschillende breedtes: van hals naar schouder gemeten mat ik aan de ene kant zes centimeter en aan de andere kant zeven. Heel jammer dat ik ze moest terugsturen.
Wineke de Boer
&nbsp|&nbsp
2018-09-01 12:13:31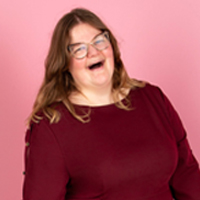 Response from Nicole

Beste Wineke, wat jammer dat de pasvorm zo tegenviel! We hebben inmiddels mailcontact gehad en hopelijk vind je gauw een mooie vervanging!
Groetjes,
Nicole
Klantenservice
---
De kleuren zijn in het echt valer dan op de website, ook het model valt tegen. Wellicht door mij verkeerd ingeschat, maar korter dan gedacht en veel breder dan gedacht. Hierdoor was zelfs de M aan de ruime kant en flateerde mij niet.
Dywen
&nbsp|&nbsp
2018-09-01 08:48:57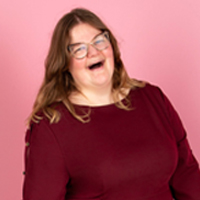 Response from Nicole

Beste Dywen, wat balen dat deze vestjes geen succes waren! We proberen de kleuren altijd zo realistisch mogelijk af te beelden, maar door verschil in pixels en/of beeldschermhelderheid kan de kleur in het echt soms toch afwijken. Onze excuses hiervoor! Mocht je de items willen retourneren, dan is dit uiteraard geen probleem en betalen we zo snel mogelijk het aankoopbedrag terug. Hopelijk vind je dan gauw een alternatief dat wél een perfecte match zal zijn ;-)
Groetjes,
Nicole
Klantenservice
---
Superbe gilet dans une belle couleur automnale. Épais juste comme il faut, j'apprécie les manches trois quarts.
Daphnée
&nbsp|&nbsp
2018-08-29 15:21:30
---
Tolle Weste mit super Strickmuster, angenehmes Material für den Herbst und Winter. Länge genau richtig für Kleider, Röcke und Hosen mit hoher Taille. Größe L passt bei Größe 40 und mehr Oberweite. Schöner lockerer Pulli, reicht mir in M. Super Service, weiter so!
Ulrike Schott
&nbsp|&nbsp
2018-08-19 18:10:09
---
Schöner Cardigan mit guter Passform (etwas locker in S, aber noch okay). Das Material ist in Ordnung, etwas dickerer Stoff mit recht grobem Strickmuster wie abgebildet. Schönes Kombiteil n einer tollen Farbe!

Christina
&nbsp|&nbsp
2018-08-11 18:04:31
---
Het gele vestje past perfect! Met zelf maat 36/38 voor maat S gekozen en prima te dragen. Het winterse truitje besteld in maat M. Opnieuw: perfecte pasvorm, mooie lengte. De jurk besteld in maat M. Met het uit de verzendzak halen schrok ik van een maat EUR 40 en 12 op de verpakking, maar toch gepast. Wat een prachtige en vooral perfecte pasvorm! Zo mooi.. Helaas heb ik om persoonlijke redenen (lange rits op de rug en voor mijn smaak te brede halslijn) retour gestuurd, maar wel met pijn in het hart.
Kortom: wederom mooie items ontvangen!
Monique de Heer
&nbsp|&nbsp
2021-12-21 18:21:15
---
Farbe und Material sind sehr schön, leider hat der Cardigan Puffärmel, die die Schultern extrem breit erscheinen lassen. Leider sieht man sie auf dem Foto nicht, sonst hätte ich den Cardigan nicht bestellt. Da ich darin aussehe wie ein Holzfäller und nicht wie eine elegante Lady, geht das Teil zurück.
Lisa
&nbsp|&nbsp
2020-10-06 09:05:35
---
Mooi en praktisch. Verschillende kleuren en mouw lengtes en langere en kortere lijfjes. Lekker warm en zacht. Mooi voor op rokken en jurken of een klassieke broek met hoge taille.


Gerda Pastoor
&nbsp|&nbsp
2020-10-01 20:16:22
---
nl
Helaas niet mijn model
De eerste keer dat ik iets van TopVintage terugstuur. Hele leuke vestjes, maar te krap bij de borst, te ruim bij de schouders (de pofmouwtjes hangen halverwege mijn bovenarmen) en te ver over mijn heupen om op een volle rok te dragen.

Met andere woorden: niet zo geschikt voor een (vol) zandloperfiguur met een grote cupmaat en een korte torso. Maar waarschijnlijk hardstikke leuk met een langer, rechter figuur. Kleuren en breisel zijn prachtig.
Suzanne
&nbsp|&nbsp
2020-09-27 10:44:27
---
Weer zo blij met deze prachtige items!
De schoenen zitten heerlijk, zowel met als zonder sokken. Voelen soepel aan en loopt stevig, echt heel fijn. Krijg veel complimenten over de schoenen.
De shirtjes vallen heel mooi en de maat klopt precies.
De vestjes zijn heel fijn om zowel open als dicht te dragen. Zien er heel mooi uit, netjes afgewerkt, goede kwaliteit en mooie kleuren.


Fara Chanlo
&nbsp|&nbsp
2020-09-24 20:36:49
---
Il est magnifique, belle couleur, il sera parfait cet automne ! taille normalement
AMELIE
&nbsp|&nbsp
2020-08-19 15:51:19
---
weer helemaal tevreden
Mila
&nbsp|&nbsp
2018-11-09 11:38:15
---
de
Das Kleid ist der Hammer
ich wollte es gar nicht mehr ausziehen und kann es kaum erwarten es mal auszuführen. Und das passende Jäckchen, habe dieselbe auch schon in andere Farben.
Silvia
&nbsp|&nbsp
2018-11-09 10:04:07
---
Wat een prachtige rokken! Het motief is heel erg stijfvol. Ik was bang voor de stof, statisch of goedkoop, maar echt geen van beiden. Prachtige elegante rok. Vanwege alle reviews over de maattabel heb ik twee maten besteld, voor mijn tailemaat (96) zou ik tussen 2xl en 3xl moeten zitten. Xl zit in de taille en 2xl wat lager, 3xl zou echt te groot zijn geweest.

Het vestje is heel mooi en heeft een klein pofmouwtje (jeeh) de stof ziet er rijk uit. De kleur is prachtig.
Thessa Koorenhof
&nbsp|&nbsp
2022-01-21 20:03:02
---
Volledig verliefd op mijn nieuwe outfit!
Jurk zit als gegoten, heel comfortabel. Truitje een maatje minder genomen, zoals hier en daar voorgesteld, en past perfect.
Schoenen zitten heel comfortabel, zelf voor iets bredere voeten zoals die van mij ?
Juweeltjes maken het af
Supersnelle levering! ❤️
Sofie
&nbsp|&nbsp
2022-01-21 10:40:24
---