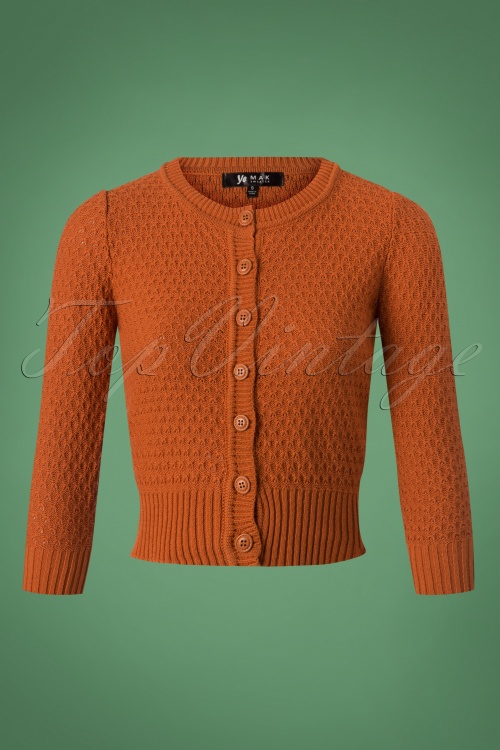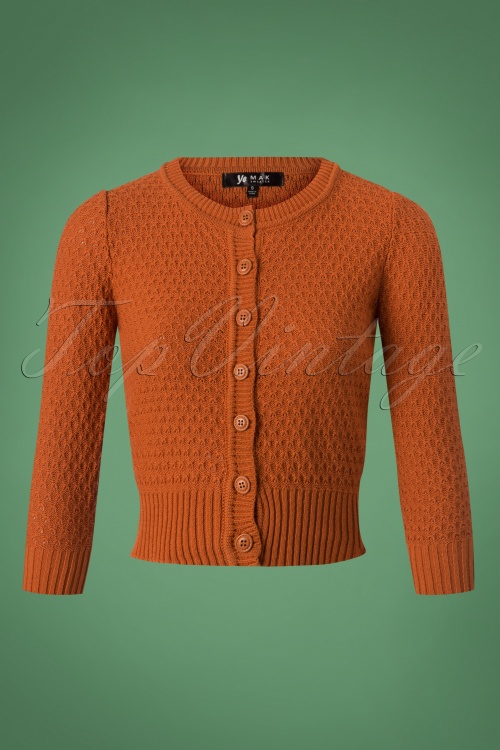 50s Jennie Cardigan in Dusty Orange
The combination possibilities are endless with this 50s Jennie Cardigan in Dusty Orange! Cardigans are often undervalued garments but let's change that. You can wear them open or closed and make it possible to enjoy your summery clothes on cold days as well. They do deserve some credit for that, don't they?! This versatile cardi features a classic cut with a round neckline, 3/4 sleeves and stretchy rib board for a beautiful fit. Made from a thicker yet lovely supple and stretchy, fine knitted dusty orange cotton featuring a subtle check pattern. Jennie simply deserves a spot in your wardrobe, doesn't she?
Round neckline
3/4 sleeves
Stretchy rib board
Slightly shorter and therefor a perfect match with high waist items
Article nr.
26692
Handwash cold (don't leave it in the water)
Wash inside out
Do not dry clean
Do not tumble dry
Air-dry flat
Iron inside out on low temperature setting
Alweer fantastisch snelle levering, keurig opgevouwen en zoals altijd een geweldige pasvorm.
Love it
W
&nbsp|&nbsp
2020-09-08 14:11:55
---
Ik vind deze cardi's fijn omdat ze van een dikkere kwaliteit zijn, ik draag ze aansluitend of losser, kan beiden, ik heb ze in verschillende maten gekocht.
Ik wil ze bijna allemaal, helaas niet voorradig nu, dus op de 'tip mij' lijst :-)
Alweer tevreden! xxx
Ilse
&nbsp|&nbsp
2019-10-01 15:32:46
---
Ik vind deze cardi's fijn omdat ze van een dikkere kwaliteit zijn, ik draag ze aansluitend of losser, kan beiden, ik heb ze in verschillende maten gekocht.
Ik wil ze bijna allemaal, helaas niet voorradig nu, dus op de 'tip mij' lijst :-)
Alweer tevreden! xxx

Ilse
&nbsp|&nbsp
2019-09-26 15:22:58
---
Ik heb een vestje, een truitje en een rok ontvangen. Goede pasvorm.
Ik kreeg de rits van de rok niet dicht bij het aantrekken, dan zat de voering er tussen. Dat heb ik zelf inmiddels verholpen. Voor de rest top kleding!
Susanna
&nbsp|&nbsp
2019-09-12 13:03:48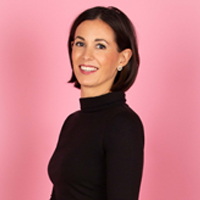 Response from Sylvia

Beste Susanna, super dat je zelf een oplossing hebt wist te vinden voor de rits! Mocht je in de toekomst tegen een soortgelijk probleempje aanlopen, aarzel dan niet om met ons team van de Customer Service contact op te nemen. Wij zijn altijd bereid om met je mee te kijken naar de beste oplossing! :-)
Groetjes,
Sylvia
Klantenservice
---
De Cardigan heeft zo'n mooie kleur!
De top is ook mooi en zit fijn :)
Leonie
&nbsp|&nbsp
2019-03-05 18:18:42
---
ik heb deze prachtige jurk gecombineerd met het vestje in dusty orange, heel speciaal en wat een mooi effect, de jurk voelt alsof hij voor mij op maat is gemaakt, het blauwe vestje past
perfect, heerlijk zachte kwaliteit.
Nadine Thyssen
&nbsp|&nbsp
2019-02-19 14:54:10
---
de
Lange darauf gewartet....
....bis dieser Cardigan wieder verfügbar war. Und es hat sich definitiv gelohnt.
Farbe, Passform, Preis und nicht zuletzt der Service dieses Shops..... perfekt!
Heike Schmidt
&nbsp|&nbsp
2018-12-27 19:31:13
---
Ich liebe diese Farben! Besonders im Herbst/Winter. Der Jupe ist sehr bequen (habe auch den grünen) und chic und legère zugleich. Das Jäckchen macht einfach Laune. Grössenangaben stimmen bei beiden Items jeweils überein.
Isabelle Koller
&nbsp|&nbsp
2018-12-18 08:38:27
---
de
Vintage chic 50s Rosie Swing dress
Bei der Bestellung war ich erst ein wenig skeptisch,da es am Bild ein wenig langweilig wirkt. Aber ich suchte etwas für den Alltag. Als ich es zu Hause angezogen habe war ich begeistert. Angezogen zieht es überhaupt nicht langweilig aus. Es wirkt einfach und trotzdem sehr schick. Die Größe nach Angabe passt perfekt. Es macht eine super Figur und der großzügige Ausschnitt ist das i-Tüpfelchen . Angenem etwas schwerer Stoff. Perfektes Winter-Alltags-kleid. Man zieht es morgens an und falls man abends noch zum Essen gehen möchte , peppt man einfach Frisur und Schmuck auf und schon ist man ausgehfertig. Die Strickjäckchen sind auch wunderschön. Das grüne Kleid etwas knapp,eine Nummer größer war es perfekt.
Kathleen Abart
&nbsp|&nbsp
2018-11-19 08:05:17
---
Wunder schöne Farbe und toller Schnitt. Ein Punkt Abzug da das Material etwas kratzig ist
sonja Donnenwirth
&nbsp|&nbsp
2018-08-30 17:21:04
---
nl
'Lovely maar 'gelukkig' (voor de bankrekening) retour
De korte vestjes zijn heerlijk! Het roestbruine bleek me niet te staan maar is wel mooi herfstig, en de peacock is echt mooier dan ik had verwacht. Ik kon niet alles uit mijn bestelling houden dus 'gelukkig' bleek dat het korte model mij toch niet zo fantastisch staat, en ik momenteel ook geen jurkje in de juiste kleur heb.

Het glitterige truitje is ook prachtig, heel mooi van kleur, sluit goed aan (maakt slank!) en met een mooi subtiel gouddraadje.
Helaas heb ik de ervaring dat ik iets te 'lomp' ben om zulke truitjes lang mooi te houden en vind ik het te duur om na een paar keer dragen/wassen in de kast te laten hangen omdat het glitterdraadje overal uitsteekt.. Daarom mag die ook terug, voor de voorzichtigere dames ;).

De schoentjes zijn leuk! Eindelijk mooie groene pumps, en ze zitten prima!
Taya van Liempd
&nbsp|&nbsp
2018-08-13 16:57:08
---
Kleur en motiefje zijn geweldig. Materiaal is iets stugger dan verwacht.


Jacobien
&nbsp|&nbsp
2018-08-12 13:11:58
Response from Customer service

Beste Jacobien, wat goed om te horen dat de kleur en het motiefje goed bevallen ;-) Mocht je de stugheid toch vervelend blijven vinden, mag je de Cardigan natuurlijk retourneren. We zullen dan het aankoopbedrag meteen aan het terugbetalen!

Groetjes,
Auke
Klantenservice
---
Schöner Cardigan mit guter Passform (etwas locker in S, aber noch okay). Das Material ist in Ordnung, etwas dickerer Stoff mit recht grobem Strickmuster wie abgebildet. Schönes Kombiteil n einer tollen Farbe!
Christina
&nbsp|&nbsp
2018-08-11 14:59:16
---
Geweldige rok!! Valt mooi en is lekker warm. Ik ben verliefd!! Dat ze zakken heeft maakt het nog beter! 2 Shirtjes erbij besteld, de donkerblauwe past er het beste bij, voor mijn gevoel, dus de roest oranje gaat retour. (Net een andere tint oranje als in de rok)
Het vestje viel lichter uit kwa kleur en vond ik er persoonlijk niet zo mooi bij passen dus deze helaas ook retour maar omdat deze met de lengte wel top was komt er waarschijnlijk wel een andere kleur. ;)
Al met al zeker geslaagd en heel blij mee!!
Iris
&nbsp|&nbsp
2022-09-27 13:19:25
---
Wat ben ik verliefd op deze prachtige vestjes!! Ik had ze al in bijna alle kleuren van de regenboog voor deze zomer en nu de mooi warme herfstkleuren. Passen op veel van mijn vintage jurken! Met de pofmouwtjes, heel tof! Was ze echt op handwas programma, zo blijven ze mooi zacht! In love!
Anneke
&nbsp|&nbsp
2021-09-11 08:00:03
---
nl
Mooi, maar let op de schouders
Mooie kleur die precies past bij een herfstjurk van TopVintage. Let wel op dat als je brede schouders hebt en hier niet de nadruk op wilt leggen, dat dit model niet zo mooi is. Dat komt deels door het korte ronde halsje en door de iets gepofte schouders. Door mijn lange haar valt dat niet zo op.
Amber
&nbsp|&nbsp
2021-08-08 13:58:37
---
The knitted cotton is a nice soft quality. I was not 100% on the colour, I had hoped it was more of a rust colour but its more bleak/powder. Still a nice cardigan.
Signe
&nbsp|&nbsp
2021-03-03 16:29:39
---
Très contente de mon achat. Gilet qui tombe bien, confortable et total look vintage avec, j'adore.
Céline
&nbsp|&nbsp
2021-01-15 12:13:14
---
Dit vestje is van een mooie kwaliteit met een zeer warme kleur. De structuur is iets dikker dan een gewoon katoen vestje maar zeer aangenaam om te dragen. Normaal zou ik Xl besteld hebben maar was niet meer beschikbaar en dus large besteld en deze is dan ook zeer goed van maat. Zo blij met dit vestje!!!
Katia
&nbsp|&nbsp
2020-11-17 05:52:10
---
Net weer pakketje gekregen van jullie super mooi truitje, mooie pasvorm ben er weer superblij mee!!!! Orange vestje voor mij te kort. Materiaal is wel erg mooi
Annelies Brunott
&nbsp|&nbsp
2020-11-04 14:55:46
---
nl
Mooi maar de kleur valt tegen
Helaas is de kleur veel lichter dan op de foto, bijna een soort terracotta. Niet het herfstig oranje waar ik op hoopte, hij gaat terug. Wel een mooi vest verder, dus jammer!
Dominique
&nbsp|&nbsp
2020-09-30 17:37:10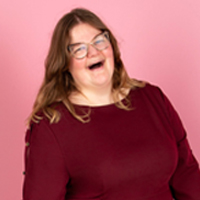 Response from Nicole

Beste Dominique, wat jammer dat de kleur je tegenviel! Hopelijk vind je gauw een mooi alternatief dat wel perfect is voor de herfstdagen ;-)
Groetjes,
Nicole
Klantenservice
---
nl
Helaas niet mijn model
De eerste keer dat ik iets van TopVintage terugstuur. Hele leuke vestjes, maar te krap bij de borst, te ruim bij de schouders (de pofmouwtjes hangen halverwege mijn bovenarmen) en te ver over mijn heupen om op een volle rok te dragen.

Met andere woorden: niet zo geschikt voor een (vol) zandloperfiguur met een grote cupmaat en een korte torso. Maar waarschijnlijk hardstikke leuk met een langer, rechter figuur. Kleuren en breisel zijn prachtig.
Suzanne
&nbsp|&nbsp
2020-09-27 10:44:27
---
Die Strickjacke passt genial zum bezauberndem Rock, Material der beiden Stücke ist genau nach meinem Geschmack, die Strumpfhose ist schön gemütlich, da der Bund über dem dem Bauch endet. Das Outfit macht richtig GUTE LAUNE beim Tragen!
Jill
&nbsp|&nbsp
2022-11-03 11:20:36
---