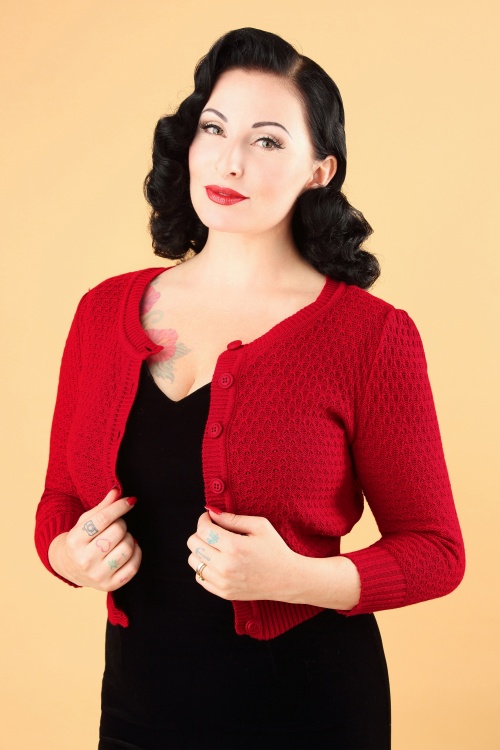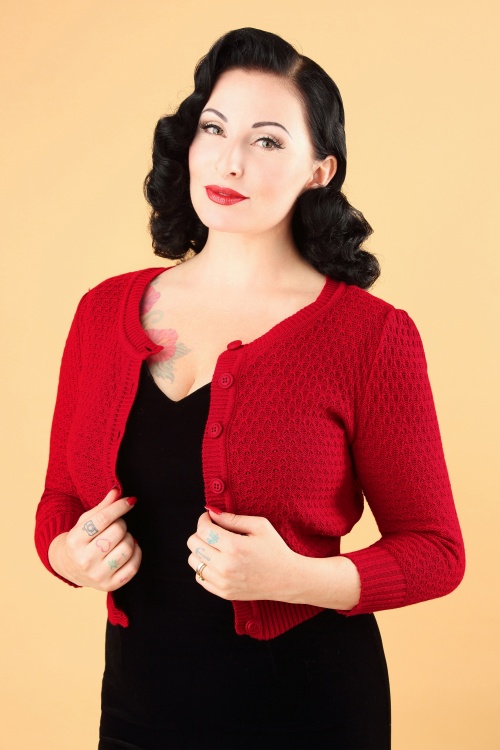 50s Jennie Cardigan in Red
The combination possibilities are endless with this 50s Jennie Cardigan in Red! Cardigans are often undervalued garments but let's change that! You can wear them open or closed and make it possible to enjoy your summery clothes on cold days as well. They do deserve some credit for that, don't they?! This versatile cardi features a classic cut with a round neckline, 3/4 sleeves and stretchy rib board for a beautiful fit. Made from a thicker yet lovely supple and stretchy, fine knitted dark red cotton featuring a subtle check pattern. Jennie simply deserves a spot in your wardrobe, doesn't she?
Round neckline
3/4 sleeves
Stretchy rib board
Slightly shorter and therefor a perfect match with high waist items
Article nr.
23264
Handwash cold (don't leave it in the water)
Wash inside out
Do not dry clean
Do not tumble dry
Air-dry flat
Iron inside out on low temperature setting
nl
Ben er super blij mee.
Zwarte rok van Collectif met knopen aan de voorkant, is een erg mooie rok, kleed mooi af, nadeel ze kreukt best wel als je gezeten hebt en zo, verder erg blij met de rok.
Rood shirtje van Mak erg goede kwaliteit voor een klein prijsje, deze staat erg leuk op die zwarte rok, vestje is ook van Mak, erg verrast van de kwaliteit van dit vestje, mooi gemaakt en erg fijne stof.
Zwart shirtje van Bannend Retro, heerlijk basic shirtje mooie kwaliteit en blij dat deze niet zo kort is.
De geblokte suspender van Collectif, wat is deze mooi en zit fantastisch, slankt mooi af in de taille en draagt super comfortabel .
Ben erg blij met deze aankopen :)

Thanks TV voor deze fijne kleding, en het was weer mooi verpakt.
Ellen M
&nbsp|&nbsp
2018-12-09 05:43:29
---
J'ai hésité avant de commander cette jolie jupe et puis j'ai finalement craqué. Aucun regret, elle est juste parfaite et réellement féminine.
La livraison est toujours aussi rapide et efficace et le petit miroir de poche apprécié.
Un grand merci à toute l'équipe.
Sandrine.
Sandrine DOERLER
&nbsp|&nbsp
2018-10-19 10:15:26
---
Lief vestje van zacht maar toch stevig materiaal. Drie-kwart mouwen wat ik super handig vindt en een prachtige kleur. Het model is kort tot in de taille maar dat vind ik juist leuk zeker met een broek erbij met een hoge taille, bijpassend truitje eronder en het is helemaal af. Blij mee!
Josephine Vinkestijn - de Wid
&nbsp|&nbsp
2018-09-11 11:34:50
---
Gute Verarbeitung und sitzt in Kombination mit einer High Waist Hose sehr gut (bin 1,63m groß)

Überlege mir den Cardigan noch in einer Farbe zu bestellen
Kathrin Mittermayr
&nbsp|&nbsp
2018-02-01 18:33:35
---
Helemaal tevreden! Vestje zit heerlijk warm en heeft een mooie kleur. Jurkje is een beetje dun, maar prachtig.
Johanneke
&nbsp|&nbsp
2017-12-04 09:34:01
---
de
Ein kuscheliger Cardigan in einem traumhaften Rotton
Der Cardigan ist aus ganz weicher Baumwolle und der Rotton ein Traum. Ich habe Gr L bei Kleidergröße 40 bestellt. Er ist nicht zu groß, aber Gr M hätte vermutlich auch gereicht. Ich werde ihn demnächst noch in Schwarz bestellen.
Danke für die schnelle Lieferung und die Schokolade!
Christine
&nbsp|&nbsp
2017-11-29 16:08:14
---
Ik heb dit vestje al in zwart in huis, zeer mooie kwaliteit, fijn kort, want ik ben niet zo lang.
Nu besteld in het rood, oh wat dom, een dag te vroeg!
20% korting vanwege black Friday, slechte timing van mij dus, helaas!!
De vestjes zijn echt een aanwinst, heel leuk op een fijn jurkje!
Groetjes, Ineke


ineke
&nbsp|&nbsp
2017-11-24 13:32:45
Response from Customer service

Beste Ineke, wat jammer dat je de korting net bent misgelopen! Maar maak je geen zorgen, als je even je mail zou willen nakijken zie je dat ik je hopelijk weer heel blij heb kunnen maken :-)) Tot de volgende keer!

Groetjes,
Auke
Klantenservice
---
habe sie in rot und schwarz bestellt. passen perfekt, super Material.
Silvia Brandlhuber
&nbsp|&nbsp
2017-11-07 09:32:48
---
...hatte ich zur Auswahl bestellt und mich dann für die anderen entschieden.
Corinna Sommer
&nbsp|&nbsp
2017-10-26 14:09:50
---
I fell in love with my new clothes!
They fit perfectly on me and my favourite is the super cute cherry jumper!
Thank you so much!
Natasha Koniari
&nbsp|&nbsp
2017-10-19 15:46:30
---
Ik kende dit merk al en ben zo blij dat ik het nu op top vintage kan bestellen.
Roth Murielle
&nbsp|&nbsp
2017-10-05 20:31:55
---
Deze cardigan is qua prijs en kwaliteit ongelofelijk hij is prachtig
melissa legrand
&nbsp|&nbsp
2017-10-05 07:48:30
---
Ce modèle de gilet est parfait, la coupe, la matière, et ici la couleur impeccables. Parfait pour un look rétro !!!!
Elise
&nbsp|&nbsp
2022-01-31 20:13:43
---
Wat ben ik verliefd op deze prachtige vestjes!! Ik had ze al in bijna alle kleuren van de regenboog voor deze zomer en nu de mooi warme herfstkleuren. Passen op veel van mijn vintage jurken! Met de pofmouwtjes, heel tof! Was ze echt op handwas programma, zo blijven ze mooi zacht! In love!
Anneke
&nbsp|&nbsp
2021-09-11 08:00:03
---
nl
Leuk vestje en prachtige kleur
Leuk vestje, fijne dikke stof en valt goed op maat, ook wanneer je hem dicht draagt. De kleur is prachtig, mooi diep rood, maar het combineerde helaas net niet met de jurk waarbij ik dit vestje wilde dragen. Dus hij is toch retour gegaan.
Mathilde
&nbsp|&nbsp
2021-02-15 13:01:08
---
Mijn voornemen is, om nu eens kwalitatieve kleding aan te schaffen waarin mijn rondingen mooi naar voren komen. Daarom hier aan het shoppen geslagen en eigenlijk kon ik nauwelijks kiezen. Vandaag zijn mijn kledingstukken binnengekomen en ik ben zo blij! De shirtjes zijn charmant en sexy tegelijk, zitten goed en hebben mooie kleuren. Het vestje is van stevige kwaliteit en die mouwtjes zijn zo leuk! Wel een vestje om open te dragen, ik zou een maat groter kunnen nemen maar dan zit ie denk ik niet zo mooi om mijn schouders en armen.
De jurk, ik blijf maar draaien en naar mezelf kijken
Jessica
&nbsp|&nbsp
2020-09-10 14:50:46
---
Altijd heel fijn als er een pakketje van TopVintage arriveert.
De broek is heerlijk warm en valt goed. Wel pluist de stof na 1x wassen al een beetje. Hopen dat dit niet erger wordt.
De bruine rok is ook lekker winters maar is erg zwaar en zakte daarom af. Een maatje kleiner is waarschijnlijk weer te krap helaas.
Het zwarte rokje met de katten is erg leuk! De geborduurde katten zijn speels en keurig uitgevoerd. De rok valt bij mij (1,67) iets over de knie. De stof is niet heel dik maar met een panty toch prima voor als het kouder wordt.
Het truitje met de kattenkop valt vrij ruim in maat S/M maar hij zit heerlijk. Ook prima te dragen op een 'normale' broek.
Het groene vestje is van een super zachte dikke stof. Ik heb een maatje groter besteld dan normaal zodat de knoopjes goed dicht blijven zitten en dat werkt goed. Wel is dit duidelijk een kort model, dus alleen geschikt voor taillebroeken en rokken.
Datzelfde geldt ook voor het rode vestje. Wat is die trouwens mooi! Heel mooi patroontje in het breiwerk en echt zo felrood als het plaatje.
Al met al ben ik weer heel tevreden.
Mariëlle de Wind
&nbsp|&nbsp
2020-09-09 18:14:01
---
Heerlijk dit vestje! Het past perfect op mijn jurken en kleurt mooi bij het riempje wat ik ook pas besteld heb. Het valt heel mooi en het stof heeft een mooi patroon en is lekker strechy.
Patricia
&nbsp|&nbsp
2020-07-30 13:31:55
---
Lekker zacht en degelijke kwaliteit. Niet te lang, dus een goede lengte om op kleedjes te dragen.
Evelien
&nbsp|&nbsp
2019-12-30 19:50:28
---
Ik heb al enkele rokken van Steady Clothing, en toen ik deze zag, moest ik hem hebben! Deze rokken vallen super vrouwelijk en zijn gewoon super!
Het golfje zit perfect. Aangename stof voor in de lente, maar ook wanneer het wat kouder is.
Anna Schnell
&nbsp|&nbsp
2019-04-05 15:05:29
---
Un grand merci pour cet envoi. Les gilets me vont parfaitement, très agréables au toucher, fins. La robe est magnifique, en coton, très féminine.
Merci à top vintage!!
A bientôt.
Sandrine DOERLER
&nbsp|&nbsp
2019-01-09 12:40:16
---
Ich habe diesen Cardigan inzwischen in mehreren Farben und er passt immer perfekt und sieht einfach toll aus.
Es werden wohl noch mehr davon bei mir im Kleiderschrank einziehen.
Sonja
&nbsp|&nbsp
2022-09-07 11:18:01
---