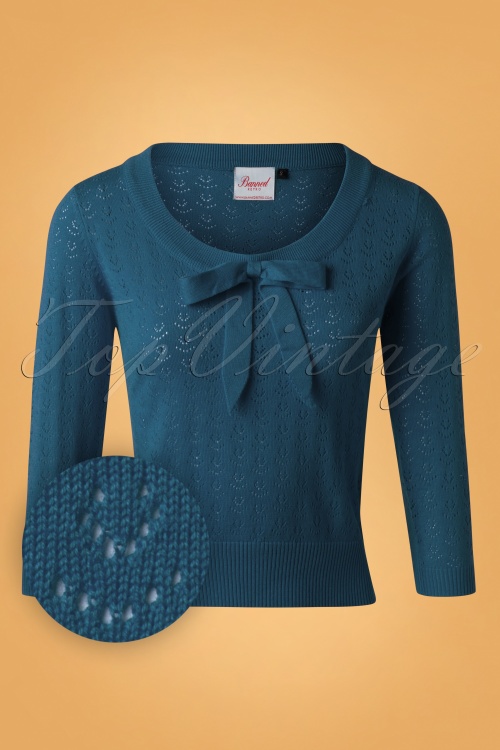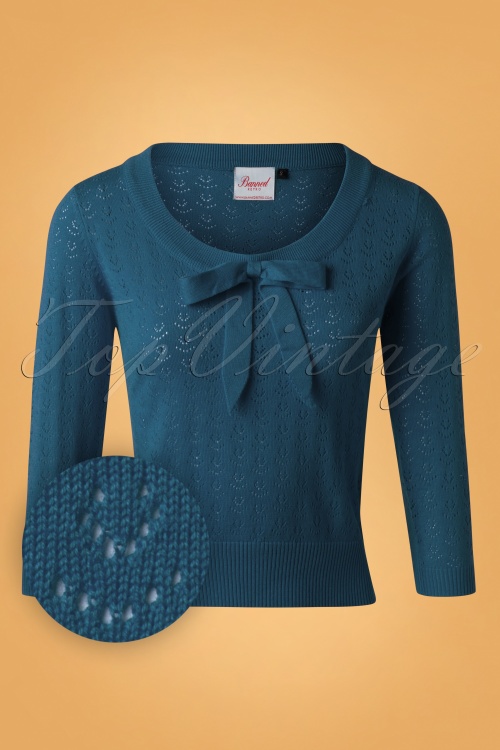 50s Pointelle Bow Top in Steal Blue
It's easy to fall in love with this 50s Pointelle Bow Top in Steal Blue! No, this isn't an illusion... this stunning top is a dream come true!  The top features a beautiful round neckline with a playful bow and 3/4 sleeves, cute! Made of a lovely supple, stretchy, fine knitted, steal blue viscose blend with a classic openwork pattern. A versatile top that every vintage lady should have in her wardrobe!
Round neckline
Fixed bow
3/4 sleeves
Stretchy ribbed trim
Long enough to pair with regular trousers
Article nr.
26187
Handwash inside out (don't leave it in the water)
Wash inside out
Machine wash 30c delicates cycle
Dry clean
Do not tumble dry
Iron inside out on low temperature setting
Mooi truitje!
Kirsten
&nbsp|&nbsp
2019-11-20 21:43:01
---
Dit truitje stond al geruime tijd in mijn wishlist, eindelijk besteld maar moet hem helaas toch retour doen. De kwaliteit is prachtig, het is een heel mooi truitje maar de kleur is in het echt anders dan de foto doet vermoeden. Hij is veel feller van kleur en tevens is het truitje erg kort. Erg jammer.
Jolanda
&nbsp|&nbsp
2019-09-12 16:24:11
---
Ik heb een vestje, een truitje en een rok ontvangen. Goede pasvorm.
Ik kreeg de rits van de rok niet dicht bij het aantrekken, dan zat de voering er tussen. Dat heb ik zelf inmiddels verholpen. Voor de rest top kleding!
Susanna
&nbsp|&nbsp
2019-09-12 13:03:48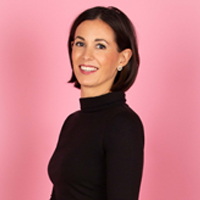 Response from Sylvia

Beste Susanna, super dat je zelf een oplossing hebt wist te vinden voor de rits! Mocht je in de toekomst tegen een soortgelijk probleempje aanlopen, aarzel dan niet om met ons team van de Customer Service contact op te nemen. Wij zijn altijd bereid om met je mee te kijken naar de beste oplossing! :-)
Groetjes,
Sylvia
Klantenservice
---
Je suis conquise, sous le charme !
Une belle coupe sayante, un très beau bleu et la petite touche fantaisie du nœud son un régal pour les yeux.
La maille ajourée au niveau de la poitrine apporte une petite touche sexy
Séverine DROUARD
&nbsp|&nbsp
2019-09-06 04:23:43
---
de
Mein Lieblingsshop, ich kaufe nur noch hier !!!
Eigentlich wollte ich einfach nur einmal ein schönes Kleid bestellen......
Aber dann war ich soooo von den schönen Farben, Mustern, Schnitten und Schuhen begeistert.
Jetzt bestelle ich hier regelmäßig und werde immer wieder auf die schönen Kleidungsstücke angesprochen.
Die Kleider sitzen perfekt! Auch die Caprihose macht eine gute Figur. Meine Lieblinge sind zur Zeit die Sommerschuhe. Das Design ist besonders, am liebsten hätte ich beide Farben behalten, mich aber für grün entschieden, da Sie etwas kleiner ausfallen und ich rot in meiner Größe bestellt habe, grün eine Nummer Größer und die sind bequemer.
Die Ballerinas sind ganz weich, sehr bequem. Die Oberteile sind manchmal etwas kurz geraten, haben aber so verspielte Details das Sie einfach bei mir bleiben müssen.
Wenn was zurück geht, dann nur weil ich zu viel zur Auswahl bestellt habe oder etwas zu klein geraten ist.
Ein ganz großes Lob und vielen Dank! Ich hoffe die Qualität und Fülle bleibt so erhalten, da dieser Shop ja schon längst kein Geheimtipp mehr ist.
Steffie
&nbsp|&nbsp
2019-02-02 18:28:56
---
Ich liebe diesen Shop! Die Sachen sind durch die Reihe weg toll, die Lieferung ist immer schnell und so süß verpackt, und auch ein eventueller Umtausch klappt reibungslos.
Stefanie Gersthagen
&nbsp|&nbsp
2018-11-10 14:51:10
---
fr
Superbes Vêtements !!!!
Merci a Top Vintage, livraison super rapide, vêtements de qualité. Depuis le temps que je cherchais une boutique en ligne vintage je suis ravie.
delphine n
&nbsp|&nbsp
2018-10-22 15:37:21
---
fr
Tout est parfait comme toujours
Tout est parfait comme toujours!
Les chaussures sont simplement magnifiques et elles sont très agréables à porter, très féminines. Je suis fan !
Les vêtements sont d'excellente qualité et féminins. La jupe est extraordinairement chaude
Je suis toujours et encore fan de Top vintage !! Merci à vous.
Indiana
&nbsp|&nbsp
2022-10-14 11:13:36
---
de
Tolle Farbe, super Qualität, perfekter Sitz ...
... und süßes Schleifen-Detail! Auch die Länge ist perfekt kombinierbar mit Röcken, die bis zur Taille reichen. Süßes Bündchen unten. Und wie toll, dass es Naturmaterialen sind (und keine Synthetik)! Happy!
Anna
&nbsp|&nbsp
2022-01-06 17:23:33
---
Prachtig kleedje in stevige stof, leuke tops, zoals ik verwachtte en helemaal mijn zin. Juist jammer van Bordeaux top, dat ik niet gezien had dat de strik los was en ook de naad van de strik, voor dat ik het in een handwasje stak. (Ik draag nooit nieuwe kledij zonder te wassen) Ben geen krak in naaien dus toch veel moeite had om zo onzichtbaar dicht te naaien.
Danielle
&nbsp|&nbsp
2020-12-04 10:38:43
---
Banned really do offer the nicest knitwear. This jumper is super cute, and I'll probably get a lot of wear out of it.
Katt
&nbsp|&nbsp
2020-11-12 20:48:30
---
Das Shirt ist wirklich ein Hingucker :-) dieses schöne gelb, macht den Herbst farbenfroh. Man muss nur ein wenig Geduld haben bis die Schleife richtig sitzt.
Judith
&nbsp|&nbsp
2020-11-09 21:50:57
---
nl
weer in het nieuw op Teams!
Omdat in de winkels vrijwel alleen zwart en bruin hangt kon ik daar niet slagen. Maar bij jullie op de site was de keuze zo gemaakt. De broek is te lang en tealkleurige truitje is aan de korte kant voor mijn niet zo mooie buik. Maar 3 bloesjes en 2 truitjes blijven hier. Daarmee kan ik dan weer goed voor het scherm verschijnen ;-)
Sietske Werensteijn
&nbsp|&nbsp
2020-10-06 19:20:03
---
nl
Prachtig truitje, geweldige kleur, lastige strik
Echt een heel mooi truitje. Heerlijk zacht en de kleur is een prachtige kleur petrol! Het lukt mij alleen niet om een fatsoenlijke strik te maken, door het gewicht hangt het heel raar. Later zag ik dat ook op jullie foto's de strik niet gestrikt is, alleen is neergelegd alsof het zo is. Dat is wel jammer. Maar met een halve strik staat het veel mooier.
Dominique
&nbsp|&nbsp
2020-10-06 13:24:52
---
Vraiment vintage. Joli coloris.
Magnifique
Marielle sorro
&nbsp|&nbsp
2020-01-14 14:32:45
---
Le top en tricot est nickel, belle couleur, confortable.
par contre, le noeud a tendance à faire bailler le décolleté
Sandra Stevens
&nbsp|&nbsp
2019-12-13 13:46:39
---
Super leuk truitje, kleur zoals beschreven en het model is mooi evenals de stof. Helaas is het wel echt een navel trui en dat vind ik niet zo mooi. Gaat retour.
Ilse
&nbsp|&nbsp
2022-11-08 15:34:27
---