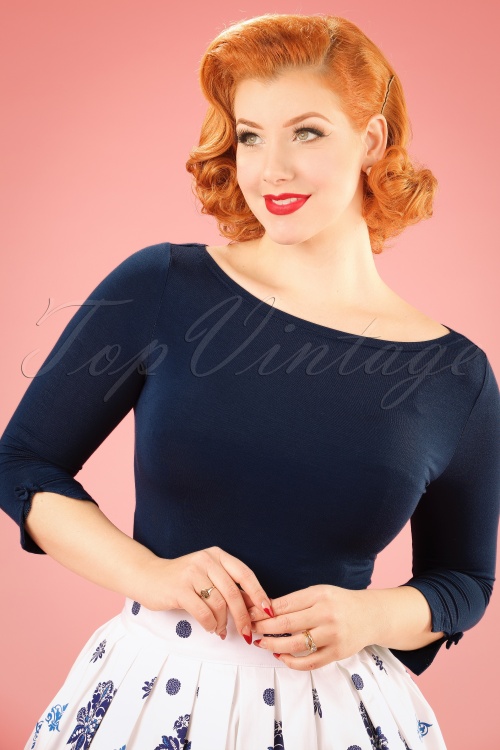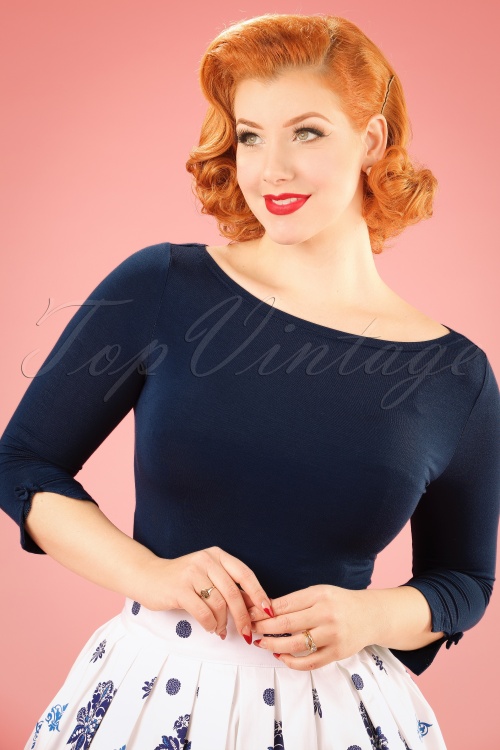 50s Addicted Sweater in Night Blue
Elegant and cute this 50s Addicted Sweater! Audrey Hepburn also couldn't get enough of it! Simple and yet so elegant due to the adorable detailing ;-) The top features a beautiful slash neckline and flattering 3/4 sleeves finished off with slits and little fixed bows, só cute! Made from a lovely supple, stretchy, fine knitted dark blue viscose blend that will keep its shape, even after a few washes. A versatile classy top which can't be missed in every vintage lady's wardrobe, the name says it all; we're addicted!
Fitted style
Slash neckline
3/4 sleeves with slits
Fixed bows
Long enough to pair with regular trousers
Article nr.
19989
Handwash inside out
Wash dark colors seperately
Machine wash 30c delicate
Do not dry clean
Do not tumble dry
Natural drying flat
Ironing reverse cold
Wiedermal alles toll!!!! Die Pullis passen wie angegossen und sind ein echter Hingucker!! Der Pullover mit den Herzen ist ein Traum! Ich wurde sofort darauf angesprochen. Vielen Dank an Top Vintage für die schnelle Lieferung und das süße Geschenk! <3
Daniela
&nbsp|&nbsp
2016-10-20 08:05:43
---
de
Dear Banned, choose what an M means to you
Wie Nadine vor mir, fand ich der Farbe und Preis dieser Cardie traumhalf schön aber der Passform ist furchtbar. Ich habe ein M gekauft und es passt in der Taille und über meine Busen aber die Ärmel sind viel zu gross und lang.
Mit der Marke Banned kann ich nie wissen ob die Sachen passen werden...die Größen scheinen mir ziemlich willkürlich.
Der blaue Pulli ist schön und weich und und in Größe M, viel enger als der in weiss, was ich auch habe. Der weisse ist ein bisschen zu gross.
Pulli ja, Cardie nein.

Hallo Nadine, es tut uns leid dass die Passform des Cardigans so enttäuschend ist. Wir werden diese Information weiterleiten an unsere Einkaufsabteilung. Ich werde mich heute noch kurz mit Ihnen in Verbindung stellen. Dann finden wir bestimmt eine Lösung.

Liebe Grüße,
Desiree
Kundenservice
Stepha
&nbsp|&nbsp
2016-10-17 21:12:22
---
Diese Pullis sind einfach nur toll. Sitzen perfekt, sind angenehm weich und mit den kleinen Schleifchen einfach nur niedlich.
Kristina
&nbsp|&nbsp
2016-10-14 15:27:56
---
Deze top is super fijn, lekker warm en heeft een mooie klassieke pasvorm. Ik heb hem ook in het zwart, en kan hem iedereen aanraden!
Kim
&nbsp|&nbsp
2016-10-11 10:34:29
---
nl
Weer helemaal fantastisch!
Heel veel besteld, deze keer. Maar weer niet teleurgesteld. Pasvorm prima, mooie stof. Ben hier helemaal blij mee!
Mieke
&nbsp|&nbsp
2016-10-01 15:46:52
---
Heel gelukkig met mijn twee nieuwe mooie outfitjes,
rokjes zijn zoals op de foto, pulletjes passen er perfect op. Mooie kleur en zachte stof. wel jammer dat groen pulletje aan de kleine kant is, het kruipt omhoog en spant. Alle vier de maten zijn nochtans hetzelfde. Misschien kan ik ruilen voor een grotere maat?
Verder supersnelle levering en mooi ingepakt. Het uitpakken zelf is al om van gelukkig van te worden.
Beste Ann, wat fijn dat je over het algemeen zo tevreden bent, maar wat jammer dat de pasvorm van één top toch tegenviel! Ik stuur je even een berichtje, dan kijken we samen naar de eventuele ruiling ;-)
Groetjes,
Nicole
Klantenservice
ann
&nbsp|&nbsp
2018-12-02 16:59:15
---
Ik denk dat ik ze maar ga sparen... Heerlijk truitje, mooi van kleur en fijne pasvorm.
Dywen
&nbsp|&nbsp
2018-09-13 08:53:02
---
Wat heb ik weer prachtige kleding bij jullie gekocht. Heb haast geen andere kleding dan topvintage! Alles is prachtig en past perfect op maat.groetjes Roos
Roza
&nbsp|&nbsp
2018-01-06 18:02:02
---
Die Farben und der Schnitt sind einfach super. Ich werde mir noch weitere Farben kaufen!
Sandra
&nbsp|&nbsp
2017-11-23 20:01:33
---
Heb nu bijna alle kleuren van deze Banned Sweaters in bezit. Ze hebben een mooie pasvorm en het materiaal voelt heerlijk zacht aan. Again: I'm Addicted.
Johannah Martens
&nbsp|&nbsp
2017-08-31 14:36:43
---
I'm so happy and in love with all my new clothes, they are just so beautiful and I've gotten tons of compliments. I think my entire spring/summer wardrobe, is gonna come from TopVintage :)
Rikke
&nbsp|&nbsp
2017-04-20 09:59:57
---
Alles was ich bestellt und behalten hatte, war super
Evelyne
&nbsp|&nbsp
2017-03-09 16:12:50
---
De Jo Vintage Roses cardigan is veel mooier dan op de foto en is heerlijk zacht.

Het blauwe truitje met strikjes voelt ook heerlijk en staat mooi op en rok ook heel mooi bij de Livingstone tartan broek. De kleur is niet helemaal hetzelde maar vind het toch prachtig staan.

Het Burgundy vestje/bolero is een plaatje, leuk op simpele zwarte jurk.

De rode of eigenlijk oranje/zwarte jurkje van Blutgeschwister is heerlijk warm maar ook chique met een mooie pump.

De Denise floral pencil dress is in het echt veel mooier en de stof is dik genoeg voor de winter met een dikke panty en een paar laarzen helemaal geweldig. De vixen mabel foral gaat helaas terug vanwege de mouwen, die vind ik persoonlijk niet mooi maar de jurk opzich is wel mooi en glanzende stof.
En dan mijn favoriet de groene Ivana roses Dress die voelt als een tweede huid, is werkelijk prachtig maar ook sexy.
Ik ben zo blij met topvintage dat ik vanaf nu mijn kleding alleen bij jullie koop. Ik heb al zo veel in 2 maanden gekocht en ben nog lang niet klaar. Dankjewel topvintage
Sabiha
&nbsp|&nbsp
2017-01-27 16:14:04
---
de
Zart und bezaubernd schön
Ein Gedicht von einem Pullover. Ich habe Sie heute weiterempfohlen
Irma
&nbsp|&nbsp
2017-01-06 15:24:09
---

De zwarte pencildress met glitters: Mooie jurk, fijne pasvorm. Zeer veel complimenten gehad. Helaas zat er een gat in (op de naad) en aangezien ik op n feestje was daar maar gerepareerd..
En ja, die glitters zoals beschreven in eerdere reacties die neem ik voor lief. Ik laat in ieder geval een sprankelend spoor na ;-)

De 2 truitjes: heerlijk! Fijne stof en mooie kleur.

De lange jurk: past super! Aangezien ik niet zo heel lang ben, is het fijn een lange jurk te hebben die niet over de grond sleept.

Het blauwe truitje zit ook heerlijk, stof is net wat dikker. Mooie kleur en de kat is dol op de strikjes..

Beste Ilona, wat fijn dat je zo blij bent met al je spulletjes! Maar een gat in je nieuwe feestjurkje, dat kan natuurlijk niet! Ik neem meteen even contact met je op! Tot straks!

Groetjes,
Fleur
Klantenservice
Ilona
&nbsp|&nbsp
2017-01-04 21:59:07
---
Ik moet zeggen, ik ben heel snel fan van jullie geworden. De tops zitten heerlijk en passen goed. Vooral de banned truitjes zijn lekker warm. De panty's passen ook goed en zijn heel leuk. Ik had een maat groter besteld dan de maattabel aangaf, maar dat is gewoon mijn voorkeur.

De jurk is echt een plaatje en staat heel erg mooi. Ik had eerst een M besteld, maar ik vond hem aardig groot en had toch nog een S besteld om te vergelijken. Toen ik die eenmaal aan had gepast was de keus snel gemaakt. De kleinere maat zat veel mooier. Ik heb de m toen maar snel teruggestuurd. Net als bij een paar andere dames kwamen de jurken gekreukt uit de doos, maar na een nachtje op een hanger waren de kreuken verdwenen.
Beste Astrid, we zijn blij te lezen dat je zo tevreden bent. Echter is het natuurlijk niet de bedoeling dat je de jurken met kreukels ontvangt. We doen ons uiterste best om alles met zo min mogelijk kreukels te versturen en natuurlijk wordt ook alles met heel veel liefde verpakt. Het is fijn om te horen dat de kreukels eruit zijn gegaan en natuurlijk zullen we ervoor zorgen dat het niet nog een keer gebeurd.

Groetjes,
Mandy
Klantenservice
Astrid
&nbsp|&nbsp
2016-12-29 12:14:20
---
Darin fühle ich mich um Jahrzehnte zurück versetzt. Der Pullover kratzt allerdings ein bisschen, wer da empfindlich ist, sollte lieber zu einem anderen greifen...
Alexandra
&nbsp|&nbsp
2016-12-03 22:51:21
---
Der Mantel ist einfach nur schick und bequem. So kann ich endlich, auch wenn es kälter ist meine Swingkleider und -röcke tragen, für die er genau die richtige Länge hat.

Der Pulli ist sehr angenehm und hat eine gute Armlänge (bei 3/4-Ärmel habe ich sonst manchmal das Problem, dass der Ärmel entweder am Ellenbogen endet oder sich aber bis dort hochzieht). Das Blau passt wunderbar zu den mit blau karierten Röcken und die Schleifchen am Ärmel verleihen ein gewisses Etwas.

Der Rock sieht auch einfach wunderbar aus und ist für den Herbst ideal.

Und wie immer schön verpackt!
Ina
&nbsp|&nbsp
2016-11-11 14:31:40
---
Ik ben dol op deze truitjes met driekwart mouw. Ze zitten heerlijk en hebben een mooie klassieke boothals. Leuk op een spijkerbroek, maar ook fantastisch op een hoge taille broek.
Jammer genoeg stond de groene met de hartjes erg kinderachtig bij mij, dus deze moet ik helaas terug sturen. De blauwe blijft, net als de eerder aangekochte rode en witte versie.
Tineke
&nbsp|&nbsp
2016-11-04 15:54:11
---
Mooie oorbellen maar veel te zwaar! Ze kwamen ook kapot binnen.. erg jammer!

De rest was natuurlijk top!

Beste Amy, wat jammer dat de oorbellen te zwaar zijn en ook nog eens kapot aankwamen. Onze excuses hiervoor! Ik zal meteen contact met je opnemen. Tot zo.

Groetjes,
Alexandra
Klantenservice
Amy
&nbsp|&nbsp
2016-10-25 11:27:40
---
Hatte erst das Top in creme, und hab mir das in dunkelblau nachbestellt. es ist kuschelweich, vintage und trotzdem ein Basic. Würde ich immer wieder bestellen.
Andrea
&nbsp|&nbsp
2016-10-20 08:13:17
---
nl
Top truitjes en comfy schoenen
Ik heb twee keer hetzelfde model besteld vanwege de positieve reacties en het basic model dat makkelijk te combineren is. De truitjes zitten top en de stof is lekker zacht.

De aubergine oorbellen passen perfect bij de aubergine trui.

De schoenen zitten ook heel comfortabel ondanks dat ik brede voeten met een hoge wreef heb. Toen ik ze de eerste keer aantrok leken ze heel krakerig, maar dat was de nieuwigheid.
Mer
&nbsp|&nbsp
2022-11-01 19:10:12
---
Geweldige rok!! Valt mooi en is lekker warm. Ik ben verliefd!! Dat ze zakken heeft maakt het nog beter! 2 Shirtjes erbij besteld, de donkerblauwe past er het beste bij, voor mijn gevoel, dus de roest oranje gaat retour. (Net een andere tint oranje als in de rok)
Het vestje viel lichter uit kwa kleur en vond ik er persoonlijk niet zo mooi bij passen dus deze helaas ook retour maar omdat deze met de lengte wel top was komt er waarschijnlijk wel een andere kleur. ;)
Al met al zeker geslaagd en heel blij mee!!
Iris
&nbsp|&nbsp
2022-09-27 13:19:25
---
Weich, angenehm auf der Haut. Guter Sitz und so hübsche Details! Ich liebe diese kleinen Pullover!
Dagmar
&nbsp|&nbsp
2022-09-26 06:26:36
---
Wederom super tevreden met jullie kwaliteit.
Al mijn aankopen van jullie draag ik met veel plezier.
De rokken helemaal leuk met de 'it had pockets'. De donkerblauwe top is top :-)
En het kersen truitje is heerlijk zacht.
Hugs and cherry kisses
Nancy
&nbsp|&nbsp
2022-01-29 19:11:45
---
Diese Basics kann Frau nicht genug haben, dieses in Navy ist genau meins.
Susanne
&nbsp|&nbsp
2021-02-07 07:36:38
---
Ik ben echt superblij met mijn aankopen. De truitjes zijn allen van een goede kwaliteit stof en zitten heerlijk. De wollen rokken zijn ideaal voor het koudere weer in deze periode (winter). Ik twijfelde beetje over de maat dus had 'n L en 'n M besteld. Maat L zit heerlijk. Maat M redelijk. Aangezien ik in gewicht iets jojo besloten beide te houden. Helaas is de zware met schouderbandjes retour aangezien ik dat stofje niet prettig vond.
Brigit-Ruby
&nbsp|&nbsp
2021-01-26 13:39:40
---
passt, sieht gut aus, trägt sich angenehm :)
anonymous
&nbsp|&nbsp
2019-08-27 19:24:19
---
Ich habe dieses Oberteil bereits im letzten Jahr in einer anderen Farbe gekauft und freue mich meinen KLeiderschrank um mein Lieblingsoberteil in anderen Farben zu erweitern.
Florence Kreutz
&nbsp|&nbsp
2018-12-06 13:47:11
---
de
Addicted to this sweater!
Kein Wunder, dass diese Pullover von Banned Retro "Addicted Sweater" heißen. Ich habe jetzt zwei davon und liebe sie. Ich brauche noch mehr Farben :-)
Der Rock war leider nicht so toll. Dünnes Material, dass sich stark elektrisch auflädt. Das ist auf den Bildern leider nicht zu erkennen. Das Material sieht hochwertiger/dicker aus. Deshalb leider zurück und dieses Mal nur 4 Herzen.
Ansonsten war der Service und die schnelle Lieferung wie immer top!
Ines Luckau
&nbsp|&nbsp
2018-12-05 15:57:49
---
nl
Kom maar door met die winter!
Dagen heb ik getwijfeld tussen alle verschillende jurken, rokken en truitjes in mijn wishlist! En wat ben ik weer blij met de uiteindelijk gemaakte keuzes :-)
De jurk is van een heerlijke soepel vallende stof met net genoeg stretch en een prachtig subtiel glansje. De rok is een allemansvriendin: stoer met een laars, classy met een pump. Het donkerblauwe truitje heb ik inmiddels in verschillende kleuren; draagt super en is lang genoeg voor op een 'gewone' spijkerbroek.
Het off-white shirtje ruil ik graag om voor iets wat qua kleur dichter bij wit ligt, hij is donkerder dan verwacht, eerder beige.
Marrit Leenstra
&nbsp|&nbsp
2022-12-01 09:29:40
---