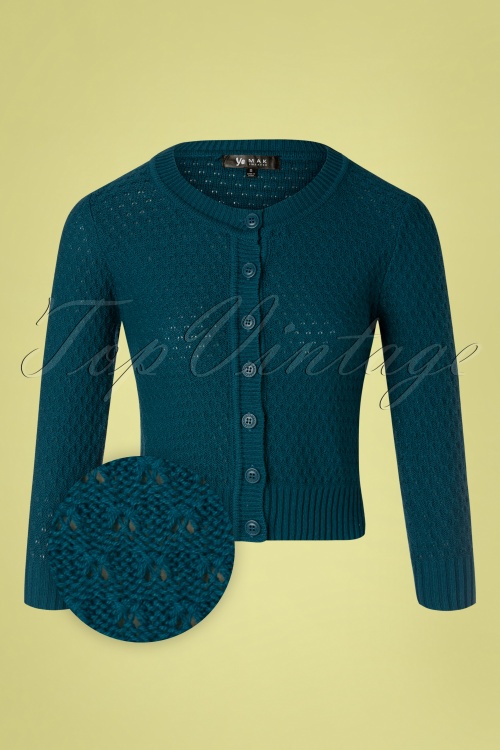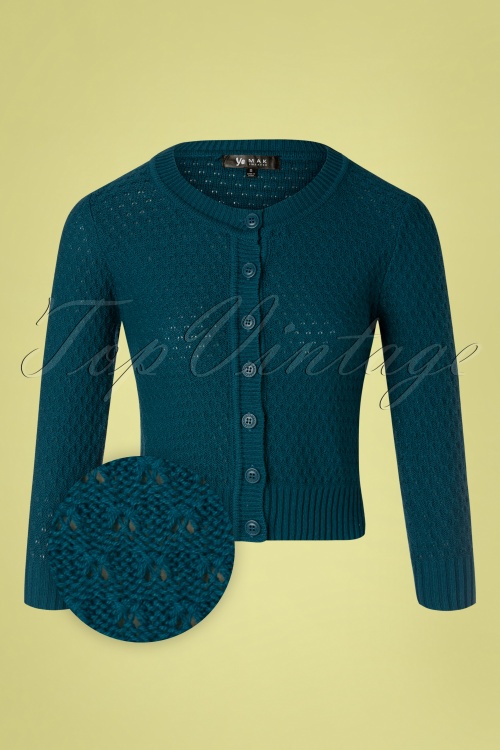 50s Jennie Cardigan in Petrol Blue
The combination possibilities are endless with this 50s Jennie Cardigan in Petrol Blue! Cardigans are often undervalued garments but let's change that! You can wear them open or closed and make it possible to enjoy your summery clothes on cold days as well. They do deserve some credit for that, don't they?! This versatile cardi features a classic cut with a round neckline, 3/4 sleeves and stretchy rib board for a beautiful fit. Made from a thicker yet lovely supple and stretchy, fine knitted cotton in petrol blue, featuring a subtle pattern. Jennie simply deserves a spot in your wardrobe, doesn't she?
Round neckline
3/4 sleeves
Stretchy rib board
Slightly shorter and therefor a perfect match with high waist items
Article nr.
36992
Handwash cold (don't leave it in the water)
Wash inside out
Do not dry clean
Do not tumble dry
Air-dry flat
Do not iron
Do not bleach
Eine wunderschöne Strickjacke von Mak Sweater ist dies. Sie verleitet mich dazu, sie mir noch in anderen Farben zu kaufen. Sehr angenehmer Stoff u die 40er Jahre Raffung auf den Schultern gefällt mir sehr. Ich brauche mindestens eine XL, da ich etwas kräftigere Oberarme habe, mit einer 1XL würde ich wahrscheinlich ebenso gut zurechtkommen, diese gibt es nur nicht bei allen Farben. Die Farbe ist ohnehin der Knaller, ein tolles Teal-Blau, ich freue mich.
Susanne
&nbsp|&nbsp
2021-02-25 09:49:13
---
nl
Wauw weer erg blij met alles !
Erg mooi , alle 3 goede pasvorm en mooie kleur .
Al had ik YéYé trui liever in dikker zachter van binnen , meer jogging stof verwacht ( dan was hij nog beter ) Maar hij is zo leuk voor de sale een gewoon prima prijs .
Josephine
&nbsp|&nbsp
2022-12-20 10:12:54
---
✨Banned retro ✨

Eveline
&nbsp|&nbsp
2022-09-26 13:13:26
---
Wat een geweldig mooie jas! Mooie pasvorm (bij mij precies op maat), slank model, mouwen op prima lengte. Wat voor mij helaas te groot is is de kraag. Dit is dan ook de reden dat ik - met lichte pijn in het hart - de jas retour heb gestuurd.

De vestjes vind ik verschillend van pasvorm. Vorig jaar gekochte modellen maat S lijken dezelfde maat te hebben als de maat M welke ik nu heb besteld. Ook de twee maten M lijken een verschillende pasvorm te hebben. Lastig dus..

De petrol jurk past perfect en wat een fijne stof! Helaas vallen de lijnen op de buik dusdanig dat ze bij mij juist daar de nadruk op leggen, iets wat ik liever niet heb, dus ook retour.

De witte jurk? Verliefd op! Geweldige pasvorm, vrij zware katoenen stof met heerlijk twee zakken in de rok. Bij mij iets wijkend in de halslijn, maar de rest van de jurk is dusdanig fijn dat ik dat voor lief neem. Leuk te combineren met de vestjes die ik kocht!
M. de Heer
&nbsp|&nbsp
2022-09-06 11:09:14
---
nl
Mooie vestjes, geen consistente maat
Ik heb dit vestje eerst in het wit gekocht maat S. Dat zit prima en is ideaal voor op jurkjes. Omdat ik zo tevreden was, heb ik ze ook in andere kleuren besteld in maat S. Alleen die zijn veel kleiner, mouwen zijn veel strakker. Toch wel teleurstellend. Heel gek ook aangezien de maat tabellen hetzelfde zijn. Jammer, laatste tijd heb ik vaker deze ervaring met bestellingen bij top vintage.
Leo
&nbsp|&nbsp
2022-05-20 22:20:25
---
Deze combinaties staan prachtig bij elkaar. De ribbelstof lichtbruine rok is zo fijn voor de herfst. Als je klein in je taille bent dan raad ik een kleinere maat aan, de XS paste mij goed. Deze kleur staat prachtig met petrol blauw / teal, vandaar de bijpassende tops. De blouse draag ik een maatje kleiner vanwege de vrij volumineuze mouwen. Ik draag de blouse graag met de mouwtjes iets omhoog en dan het teal Mak vestje erop, met de ribbelrok of met de iets donkerdere bruine circle skirt. Dan komen de rouches van de mouwtjes net uit de mouwtjes van het vestje. Heel erg mooi bij elkaar. De bruine circle skirt is dunner dan je misschien verwacht (kreuk-gevoelig ook) en draag ik ook in een maatje kleiner (XS) en dan nog is hij ietsie ruim. Prima met een trui! De teal coltrui is lekker dik en staat mooi op beide rokken. De ivoor cabeltrui is iets warmer wit en daarom perfect voor mijn huidskleur. Hij is echt kort (bij mij ongeveer op de navel) maar daardoor perfect voor hogere taille rokken zoals deze twee (geen trui ophoping in de rok). Hij past perfect op beide rokken, heel mooi met een bruine panty met een werkje bijvoorbeeld (Marianne heeft zo'n panty). Ook de teal panty staat perfect bij de teal truitjes en de bruine rokken. Heel heel blij met deze items! Tip: er is een velours rokje van King Louie in de kleur Lovell. Deze truitjes passen daar perfect bij.
Amber
&nbsp|&nbsp
2021-10-09 09:33:44
---
Wie auch bereits die haferbeige Variente: einfach toll! Das Strickmuster ist richtig super und wie so oft, finde ich auch hier die Farbe richtig schön.
Mir passt das Jäckchen in meiner regulären Größe perfekt.
Ich befürchte, weitere Farben werden in meinen Kleiderschrank folgen...
Sonja
&nbsp|&nbsp
2021-09-23 12:02:22
---
Wat ben ik verliefd op deze prachtige vestjes!! Ik had ze al in bijna alle kleuren van de regenboog voor deze zomer en nu de mooi warme herfstkleuren. Passen op veel van mijn vintage jurken! Met de pofmouwtjes, heel tof! Was ze echt op handwas programma, zo blijven ze mooi zacht! In love!
Anneke
&nbsp|&nbsp
2021-09-11 08:00:03
---
nl
Weg met de slons, hier komt de mooie, elegante én sexy vrouw!
Ik ben helemaal weg van de kledingstijl van de jaren '40/'50 sinds ik zo'n 20 jaar geleden de film 'Swing kids' zag. Ik vroeg mij af waarom er nu geen elegante kleren meer werden verkocht.
Enkele jaren geleden botste ik op deze webshop. Om verschillende redenen heb ik toen niets gekocht (Ik hoopte mama te worden en wist dat mijn gewicht dan niet stabiel zou blijven.; Ik had nog nooit kledij online gekocht.; ...)
Na enkele zwangerschappen en na jarenlang afdankertjes van anderen te hebben gedragen, wou ik mij eindelijk weer eens mooi voelen. Buiten dus met alles wat te klein of te groot of niet mijn stijl was. En godzijdank dat Topvintage bestaat.

Mijn maten zijn ongeveer 85-70-90 en ik ben 1m60. Ik bestelde:
* Vintage Chic for TopVintage - 50s Aliyah Swing Skirt in Emerald Green 10
-> Mooie kleur, past goed. De stof was anders dan verwacht. Ik dacht dat het meer zou lijken op de okergele rok en dus iets dikker zou zijn. Ik vind de rok te transparant om zo te dragen, dus ik heb een onderrok gekocht.
Het is voor mij waarschijnlijk te lang 'volgens de regels van de kunst', maar mij stoort het niet.

* Vive Maria - 50s Flower Day Shirt in Cream XS
-> Ik had eerst een S besteld, maar dat was iets te groot. Schattige t-shirt dankzij het 'bloemenkraagje'. Aangename en luchtige stof om te dragen. Ik ben ook blij met de kleur. Mijn huid is zeer wit en witte kledingstukken staan mij niet zo goed; deze t-shirt wel.

* Banned Retro - 50s Lola Lifeforms Petticoat in Ivory XS/S
-> Veel comfortabeler dan ik had verwacht. De stof voelt echt aangenaam aan.
Dit heb ik gekocht om onder de okergele rok te dragen. Voorlopig heb ik het nog niet gedragen. Ik moet nog uitvissen hoe ik ervoor kan zorgen dat het ter hoogte van de taille blijft zitten, want daarvoor is het iets te breed.

* Vixen - 40s Marybeth Suspender Trousers in Red S
Deze broek was uiteraard veel te lang voor mij. Dat verwachtte ik wel met m'n 1m60, maar ik vond het te mooi. Ik heb de broek voor €15 euro laten inkorten en nu staat het fantastisch.

* Banned Retro - 50s Bella Bow Belt in Black SMALL
-> Prachtige riem. Alleen jammer dat ik het ontvangen heb met een scheurtje in de stof. Dit heb ik voor €5 laten herstellen, want ik zag het niet zitten om het terug te sturen.

* Banned Retro - 50s Sandy Loves Danny Top in Black S
-> Degelijke t-shirtstof, superconfortabel. Dankzij de lintjes en de pofmouwtjes zie je er toch elegant uit.

* Bunny - 50s Amelie Swing Skirt in Ochre Yellow S
-> Prachtige rok, prachtige kleur. Ik sta het best met herfstkleuren, dus ik ben blij dat ook de zomercollectie dergelijke kleuren bevat.
Het is wel iets te breed, waardoor het niet in de taille blijft zitten. Dit los ik op met een riem. Een XS zou waarschijnlijk te smal zijn? Waarschijnlijk kan je dan na het eten niet meer gaan zitten :-)

* Mak Sweater - 50s Jennie Cardigan in Petrol Blue S
-> Een wat dikker truitje; kan het hele jaar door gedragen worden. Veel complimenten gekregen over dit kledingstuk gecombineerd met de okergele rok. Leuk dat het pofmouwen heeft.
Ik dacht dat de mouwen tot aan de polsen zouden komen, maar het is eerder 7/8 à 3/4 van lengte. Aangezien ik mijn mouwen vaak omhoog schuif, vind ik het niet erg.

* Banned Retro - 50s Play It Right Bow Belt in White SMALL
-> Nog een prachtige riem. Past goed op een donkerblauwe swing dress met witte bloemen die ik ooit heb gekregen.

* The Seamstress of Bloomsbury - 40s Eva Blouse in Cream Crêpe 8
-> Ik heb even getwijfeld om dit te kopen omdat het met hand zou gewassen moeten worden. Gelukkig heb ik het toch gewaagd. Het is prachtig. Ik draag er een crèmekleurige tanktop onder omdat de bloes een beetje transparant is, maar dat is uiteraard te verwachten. Ik heb het reeds 2x gewassen in de wasmachine op een koud handwasprogramma van 20 minuutjes. Daarna een kwartiertje in de droger. Zo verdwijnen bijna alle kreuken en gaat het strijken vlot.

* Bunny - 50s True Love Hearts Blouse in Black XS
-> Wat een schattige, vrolijke blouse. Ook handig dat je de roze strik er af kan halen. Zo kan je de blouse met nog meer kledingstukken combineren.
Wel jammer dat er reeds een klein gaatje zit achteraan ter hoogte van het etiket. Ik heb het pas gemerkt bij het strijken, na het verwijderen van de labels. Ik zal het herstellen vooraleer het groter wordt. Het zou zonde zijn om dit bloesje te moeten wegdoen.

* Mak Sweater - 60s Kristen Polkadot Sweater in Teal and Ivory S
-> Dit heb ik nog niet gedragen. Ik heb het gekocht toen het al te warm was voor zo'n truitje. En wat vind ik dat jammer. Van alle kledingstukken vond ik dit het beste bij mij passen. Wat een mooie, diepe kleur ook.

* Bunny - 50s Paloma Cardigan in Black XS
Nog niet gedragen, enkel gepast. Zachte stof. Dun, maar toch stevig en warm. Komt net aan de taille; precies wat ik wou voor bij de rode broek.

* Collectif Clothing - 50s Dolores Butterfly Top in Green XS
-> Dit had ik misschien beter in S besteld? Of zou het dan aan de borst te groot geweest zijn? Het is een beetje strak aan de buik. Maar toch geen huidrolltjes te zien dankzij de stevige stof. De stof is echt een wonder: stevig, behoudt z'n vorm, dun en ademend, maar niet transparant. Zeer aangenaam om te dragen.

Eindelijk voel ik mij geen slons meer, maar vrouwelijk. Én vrolijk dankzij de mooie kleuren, dat mag wel na een moeilijke periode.

Leuk dat mijn meeste kleren onderling combineerbaar zijn doordat alles dezelfde stijl heeft. Meer outfits met minder kledingstukken.

Ik kijk al uit naar de wintercollectie. Winterkleding vind ik vaak eleganter en mooier van kleur.




---
V
&nbsp|&nbsp
2021-05-31 21:08:34
---
Super cute, nicely cut waist length cardigan; perfect to go over a dress. Lovely colour and detailing. The sleeves have a slight puff the the shoulder which is cute and flattering.
Lolly
&nbsp|&nbsp
2021-05-03 19:10:18
---
de
Ein wunderschön zusammengestelltes Ensemble-Kleidung, die perfekt zusammen gehört.
Ich habe mich für diese vier Dinge entschieden, die ein perfektes Zusammenspiel ergeben. Farblich in petrol blau, ist es für mich das perfekte Outfit, wofür ich echz bewundert wurde. Die Schuhe empfehle ich eine halbe Nummer größer zu bestellen, statt 36,5 lieber die 37.
Sieglinde Timplan
&nbsp|&nbsp
2023-01-03 13:23:33
---