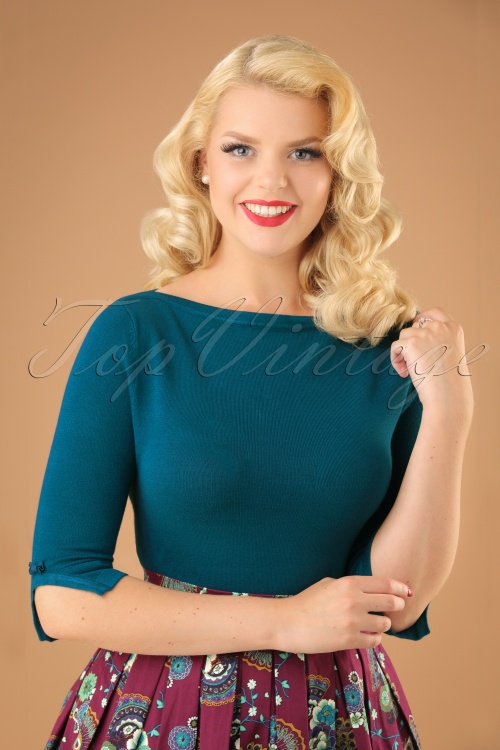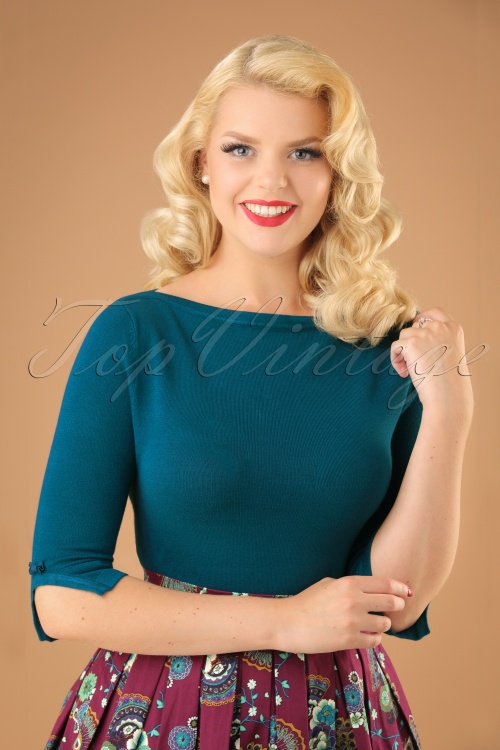 50s Addicted Sweater in Teal
Elegant and cute this 50s Addicted Sweater in Teal! Simple and yet so elegant due to the adorable detailing! The top features a beautiful slash neckline and flattering 3/4 sleeves finished off with slits and little fixed bows, só cute! Made from a lovely supple, stretchy teal blue viscose blend that will keep its shape, even after a few washes. A versatile classy top which can't be missed in every vintage lady's wardrobe, the name says it all; we're addicted!
Slash neck
3/4 sleeves with bows
Long enough to pair with regular trousers
Article nr.
22287
Handwash inside out
Wash dark colors seperately
Machine wash 30c delicate
Do not dry clean
Do not tumble dry
Ironing reverse cold
de
Wunderschön und sehr bequem!
Wunderschöne Farbe, toller Schnitt und auch noch super bequem! Das will ich auch noch in anderen Farben haben :-)
Maria
&nbsp|&nbsp
2018-02-08 17:45:27
---
Voor het eerst een bestelling gedaan bij Topvintage en niet teleurgesteld.
De jumpsuit zit als gegoten, met de broekspijpen exact de goede lengte, prettige stof en hij benadrukt mijn figuur perfect.
De rok zit wat krapjes, maar zeer mooi kwa kleur en kwaliteit. Het truitje past er ook fantastisch bij.
De witte blouse veel tegen met de stof, hij was dun en zeer doorschijnend, ook viel hij heel kort dus deze ging terug.
De spijkerbroek was van goede kwaliteit en zat mooi rond de benen maar viel helaas rond de middel te groot, ook deze dus dan maar teruggestuurd.
De kokerrok kreeg ik helaas binnen met een defect bij de split, ook deze ging terug.

Beste Lieke, wat fijn dat je eerste bestelling over het algemeen voldoet aan je verwachtingen! Maar het mag natuurlijk niet gebeuren dat je een rok ontvangt met een defect bij de split. mijn excuses hiervoor! Ik zie dat we de retourzending inmiddels hebben ontvangen en afgehandeld, hopelijk tot een volgende keer!

Groetjes,
Auke
Klantenservice
Lieke
&nbsp|&nbsp
2018-01-05 21:50:49
---
nl
Joehoe daar is mijn pakket
Bestelling nummer 3 alweer bij jullie, en net zoals bij de eerdere pakketten, ook dit keer weer niet teleurgesteld. Opvallend hoe de foto's echt matchen met de kleuren van de stof. Super! Past allemaal als gegoten en kom zeker weer bij jullie terug. Heb nog wel wat zaken op mijn wishlist staan, haha (misschien is een spaarkaart een leuk idee, ik moet soms echt artikelen verwijderen uit mijn winkelmandje ivm totaal prijs anders....maar ja....hoe kies je dan als je alles zo leuk vindt hihihi)
Evelyn van Diest
&nbsp|&nbsp
2017-12-19 10:16:47
---
Mooi dik shirt. Kleur komt goed overeen met de foto's. Zit heel comfortabel en winters. Heerlijk!
Melissa
&nbsp|&nbsp
2017-10-22 07:14:36
---
I love the teal top, the fabric is soft and durable and has cute bows on the sleeves, I got it in teal.

The boots are the cutest, I got a size 38 (UK size 5 and I am usually a UK size 5.5) and they fit perfectly. The heel is not too high, the insides are fleece lined and the plastic bows are detachable. The perfect statement shoe
Selina Moses
&nbsp|&nbsp
2017-10-14 10:13:49
---
Mooie stof, prachtige kleuren, doorstaat de was goed. Ik nam de xl ( 1m74 66kg vrij brede schouders). Spant niet, slobbert niet, net goed.
Kristel Brys
&nbsp|&nbsp
2017-09-17 12:33:28
---
Voor mijn verjaardag 10% af dus heb mij zelf getrakteerd op de mooie tas van Banned en truitje in maat L,de tas super mooi truitje te groot en natuurlijk niet meer in mijn maat.
Nu vraag ik mij af daar ik het truitje terug heb gestuurd en niet heb kunnen ruilen voor een maatje kleiner of de Bday 10% regel nog steeds in werking is wanneer mijn maat terug binnenkomt?
Groetjes,
Sandra
Sandra Lefftz
&nbsp|&nbsp
2017-08-22 12:04:13
---
Super leuk :D
laura habets
&nbsp|&nbsp
2017-08-06 21:17:09
---
nl
Mooi, mooier, echt mooi
Deze Banned sweater in Teal, Wat een mooierd. Heel aparte kleur en het materiaal echt zacht, adembenemend mooi. De Addicted truitjes van Banned worden echt steeds mooier. Yes! You can truly say :I'm Addicted!
Johannah Martens
&nbsp|&nbsp
2017-07-29 19:26:51
---
Zoals gewoonlijk past alles weer perfect. Jullie zorgen ervoor dat ik me altijd goed in mijn vel voel. De gele jurk is heerlijk zacht, rode broek zit als gegoten, de rode trui past perfect bij de broek, de teal kleurige trui is prachtig. Ik heb een okerkleurig exemplaar in mijn wishlist gezet. Zodra mijn maat weer beschikbaar is, bestel ik die ook.
Koen Stratsaert
&nbsp|&nbsp
2020-12-10 17:25:25
---
Weer zo blij met deze prachtige items!
De schoenen zitten heerlijk, zowel met als zonder sokken. Voelen soepel aan en loopt stevig, echt heel fijn. Krijg veel complimenten over de schoenen.
De shirtjes vallen heel mooi en de maat klopt precies.
De vestjes zijn heel fijn om zowel open als dicht te dragen. Zien er heel mooi uit, netjes afgewerkt, goede kwaliteit en mooie kleuren.


Fara Chanlo
&nbsp|&nbsp
2020-09-24 20:36:49
---
Na eerder al n paar x naast gegrepen te hebben, kocht ik twee jr terug eindelijk dit prachtige jasje. Zo elegant, creëert een mooie pinup look door een getailleerd effect, lekker warm door de wol en schitterende bloemige lining. Huilen, ik, toen ik door een medische fout opeens 20kg erbij kreeg. Had m slechts 2x aangehad! Maar gelukkig kon ik m in de uitverkoop begin dit jr alsnog twee maten groter wegsnaaien.
Hartje winter kun je er helaas niet mee lopen, ook al is het wol. Hij is lekker warm maar te dun voor kouder dan een goed frisse herfst.

En hij past op alles: jurk, broek, rok. En toen mijn cv uitviel heb ik m zelfs als binnenjasje/colbertje gedragen ;). Ideaal als je klein bent. Hoewel ik ook aan de Pearl ben gegaan is iets dat je nóg kleiner doet lijken niet altijd ideaal. Daarom dit jasje dus wel: hopelijk kan ik de bordeaux ook nog eens scoren want daar grijp ik al langer naast.

Enige grote nadeel: nergens zakken! Nu ben ik dol op rokken met zakken, maar een jas zonder is toch wel een enorm nadeel.
En ze vallen vrij krap bij borst. Ik heb nu een 12, maar daar kan geen dikke trui onder (1 vd redenen dat het geen echt koud winter materiaal is). Met maatje 14 verdwijnt het mooie getailleerde effect in de taille en de mouwen zijn al te lang voor me in deze maat (1.58m).

Desondanks is dit nog steeds het mooiste modern vintage jasje dat ik tot nu toe gezien heb! Wat mij betreft maakt Collectif ze ook in burnt orange of mustard en een mooi cobalt blue, heerlijke winter-jewel tones. Alleen dan met (binnen)zakken op zijn minst groot genoeg voor sleutels svp.
Djamila Zon
&nbsp|&nbsp
2020-09-08 18:07:12
---
Voor de eerste keer besteld bij Top Vintage en is voor herhalingvatbaar!
Alles is met zorg ingepakt incl toffe give away, dus uitpakken is,al een feest op zich!
En de kleding staat mooi en zit comfortabel!
Vooral over de jumpsuite krijg ik veel complimenten!
Deze wel wat ingekort maar verder zo blij mee!

margreet berghout
&nbsp|&nbsp
2019-11-25 10:43:58
---
De stofjes van beide shirtjes zijn heerlijk. Ze zijn iets dikker, dis ideaal als her wat frisée is. De paarse en blauwe kleur zijn super en de strikjes zijn 'te leuk'!
Anke van der Wielen
&nbsp|&nbsp
2019-07-16 16:38:50
---
de
Tolle Shirts - ein Must-Have und Allrounder
Ich habe schon mehrere Shirts von Banned gekauft, bin immer begeistert von den Farben sowie der Einfachheit des Schnittes. Der Auschnitt ist schön hoch geschlossen, die Ärmel haben eine gute Länge und in das Schleifen-Detail habe ich mich von Anfang an verliebt.

Die Shirts haben 2 verschiedene Stoffarten, das Shirt ist Dünn und extrem dehnbar, gleichzeitig aber schön weich und figurbetonend. Der Sweater hat eine leicht dickere grobgestrickte Qualität die dich ebenfalls gut dehnen lässt.

Alles und allem bin ich sehr zufrieden und werde definitiv noch mehr dieser Shirts bestellen, da man sie mit allem möglichen Kombinieren kann! Allrounder eben. (:
Patricia Rutkowski
&nbsp|&nbsp
2019-02-28 04:16:45
---
Ich habe dieses Oberteil bereits im letzten Jahr in einer anderen Farbe gekauft und freue mich meinen KLeiderschrank um mein Lieblingsoberteil in anderen Farben zu erweitern.
Florence Kreutz
&nbsp|&nbsp
2018-12-06 13:47:11
---
Eerst deze rok besteld en daarna gekozen om dit truitje erbij te bestellen. Super mooie combinatie, mooie stoffen en prachtige kleuren.
En natuurlijk een top levering...elke keer weer een feestje.
Anja Sneijders
&nbsp|&nbsp
2018-11-03 10:47:24
---
Een mooi model... alleen heb ik het idee dat de top door een vorige besteller is uitgelebberd. Ik heb een volle boezem en een smalle taille, dus de rest 'zweefde' als het ware. Het zag er niet uit. Wel heb ik kledingmaat S... Ook zaten er in de top kleurverschillen. De top ziet er erg goedkoop uit; die van mij in ieder geval. Erg jammer, deze gaat dus retour.

Beste Aylin, ik kan me goed voorstellen dat je teleurgesteld was! Natuurlijk moet de pasvorm perfect zijn! Onze excuses hiervoor! Ik zal je vandaag nog even een berichtje sturen. 

Groetjes, 
Mandy
Klantenservice
Aylin
&nbsp|&nbsp
2018-08-28 14:36:39
---
Deze combinaties staan prachtig bij elkaar. De ribbelstof lichtbruine rok is zo fijn voor de herfst. Als je klein in je taille bent dan raad ik een kleinere maat aan, de XS paste mij goed. Deze kleur staat prachtig met petrol blauw / teal, vandaar de bijpassende tops. De blouse draag ik een maatje kleiner vanwege de vrij volumineuze mouwen. Ik draag de blouse graag met de mouwtjes iets omhoog en dan het teal Mak vestje erop, met de ribbelrok of met de iets donkerdere bruine circle skirt. Dan komen de rouches van de mouwtjes net uit de mouwtjes van het vestje. Heel erg mooi bij elkaar. De bruine circle skirt is dunner dan je misschien verwacht (kreuk-gevoelig ook) en draag ik ook in een maatje kleiner (XS) en dan nog is hij ietsie ruim. Prima met een trui! De teal coltrui is lekker dik en staat mooi op beide rokken. De ivoor cabeltrui is iets warmer wit en daarom perfect voor mijn huidskleur. Hij is echt kort (bij mij ongeveer op de navel) maar daardoor perfect voor hogere taille rokken zoals deze twee (geen trui ophoping in de rok). Hij past perfect op beide rokken, heel mooi met een bruine panty met een werkje bijvoorbeeld (Marianne heeft zo'n panty). Ook de teal panty staat perfect bij de teal truitjes en de bruine rokken. Heel heel blij met deze items! Tip: er is een velours rokje van King Louie in de kleur Lovell. Deze truitjes passen daar perfect bij.
Amber
&nbsp|&nbsp
2021-10-09 09:33:44
---