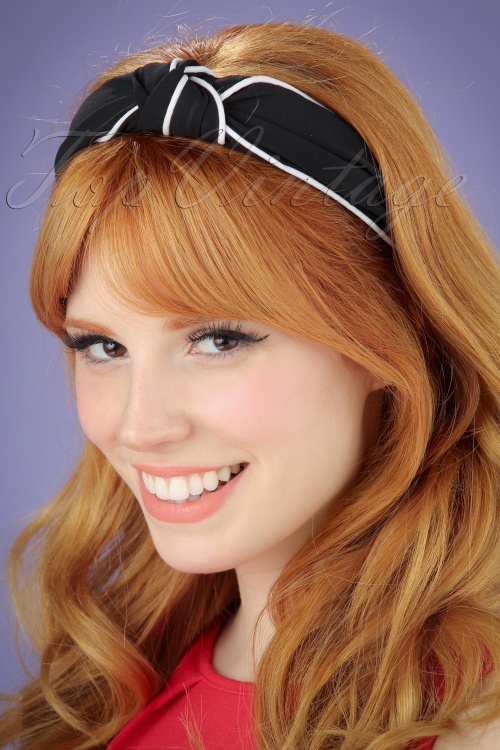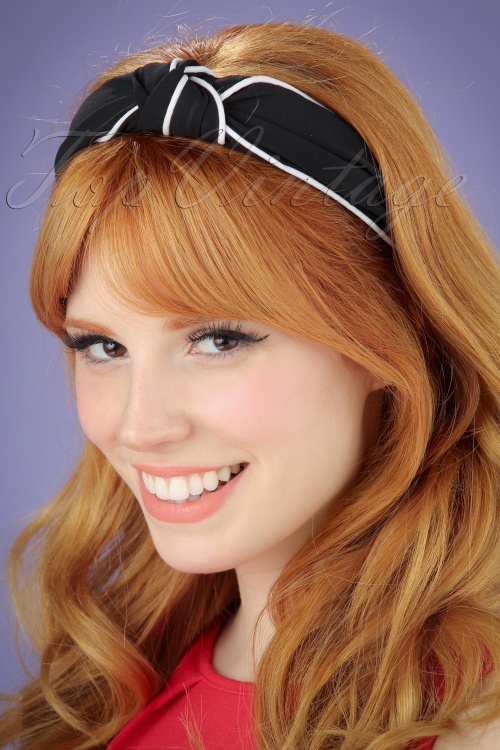 50s South Branch Hairband in Black
This 50s South Branch Hairband is a real must-have for the upcoming season! For all the rockabellas and pin-up girls... with this broad hair band you'll create the most beautiful hair styles in an instant! Made from black fabric with white trims and a playful knot, fitted with a firm strap. Wow! 
Solid hairband
Broad band
Knot detail
Article nr.
21090
Avoid contact with water/parfum/cleaning agent
Als je een breder hoofd hebt als mij, zit deze niet prettig door te harde band van binnen. Had zoals omschreven op wat versteviging gerekend, maar niet zo veel als dit. Helaas! Erg mooi verder, vast comfi voor veel anderen.
Miki
&nbsp|&nbsp
2018-05-31 17:31:09
---
fr
Ravie de mes derniers achats !
Voilà! le facteur qui sonne! encore pour une dose de bonheur et d'excitation à la vue de cette boîte rose... C'est à chaque fois la même chose ;) . Petit commentaire sur mes deux dernières commandes : Super! Je recommande sans soucis. Un super "Plus" pour les chaussures noires, elles sont d'un très grand confort, en plus d'être très belles. Je les adores :) . Un petit "moins", enfin un petit détail qui a son importance (pour moi), la jupe rose est un peu transparente, du coût pour être sûre de la porter j'ai acquis une sous robe "modelante" qui joue parfaitement son rôle ;) . Bon! on voit un peu les coutures de la sous robe mais cela me gêne moins. Un petit mot sur la jupe bleu ciel et les chaussures, c'est tout simplement ravissant! A bientôt avec une nouvelle commande ;)
Isabelle RENARD DUFOUR
&nbsp|&nbsp
2018-03-17 13:51:07
---
Habe mich gleich in dieses Kleid "verliebt". Die Farbe ist ganz toll und ungewöhnlich, aber sehr schmeichelnd und der Stoff angenehm leicht. Was mir bei solchen (engeren) Schnitten immer wichtig ist - entweder ein "Geh- Schlitz" hinten oder wie in diesem Falle (zwei) vorne, damit man sich gut bewegen kann.
Ich finde es sowohl alltagstauglich als auch für den Abend geeignet. Für mich absolut empfehlenswert!!
Die Haarreifen passen zu vielen Stoffen, sind angenehm zu tragen und rutschen auch nicht herum.
Der Schirm ist ein "Vintage-Extra", der einfach gut zu diese Mode passt, falls es denn mal regnen sollte....

Karin
&nbsp|&nbsp
2018-03-05 10:17:33
---
De stof zit alleen aan de bovenkant van de plastic diadeem. De diadeem is glad aan de onderkant. Het is een soepele band en zit niet strak.
Linda
&nbsp|&nbsp
2018-01-24 07:27:04
---
Encore plus joli en réel qu'en image ! Super sympa et un confort absolu ! J'étais fâchée avec les serre-têtes, là c'est un pur plaisir...
Je le recommande à toutes
Séverine DROUARD
&nbsp|&nbsp
2018-01-03 15:37:32
---
Wauw! Ik lijk wel jarig als ik het pakje uit pak :-)
Van vintage krullen naar een volledige vintage outfit.
Alles is leuk en past goed! Oei dat had ik niet verwacht, nou ja gelukkig 10% verjaardag korting. Jasje van mijn vriend gehad, tas van mijn ouders. Dus helemaal Vintage happy!
Rock'in rollers zijn ook erg fijn, nog een beetje oefenen met in model brengen, maar de krullen blijven heel goed zitten in mijn erg dunne haar.
Groene rokje heeft een glimmertje wat me eerst niet zo leuk leek, maar het staat erg mooi.
Alleen nog een beetje twijfel over het geruite rokje omdat een beetje scheef op de stof lijkt te zitten, vraag me af of ik me hier aan ga storen?
Maat tabel werk goed, beide rokjes hebben een andere maat maar passen prima.
Angelique Van Geest
&nbsp|&nbsp
2017-11-16 16:10:26
---
Sehr gerne mache ich wieder eine Bewertung zu meinen Artikeln.
Endlich habe ich zu meinen Outfits auch Accesoires, die sicher nicht die letzten sein werden.
Vom Haarschmuck bis zur Brille sieht alles Toll aus und ich bin begeistert (: .
Auch vieelen Dank für das Super Geschenk- es wird mein täglicher Begleiter sein im Urlaub ;) ..
Weiter so!
nina
&nbsp|&nbsp
2017-07-08 10:38:44
---
de
Fantastic dress for summer
The green Blutsgeschwister dress is great. The material is strechy, but very light which makes it ideal for hot days. The length and the small sleeves make it wearable also in the office. The colour is a bit "greener " that on the photo, where it looks more pastel-coloured, but is still great. I usually wear a 36/38 and was worried that the S could be slightly big, but it fits. Thumbs up for this dress, the money is well invested in it!

I bought the Dancing Days by Banned hairband to match with a b/w vichy pattern shirt for a fifties looks. Feels as if it could pinch a bit on the head on the long run, but that's a problem of most hair circlets. All together, nice accessoire for a great price.

Tonia
&nbsp|&nbsp
2017-06-26 07:28:54
---
Weer dolblij met zowel de haarband als de broches. De haarband en de gele broche zijn voor mijn moeder, alles staat zo mooi...we zijn er wederom erg enthousiast over.
Annegreet
&nbsp|&nbsp
2017-05-31 09:49:42
---
Haarband ziet er heel leuk uit! :)
Bibi
&nbsp|&nbsp
2021-03-26 13:17:25
---
nl
Laat de zomer maar komen ☀️
Ik ben helemaal blij met mijn nieuwe aanwinsten!! De jurken zijn heel elegant en zomers en zitten ook heerlijk comfortabel.
Susanne Lesius-Remmers
&nbsp|&nbsp
2021-02-23 16:18:23
---
Ik ben tevreden over de kwaliteit van het shirtje. Het is lekker zacht en voelt comfortable.
De oorbellen zijn geweldig en de sokken zijn schattig.
De haarband is ook erg leuk.
Milva
&nbsp|&nbsp
2021-02-18 10:59:44
---
Très agréable à porter et très joli, j'adore !
Maud
&nbsp|&nbsp
2020-12-04 11:36:24
---
Katzenalarm.....Ein tolles Stück, super weicher Stoff, gute Länge und ein entzückender Vierbeiner. Ein Liebhaberstück.
Susanne Hamann
&nbsp|&nbsp
2020-05-13 17:24:47
---
Diesmal geht nichts zurück. Alles passt perfekt. Tolle Qualität und das wichtigste- es steht mir.
Bin mal wieder mehr als zufrieden
Kathrin Bierbrodt
&nbsp|&nbsp
2019-11-13 10:57:48
---
Heb de site toevallig ontdekt en moet zeggen wat een leuke spullen hebben jullie ☺. Ik ben er helemaal weg van. Kleding dat ik besteld heb zit als gegoten en ben helemaal weg van mijn pumps. Laat de zomer maar beginnen.
Leyla Saritas
&nbsp|&nbsp
2019-04-28 17:27:10
---
Wie immer bin ich begeistert von allem. Super schnelle Lieferung und auch ein süßes Geschenk. Die Sachen sehen wie immer super aus und passen wie bei den Größenangaben angegeben. Das wird ein toller Frühling/Sommer mit den Sachen. Werde wieder bestellen und euch auch weiterempfehlen.
Kristina Schmier
&nbsp|&nbsp
2019-03-02 10:53:10
---
de
Hallo Liebes Top Vintage Team
Was soll ich sagen..alles wie immer super schön...
Service perfekt, Lieferung wie immer pünktlich..und die hübschen Stücke machen mich wie immer chic...
zu den Schuhen..sitzen 1a und passen in die komplette Sommergarderobe..
Gingham Style...sitzt perfekt... muss ich aber kurz durch spülen da es sehr steif ist..
Das Kirschenkleid ein Traum..hab S genommen statt M was ich sonst trage ...passt tadelos...
gelbe Bunny Bluse Gr. M auch super...
der Haarreif ...sehr niedlich zum Gingham Style...
das Kirschblütenkleid wunderbar...Frau sollte erst das Kleid anziehen-dann Makeup und Haare...bisschen schwierig mit den Reißverschluss im Rücken das er nicht bis zum Kragen durchgeht..
das rote Baumwollshirt..sitz, wackelt und hat Luft..S reichte auch hier wie es beschrieben war...TOP
die weisse Bluse mit der Schleife im Rücken... der Knaller... nicht schleudern ist ratsam..das sie sonst sehr knittrig ist..aber alles spitze...
das wisse Collectif Blüschen ... sitzt super das sollte man seine normale Größe nehmen sonst ist es zu fest an den Armen... ..Qualität ist toll nur leider immer ausverkauft .. !!!
So nun zu letzten Teil...die Gingham Capri.... da muss ich leider sagen 1x getragen wollen und kurz vor dem losgehen festgestellt die Poponaht ist auf...wohl beim anziehen passiert... :O(...das sollte doch die Nähte überarbeitet werden...die Hose sollte eng sitzen aber auch die Nähte sollten das aushalten...
Fazit.....alles wieder gut...und immer sehr sehr zufrieden...
Danke für das schön machen...
Bis bald...und alles eine gute Zeit
Anja ;O)
Anja Inderbiethen
&nbsp|&nbsp
2018-06-03 18:53:46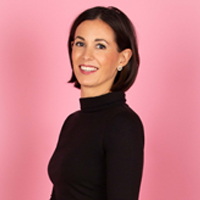 Response from Sylvia

Hallo Anja, Danke für Ihre tolle Bewertung! Bezüglich die Gingham Capris werde Ich mich mit Ihnen in Verbindung stellen.
Liebe Grüße,
Sylvia,
Kundenservice
---
Alles was geweldig zoals altijd!
Rokken passen perfect en zijn prachtig.

De vestjes zitten goed en zijn super schattig en ik heb al meerdere complimenten gehad over mijn tas; de kleur van de tas is in het echt nog mooier dan op de foto (en er past veel in).

Kortom, ik ben weer helemaal tevreden :)
Sanne
&nbsp|&nbsp
2022-09-15 20:04:46
---