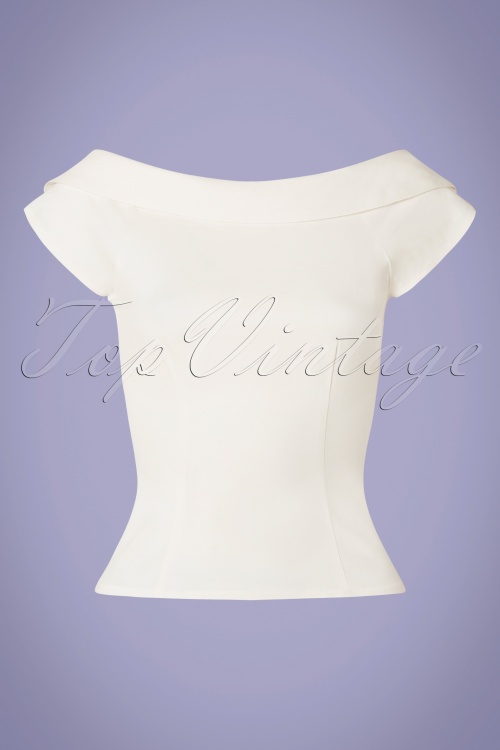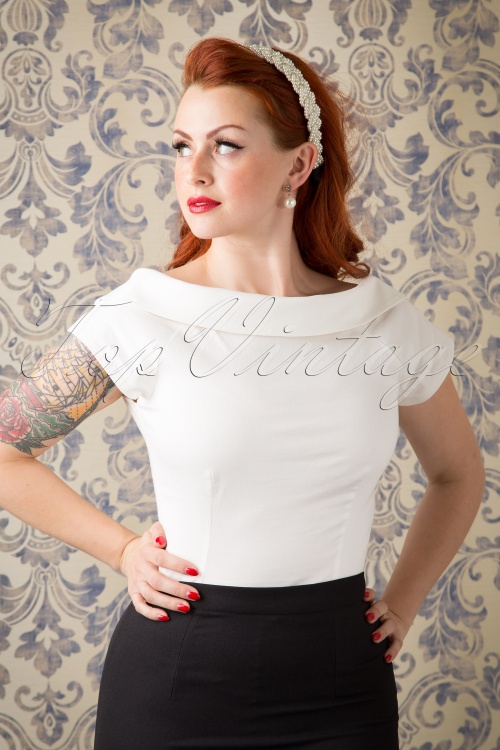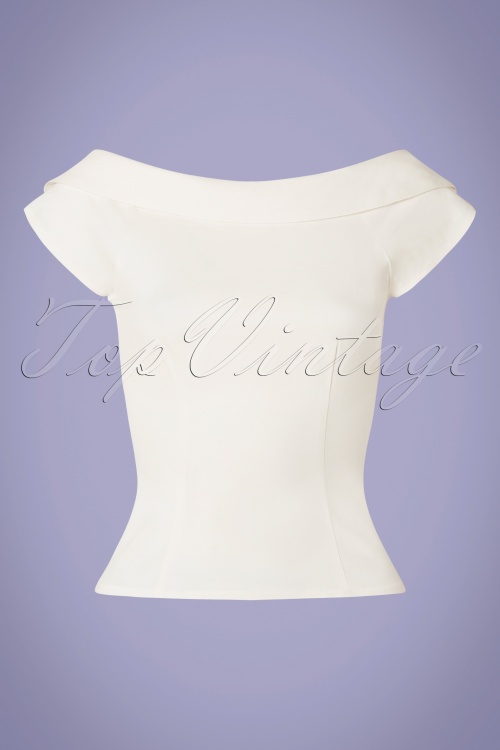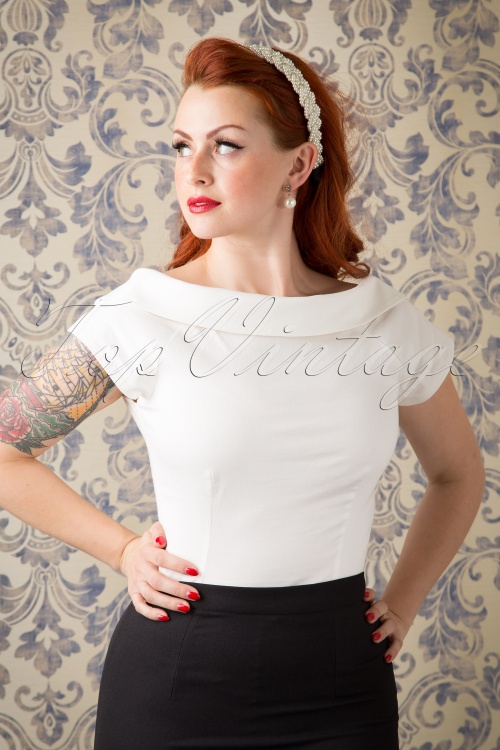 50s Cordelia Top in Ivory
The 50s Cordelia Top in Ivory is an elegant top with a little surprise at the back! She is styled with a gorgeous bateau neck with a fold-over collar that flows into a low cut back adorned with a little bow (your bra won't show). Made of a stretchy cotton blend in a stylish ivory colour that is a joy to wear. The top is slightly shorter making her a perfect match with a high waist skirt or trousers. Add some pearls to complete your classy vintage look!
Slightly shorter style: perfect with high waist items
Bateau neck with collar 
V-back
Fixed bow at the back
Cap sleeves
Hidden zipper at the side 
Article nr.
14831
Handwash inside out
Wash inside out
Machine wash 30c delicate
Do not dry clean
Do not tumble dry
Ironing reverse cold
nl
Zeldzaam dé Top Top....
Tip,
Neem gerust 'n maatje groter dan normaal , dan blijft de fijne stof ook goed in model en doorschijnen is alleen aan de orde doordat de top te krap is gekocht.
Normaal heb ik een maat kleiner maar nu zeker niet je zult zien een mooier top krijg je niet.
Sluit perfect aan op je lichaam, gebroken witte kleur,'n zij rits, strikje en fijn kraagje zo mooi als in de (oude) films en nergens anders nog gezien in deze tijd.
Aparte aanrader dus.

Rok of pantalon erbij ... alles kan!

Dank U t.v.
Jeanette
&nbsp|&nbsp
2017-06-26 19:09:40
---
nl
Mooi top, stof viel alleen tegen
Mooi model, helaas vond ik de stof te veel tekenen (ook bij maat xs) en doorschijnend. Dus helaas werd het een retour voor mij!
Joëlle
&nbsp|&nbsp
2017-06-07 15:21:50
---
de
Wenn man einfach nicht einsehen will...
... dass man keine "Sanduhr" ist:
Hatte das dunkelblaue Hemdblusenkleid vorsorglich gleich in zwei Größen bestellt. Sehr hübsch, schönes Material, niedliche Knöpfe - aber sowohl in M als auch in S fehlt mir leider die Hüfte, um es gebührend auszufüllen. *seufz*

Dafür behalte ich die süße weiße Bluse, die einen tollen Rückenausschnitt hat und wie angegossen sitzt. Sehr hot, und auch nicht zu kurz. Gefällt mir! :-)
mary
&nbsp|&nbsp
2017-05-24 14:59:51
---
Einfach mal was anders. Lässt sich prima mit allem kombinieren. DAS behalte ich :)
Heike
&nbsp|&nbsp
2017-05-24 10:12:37
---
Einfach wunderschön. Passt zu allem und kann prima kombiniert weden! Wird gleich in anderen Farben nachbestellt! :)
Heike
&nbsp|&nbsp
2017-05-24 10:09:30
---
had deze vorig jaar gekocht in een maat kleiner ,helaas zat deze na de eerste keer dragen al te strak en bleef ie maar in de kast . nu met de korting een maat groter besteld ,hij zit wat los aan de kraag maar past verder veel beter .
Fanny
&nbsp|&nbsp
2017-05-23 07:29:17
---
J'adore la simplicité du devant et le décolleté dans le dos avec le noeud. Un haut très chic, malgré une poitrine très généreuse et en suivant le tableau des mensurations (XL), il me va parfaitement bien
Emmanuelle
&nbsp|&nbsp
2017-04-09 19:50:15
---
Diese Bluse kam sehr zerknittert an!Kragen legte sich nicht. Durchsichtiger Stoff was ich nicht schön finde. Reißverschluss klemmt leicht. Dieses Oberteil geht wieder zurück. Sorry
mel
&nbsp|&nbsp
2017-04-05 18:56:47
---
Diese Bluse kam sehr zerknittert an!Kragen legte sich nicht. Durchsichtiger Stoff was ich nicht schön finde. Reißverschluss klemmt leicht. Dieses Oberteil geht wieder zurück. Sorry
Hallo Mel,
es tut uns Leid dass die Bluse nicht Ihren Erwartungen entsprach und dass diese zerknittert aus dem Karton kam. Wir tun alles daran die bestellte Ware in einem einwandfreien Zustand zu liefern. Und verpacken die Sachen sorgfältig und mit Liebe. Bitte entschuldigen Sie uns für die Unannehmlichkeiten. Wir nehmen die Bluse selbstverständlich zurück und sorgen dafür dass der Einkaufsbetrag schnellstens wieder auf Ihr Konto überwiesen wird.
Liebe Grüße
Marie-Louise
Kundenservice.
mel
&nbsp|&nbsp
2017-04-05 18:56:35
---
nl
Niet wat we er van verwachten
Helaas schijnt de top onwijs door en zijn ook de BH-bandjes zichtbaar. Niet helemaal wat we er ons bij voor hadden gesteld.....
Willem-Jan
&nbsp|&nbsp
2017-04-01 13:44:02
---
der Kragen sitzt anders als auf dem Foto zu sehen und wirft Falten. Zurecht gezuppelt und mit dem neckischen Schleifchen auf dem Rücken, aber sehr schickt.
Katrin
&nbsp|&nbsp
2016-11-01 08:21:03
---
Mijn brede heupen gooien vaak roet in het eten, maar nu heb ik alles goed kunnen meten en het past! Zelfs een maatje kleiner dan verwacht. ☺️ Hopelijk gaat het net zo goed met de zojuist bestelde schoenen en accessoires en dan ben ik zo goed als klaar voor ons feest!
Simone
&nbsp|&nbsp
2016-08-19 11:54:48
---
Bloesje eerder besteld, super mooi en schattig met de strik achteraan. Maat M zit gegoten, maattabel klopt, overweeg om het ook in het rood aan te schaffen. Vandaag rokje ontvangen, onmiddellijk gepast en zit super goed, afslankend effect, met mijn 1,59 m komt het juist op de knie. Heb jullie leren kennen door mijn dochter, want had de laatste 3 jaar af en toe iets gekregen voor verjaardag of nieuwjaar. Nu al 2 x zelf besteld en heel tevreden over de snelle levering en weer een leuke attentie in de doos gevonden.
Danielle
&nbsp|&nbsp
2016-08-09 08:37:48
---
nl
Weer prachtige spullen!
O wat ben ik weer blij! Alles is weer geweldig. De turquoise gebloemde jurk is mijn favoriet. Zoveel complimenten gekregen. Ik koop bijna alleen nog in 50s kleding en voel me op en top vrouw!
Andrea
&nbsp|&nbsp
2016-07-07 13:31:44
---
was er meteen zeker van die moet ik hebben,jammer genoeg was het uitverkocht nu terug binnen en niet getwijfeld .Zit geweldig en straalt de klasse uit die ik wou .
fanny
&nbsp|&nbsp
2016-06-29 12:07:58
---
Mooie top, goed om bij een hele hoop te combineren.
Jolanda
&nbsp|&nbsp
2016-04-26 20:46:50
---
schön verarbeitetes, zauberhaftes Top. passt super zu Tellerrock und co., aber auch zu Jeans!
Begeistert und überrascht war ich von der liebevollen Verpackung, welche es jedoch nicht verhindert hat, dass ich vor dem Tragen das Bügeleisen aktivieren musste.
Werde Euch weiter empfehlen!
Yvonne
&nbsp|&nbsp
2016-04-22 11:24:58
---
nl
Prachtig truitje met diepe rug!
Heel blij met dit klassiek vintage wit bloesje. Prachtige open rug en mooie ritssluiting langs de zijkant. Rekt mee. Perfect voor op al mijn hoog getailleerde broeken. Zoals altijd was het pakje met erg veel zorg ingepakt.
Celine
&nbsp|&nbsp
2016-03-22 14:33:18
---
Prachtig bloesje. De kleur is off white, en dat geeft dat echte vintage gevoel.
Een zongebruinde rug (of een mooie tatoeage, als je die hebt) komt extra mooi uit door de lage uitsnijding aan de achterkant.
Nicole
&nbsp|&nbsp
2016-03-13 16:32:36
---
Echt bekijks gehad met de prachtige schoenen! Echte eyecatchers en ze lopen ook nog eens lekker, doordat het een prettige, niet al te hoge hak heeft.
De blouse zit top, wel jammer dat het erg kreukelig uit de doos kwam.
Het is altijd een feestje als je een bestelling plaatst een de volgende dag de doos mag openen :)
Bianca
&nbsp|&nbsp
2016-03-08 21:36:09
---
Ein toller Schnitt, super Passform und die Schleife an Rücken IST zuckersüß. Freu mich auf warme Tage. Passt toll zu Röcken.
Yvonne
&nbsp|&nbsp
2015-11-21 10:40:45
---
De kleding is super! De stof voelt Heerlijk aan en het zit als gegoten!
majken
&nbsp|&nbsp
2015-11-19 15:10:52
---
De broek staat geweldig, vooral als je een smalle taille en brede heupen hebt!
Met het topje is het helemaal perfekt! Erg blij met m'n aankoop.
Anja
&nbsp|&nbsp
2015-11-18 21:17:42
---
Perfect shop everything is same as the pictures.
Maha
&nbsp|&nbsp
2015-10-30 00:18:58
---
Schon meine zweite davon.Ich liebe es einfach ❤❤❤
Thalita Ntontis
&nbsp|&nbsp
2020-02-25 19:38:00
---
Die oben genannten Punkte sind ok, aber nicht herausragend toll. Was mich aber stört, ist die Tatsache, dass der Stoff recht durchsichtig ist. Ich überlege das Top einzufärben, muss nur noch die richtige Farbe finden...
Sil
&nbsp|&nbsp
2020-02-09 08:50:43
---
Mooie kwaliteit t-shirt. Leuke halslijn.
Sigrid de Jong
&nbsp|&nbsp
2020-02-06 22:12:46
---
Wieder ein Vergnügen auszupacken.
Leider trotz abmessen, muß fast alles zurück.
Das Mäusekleid ist wirklich von guter Qualität, aber minimal am letzten Stück zu klein.
Die Langarm-Tops mit Schlüssellochausschnitt fallen unterschiedlich aus, das schwarze ist enger. Leider stehen sie mir nicht. Qualität ist aber gut.
Das grün gemusterte kurze Kleid ist trotz richtig gewählter Maße viel zu groß, vor allen an den Schultern. Länge super, mal was für kleinere Frauen.
Auf die helle Strickjacke mit den Kirschen und den rot-weißgemusterten Pulli mußte ich lange warten.
Ein schönes Material. Fassen sich gut an. Leider sind die Kirschen locker genäht und stehen ab. Dazu fällt sie bei mir etwas weit. Darum geht sie zurück, sonst hätte ich die Kirschen einfach fester genäht.
Die Pullis (rot-weiß/schwarz) sind leider mir auch zu weit.
Schade etwas schmaler wäre super gewesen.
Der Gürtel paßt einfach nicht zu meinem Kleid, da er sehr kompakt wirkt.
Die weiße Bluse, eigentlich ein schöner Schnitt, aber bei mir war es an den Schultern zu weit und an der Taille durch den dünnen Stoff zu eng.
Schade, schade! Gut nur, daß der Umtausch immer so schnell und reibungslos verläuft.
Es wird schon mal.wieder was Passendes dabei sein.
Die Auswahl ist ja groß!


Hallo Mareile, vielen Dank für Ihr Feedback und es tut mir Leid das nicht alles in Orndung war! Wir sind neugierig wie wir die Größentabelle noch verbessern können und deswegen werden wir uns heute noch bei Ihnen melden! :-)

Liebe Grüße,
Alexandra
Kundenservice
Mareile Könnecke
&nbsp|&nbsp
2020-01-29 23:26:13
---
De broek zit heerlijk zwierig en tekent niet af.
Het zwarte jurkje heeft een fijne strech-stof en sluit daardoor mooi aan. De witte top is simpel maar stijlvol. En het vestje is ideaal voor de winter. Die heb ik ook in het rood en zwart.
Lisette ten Haaf
&nbsp|&nbsp
2019-05-24 20:35:15
---
nl
Stylish, chic, clean line!
A wonderful dark blue pencil dress! I took L as I am very tall (1.84) . The length is perfect, with the little white belt it just makes the whole look super elegant; all fits great except a bit large for me at the bust ( normally I am size 10-12 UK, 40 EU) but overall the look it gives is stunning! Very classy and feminine!
The black little dress with pink ribbons is so sweet and girly! This one I took in M (UK12) and it comes a bit above the knee to me but this makes the look really cute! Loving it!
And the creme blouse is fantastic! I took M - perfect fit for me! It is Audrey Hepburn style - goes well with a pencil or rockabilly skirts as well with fitted high waist 60s style pants. Feminine to the bones! Thank you Top Vintage!
anonymous
&nbsp|&nbsp
2019-05-22 19:18:23
---
nl
Helemaal blij met alle aankopen!!
De blauwe pencildress met witte biezen staat super mooi en zit geweldig. Ookde lengte, net onder de knie, bij mijn lengte van 175cm.
Ook het ivoorwitte bloesje is prachtig. De stof heel mooi en de pasvorm prima. Ik voel mij er heel mooi in!
Het sarongjurkje met de tropische vogels zit super en zit heerlijk.
De maattabellen hebben mij prima geholpen. Ik ben erg tevreden en enthousiast geworden over Topvintage!
Jannie van Loo
&nbsp|&nbsp
2019-04-11 18:24:39
---
WoW super mooi!!! Ben er helemaal verliefd op! Past perfect zelfs als je klein bent net als ik! Ben blij dat ik jullie site gevonden heb
Silvia Van hoof
&nbsp|&nbsp
2019-03-26 20:51:42
---
Hauts Superbes taille très bien très classe confortable . Boucles magnifiques elles brillene j'adore. Short aussi taille très bien .
claire Fayolle
&nbsp|&nbsp
2019-03-23 14:55:37
---
Erg ienieminie deze top, zowel qua lengte als breedte (en dat terwijl ik de maattabel echt goed aangehouden heb). Het zal mijn model dan niet geweest zijn.
Beste Glow, jammer om te horen dat de Cordelia Top niet hét model voor je bleek te zijn. Je mag hem vanzelfsprekend aan ons retourneren! Ik wens je heel veel plezier aan de behouden Tops :-)
Groetjes,
Sylvia
Klantenservice
Glow
&nbsp|&nbsp
2018-07-12 20:16:43
---
de
Hallo Liebes Top Vintage Team
Was soll ich sagen..alles wie immer super schön...
Service perfekt, Lieferung wie immer pünktlich..und die hübschen Stücke machen mich wie immer chic...
zu den Schuhen..sitzen 1a und passen in die komplette Sommergarderobe..
Gingham Style...sitzt perfekt... muss ich aber kurz durch spülen da es sehr steif ist..
Das Kirschenkleid ein Traum..hab S genommen statt M was ich sonst trage ...passt tadelos...
gelbe Bunny Bluse Gr. M auch super...
der Haarreif ...sehr niedlich zum Gingham Style...
das Kirschblütenkleid wunderbar...Frau sollte erst das Kleid anziehen-dann Makeup und Haare...bisschen schwierig mit den Reißverschluss im Rücken das er nicht bis zum Kragen durchgeht..
das rote Baumwollshirt..sitz, wackelt und hat Luft..S reichte auch hier wie es beschrieben war...TOP
die weisse Bluse mit der Schleife im Rücken... der Knaller... nicht schleudern ist ratsam..das sie sonst sehr knittrig ist..aber alles spitze...
das wisse Collectif Blüschen ... sitzt super das sollte man seine normale Größe nehmen sonst ist es zu fest an den Armen... ..Qualität ist toll nur leider immer ausverkauft .. !!!
So nun zu letzten Teil...die Gingham Capri.... da muss ich leider sagen 1x getragen wollen und kurz vor dem losgehen festgestellt die Poponaht ist auf...wohl beim anziehen passiert... :O(...das sollte doch die Nähte überarbeitet werden...die Hose sollte eng sitzen aber auch die Nähte sollten das aushalten...
Fazit.....alles wieder gut...und immer sehr sehr zufrieden...
Danke für das schön machen...
Bis bald...und alles eine gute Zeit
Anja ;O)
Hallo Anja, Danke für Ihre tolle Bewertung! Bezüglich die Gingham Capris werde Ich mich mit Ihnen in Verbindung stellen.
Liebe Grüße,
Sylvia,
Kundenservice
Anja Inderbiethen
&nbsp|&nbsp
2018-06-03 18:53:46
---
Das ist mal eine Seite mit Niveau, Chic,Qualität und Herz...schön dass es Euch gibt!
Ev
&nbsp|&nbsp
2018-05-26 08:07:34
---
fr
Ravie de mes derniers achats !
Voilà! le facteur qui sonne! encore pour une dose de bonheur et d'excitation à la vue de cette boîte rose... C'est à chaque fois la même chose ;) . Petit commentaire sur mes deux dernières commandes : Super! Je recommande sans soucis. Un super "Plus" pour les chaussures noires, elles sont d'un très grand confort, en plus d'être très belles. Je les adores :) . Un petit "moins", enfin un petit détail qui a son importance (pour moi), la jupe rose est un peu transparente, du coût pour être sûre de la porter j'ai acquis une sous robe "modelante" qui joue parfaitement son rôle ;) . Bon! on voit un peu les coutures de la sous robe mais cela me gêne moins. Un petit mot sur la jupe bleu ciel et les chaussures, c'est tout simplement ravissant! A bientôt avec une nouvelle commande ;)
Isabelle RENARD DUFOUR
&nbsp|&nbsp
2018-03-17 13:51:07
---
Ich weiß nicht, wie das Team von TopVintage das schafft, aber meistens sitzen die Sachen bei mir einfach nur perfekt. Ich gebe die langen Bummeltouren auf. Ab sofort komme ich nur noch hierher ))).
Maja Hirsch
&nbsp|&nbsp
2018-03-14 19:54:22
---
Die Bluse wird ja schon seit ein paar Jahren angeboten und immer wieder habe ich mir gedacht "beim nächsten Mal kaufst du sie". Jetzt habe ich endlich zugeschlagen und die Bluse ist genauso schön wie auf dem Bild! Sie passt wie angegossen und der Reißverschluss an der Seite vereinfacht das An- und Ausziehen. Ein perfekter Kauf!
Maria
&nbsp|&nbsp
2018-03-09 17:45:32
---
Ik ben weer helemaal blij met mijn nieuwe outfit. Maten kloppen zoals altijd precies. Alleen jammer dat de top een beetje kort is, had voor mij persoonlijk wat langer gemogen, maar ik ben dan ook 1.80
Het vestje is echt een schatje en zit heerlijk. Helaas heb ik m net voor de sale gekocht. Maar dat mag de pret niet drukken, past perfect bij de rok.

Beste Sabine, wat leuk dat je zo tevreden bent met je nieuwe aanwinst! Ik weet zeker dat je er ook heel veel plezier van zult hebben. Omdat je aangeeft dat de top iets aan de korte kant is en wel iets langer had mogen zijn, wil ik je nog een tip meegegeven. De lengte van de items vermelden we ook in de maattabel, deze kun je terugvinden op de website, rechts naast de foto. :-)
Wat betreft de sale, ik kan me voorstellen dat dat iets minder leuk is maar ik zal eens voor jou ik het systeem duiken en zal er vandaag nog op terug komen!

Groetjes,
Mandy
Klantenservice
Sabine
&nbsp|&nbsp
2017-07-04 20:03:02
---
nl
Cadeautjes en 1 domper
Wat een heerlijke bestelling weer, zo blij mee! De pin is prachtig, het t-shirt van mooie kwaliteit, valt mooi door de hals. Het giletje valt op maat en de kleur is zo mooi, sluit netjes aan. Alleen de witte top met lage rug. Meteen aangehad, zo mooi, helemaal verliefd. Maar in de was, op 30gr op de fijne stand, toch dusdanig gekrompen dat ze niet meer mooi past. Teveel gekrompen ondanks voorzichtige behandeling. Dikke domper dus.

Hallo Janka,

Wat ontzettend vervelend dat je mooie top al meteen na de eerste was is gekrompen, onze excuses hiervoor!
Uiteraard gaan we dit voor je oplossen, ik heb je zojuist een mailtje gestuurd ;-)

Groetjes,
Karin
Klantenservice
Janka
&nbsp|&nbsp
2021-06-26 15:41:11
---
Wat een leuke blouse, ik ben vrij lang, lengte verbaasde me aangenaam. Zit super, fijn stofje en staat weer geweldig. Maat klopt weer als een bus. Blij mee
Janna
&nbsp|&nbsp
2021-05-26 04:58:03
---
Bonjour je viens de recevoir mon chemisier il est conforme à mes attentes très jolie je l'avais imaginé satiné mais il en coton ce qui n'est pas plus mal normalement je vais le mettre pour nos 10 ans de mariage en septembre prochain quant aux mensurations ils sont corrects
Bonjour Virginie, merci pour votre avis ! Le saviez-vous que nous mentionnons toujours la matière des articles sous "Soins et matières" ? ;-)
Cordialement,
Nicole
Service Clientèle
Virginie Mouillerac
&nbsp|&nbsp
2021-05-20 17:02:07
---
Soooo beautiful ❤️❤️! Very nice shirt
Elisabeth Beyer
&nbsp|&nbsp
2021-05-18 12:20:53
---
Ich liebe die Schuhe! Wunderschön und bequem!!

Das weiße Oberteil ist etwas durchsichtig, aber nicht zu sehr. Bei weißer Kleidung ist das ja normal. Ansonsten sehr hübsches Teil.
Saskia Kohlbeck
&nbsp|&nbsp
2020-04-28 13:09:50
---
Konnte es wieder nicht erwarten, dass das Paket kam. Es geht bei euch immer schön schnell.
Das Kleid ist wie immer sehr schön. Passt natürlich super. Bei den Kleidern habe ich immer eine Größe. Und die passt super. Ich freue mich schon auf wärmere Temperaturen.

Das Shirt geht leider zurück, da der Stoff zu dünn ist. Es scheint alles durch.

Bleibt alle schön gesund.
KathrinEF
&nbsp|&nbsp
2020-04-04 11:00:06
---
en
Lovely skirt and blouse
The blouse fits perfectly and looks just great! The skirt is a tiny bit too big but still looks nice so I am keeping it.
Fenja
&nbsp|&nbsp
2020-04-03 07:12:06
---
leider zu groß und deshalb schweren Herzens zurück
Göbel Birgit
&nbsp|&nbsp
2020-02-27 14:49:27
---
Das Top ist sehr schön, passt auch gut, sollte jedoch eine Nummer größer bestellt werden. Habe es gewaschen, getrocknet und gebügelt - jetzt ist es zu klein. Freut sich halt meine Tochter in ein paar Jahren drüber :-)
Yvonne
&nbsp|&nbsp
2022-05-17 08:11:31
---
Beide kleedjes & topje zitten fijn, zijn mooi & van heel goede kwaliteit. De juweeltjes zijn ook heel mooi - vooral het schildpadje is heel schattig. Kortom ik ben heel Happy met mijn nieuwe aanwinsten.
Ingrid
&nbsp|&nbsp
2021-07-01 06:56:18
---