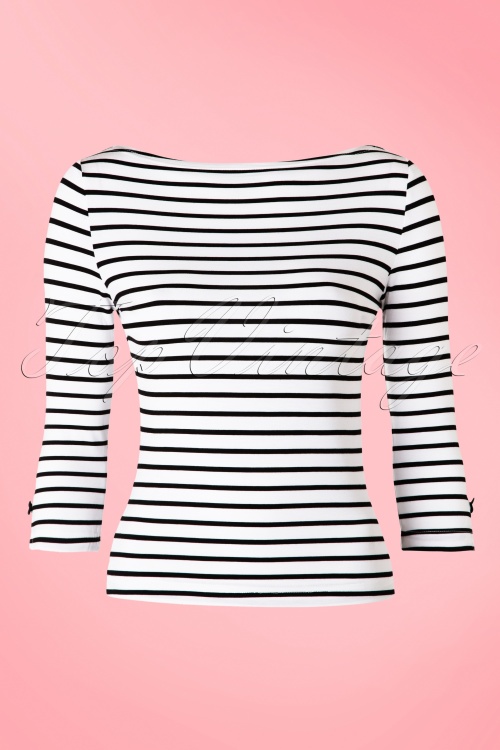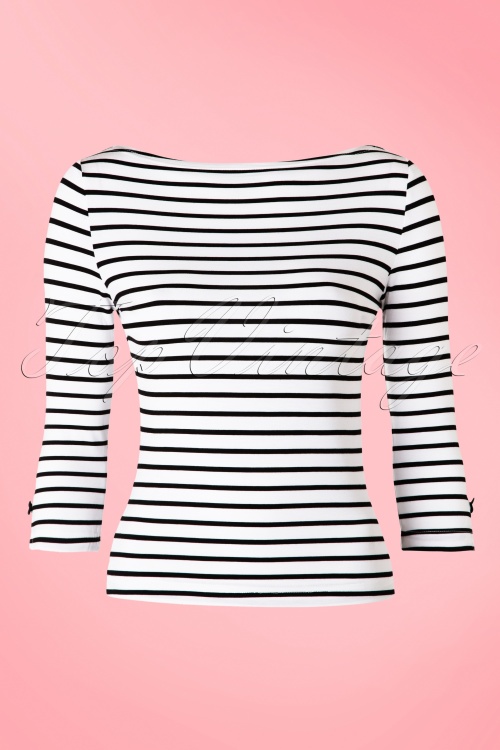 50s Modern Love Stripes Top in White and Black
Elegant and cute this 50s Modern Love Stripes Top! Simple and yet so elegant due to the adorable detailing. The top features a beautiful boat neck and sleeves finished off with slits and little bows, só cute! Made from a lovely supple, stretchy viscose blend with black and white stripes that will keep its shape, even after a few washes. A versatile classy top which can't be missed in every vintage lady's wardrobe!
Handwash inside out
Wash inside out
Machine wash 30c delicate
Do not dry clean
Do not tumble dry
Ironing reverse cold
Jullie pakje kwam op 5 december in Ierland dus beter getimed kon niet! Ik had een heerlijk avondje ...letterlijk! Een par items moet ik ruilen omdat ze te groot zijn...ik ben dus dunnr dan ik dacht..of jullie maten zijn gewoon lekker ruim! De kleding voelt heerlijk zacht en comfortabel en ik kan niet wachten tot ik de juiste maat van de rok en broeken heb! Ik kom zeker terug! Lieve mensen aan de telefoon en een snelle bestelling...wat wil je nog meer? Oh..en ik heb mijn ierse collegaa's gek gemaakt met mijn verhalen over jullie website..:)
elizabeth wilschut
&nbsp|&nbsp
2016-12-07 19:18:53
---
Hele gave rok! Slankt af met de peplum en een fijne strechy stof.. Was er meteen verliefd op! ❤
Het zwart-witte shirt past er mooi bij en is ook een fijne stof, wat niet snel zal lubberen volgens mij..
Over de groen-zwarte top zit ik nog te twijfelen.. de zwarte strepen is niet helemaal de juiste kleur en hij is ook iets te casual vergeleken bij de chique rok.. Nog maar even een keer passen en dan ene beslissing maken..

Alles van topkwaliteit en snel in huis! Ik ben weer enorm tevreden TopVintage! Bedankt
Liza
&nbsp|&nbsp
2016-10-08 12:47:59
---
Simpel maar stijlvol. Helemaal wat ik zocht, happy!
Monika
&nbsp|&nbsp
2016-09-13 15:18:23
---
Alweer wat moois besteld. Capri broek zit goed dankzij het maatadvies. Het gestreepte truitje heb ik ook al in het rood en zwart. Super mooi en fijne stof!
Monique
&nbsp|&nbsp
2016-09-06 20:20:50
---
Ich habe das Shirt in Mint und Schwarz-Weiß gestreift und bin mit beiden sehr zufrieden. Ein Hinweis: Besonders das Mintgrüne Shirt ist aus sehr feinem Stoff und dadurch zeichnet sich die Figur relative stark ab. Man könnte tendenziell eine Größe größer wählen als normalerweise.
Christina
&nbsp|&nbsp
2016-07-06 12:09:15
---
Alles wat ik bij Topvintage bestel zit als gegoten! Zo ook deze rok
Bianca
&nbsp|&nbsp
2016-07-06 09:34:33
---
Gesehen, verliebt, bestellt...
und ich muss sagen, sie sitzt wirklich super! Und das für das geld!!! Ich besitze eine maßgeschneiderte latzhose, die dieser sehr ähnelt, genauso schön sitzt und fast drei mal so teuer war.
stefania
&nbsp|&nbsp
2016-07-05 15:47:23
---
Ben helemaal weg van deze site! Veel leuke producten en goede maattabellen. In een week meteen twee bestellingen gedaan!

- Rode broek : valt volgens de maattabel, perfect! Valt dus inderdaad wat groot uit. Ik heb een xs besteld. Met mijn lengte van 168 cm kan ik net aan platte schoenen er onder dragen. De stof kreukt wel snel, er zat al een flinke kreukel naast de lijn die in de pijp hoort bij aankomst. Vond het niet heel storend.
- Witte top: valt in mijn gebruikelijke maat, heb een s besteld. Hele mooie dikke stof!
- gestreepte top: valt hetzelfde als de witte top, maar is van heel ander materiaal. Dunne, gladde stof, zit heerlijk.
-Blauwe broek : ook xs besteld, lengte is vergelijkbaar met de rode broek. Heel ander materiaal : stretchy en een stuk dikker en synthetischer. Zit heerlijk, valt rond de heupen wat strakker dan de rode broek. Heb daarentegen weer wat meer ruimte bij mijn taille. Valt mooi!
-peplum top: super vrolijk! Gaaf op mijn rode skinny jeans, maar is met heel veel te combineren. Heb een s besteld, was perfect. Stof heeft een klein beetje stretch.

Hoop dat mijn review helpt een keuze te maken of de juiste maat te kiezen!
Kim
&nbsp|&nbsp
2016-06-12 20:29:55
---
thank ya for being there, I'm soooo into Topvintage, the clothes fit perfect... everything is so flattering... the shipping is the best of all :) thank ya for existing <3
valérie
&nbsp|&nbsp
2016-05-26 03:30:41
---
Hele leuke shirtjes om dragen. Fijne, zachte stof en de strikjes maken het af. Ik ben fan :)
Lien
&nbsp|&nbsp
2016-05-19 19:49:47
---
Prima combinatie met de taillebroekjes, luchtig, ook bij tropische temperaturen. Blij!
Eva
&nbsp|&nbsp
2016-05-11 17:13:09
---
Prachtige top. Mooie stevige stof, waardoor de top prachtig staat. De schuine streep geeft een leuk effect en is lekker anders.
Ik dacht dat de top blauw met wit was, maar de strepen zijn heel erg crème (als ik nu kijk zie ik dat ook wel op de foto ;-)
Dank je wel topvintage!
Esther
&nbsp|&nbsp
2016-05-07 05:42:20
---
De stof van de jurk en het shirt vond ik erg dun. Ik draag maat 40/42. Maar vond vooral het shirt erg tekenen en dat was niet omdat het te strak zat. De jurk stond prachtig maar door de rok kon je mijn contouren zien, echt heel jammer!
Esther
&nbsp|&nbsp
2016-05-07 05:26:46
---
nl
TOPvintage ! Fantastische service
Bij bestellen had ik zelf een foutje gemaakt en dit is meteen opgelost, geweldige service!!! De bestelling was er binnen 1 dag en ik ben superblij met de shirtjes, schoenen en het hoedje. Heel hartelijk dank, topvintage= topservice!
Arianne
&nbsp|&nbsp
2016-05-02 09:13:35
---
allerdings war in Anfang etwas enttäuscht, da ich das gleich Shirt schon in schwarz habe, dachte ich auch dass das gestreifte das gleiche Material ist. Leider nicht. Das schwarze Shirt ist ein leichter Strickstoff und das gestreifte ein ganz normale T-Shirt-Stoff der auch relativ dünn ist. Ich habe es trotzdem behalten das einfach toll aussieht.
Silvia
&nbsp|&nbsp
2016-04-04 10:38:48
---
Besonders schöne Kleidungsstücke, besonders unkomplizierter Service, besonders viel Freude bei der Lieferung, besonders voller Kleiderschrank;-)... da ich nur besonders selten etwas zurück schicke. Dann lag es bisher auch nur daran, weil es mir nicht stand oder ich nicht richtig gemessen habe. DANKE!
Heike
&nbsp|&nbsp
2016-03-30 18:33:37
---
Altijd een feest om een pakje te krijgen! Het shirt zit heerlijk, dat wordt nog een kleur bestellen! Ook de oorbellen zijn top! De jurken zitten helaas niet mooi. De gestreepte jurk is van mooie kwaliteit, maar past helaas niet. Ik heb brede heupen en smalle schouders en dan is deze jurk niet geschikt. De bloemenjurk vind ik echt waanzinnig mooi, helaas valt de jurk erg klein en zit er weinig stretch in de stof. Volgens de maattabel zit ik tussen maat 12 en 14, voor de zekerheid beide besteld. Ik blijk echter maat 16 nodig te hebben en die is helaas uitverkocht...
Carlijn
&nbsp|&nbsp
2016-03-30 09:21:05
---
Der Stoff ist super angenehm zu tragen auch der Schnitt ist sehr schön. Nur leider waren mir die Shirts zu kurz ( 1,76 cm groß). Das helle Shirt war mir leider auch etwas zu transparent darum ging es wieder zurück.
Die Bestellung .....wie immer Blitz schnell. Danke dafür.
nicole
&nbsp|&nbsp
2016-03-25 19:53:50
---
Daumen hoch für diesen Schnitt, schön schwingen und auch mit Petticoat zu tragen. Ich bin 1,76 groß und da ist die Länge perfekt. Der Stoff ist schön, knitter aber leicht was aber durch das Muster kein Problem ist.
Die Shirts sind auch sehr angenehm. Allerdings musste ich sie zurück schicken da sie mir leider zu kurz waren, zudem war mir das hell Shirt zu dünn vom Stoff und leider auch zu transparent.
Die Bestellung war wie immer in einer Geschwindigkeit bei mir, das ich mich mal wieder gefragt habe wie ihr das macht........
Montag bestellt - Dienstag bei mir. Ich liebe es bei euch zu stöbern, fündig zu werden und mich auf die süßen Teile zu freuen. Macht bitte weiter so.
nicole
&nbsp|&nbsp
2016-03-25 19:48:32
---
Alles is leuk,krijg veel complimentjes ben er erg blij mee het is net iets ander al dat je in een mode winkel koopt
M.
&nbsp|&nbsp
2016-03-13 21:25:23
---
J'ai reçu mon petit top marin (blanc/noir) et j'en suis ravie. Je l'imagine déjà associé à ma jupe rouge, ce sera parfait ! Tissu assez léger donc agréable s'il fait chaud, et parfait aussi pour les matins plus frais avec un petit cardigan.
Catherine Gauthier
&nbsp|&nbsp
2018-03-18 07:09:23
---
Das Oberteil ist an sich sehr hübsch und genau mein Stil - aber der Stoff ist viel zu dünn und wirkt deshalb nicht hochwertig. Sehr schade, aber deshalb geht es zurück.

Hallo Sandra, es tut uns Leid dass das Material Sie nicht überzeugen kann. Das ist sehr schade! Entschuldigen Sie uns bitte. Sie können es selbstverständlich zurückschicken und dann werden wir bei Erhalt der Rücksendung den Kaufbetrag erstatten! Ich bin mir sicher dass Sie schnell etwas anderes finden werden!

Liebe Grüße,
Mandy
Kundenservice
Sandra
&nbsp|&nbsp
2018-02-19 15:19:33
---
Al deze artikels zaten als gegoten! Heel goede kwaliteit en zitten heel comfortabel.
De schoenen heb ik een hele avond aan kunnen houden, super!
De shirts en de rok zaten ook zoals het zou moeten! Zeer tevreden!!
Yvette Peeters
&nbsp|&nbsp
2018-02-18 20:48:43
---
Dank der tollen Grössenangaben passen zu 95% immer diese tollen Kleidungsstücke, ich werde oft wegen der tollen Kleider angesprochen die Qualität ist immer top bis jetzt habt ihr mich nie enttäuscht sei es Service oder die Qualität der tollen Kleidungsstücke nur weiter so
Heike Reinfeld
&nbsp|&nbsp
2018-01-03 19:09:19
---
Top vintage has, as always delivered a great service: speedy shipping and beautiful clothes! The wrapping, the package and the little surprises shows why top vintage is our favorite online shop in Europe!

I would love to give a 5*****, but the size situation of the hell bunny Hamilton pencil dress (being so off) and the cost to return it makes me give a 4**** only.

Reviews:

* The green vintage chic pencil dress is made of an exceptionally good material and is extremely flattering. It fits me perfectly and its probably one of my fav dresses ever!

* Red vintage chic dress is comfortable and made of a lovely textured fabric. It fits like a glove!

* Green dancing days top is beautiful and made of a much better material than the red one.

* Red dancing days top is made of a very poor material, too thin, too strechy and almost a see through. I'm very disappointed as if feels basically like a primark low quality product for the triple of the price. Very different from the green one, which is of good quality. Color is gorgeous but I regret I bought it.

* The bunny Hamilton pencil dress... What can I say?! It never happened before and I own a lot of hell bunny clothes, but nothing in this dress fits! It's too big, EVERYTHING is too big, which makes me wonder if there was any mistake with the tag in the factory??!! I got an XS, It's large on the arms (all other reviews stated it was a bit tight on the arms), extra large on the waist, chest, hips... It's basically a huge potato bag! The size is overwhelmingly off and the cost to return it made me a bit reluctant to buy online as often as I wanted.

* The hell bunny pencil skirt is gorgeous and fits like a glove!

* The hell bunny doralee round skirt is beautiful and although I never liked round skirts, this one got my heart!

All other hell bunny tops are very flattering and sexy, but the collectiff clothing black top is made of a much better material than the black hell bunny Melissa top.
Dear Maria, I'm glad to read you're happy with most items, but I'm sorry a few of them were disappointing. I'll send you an e-mail to look into the matter together!
Kind regards,
Nicole
Customer service 
Maria João Oliveira Coelho
&nbsp|&nbsp
2017-12-29 18:34:00
---
Der Rock ist wunderbar, tolle Länge (ich bin 174cm und er endet knapp unter dem Knie) und sieht super beim Tanzen aus, leider kam er zerknittert an.
Das Oberteil ist hübsch anzusehen, der Stoff ist aber relativ dünn und auch etwas durchsichtig.

Hallo Tara, alle unsere Bestellungen werden liebevoll verpackt aber leider lässt es sich nicht vermeiden dass bestimmte Artikel ein wenig zerknittert bei den Kunden ankommen. Bitte entschuldigen Sie uns! Ich werde mich schnellstmöglich bei Ihnen melden.

Liebe Grüße,
Desiree
Kundenservice
Tara Towhidi
&nbsp|&nbsp
2017-12-21 14:49:19
---
Een simpel en mooi topje van een fijne stof met een goede pasvorm. Simpel weg top!
Amber
&nbsp|&nbsp
2017-09-05 13:46:54
---
de
Habe ich in allen Farben
Angenehm weiche Qualität, gute Länge der Ärmel, geht bis über die Hüfte.
Simone
&nbsp|&nbsp
2017-06-22 13:53:27
---
Blij met ieder stuk, kwaliteit, maat en draagcomfort zijn top! De complimenten over mijn kleding zijn ook mooi meegenomen
Ada b.
&nbsp|&nbsp
2017-06-09 11:19:50
---
Super mooi shirt! Helaas hem gister voor de eerste keer aangehad, de naden aan de zijkant zijn al los... jammer van deze slechte kwaliteit.
Beste Amy, wat ontzettend vervelend dat de naden al los zijn. Onze excuses! We nemen vandaag nog contact met je op!
Groetjes,
Nicole
Klantenservice
Amy
&nbsp|&nbsp
2017-06-01 11:05:42
---
Es ist jedes Mal eine Riesenfreude ein Päckchen von Top Vintage zu bekommen und alle Sachen passen, danke den Maßangaben perfekt. Vielen Dank und weiter so.
Nur bei den angebotenen Zahlarten wäre es auch toll, wenn es Rechnungskauf oder Nachnnahme gäbe.

LG, Saskia
Saskia
&nbsp|&nbsp
2017-05-11 06:40:33
---
en
Loveley streatchy light weight tshirt fabric!
Nice to have a top that is suitable for work wear ( less revealing) Love the little split sleeve with black bow detailing, this makes it realy stylish. Washes a treat and dries quick too. True to size .
Jemma
&nbsp|&nbsp
2017-05-07 23:28:46
---
Ich bin immer wieder begeistert beim Empfang der Ware Top Vintages. Schneller Versand, reizende Verpackung und mit jedem von mir bestelltem Teil bin ich mehr als zufrieden. Ob Shirt oder Kleid, Rock oder Accessories, jedes Teil ist einfach nur wunderbar!
anonymous
&nbsp|&nbsp
2017-05-07 17:50:55
---
Der Schnitt und das Muster sind sehr schön.
Das Material ist auch sehr angenehm !
Richtig Retro !
Angenehme Länge bei meiner Körpergröße von 1,65 m .
Leider roch es nach Nikotin, wahrscheinlich meine Vorbestellerin, schade.
Hallo Cornelia, enschuldigen Sie uns bitte dass das Top ein unangenehmen Geruch hat. Das darf nicht passieren. Ich werden Sie heute noch kontaktieren.
Liebe Grüße,
Mandy
Kundenservice
Cornelia
&nbsp|&nbsp
2017-04-18 19:27:37
---
en
Nice top but pricey for what it is.
This is a nice enough top, but very expensive for what it is.
I expected the fabric to be a better quality for the price tag.
The stitching isn't particularly well finished off either, all the ends need trimming.

Dear Natascha, we are sorry to read that you are disappointed with the quality of the top you purchased. Of course you can send the top back to us and as soon as we have received your return shipment, we will refund the purchase price.

Best regards,
Desiree
Customer Service
Natasha
&nbsp|&nbsp
2017-04-13 13:01:52
---
nl
Dunner dan ik had verwacht
Ik had verwacht dat dit een mooie dikke stof zou zijn maar het was een vrij dunne stof. Daarnaast vond ik het topje net de kort voor mij. Daarom toch maar retour.
Ank
&nbsp|&nbsp
2017-04-11 12:09:00
---
Die beiden Oberteile sind wunderbar alltagstauglich, besonders das schwarz-weiß Gestreifte ist vielseitig kombinierbar: zu schwarzer Hose und flachen Loafern oder Ballerinas ist rasch ein typischer Hepburn-Look gezaubert, zu hellblauer Jeans und Gürtel sieht es Dank des U-Boot-Ausschnitts lässig-elegant aus. Obwohl ich normalerweise XS trage, genügt hierbei S vollkommen, da der Schnitt wirklich sehr figurbetont ist.
Das rote Teil ist weniger enganliegend, aber eleganter, besonders Dank der knalligen Farbe und des tollen Ausschnitts. Ein Muss für den Vintage-Kleiderschrank!
Franziska
&nbsp|&nbsp
2017-03-16 13:55:43
---
Heerlijk truitje!! Casual op een spijkerbroek, zakelijk netjes met een jasje en pantalon.
De tas is in een woord fantastisch!! Ik dacht dat er maar weinig in kon, maar dat valt reuze mee. Wederom erg blij met mijn aankopen!
Asha
&nbsp|&nbsp
2017-03-09 17:51:22
---
de
Leider ein Flop!Dort saß und passte nix.Der Schnitt sieht bei der Gr. 18 einfach nur wie ein schwere Unfall aus!
Trotz Maße saß es wie ein Unfall!Wirklich nur was für sehr schlanke.Es saß wirklich überall nicht.Aber dafür könnt ihr nix!
Anke
&nbsp|&nbsp
2017-03-08 12:00:47
---
de
Der Sommer kann kommen
Die Hight-Waist Jeans habe ich schon in schwarz. Da sitzt sie wie eine eins. Die blaue dagegen habe ich drei mal bestellt. Jedes Mal fiel sie anders aus. Auch saßen dieTaschen nicht gleich. Habe dann die erste behalten und werde die Taschen korrigieren lassen. In die letzte passte ich noch nicht mal rein und dass obwohl ich perfekt in die xs hätte passen müssen. Gab auch nicht nach!
Die rote Shorts hat eine traumhafte Farbe, leider beutelt sie sehr. Lieber kleiner bestellen. Was ich dann auch getan habe, da sitzt sie zwar auch noch etwas weiter, aber es ist halt ein traumhaftes Rot!
Das Kleid habe ich schon in anderen Farben, da sitzt es besser. Ausschnitt fällt diesmal ungünstig. Hätte es noch mal bestellt, aber es war schon ausverkauft. Das nächste Mal.
Die Oberteile sind Klassiker - passen immer- gute Qualität! Der Sommer kann kommen
Mareile
&nbsp|&nbsp
2020-04-08 20:58:05
---
nl
Love it,Love it, Love it!!!
Blij met mijn nieuwe aanwinsten. Tante betsy jurken een maat groter gekocht. Staan erg leuk! Bedankt voor alles
Roza
&nbsp|&nbsp
2020-04-04 19:00:40
---
Sitzt, passt, schönes Shirt für jeden Tag.
Jennifer
&nbsp|&nbsp
2019-07-26 10:44:33
---
Ik ben verliefd! Het is een superlief truitje. De strikjes zijn te schattig. Het is een lekker dun zomersstofje.
Anke van der Wielen
&nbsp|&nbsp
2019-07-16 16:08:37
---
Zu den Schuhen kann man nur sagen: reinschlüpfen, loslaufen, wohlfühlen! :-)
Der Rock ist herrlich bequem und gut zu kombinieren. Das Shirt von Banned ist angehem weich und passt perfekt. Ich liebe die Strickjacken von Banned und freue mich schon auf andere Farben.
Der Kundenservice ist wie immer top!
Ines Luckau
&nbsp|&nbsp
2019-03-18 14:27:17
---
Leuk shirtje, met de lieve strikjes en fijne streepjes makkelijk te combineren. Wel merk ik dat de mouwtjes door de kleine split niet zo strak aan mijn armen aansluitend blijven zitten (zoals op het model op de foto wel het geval is).
Janis
&nbsp|&nbsp
2018-07-02 07:58:17
---
Dit truitje dat zo leuk staat op het model is bij mij niets bijzonders, een beetje "goedkoop" zelfs. Gaat retour.

Beste Karen, wat jammer dat deze Top niet helemaal naar wens was! Uiteraard mag je deze terugsturen en we zullen meteen het aankoopbedrag aan je terugbetalen!

Groetjes,
Auke
Klantenservice
Karen
&nbsp|&nbsp
2018-06-26 00:04:47
---
à la fois très simple et élégant, j'adore. rouge soutenu très beau
emmanuelle procida
&nbsp|&nbsp
2018-06-21 21:14:38
---
Ik bestel de laatste tijd alleen maar bij top vintage. Love de stijl echt waar.
De broek is nu de enige broek in mijn kast lol. Hij is heee high waist waardoor hij super staat! Ook de twee koker rokken sluiten super aan als je wat vollere boven benen en een smallere taille hebt. Heel fijn.
De zwarte tops zijn fijn materiaal. Vooral de top met hogere hals is echt mijn favoriet. Tas overal bij en is zeer elegant.
De witte blouse was te groot en te smal bij mijn armen. Dus deze ging retour. Ook scheen hij meer door dan ik prettig vind.
Er is nu alweer een pakketje onderweg naar mij. Kan niet wachten
Maartje
&nbsp|&nbsp
2021-05-11 13:51:51
---
de
Leider konnte ich nicht alles behalten
Beide Strickjacken haben über der Brust gespannt, sodass sie leider zurück gehen. Das Kleid ist in der Taille so eng in 42 , dass ich den Reißverschluss nicht zubekam. Ich empfehle es auf jeden Fall eine Nummer größer zu bestellen, bei großer Oberweite. Der Gürtel war so eingepackt, dass ich ihn nur probieren konnte, wenn ich das Schild kaputt gemacht habe.. also behalte ich ihn. Das weiße Shirt ist süß und passt prima. Allerdings ist der Stoff im Vergleich zu dem in Bordeaux wesentlich dünner. Der Pulli mit den Streifen sieht sehr schick aus und gehört nun zu meinen Lieblingssachen.
Annette
&nbsp|&nbsp
2020-10-01 08:17:21
---