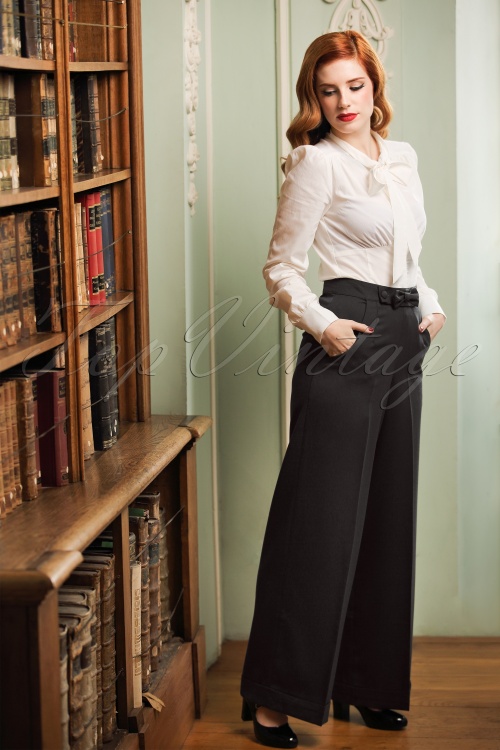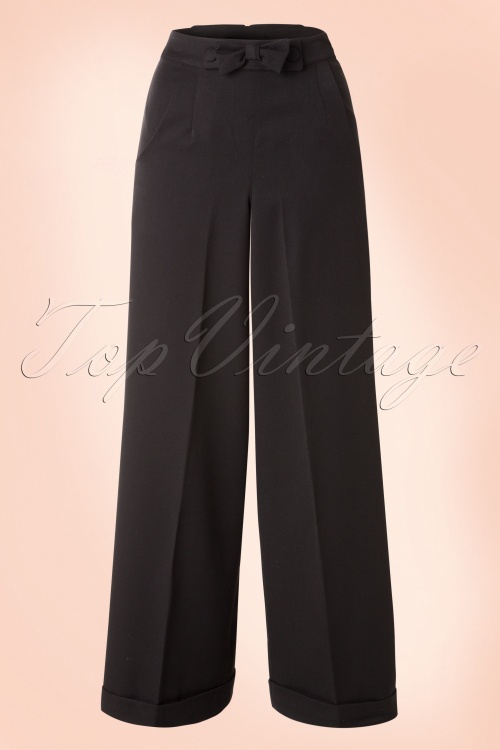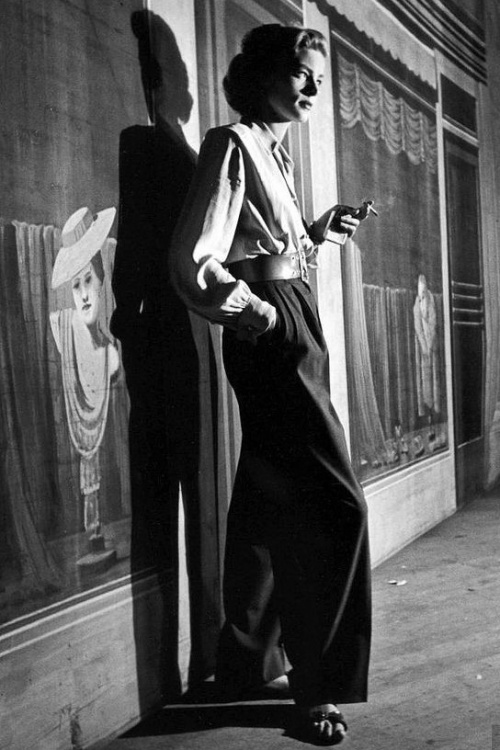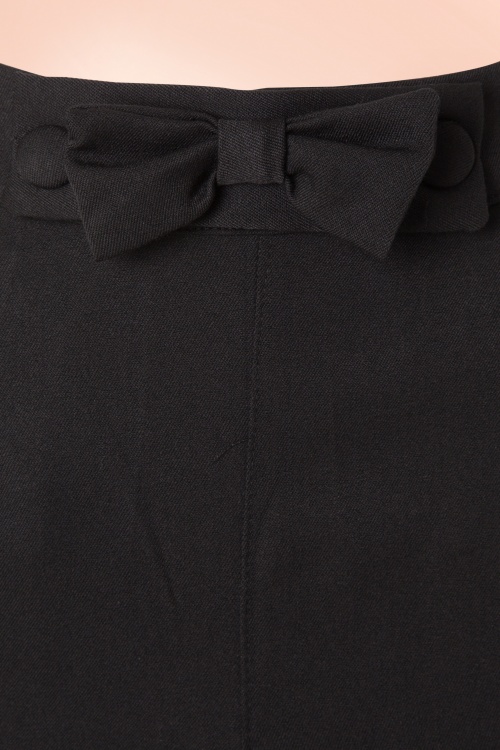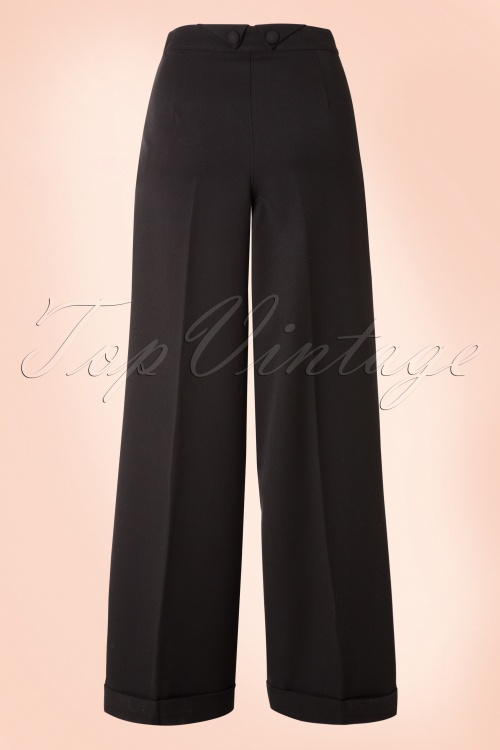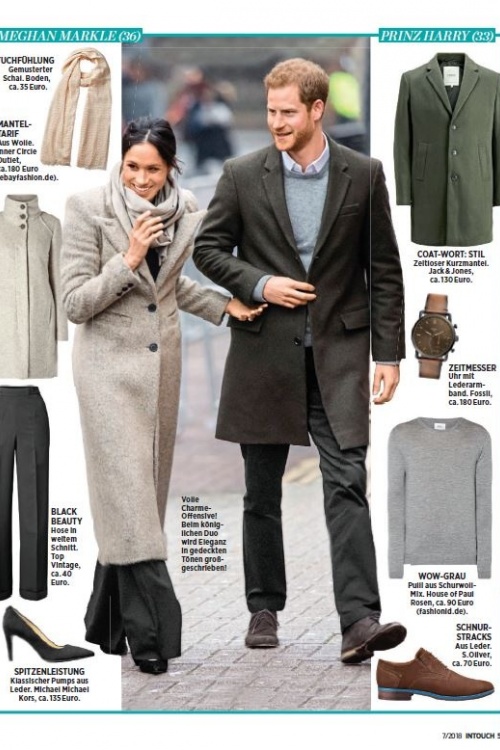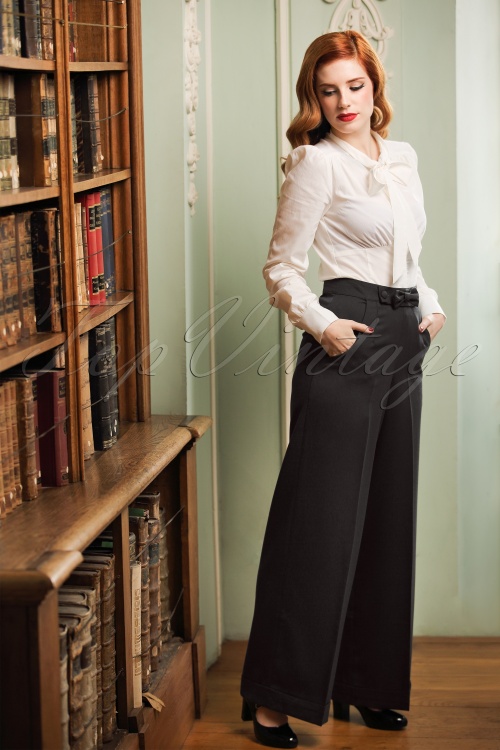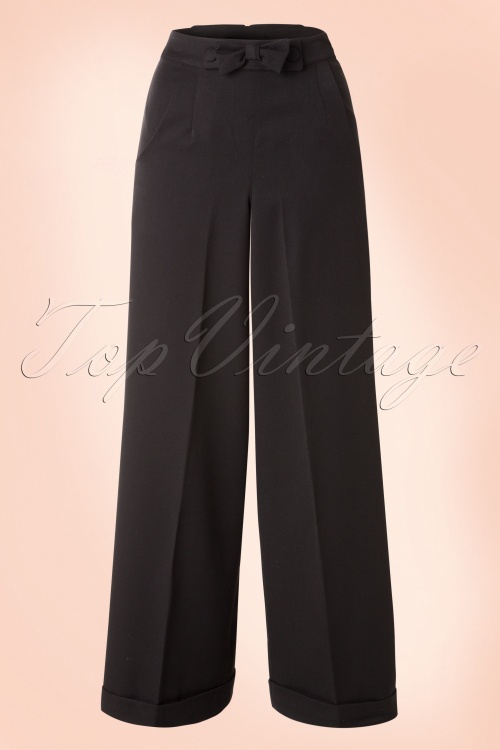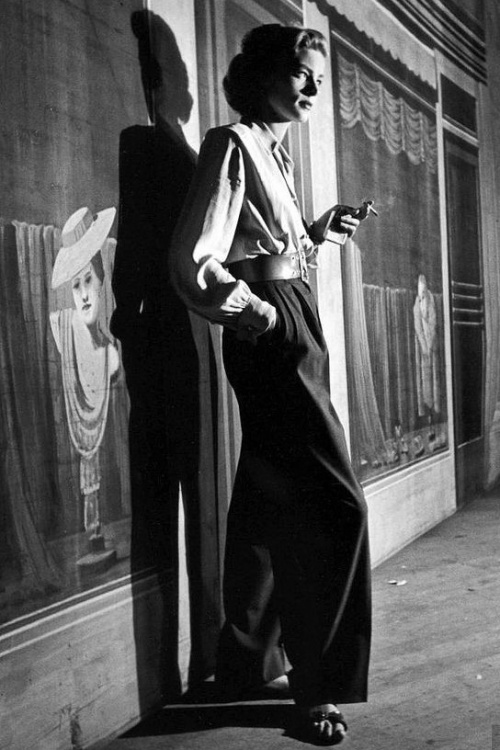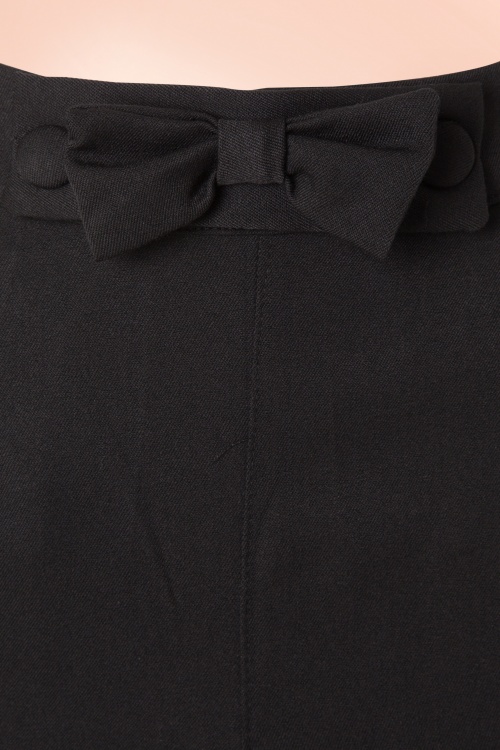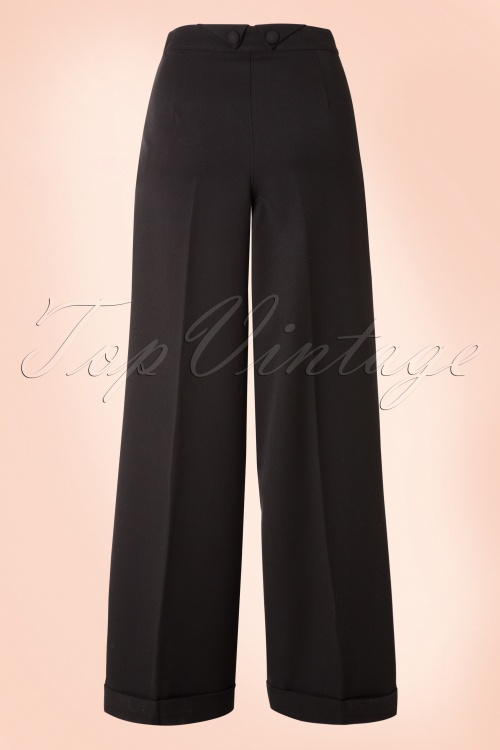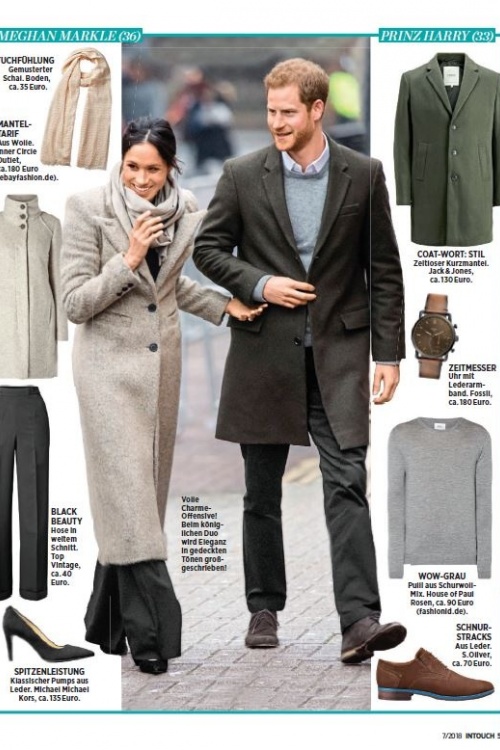 40s Hidden Away Trousers in Black
These 40s Hidden Away Trousers in Black are inspired on the trousers that those progressive women in the 40s / 50s wore! The high waist forms a beautiful contrast with the wide leg and is very flattering, also with fuller hips/bottom. The black bow and button detail at the back finish it off perfectly. Made from a supple, light stretchy fabric in a classy black colour and finished off with a chic fold over detail at the legs. Pair with a white blouse for a classy look or with a striking top for a sassy look! Pair with a white blouse and pumps for a day at the office in retro style!
Wide legs
Detachable bow at the front
Side pockets
Hidden zipper at the side
The legs can easily be shortened
Our stunning redhead Vanessa Frankenstein height: 1.67m / 5'5''
As seen in German magazine In Touch!
Article nr.
16392
65% Polyester
32% Rayon
3% Elastane
Handwash cold (don't leave it in the water)
Wash inside out
Machine wash DELICATE
Do not dry clean
Do not tumble dry
Ironing reverse cold
De Winona neck tie blouse is echt fantastisch! De kleine geborduurde bloemetjes zijn echt zo mooi. Ik ben verliefd op deze blouse.

De work-it out pantalon zat erg strak bij mijn bovenbenen, hierom stuur ik hem terug. Verder goede stof en mooi model!

Hidden away pantalon wauw! Zit mooi bij de taille, lekker lang (ik ben zelf 1.80) en ben er tevreden over. Stof is erg mooi en perfect voor het koudere weer straks. Deze broek ga ik zeker nog in een andere kleur kopen!


Maartje
&nbsp|&nbsp
2020-09-02 18:38:07
---

Na het pakketje geopend te hebben was ik teleurgesteld dat de broek vreselijk gekreukt was! Beetje beter opletten bij het verzenden. De maat was veel te groot heb ze ook retour gestuurd. Voor de rest ben ik zeer tevreden over Topvintage. Ik ben een echte fan.

Beste Els, onze excuses dat je zo teleurgesteld was over deze broek. Dit had natuurlijk niet mogen gebeuren! Uiteraard nemen we dit erg serieus en zullen we ervoor zorgen dat dit niet nog een keer voorkomt! Ik zal je zo nog even bellen en ik weet zeker dat ik de teleurstelling bij je ga wegnemen! Tot zo! :-)

Groetjes,
Mandy
Klantenservice
Eliza
&nbsp|&nbsp
2016-11-02 12:25:04
---
I have always searched for a pair of trousers like this but they were all either too short or too wide aroud the waist. These fit like a glove and have the perfect length for me. (I am 1,73m)
added bonus: they give quite a shapely behind ;)
Laura
&nbsp|&nbsp
2016-08-20 14:56:41
---
nl
Allemaal geweldige artikelen
Lieve dames van Topvintage, ben erg content met de aangeschafte artikelen. Sjaals zijn erg mooi. Pantalon zit heerlijk, bloesje oh zo sexy!!!! En het zwarte jurkje, oelala. Tasje, pantalon bloesje en roze sjaal met leuke zwarte blazer... Ik heb de show gestolen.
Johannah
&nbsp|&nbsp
2016-06-18 18:08:53
---
Sehr hoher Bund. ich habe ihn etwas einnehmen lassen, aber das war nicht unangenehm. So passt auch ein kleiner Bauchansatz bequem rein.
Simone
&nbsp|&nbsp
2016-05-04 14:39:55
---
sind leider irgendwie nicht meins. Ich habe jetzt 5 verschiedene Schnitte von diversen Herstellern ausprobiert, aber bei mir sehen die alle sackartig aus. Da die Models aber richtig gut damit aussehen, gibt es bestimmt viele, denen sie gut stehen. Sonst alles super.
Katrin
&nbsp|&nbsp
2016-04-08 20:51:18
---
Besonders schöne Kleidungsstücke, besonders unkomplizierter Service, besonders viel Freude bei der Lieferung, besonders voller Kleiderschrank;-)... da ich nur besonders selten etwas zurück schicke. Dann lag es bisher auch nur daran, weil es mir nicht stand oder ich nicht richtig gemessen habe. DANKE!
Heike
&nbsp|&nbsp
2016-03-30 18:33:37
---
Ik deed mijn mooie pakje open en ik schrok wel even. Daar kwam de mooie broek uit die ik bestelde aar verschrikkelijk gekreukte broek; Ik schok echt en dacht ;wat is me dat. Toch maar even passen,en wonder boven wonder ,de gekreukte vod werd een mooie gekreukte broek; Snel even strijken,wat zit ze goed,wel ruim.Al een geluk dat ik ze nipt passend had bestelt. Ik ben super blij met deze broek,ze slankt fel af,dus houden. Ik weet nu voor de volgende keer :geef de kreukels een kans!
Resy
&nbsp|&nbsp
2016-03-26 19:41:50
---
Wat een ontzettende prachtige pantalon. Eindelijk eentje die niet te kort is als ik hakken draag. Heb de maattabel gevolgd, heb normaal altijd een maatje 40 maar heb deze groter genomen en hij past perfect!
Jolanda
&nbsp|&nbsp
2022-09-02 16:57:56
---
Love it! Love it! Love it! Pasvorm als gegoten en wat een fijne stof om aan te hebben!
Iris Hollebeke
&nbsp|&nbsp
2022-01-13 18:35:54
---
nl
zo op verheugd maar bijna alles retour
Na heerlijk geshopt te hebben datgene gevonden wat echt bij mij past.
Helaas ☹.... bijna alles retour.
Ondanks de maatwijzer en de reacties van andere liefhebbers was alles veel te groot. Ook een artikel verkeerd geleverd maar had dan ook veel te groot geweest.
Ik heb alleen maar de grijze broek gehouden, ondanks dezelfde maat viel deze kleiner dan de groene uitvoering. En ja helemaal happy mee.
Ik hoop dat de spijkerbroek er nog wel kleiner is want die is gewoon fantastisch, het blauwe truitje een maatje groter (normaal draag ik M maar deze L is te klein) en het setje is compleet.
Beste Linda, wat jammer dat het meeste retour moest! Mocht je in de toekomst twijfelen over de maat van een specifiek item dan kun je altijd van tevoren even contact met ons opnemen. We adviseren je altijd graag :-)
Groetjes,
Nicole
Klantenservice


Linda
&nbsp|&nbsp
2021-11-30 21:28:24
---
en
Lovely trousers, but very short
I really love these trousers, but they are definitely tailored for below average or small women, and thus way too short and nowhere near 80cm inseam.

However, what I liked the least about the trousers were the fold in the bottom anyway, so I took advantage of that and made a decision to see if I could "fix" them to fit.

I popped up the bottom seam and ironed away the bottom fold of the trousers. This went well. You cannot see that the trousers were ever folded in the bottom.

Then I sew them back up with only 1.5cm seam width and no fold. It gave me about 8 cm extra length. Now they are perfect.
Lea
&nbsp|&nbsp
2021-08-05 12:04:07
---
Ich habe diese schöne Hose bereits in einer anderen Farbe ( Teal ) u bin nun von der schwarzen Variante total begeistert. Wunderbar weicher Stoff, für Absatzschuhe die perfekte Länge ( bei 1,69m trage ich die L ) u natürlich bleibt die Schleife der absolute Hingucker.
Susanne
&nbsp|&nbsp
2020-11-21 21:01:26
---
nl
Mooiste 'Helena Bonham Carter'-stijl vetetrrijglaarsjes ever!
Afgelopen weken een paar bestellingen gedaan.
De haarbanden zijn erg comfy voor een bad-hairday, al is de zwarte wat aan de krappe kant en heeft hierdoor de neiging van je hoofd af te floepen, maar met schuifspeldjes blijft hij wel goed zitten.
Het stippenshirtje is een schatje en kan overal bij. Het crèmekleurige coltruitje is van een heel mooie kwaliteit.
De zwarte highwaist en wijde pantalon is echt prachtig, een van mijn favorieten. Draagt heel fijn en staat lovely. Het oranje corduroy rokje is ook helemaal hip met een coltruitje en enkellaarsjes. Kan nog best met 41 toch? Ik vind iig van wel, haha.

Een teleurstelling is de lakriem, hoewel dat niet aan de prachtige rode kleur ligt. Bij het passen kreukelde het (imitatie)lakleer al lelijk, en zodanig dat hij ook niet meer retour kan, de kwaliteit is dus helaas waardeloos.

Dan de schoenen; wat een fantastische, prachtige rijglaarsjes. Ik voel me er Helena Bonham Carter in de film Enola Holmes (tip!) in. Ze zijn zo ontzettend mooi, dat ik echt ff graag stiekem had willen huilen dat ze terug moeten. Ik kom er namelijk echt te moeizaam in :( Ze zijn voor smalle voeten (check) maar ook smalle enkels (niet zo check helaas, ik heb fietskuiten).
Heb je wel smaller enkels, dan -bij twijfel- zeker kopen. Ze zijn de prijs absoluut waard!
Nou maar hopen dat de Tamaris-look-a-like laarsjes snel op voorraad komen, ik denk dat ik die wel pas.

Bedankt ook voor de heerlijke thee!
God bless,

Corine
Beste Corine, super te horen dat je blij bent met de meeste Items uit je bestelling. Stuur het riempje gewoon terug met de Booties, het spijt ons dat je niet tevreden was met de kwaliteit hiervan. Zodra we je pakketje ontvangen hebben, betalen we zo snel mogelijk het aankoopbedrag ervan aan je terug. Hopelijk passen de Tamaris laarjes wel zoals gehoopt!
Groetjes,
Sylvia
Klantenservice
Corine
&nbsp|&nbsp
2020-10-22 19:14:43
---
Helemaal happy met deze prachtige jurk! En de glitter is precies goed, niet te, maar super gaaf! Stof is heel mooi, voering er in goed, echt een aanrader!
Manja
&nbsp|&nbsp
2020-10-16 12:17:12
---
Ik bestelde deze op de gok, geen idee hoe ze zou staan, maar wat staat ie me mooi! Valt heel mooi, maat precies goed! Erg blij mee!
Manja
&nbsp|&nbsp
2020-10-16 12:15:02
---
Een mooi zittend model, ook voor volle benen. Het is een lichte stof, dus voor mij met vrieskou niet geschikt. Maar voor al die andere dagen perfect.
Jacky
&nbsp|&nbsp
2023-03-14 10:40:24
---
Die Hosen sind beide sehr bequem und klassisch schön. Die braune Hose hat einen sehr schönen, festen und trotzdem sehr angenehmen Stoff; schön warm für die Winterzeit. Beide Hosen sitzen hervorragend und die kleine schwarze Schleife an der schwarzen Hose gibt ihr das besondere etwas.
Miri
&nbsp|&nbsp
2022-12-09 19:40:43
---