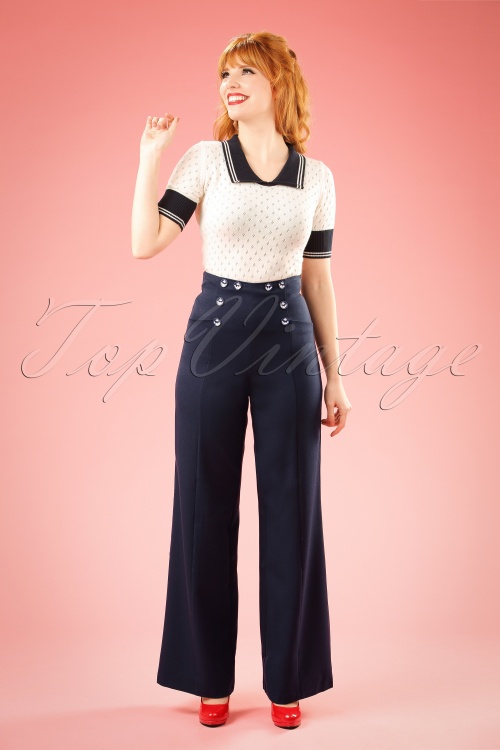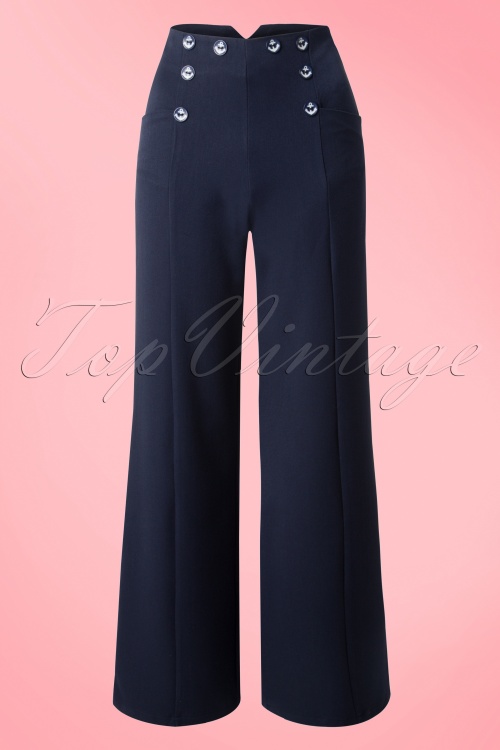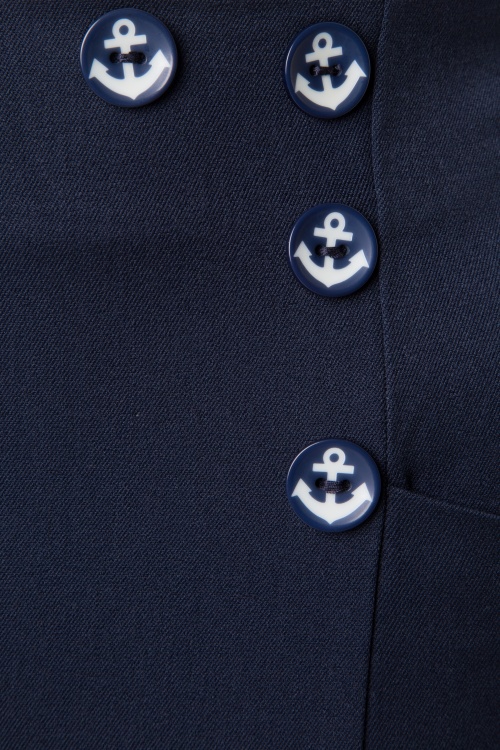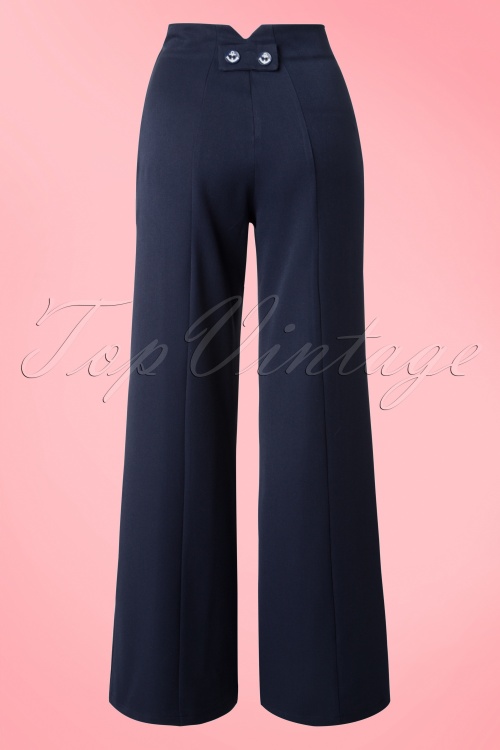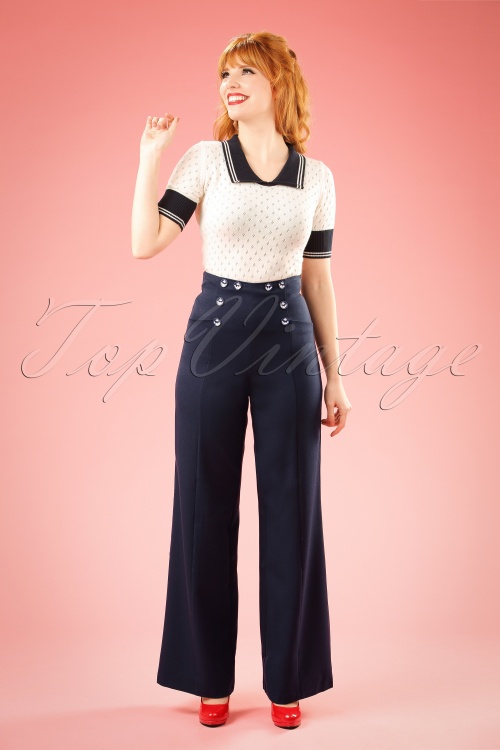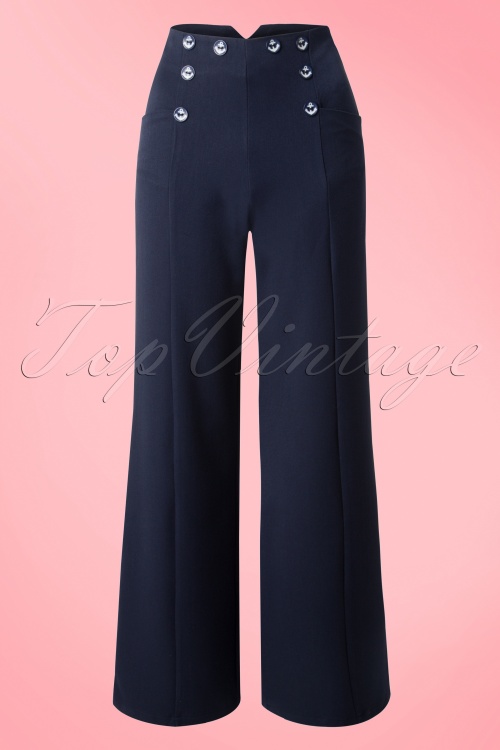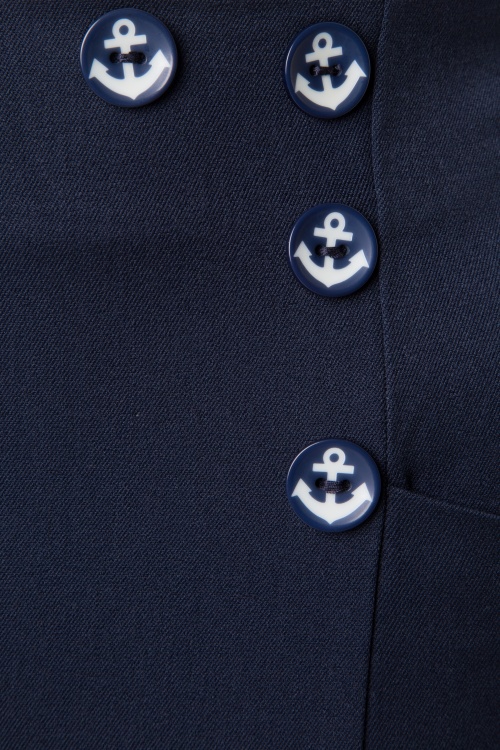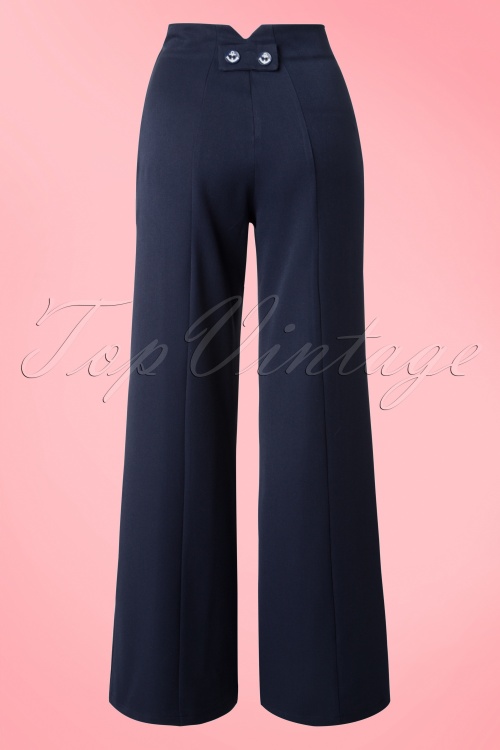 40s Stay Awhile Trousers in Navy
These 40s Stay Awhile Trousers in Navy are inspired on the trousers that those progressive women in the 40s / 50s wore!  The high waist forms a beautiful contrast with the wide leg and is very flattering, also with fuller hips/bottom. The faux anchor buttons give it a sailor touch and finish it off perfectly. Made from a supple, light stretchy fabric in a dark blue colour for a lovely fit. We like sailors but LOVE the sailor style!
Wide legs
Faux buttons at the front and back
Side pockets
Hidden zipper and hook closure at the side
The legs can easily be shortened
Our stunning redhead Vanessa Frankenstein height: 1.67m / 5'5''
Article nr.
17841
65% Polyester
32% Rayon
3% Elastane
Hang to dry
Handwash cold (don't leave it in the water)
Wash inside out
Machine wash DELICATE
Do not dry clean
Do not tumble dry
Ironing reverse cold
De rok is iets langer (ik ben 1.64) dan ik dacht en de broek iets wijder, maar allebei zitten heerlijk! Ben er nog steeds blij mee en ga de broek zeker naar mijn werk dragen... voor de rok vindt ik wel een excuus ;)
Suzanne
&nbsp|&nbsp
2016-09-24 14:33:11
---
de
Ahoi! Mit dem Tretboot nach Hawaii...
Ich liebe diesen Look! Rot-Blau geht einfach immer und man ist immer schick angezogen damit. Super bequeme Hose, die mit den aufgesetzten Knöpfen und Nähten echt was hermacht. Der Pulli sowie das Shirt sind zwei sehr angenehme Stoffe, welche sich super tragen lassen und gut aussehen.
Maria
&nbsp|&nbsp
2016-09-14 07:22:03
---
nl
riempje van slechte kwaliteit
Inmiddels kan ik mezelf wel een vaste klant noemen bij jullie leuke webwinkel. Ik ben erg enthousiast over de leuke spullen die jullie verkopen. Echter ontevreden ben ik over de Tatyana bow belt gold red. Het riempje ziet er leuk uit maar naar twee keer 2 uur gedragen te hebben was het riempje al doormidden terwijl het niet eens strak zat. erg jammer, het stond zo leuk. Geen aanrader dus deze riem.

Beste Wendi, wat ontzettend vervelend dat de riem nu al stuk is. Dit mag natuurlijk niet gebeuren. Mijn excuses hiervoor! Ik zal vandaag nog contact met je opnemen om dit op te lossen.

Groetjes,
Auke
Klantenservice
Wendi
&nbsp|&nbsp
2016-08-22 20:37:42
---
de
Alles passt haargenau!
Meine zweite Bestellung bei euch - und ich bin wieder total begeistert, wie genau alles passt. Das Kleid ist wirklich süß und sitzt durch den Elastan-Anteil super. Zur Hose muss ich sagen, dass ich genau diesen Schnitt schon länger gesucht habe. Sie fällt wunderbar aus, sitzt genau auf Figur und ist noch dazu bequem.
Henriette
&nbsp|&nbsp
2016-08-22 20:23:51
---
Deze had ik al in het zwart. Ik vind hem zo mooi staan dat ik hem ook in het blauw heb gekocht. Zit gewoonweg heerlijk.
Weer super blij mee!
Astrid
&nbsp|&nbsp
2016-07-22 13:17:41
---
de
Blitzlieferung, schöne Hose, toll verpackt ...
...leider ist mir der Stoff etwas zu dünn, deshalb muss ich das Teil retournieren - schade.
Christina
&nbsp|&nbsp
2016-07-16 10:32:06
---
Deze broek staat echt heel erg mooi. Ik kan deze broek echt aanraden! Mooie kwaliteit zeker ook voor deze prijs. Helemaal blij mee!
Dana
&nbsp|&nbsp
2016-06-21 21:10:58
---
de
Einfach eine Frechheit dieser Shop...
wie (SORRY) geil die Klamöttches sind. Es wird mich noch hier ruinieren, aber was soll's. Hauptsache gut dabei aussehen. Auch die schnelle Lieferung und wie liebevoll alles verpackt wurde. Toll.

Eine Dame schrieb, dass Sie gerne wüsste, ob es bereits eine Selbshilfegruppe gibt?!? Also ICH wäre schon mal dabei. ;)

Jetzt zu meinen Kleidungsstücken... Ganz ehrlich?! Ich geh jetzt nicht auf die einzelnen Stücke ein, dann bin ich morgen noch dran. Alles passt und schaut fantastisch aus. Jedes für sich... Einfach individuell.

Seit Jahren nervt mich die Massenware in den ganzen Einkaufszentren und die Lust am shoppen ist mir vergangen. Nun wurde sie wieder zum Leben erweckt.

Big Love... Macht weiter so. Einfach super.
Miriam
&nbsp|&nbsp
2016-06-16 21:45:22
---
de
Volle Punktzahl!!! Husband approved :)
Die Hose hat mich tatsächlich umgehauen! Sie sitzt soooo angenehm - da zwickt nichts, es entstehen keine seltsamen Falten, ich fand mich SUPER! Für alle Lütten unter uns: Ja, da gehört auf jeden Fall ein Pumps-Schuh drunter. Ich bin so begeistert, dass ich mir mit Sicherheit die Hose in Schwarz holen werde. I love it!
WoMM
&nbsp|&nbsp
2016-06-14 19:16:56
---
Bin wie immer begeistert. Es sitzt alles perfekt. Ich liebe diese Hose. Der Stoff sorgt für ein angenehmes Tragegefühl. Die Länge ist für mich genau richtig (bin 173 groß, bestellte Größe XL). Das Kleid knittert schnell, sieht aber trotzdem super aus. Top passt super zur Hose.
Constance
&nbsp|&nbsp
2016-06-08 14:59:14
---
Gutes Design, tolle Kombination
Grössenangaben sind gut.
Wäre wie beschrieben
Farben sind klar gutes Material
Claudia
&nbsp|&nbsp
2016-05-15 14:09:17
---
nl
Een feestje met een klein gebroken hartje
Winkelen is niet mijn ding, dus ik word heel blij van eigenzinnige webwinkels met oog voor detail en kwaliteit. Ik heb mijn eigen stijl en jullie begrijpen dat precies, daarvoor veel dank! Vandaag weer een prachtig pakketje ontvangen. Alles zat prima, behalve de rok (en laat dat nu het item zijn waar ik al een tijdje verliefd op ben). De rok is zeer zorgvuldig gemaakt, maar de stofkwaliteit valt toch wat tegen. Ik ben 1.70 (mt. 38 zandloper) en bij mij viel de rok toch net iets te lang, waardoor het te bruidsjurk achtig oogde. Ontzettend jammer, maar na een rondje voor de spiegel heb ik de rok met pijn in mijn hart zorgvuldig in de doos opgeborgen. Ik hoop dat iemand anders er heel blij mee gaat zijn. Wat ik helemaal tof zou vinden is persoonlijk kledingadvies op basis van lichaamsbouw en type (zomer, winter, herfst, lente). Vaak kan ik het aardig inschatten en van sommige merken als King Louie weet ik wat me staat en bestel ik zonder aarzelen, Vaak vind ik iets mooi maar twijfel ik toch te veel om de gok te wagen. Wellicht hebben jullie iets aan deze tip. Ga vooral zo door, ik ben fan en blijf een trouwe klant.

Hartelijke groeten,
Nanja
Nanja
&nbsp|&nbsp
2016-04-29 15:56:15
---
Die Hose sitzt wirklich toll! Der Stoff ist angenehm und trägt nicht auf. Der stretchanteil ist klasse und schmiegt sich toll an den Körper! Ich bin sehr sehr begeistert!
Anja
&nbsp|&nbsp
2016-04-26 08:23:48
---
Unfortunately I had to send these back as they were absolutely enormous! I ordered the size for my waist measurement and I think I could have fitted in a pair two sizes smaller! Very disappointed as I have to pay for postage both ways.

Dear Claire, I am sorry to hear that your Trousers were so big on you, my apologies! I will contact you immediately to resolve this unfortunate situation and make you happy again!

Kind regards,
Auke Aspers
Customer Service
Claire Barnsby
&nbsp|&nbsp
2018-04-04 18:14:31
---
fr
Nouvelle cliente je suis ravie
J'ai reçu mon colis ce matin le pantalon est très bien coupé le petit pull ravissant et merci pour le petit cadeau. La livraison à été très rapide
Je suis très satisfaite et je vais repasser une commande
christiane camy
&nbsp|&nbsp
2018-03-22 20:01:26
---
Ze zijn geweldig.pasvorm top en dan de prachtige kleuren .
De jurk is boven verwachting ,zo mooi
Dina Spoelstra
&nbsp|&nbsp
2018-03-06 14:24:33
---
de
Toller Stoff und toller Schnitt
Diese Hose ist ein Traum! Liebe auf den ersten "Schlupf"! Passt sehr gut und ist sehr bequem!
Sandra Lehmann
&nbsp|&nbsp
2018-02-09 10:46:52
---
Eine tolle Hose aus angenehmem Stoff, der die Figur wunderbar betont und jede Bewegung mitmacht. Die Größenangaben stimmen wie immer perfekt. Leider hakt der Reissverschluss etwas und ich kann nur hoffen, dass sich das mit der Zeit geben wird und er nicht kaputt geht...
Hallo Christina, es freut uns wirklich sehr dass Sie so zufrieden sind mit dieser Hose, nur müssen Sie natürlich auch davon genießen können. Ich werde mich heute noch bei Ihnen melden um das Problem so schnell wir möglich für Sie zu lösen!

Liebe Grüße,
Mandy
Kundenservice
Christina
&nbsp|&nbsp
2018-01-28 11:43:27
---
Dank der tollen Grössenangaben passen zu 95% immer diese tollen Kleidungsstücke, ich werde oft wegen der tollen Kleider angesprochen die Qualität ist immer top bis jetzt habt ihr mich nie enttäuscht sei es Service oder die Qualität der tollen Kleidungsstücke nur weiter so
Heike Reinfeld
&nbsp|&nbsp
2018-01-03 19:09:19
---
Wat was ik blij toen ik mijn pakketje van Top Vintage open mocht maken! Het truitje valt soepel en is heel erg zacht, de broek past perfect dankzij de handige maattabel. Ook de jurk is een plaatje en valt fijn. De stof van de rok is relatief zwaar en van prima kwaliteit, er zit geen rek in het lijfje, dus kijk goed naar de maat. Het enige jammere was dat ik zowel de broek als de jurk erg gekreukeld ontving, maar gelukkig kreeg ik er met het nodige strijkwerk de meeste kreukels er uit. Al met al heel erg blij met mijn nieuwe kleding!

Beste Rianne, wat vervelend om te lezen dat zowel de broek als de jurk gekreukeld waren bij het uitpakken. Dat is natuurlijk niet de bedoeling, mijn excuses hiervoor! Al onze pakketjes worden vol zorg ingepakt, maar helaas kunnen wij het niet vermijden dat bepaalde kledingstukken gekreukt bij de klant aankomen. Echter ik ben wel blij om te horen dat het je gelukt is om de meeste kreukels eruit te krijgen, nogmaals mijn excuses voor het ongemak!

Groetjes,
Desiree
Klantenservice
Rianne
&nbsp|&nbsp
2017-12-28 17:21:19
---
...sie ist wirklich sehr angenehm zu tragen, obwohl ich vorher nie Highwaist trug, weil ich dachte, das schnürt so ein - nein, nicht diese Hose :)
Corinna Sommer
&nbsp|&nbsp
2017-10-07 16:50:18
---
de
Das wird mein hochzeitsdress
Super sachen tolle passform und ein Hingucker.
Inge
&nbsp|&nbsp
2017-09-13 16:25:44
---
Deze broek is niet standaard en veel in het straatbeeld te zien. Ik moest even wennen,maar overweeg toch een grotere maat te bestellen. Helaas is deze te klein. Het merk Banner valt klein bij mij. Vandaag heb ik zo,n leuke top binnen gekregen van TopVintage die perfect op deze broek zou staan.
Vijaya van Dam
&nbsp|&nbsp
2017-08-01 18:55:04
---
Ik had niet gedacht dat de broek mij zo goed ging staan. Elke keer opnieuw ben ik verrast top kwaliteit en de schoenen ben ik gewoon voor weg gesmolten super.
Bedankt voor de snelle verzending en jullie vriendelijkheid.
kristl uyttersprot
&nbsp|&nbsp
2017-07-28 09:36:19
---
De Haily striped trousers en Teddy trousers leken me onwijs gaaf, maar helaas dunne, goedkope stof. Mijn man vroeg me of ik bij het circus ging..

De Stay Awhile trousers zijn werkelijk fantastisch en in combinatie met de rode Modern Love Top ontzettend veel complimenten over gekregen!! Je benen lijken eindeloos... Ik voel me er geweldig in!
Ilse
&nbsp|&nbsp
2017-07-20 19:53:33
---
Diese Hose ist einfach klasse. Ich werde die blaue definitiv auch noch kaufen. Sie sitzt wie angegossen (dank der Größentabelle).
Die Länge ist bei mir auch sehr angenehm. Ich bin 1,73 m groß und kann die Hose mit flachen Schuhen tragen.
Tammy
&nbsp|&nbsp
2017-07-12 06:29:18
---
diese Hose war schnell mein absolutes Lieblingsstück! obwohl ich sonst lieber Kleider trage -wer auffallen will kauft sich dieses Teil :) total angenehm zu tragen und Preis Leistung nicht zu schlagen
Manuela
&nbsp|&nbsp
2017-06-15 13:47:31
---
Ich freue mich über die schönen Sachen, der Sommer kann kommen! Danke Top Vintage für euren so wohltuenden Service!!
Cornelia
&nbsp|&nbsp
2017-02-28 08:12:11
---
Mooie marine look broek die heerlijk zit. Jurkje staatbook heel mooi en erg vrouwelijk.
Zeer tevreden!
Helma
&nbsp|&nbsp
2017-01-24 21:30:13
---
nice and soft to wear and perfect for the classic sailor look, keeps shape even if i use the dryer
charlotte
&nbsp|&nbsp
2016-12-12 13:08:46
---
Diese Hose ist ein Traum allerdings war sie mir etwas zu lang und zu weit aber dank zwei abnähern und kürzen sitzt sie jetzt perfekt
sonja
&nbsp|&nbsp
2020-07-05 14:27:55
---
Ein weiterer Glücksgriff. Diese Hose ist aus einem super weichen Stoff und total süss sind die Ankerknöpfe. Ich musste sie lediglich einwenig kürzen.
Susanne Hamann
&nbsp|&nbsp
2020-05-31 21:18:46
---
De broek is mooi maar jammer genoeg te klein voor mij dus retour .wel een zacht stofje.



gielen bianca
&nbsp|&nbsp
2019-11-06 18:40:53
---
Dit is het eerste badpak waar ik mij, sinds mijn diagnose BK en 3 operaties daarna, weer een beetje senang en vooral vrouw in voel! Het past perfect en niemand die iets aan me ziet... :)
Het truitje is té lief en van heel fijn gebreid materiaal (pas op, wel gevoelig voor haaltjes). Het is niet te kort en past ook erg mooi in/op de broek die ik erbij bestelde. Die zit ook goed, wel wat spannend rond de bovenbenen, maar de stof rekt mee en voor de lengte moest ik niet groter bestellen.
Al met al, wederom prima keuzes! Alleen jammer dat ik nu alle korting misloop (had ik nu maar een paar uur gewacht met bestellen...).

Hoi Astrid, super dat je zo tevreden bent met je nieuwe aankopen! :-) Ik zal zo snel mogelijk contact met je opnemen met betrekking tot de kortingsactie en ik weet zeker dat we je blij kunnen maken.

Groetjes,
Desiree
Klantenservice 
AMiddi
&nbsp|&nbsp
2019-09-06 17:13:05
---
Ze ìs er Eindelijk! Zo lang gewacht, bijna opgegeven. Maar mijn geduld is beloond. Deze pantalon is om hartstikke verliefd op te worden :mooie pasvorm, fijn materiaal én ik begin zo langzamerhand verslaafd te raken aan pantalons met de rits aan de zijkant. Topvintage ladies, komt ze ook in andere kleuren?
Johannah!
&nbsp|&nbsp
2019-07-12 20:21:21
---
hose sitzt perfekt und kneift nicht :) kleines Bäuchlein wird gut kaschiert ;)
patricia kolar
&nbsp|&nbsp
2019-02-07 14:52:37
---
nl
Perfect for curvy retro lovers
De 50s Monroe dress zit geweldig. Ik heb een E-cup en was een beetje onzeker over het dragen van een jurk zonder BH. Door de raad van de maattabel op te volgen is dit de eerste jurk waarbij ik dit wel kan! Wel even een waarschuwing: hij is echt wel super sexy!
De hidden away trousers zijn een vaste aanwinst in mijn garderobe geworden. Ze zijn heel comfortabel en gemakkelijk te combineren met verschillende tops. Ik heb een buikje, maar in deze broeken valt dat helemaal niet op. Wel opletten voor het strikje, dat komt gemakkelijk los in de was.
De navy stay awhile zag er ook geweldig uit, maar was spijtig genoeg net te klein. Ik zou aanraden om bij deze broek net iets groter te gaan als je stevige bovenbenen hebt.
Als laatste de dancing days top. Deze top is elegant en gemakkelijk te combineren. De kleur is even levendig als op de foto en de stof is degelijke kwaliteit. een absolute aanrader voor je dagelijkse outfits.
Mariotte
&nbsp|&nbsp
2018-09-22 09:23:03
---
Diese Hose ist genau richtig geschnitten für Frauen mit Kurven. Sie geht schön hoch, somit super für Frauen mit langem Oberkörper geeignet, macht stattdessen lange Beine!
Stoff ist zwar leider keine Baumwolle, aber trotzdem noch so angenehm dass es kein knock-out-Kriterium darstellt. Die Vorteile überwiegen hier eindeutig! So einen tollen Schnitt findet man selten, Preis ist auch voll in Ordnung, schlagt zu, Mädels!
Lieferung wie immer blitzschnell, mit süßem Extra, und alles schön ordentlich verpackt :-)
Eva
&nbsp|&nbsp
2018-07-19 14:55:09
---
en
Can we talk about those pockets...
First things first: Both pairs of pants have actual usable pockets that fit my phone and other stuff without compromising on looks. I haven't worn other pants since I got them. The length is good, fit is fantastic and the fabric is nice and soft.
The blouse is really gorgeous as well and will be my new work blouse for the office. All in all, I'm really happy with all my purchases, as usual :)
Charlotte Scheurle
&nbsp|&nbsp
2018-04-28 13:07:58
---
Wat een enorm leuk setje is dit. Het staat fantastisch. Ik lijk heel slank in deze combi. Perfecte maatvoering voor mij.
Maria van Garsel
&nbsp|&nbsp
2021-04-24 13:10:30
---