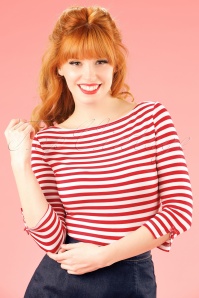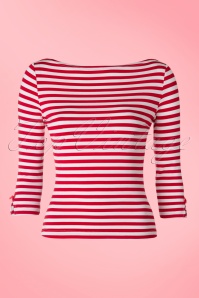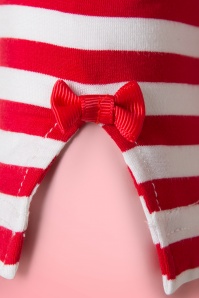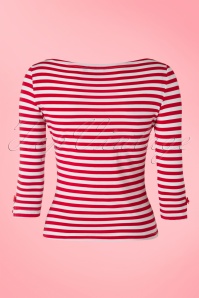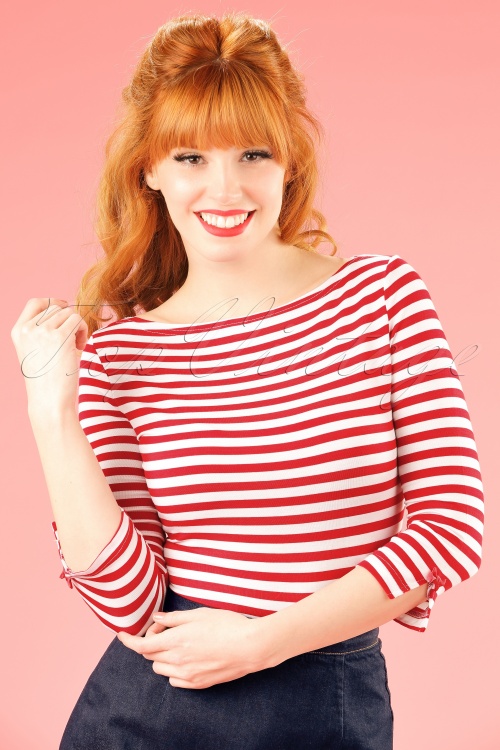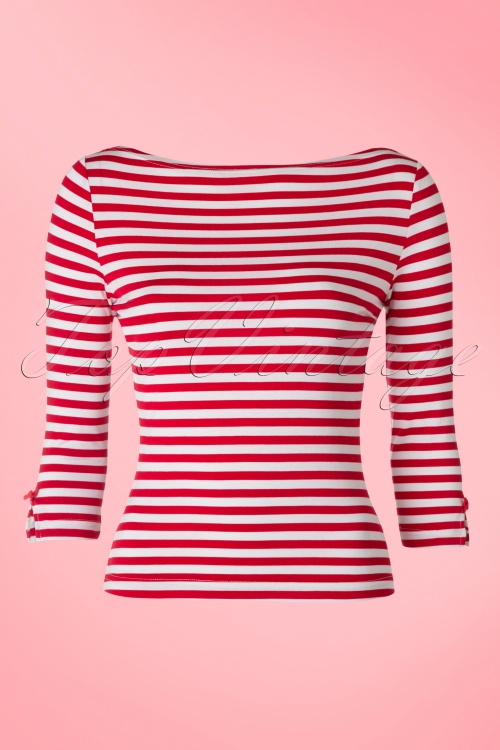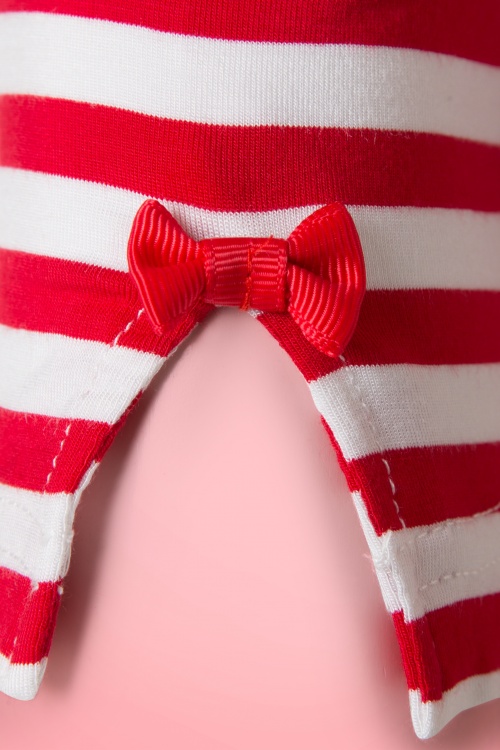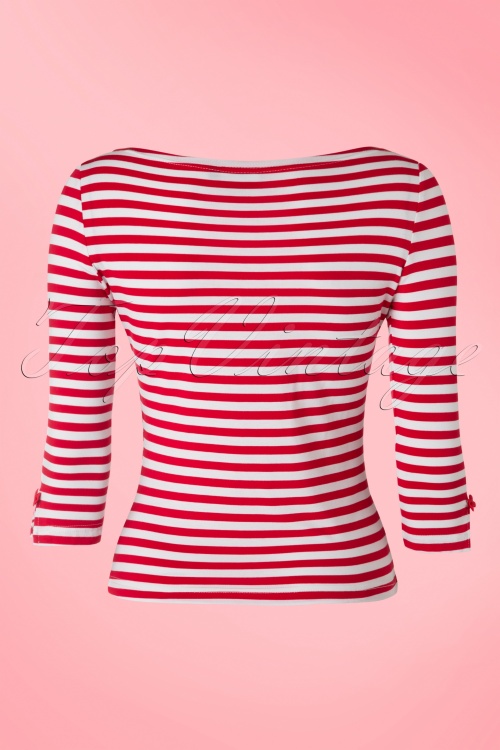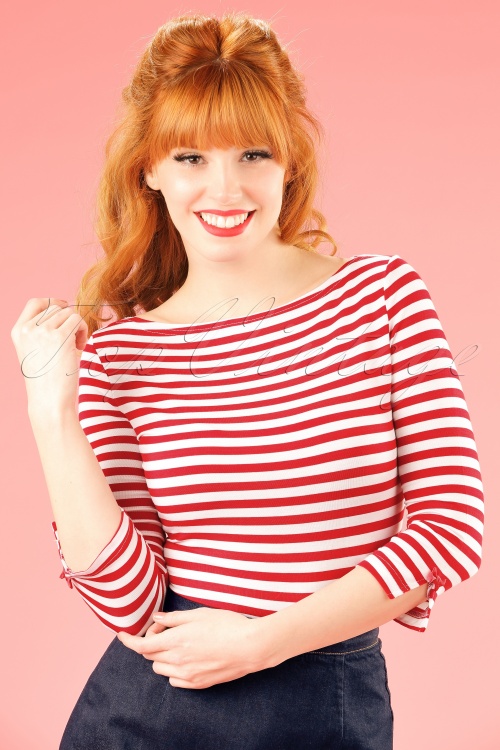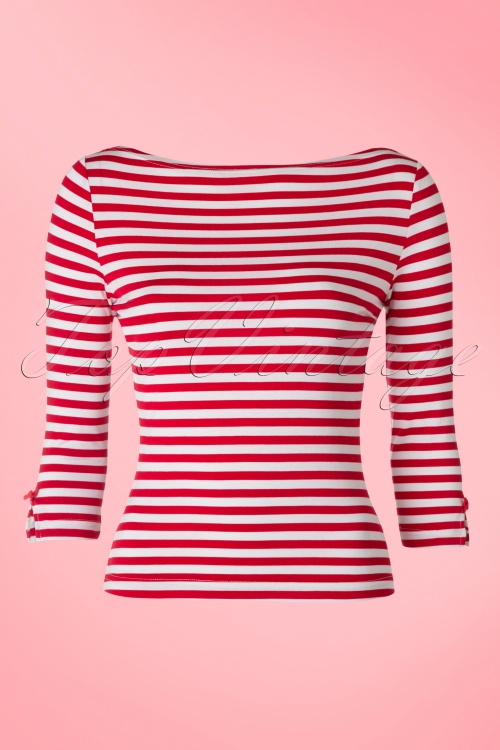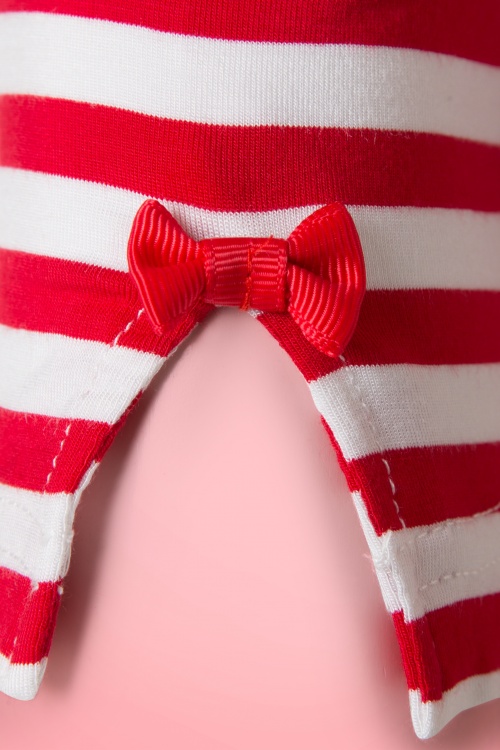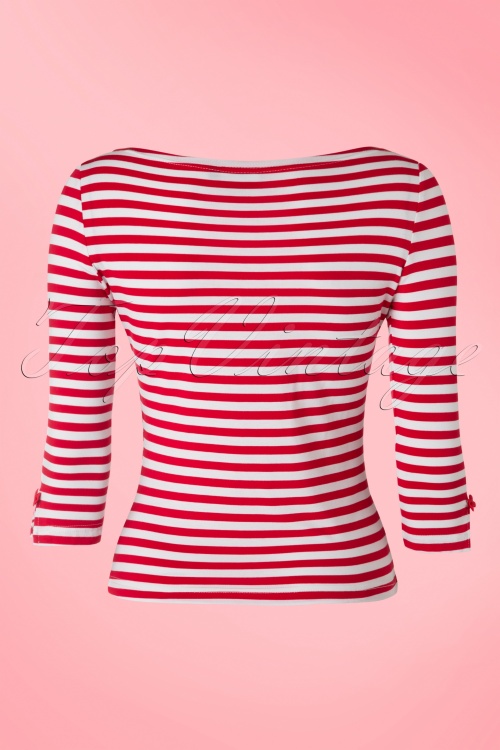 50s Modern Love Stripes Top in White and Red
Elegant and cute this 50s Modern Love Stripes Top in White and Red! Simple and yet so elegant due to the adorable detailing! The top features a beautiful boat neck and sleeves finished off with slits and little bows, só cute! Made from a lovely supple, stretchy viscose blend with lipstick red and white stripes that will keep its shape, even after a few washes. A versatile classy top which can't be missed in every vintage lady's wardrobe!
Handwash inside out
Wash inside out
Machine wash 30c delicate
Do not dry clean
Do not tumble dry
Ironing reverse cold
What a beautiful top! The material is incredibly soft: I have sensitive skin and I just love this one. It's also very versatile. Right now I'm wearing it with a red swing skirt to get into the Christmas spirit!
Sirkku
&nbsp|&nbsp
2016-12-01 13:44:19
---
Das Shirt wirkt frisch und frech - passt sicher super zu meiner maritimen Marlene-Hose, wenn es wieder etwas wärmer wird :-)
Valerie
&nbsp|&nbsp
2016-10-24 07:18:40
---
Jammer van het veel te stretchy stofje. De Tshirt zelf is heel mooi en de strikjes aan de mouwen zijn zo schattig! Spijtig genoeg is de stof niet geschikt voor vrouwen met een iets grotere boezem... de stof trekt helemaal onder mijn oksels en verliest alle vorm. Ik heb het moeten terugsturen dus :-s
L.
&nbsp|&nbsp
2016-10-19 09:16:03
---
en
Every item excellent quality
I am absolutely delighted with the quality of everything that I ordered. All the sizes were very accurate. The dress with the cats head's is not in proportion for someone with a large chest and small waist so you may end up wearing the top buttons open with a top underneath, also a belt is an essential for this dress, but it looks really fabulous. The red top is beautifully cut and made.... Worth every cent! Love everything!!!
Thomas
&nbsp|&nbsp
2016-09-23 19:05:11
---
de
Ahoi! Mit dem Tretboot nach Hawaii...
Ich liebe diesen Look! Rot-Blau geht einfach immer und man ist immer schick angezogen damit. Super bequeme Hose, die mit den aufgesetzten Knöpfen und Nähten echt was hermacht. Der Pulli sowie das Shirt sind zwei sehr angenehme Stoffe, welche sich super tragen lassen und gut aussehen.
Maria
&nbsp|&nbsp
2016-09-14 07:22:03
---
Soepele aangename stretchy stof, neem gerust een maatje kleiner als je het lekker aansluitend wil dragen.
Strikje en splitje onderaan de drie kwart mouwen zijn een onweerstaanbaar leuk detail!
Aanrader die ik in meerdere kleuren heb gekocht...
Verslavend hé deze prachtige webshop ? :)
xxx
Ilse
&nbsp|&nbsp
2016-08-22 21:45:12
---
Alle meine Bestellungen kommen eine Tag später schon an, die Kleidungsstücke passen super, wie vom Schneider. Die Kleider fallen auf und ich habe schon tolle Komplimente bekommen. Ich freue mich auf jedes einzelne Paket, die Sachen werden mit Liebe eingepackt und die kleinen Nettigkeiten im Paket sind süß. Weiter so. Lieben Gruß Katrin
Katrin
&nbsp|&nbsp
2016-08-21 14:06:38
---
De top is prachtig in zijn eenvoud: fijne stof en pasvorm, mooie kleuren.
De broek is iets korter dan ik gedacht had (ik ben wel 1.78), maar gemakkelijk langer te maken. De pasvorm bij taille en heupen is perfect.
Zoals gewoonlijk is alles snel geleverd en ontzettend mooi en schattig verpakt!
Denise
&nbsp|&nbsp
2016-08-14 07:18:43
---
Weer super blij met deze mooie shirts. Zitten perfect en ook na het wassen blijven ze mooi. Een absolute "must have" om in je kledingkast te hebben hangen.
Wilma
&nbsp|&nbsp
2016-08-03 07:28:47
---
nl
Helemaal blij met mijn aankopen
Sinds iets meer dan een maand heb ik jullie site ontdekt en ben al helemaal verslaafd! :)
Hier mijn review over de 2 aankopen die ik bij jullie heb gedaan:

Dancing Days by Banned 50s Sweet Talker Sailor Swing Skirt in Denim Blue
Ik had deze rok eerst in de maat S besteld maar aangezien ik een smalle taille heb, heb ik hem in maat XS geruild. Kwaliteit van de rok is erg goed! De kleur is ook erg mooi aangezien het mijn lievelingskleur is :)

Dancing Days by Banned 50s Winnie Top in Ivory White
Bij de rok heb ik deze top, heb hem in de maat M, het mouwtje zit wel een beetje strak maar is niet vervelend. Hij is wel een beetje doorzichtig dus een witte bh of top eronder is een must!

Lola 50s Cute Pearl Bow Necklace & Collectif Clothing 30s Sweet Bow Double Pearl Bracelet
De ketting en armband zijn erg schattig! Kwaliteit is ook erg goed.

Glamour Bunny 50s Classy Capri Pants in Denim
Ik was erg bang dat deze broek niet zou passen omdat ik altijd moeilijkheden heb met alle broeken door mijn wat stevige benen en smalle taille past hij nog prima! wel wat aan de strakke kant maar omdat ik hem zo leuk vind hou ik hem gewoon en ruil hem niet voor een grotere maat omdat hij dan nog groter in de taille zou uitvallen. Maar aangezien ik altijd een truitje in mijn high waist broek draag valt hij helemaal prima in de taille.

Dancing Days by Banned 50s Sophie Stripes Top in White and Red
Deze truitje is erg leuk! de stof is erg los dus heel erg prettig om hem te dragen!

Zoals gewoonlijk is de verzending erg snel en de verpakking altijd leuk om open te maken :D
Ik ga zeker blijven bestellen.
Judith
&nbsp|&nbsp
2016-07-15 10:58:27
---
nl
Enig, die strikjes aan de mouwen!
Gelukkig heeft Topvintage deze in heel veel kleuren.
Pasvorm zit als gegoten, materiaal blijft mooi na wassen en je kunt deze top combineren met alles.
Anouk
&nbsp|&nbsp
2016-07-05 07:23:57
---
de
Top Qualität und sieht klasse aus!
Der Stoff ist dicker, sodass das Oberteil kaum durchsichtig ist. Ich hatte mir dazu diese BH-Brücken hier im Shop gekauft, mit denen man die Träger hinten zusammenbinden kann, sodass man die BH-Träger nicht sieht. Auch bei kräfigeren Armen und Schultern macht das Oberteil eine gute Figur! Kaufempfehlung, ist das Geld wert! Der Service von TopVintage lässt wie immer keine Wünsche offen. Das man sein Paket innerhalb von 24 h erhält, wenn man bis zum frühen Nachmittag bestellt, ist einfach unschlagbar.
Jessica
&nbsp|&nbsp
2016-07-02 19:16:54
---
Ben superblij met mijn aankopen!
De rok, top en riem zitten allemaal perfect.
De rok had ik ook in het rood besteld, maar die viel net iets kleiner uit dan de zwarte, dus die moest helaas retour.
Dit was mijn eerste bestelling bij TopVintage, maar zeker niet de laatste!
Leonie
&nbsp|&nbsp
2016-06-24 15:47:53
---
Het rode jurkje wow, die is echt te gek!!
voel me er goed in.
Vestje is waanzinnig, tas was uitverkocht deze vanuit Engeland laten overkomen
Rode top ook fantastisch, zeker op een spijkerbroek met wijde pijpen, hakjes eronder en top! weer een mooie outfit..
Fenna
&nbsp|&nbsp
2016-06-24 13:37:15
---
Ik zat al een tijdje te twijfelen of ik dit shirt zou bestellen en in welke maat. Omdat ik best brede schouders heb, koos ik M. Daar zit dit shirt perfect, maar is helaas niet getailleerd genoeg voor mij. Bij mijn taille slobbert het behoorlijk. Jammer. Helaas niet de juiste pasvorm voor mij.
Nina
&nbsp|&nbsp
2016-06-16 13:11:18
---
de
Fallen unterschiedlich aus
Das rot weiße ist mein absolutes Lieblingsshirt, es passt perfekt und schmeichelt. Der Stoff ist toll. Das grüne fällt kleiner aus, ist enger. Das stand so nicht in der Grössentabelle. Vielleicht war es auch nur bei diesem so.
Yvonne
&nbsp|&nbsp
2016-06-07 18:25:59
---
Very nice tops, soft and comfy to wear.
Jennie
&nbsp|&nbsp
2016-04-17 17:13:57
---
Very nice nautical blouse, sits perfect and the material is stretchy and soft.
Héloïse
&nbsp|&nbsp
2016-04-07 14:05:26
---
Love this top but the little bow on the sleeves even more !
Sandra
&nbsp|&nbsp
2016-03-25 13:32:08
---
Schönes Shirt mit wunderbar weichem und angenehmem Sitz. Passt perfekt!
Inga
&nbsp|&nbsp
2016-03-21 20:02:46
---
Deze twee truitjes zijn weer helemaal top! Laat het voorjaar maar komen!
Andrea
&nbsp|&nbsp
2016-03-16 15:23:24
---
Héél tof shirtje! De strikjes aan de mouwen maken het helemaal af.

het elastiekje met strik is ook erg leuk en zonnig. Volgende week vertrekken wij voor een weekje naar Spanje, en ik weet al zeker dat deze twee items mee in de valies gaan.

Thanks again, TopVintage! Qua levering ook weer alles tip top in orde!
Lotte
&nbsp|&nbsp
2016-03-13 17:29:40
---
De rode en zwarte uitvoering van dit model had ik al dus ik verwachtte een soortgelijk truitje. De stof van deze rood-witte streepjes variant is echter veel dunner en schijnt enigszins door. Wel een aangenaam zacht materiaal om te dragen en aangezien de temperaturen weer stijgen mag dit schattig exemplaar blijven.
Carin
&nbsp|&nbsp
2016-03-10 19:26:43
---
De rood gestreepte voelt fijn en zit goed. De strikjes zijn een leuk detail.
De 'I love to sew' is erg cute, maar zit wat strakker dan ik had verwacht. Ik heb maat 42 (en volle cup) en volgens tabel XL besteld. Als je het shirt wat losser wilt, dan zou ik persoonlijk een maatje groter adviseren. Een maatje groter is met XL niet mogelijk, maar het shirtje is te leuk, dus hij blijft. Met een vestje staat het leuk.
Daphne ten Duis
&nbsp|&nbsp
2018-03-31 14:28:34
---
nl
Mooi shirt maar teleurstellende kwaliteit
Prachtig broek in mooie lichte stof. Perfect voor de lente. De broek slankt erg af, zowel buik als billen. Ik ben niet gewoon zulke broeken te dragen, maar vind ze erg mooi. Broek moet wel nog serieus ingekort worden want ben maar 1,63 m.
Katrien Vandyck
&nbsp|&nbsp
2018-03-31 09:34:53
---
Pour une première commande je suis très satisfaite des vêtements et la rapidité de l'envoi
seul petit hic je vais devoir renvoyé le pantalon jean Rumble 59
car il est un peu trop juste
je suis persuadée que commander encore beaucoup de jolie chose sur ce site :-)
magali vanderstraeten
&nbsp|&nbsp
2018-02-11 15:58:35
---
Dank der tollen Grössenangaben passen zu 95% immer diese tollen Kleidungsstücke, ich werde oft wegen der tollen Kleider angesprochen die Qualität ist immer top bis jetzt habt ihr mich nie enttäuscht sei es Service oder die Qualität der tollen Kleidungsstücke nur weiter so
Heike Reinfeld
&nbsp|&nbsp
2018-01-03 19:09:19
---
Doch dünnerer Stoff als vermutet. Habe ich zurückgeschickt, wäre für Herbst/Winter doch etwas zu kühl.
Corinna Sommer
&nbsp|&nbsp
2017-10-26 14:01:55
---
Heel leuk truitje om te dragen. Wel dun!
Ik wil alle kleurtjes verzamelen :D
Lindsay
&nbsp|&nbsp
2017-08-18 13:27:25
---
Heute habe ich die beiden wundervollen Teile bekommen und sie erstmal anprobiert. Ich bin wirklich begeistert! Es schaut beides zusammen, aber auch einzeln einfach nur schön aus. Auf die Größen kann man sich zu 100% verlassen.
Das werden nicht meine letzten Sachen sein, die ich bei euch bestellt habe!
Cornelia
&nbsp|&nbsp
2017-06-28 19:39:03
---
Die Größentabelle war sehr hilfreich, besonders der Tipp mit dem Taillenumfang. Die Hose passt perfekt und ist angenehm zu tragen.
Das T-Shirt hat einen superweichen Stoff und fällt super gut aus.
Claudia
&nbsp|&nbsp
2017-06-20 11:38:03
---
Es ist jedes Mal eine Riesenfreude ein Päckchen von Top Vintage zu bekommen und alle Sachen passen, danke den Maßangaben perfekt. Vielen Dank und weiter so.
Nur bei den angebotenen Zahlarten wäre es auch toll, wenn es Rechnungskauf oder Nachnnahme gäbe.

LG, Saskia
Saskia
&nbsp|&nbsp
2017-05-11 06:40:33
---
Oooh wat ben ik blij met Mn pakketje wat ik net uitgepakt heb! De vestjes en het shirtje zijn heerlijk zachte basics die je Supergoed kunt mixen en matchen met allerlei jurken, broeken en rokken. Let op, de vestjes en shirtjes zijn wel kort, staan hierdoor goed op bijv pencilrokken. De jurken en rok zitten ook perfect , mooie dikke stofkwaliteit die je figuur goed laat uitkomen en daar waar nodig iets verdoezeld. De floral dress met de parkietjes erop heeft in het echt mooiere en fellere kleuren dan op de foto, groene vestje staat er erg goed bij.
Sietske
&nbsp|&nbsp
2017-05-02 14:52:22
---
Wirklich super-süßes Shirt. Der Stoff ist sehr weich und angenehm.
Leider ist eine Seitennahnt nachlässig verarbeitet, sodass ein Loch entstanden ist. Hoffe der Ersatz ist dann heil, dann gibt's auch ein 100%iges "Like".
Hallo Antje, wir bedauern es sehr dass Sie ein Top erhielten das mangelhaft verarbeitet wurde, tut uns Leid dass uns dies nicht aufgefallen ist. Aber wir tauschen es selbstverständlich um. Bitte entschuldigen Sie uns für die Unannehmlichkeiten.
Liebe Grüße
Marie-Louise
Kundenservice
Antje
&nbsp|&nbsp
2017-04-27 07:41:46
---
Hallo ihr Lieben!
Die Ballerinas sind ein Träumchen & super bequemen! Der Sommer kann kommen.
Das Shirt ist auch wundervoll & der Rock ist mir
leider etwas zu groß aber diesen näh ich mir etwas enger! Also alles wie immer TOP ❤️
Jennifer Janker
&nbsp|&nbsp
2017-04-18 12:34:32
---
Euer Shop hat einfach nur Suchtpotential....alles was ich bisher bestellt habe, passt wie angegossen und ich war noch nie enttäuscht. Weiter so!!!
Saskia
&nbsp|&nbsp
2017-04-18 10:36:18
---
Liebe Angelique und Team, vielen herzlichen Dank für Eure Arbeit und die Freude, die Ihr damit spendet !
Ich werde bald 50 und kann mich in Euren Kleidungsstücken endlich "angekommen" fühlen, qualitativ hochwertig, immer ein bißchen anders als die "Anderen" und mit einem Lächeln auf den Lippen und das noch ohne den Stress irgendwelchen Trends hinterher hecheln zu müssen. Herzlichen Dank dafür ! ... Liebe Interessentinnen, ausprobieren - Ihr werdet bestimmt nicht enttäuscht !!!
Sanne
&nbsp|&nbsp
2017-03-10 11:47:52
---
Net mijn bestelling binnen gekregen.
Het is echt een geweldig kadootje voor mezelf om uit te pakken. Ook Angelique en haar Team nog extra kadootje erbij hebben gedaan.

De broek zit heerlijk en voelt soepel aan. Ik draag liever de shirtjes erover, het gestreepte shirtje is heerlijk zacht en schijnt niet door ook mooi met het vestje erover voor de kou. Geweldige combi samen.
Het jurkje heeft een diepe decolleté moet er klein beetje aan wennen omdat ik eigenlijk nooit zo iets draag maar met een mooie panty ben je wel helemaal klaar voor het vavavoom moment.

Bedankt voor de snelle service en tot de volgende bestelling!
Rosa
&nbsp|&nbsp
2017-03-04 11:59:29
---
Ohhhh, ich hab das erste Mal bestellt und die Sachen sind so unglaublich schön und weich und der Rockt schwingt Leider haben mir die zwei Hosen nicht gepasst aber auch die waren voll großartig! Vielen Dank für den tollen Shop!
Judith
&nbsp|&nbsp
2017-02-22 18:13:00
---
What a beautiful top! The material is incredibly soft: I have sensitive skin and I just love this one. It's also very versatile. Right now I'm wearing it with a red swing skirt to get into the Christmas spirit!
Sirkku
&nbsp|&nbsp
2016-12-02 15:49:49
---
Unfortunately it was to big, so it had to go back
Suzanne
&nbsp|&nbsp
2021-05-10 16:33:22
---
de
schmeichelhaftes Shirt
Dieses Oberteil ist wundervoll! Schmeichelt der Figur sehr ohne an der Brust aufzutragen, allerdings ist der Stoff eher dünn und damit eher für wärmere Tage geeignet.
Im Herbst/ Winter gab es noch die Farbe "burgundy", da war der Stoff etwas griffiger (Unterschied vielleicht wirklich saisonal bedingt) Ich freue mich auf weitere (neue) Farben im Verlauf des Jahres.
I.
&nbsp|&nbsp
2021-03-26 09:55:59
---
Dieses Oberteil aus Viskose trägt sich ganz fabelhaft, der Stoff schmiegt sich quasi an die Haut. Und die Farbkombi ist eh ein Klassiker.
Susanne
&nbsp|&nbsp
2021-03-22 08:48:24
---
nl
Love it,Love it, Love it!!!
Blij met mijn nieuwe aanwinsten. Tante betsy jurken een maat groter gekocht. Staan erg leuk! Bedankt voor alles
Roza
&nbsp|&nbsp
2020-04-04 19:00:40
---
Ich liebe eure Mode. Freue mich immer auf neue Kleider oder Accessoires von Euch.
mel winter
&nbsp|&nbsp
2020-02-17 13:50:22
---
Truitje is van zachte stretchstof gemaakt, die niet gaat pluizen. Alleen jammer dat de strepen niet mooi doorlopen waar 2 stukken stof aan elkaar zijn genaaid. Verder zeer tevreden. )
Anne Goovaerts
&nbsp|&nbsp
2019-09-30 20:35:18
---
Al heel wat bestellingen hier gedaan en wederom werd ik niet teleurgesteld. De lange jurk met rozen is echt een beauty. Ik heb er al heel wat complimentjes over gekregen. Alles was ook prima verpakt en het leuke presentje maakt het helemaal af. Ga zo door!

Sonja van Zundert
&nbsp|&nbsp
2018-11-29 16:13:09
---
Ich mag den Schnitt und wie es aussieht wenn es getragen wird. Aber die Qualität ist nicht wie erwartet, leider... zu dünner Stoff.
Sarah Jenny
&nbsp|&nbsp
2018-08-24 06:39:33
---
Sehr dünnes, leicht stretchiges Sommershirt. Der Stoff ist fast durchscheinend, man sollte also aufpassen, was man drunterzieht. Dafür ist das Material sehr angenehm zu tragen. Einziger Nachteil: An den Ärmelenden klappen die "Zipfel" immer um und man sieht die Innenseite des Stoffs samt Naht. Das könnte etwas besser gelöst sein.

Hallo Anja, ich verstehe das Problem. Entschuldigen Sie uns bitte! Aber wir freuen uns über den Tip. Wir werden es weiterleiten und vielleicht wird es in der Zukunft anders sein.
Liebe Grüße,
Mandy
Kundenservice
Anja
&nbsp|&nbsp
2018-07-10 19:36:33
---
Allemaal super kwaliteit, pasvorm en stof.
Het staat zo mooi. Blij mee!
Mijn favoriete webwinkel!
Nancy
&nbsp|&nbsp
2021-05-30 17:08:10
---