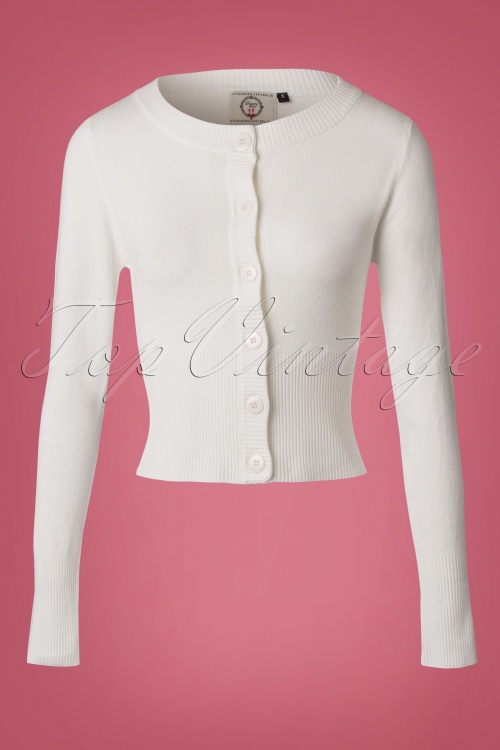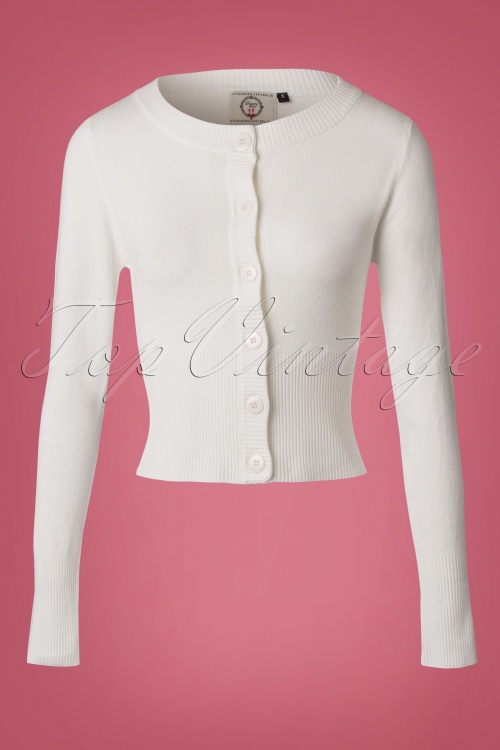 50s Dolly Cardigan in Ivory White
This 50s Dolly Cardigan in Ivory White makes with a perfect match with any outfit! Dolly is classic, comfortable ánd playful. This short cardi features an elegant round neckline, long sleeves and shiny buttons. Made from a fine knitted, ivory white fabric with a lovely stretch for a perfect fit. The combination possibilities are endless!
Round neckline
Long sleeves
Row of buttons
Stretchy board along the neckline, sleeves and bottom
Long enough to pair with regular trousers
Article nr.
22388
60% Rayon
20% Elastane
20% Polyamid
Handwash inside out (don't leave it in the water)
Wash inside out
Wash dark colors separately
Machine wash 30c delicates cycle
Do not dry clean
Do not tumble dry
Iron inside out on low temperature setting
Sehr sehr schöne Strickjacke. Weicher Stoff , sehr bequem und ultra schick. Die werde ich sehr oft tragen ! Klare Empfehlung :)
Franziska Rolle
&nbsp|&nbsp
2019-09-03 16:42:56
---
de
Märchenhaft & traumschön!
Dieses Kleid ist schon virtuell einen Augenweide – in der Realität erweist es sich als überwältigend.

Die Stoffqualität ist vom Feinsten! Seine feste und angenehme Struktur sorgt für einen fantastischen Sitz und einen herrlichen Tragekomfort.

Ein Schätzchen. Die Strickjacke ist ein perfektes Basic.

Kristina Löffler
&nbsp|&nbsp
2019-04-24 11:58:40
---
Hallo Topvintage,

Allemaal stuk voor stuk leuke producten. Ik heb meerdere producten besteld en heb een deel terug gestuurd omdat het niet paste, of niet bij mij paste. Helaas voor mij de mintgroene jurk die vlagde bij de borst en dat vond ik jammer.

Ik heb de blauwe hartjes jurk gehouden en die staat mij werkelijk fantastisch!


Janine Evers
&nbsp|&nbsp
2019-02-15 09:09:20
Response from Customer service

Beste Janine, wat fijn om te horen dat je zo blij bent met je nieuwe aanwinsten :-) Uiteraard is het geen probleem om een aantal items terug te sturen, we betalen netjes het aankoopbedrag aan je terug zodra de retourzending is ontvangen!

Groetjes,
Auke
Klantenservice
---
Der Rock ist sehr schön, passt perfekt! Auch die Steickjacken sind toll, passend zum Winter!
Sarah
&nbsp|&nbsp
2018-10-29 20:25:52
---
Amazing. Heb er geen andere woorden voor. De informatie met betrekking tot maat en pasvorm kloppen precies, zeker als er een tip bij staat. Alles zit perfect. En ik krijg alleen maar complimenten en de vraag waar ik mijn jurk/rok vandaan heb! Total love!
Cherise Haulo
&nbsp|&nbsp
2018-09-13 15:24:28
---
nl
Niet alles gehouden maar veel leuke spullen wel
De gele jurken zijn heel mooi, maar de kleur staat me niet. De andere jurken heb ik over getwijfeld, maar de lengte is toch niet iets voor mij. Ik ben vrij klein en het maakt me dan een propje. Als ik langere benen had gehad, waren ze prachtig geweest want aan de pasvorm of het verder niet. Het blousje en de shirtjes heb ik gehouden. Super blij mee
Wendy Heuten
&nbsp|&nbsp
2018-07-05 19:12:57
---
Vestje van heerlijk zacht materiaal gemaakt.
Johannah!
&nbsp|&nbsp
2018-06-13 12:43:29
---
Dit ivoorwitte vestje heb ik voor mijn moeder besteld. Ze zat al een poosje te wachten tot deze weer op voorraad kwam. Heerlijk stofje en mooi modelletje. Ze draagt een XL en die maat is in dit vestje prima. Kan over al haar mooie jurken en ze is weer super blij.
Anja Mulder
&nbsp|&nbsp
2018-06-03 06:45:09
---
de
Dancing days by banned 50s Dolly Cardigan
Ein Basic in meinem Kleiderschrank. Passt zu so vielem . Größe sitzt gut.
Kathleen Abart
&nbsp|&nbsp
2018-04-18 07:59:13
---
Très beau gilet. Matière douce. Taille bien.
Pas de regret. Mouaaaa
dorothee Charbonnier
&nbsp|&nbsp
2017-11-16 19:31:56
---
Leider stand ein Knopfzwischenraum ab, hier hätte ich tätig werden müssen (Druckknopf zB) wollte ich aber nicht.
Corinna
&nbsp|&nbsp
2017-10-26 22:54:21
---
nl
Jammer wat te doorschijnend
Zachte stof, maar jammer genoeg niet opaque. Ik zie andere kleuren eronderdoor dat ervoor gezorgd heeft dat ik dit niet graag draag. Ik vind het ook jammer dat de onderkant precies korter is dan de bovenkant (?). Her is veel moeilijker om de onderste knopjes beneden dicht te houden.
Natascha Pastoret
&nbsp|&nbsp
2020-10-29 19:49:35
---
Zo een vestje past perfect op al mijn jurken! Maat XL genomen, volg advies van de maattabel! Heerlijk zacht! Zat echter aan sommige knoopsgaten wat restjes roze draad (?). Beetje kunnen uitpitsen.
Anneke Van de Ginste
&nbsp|&nbsp
2020-04-21 09:07:53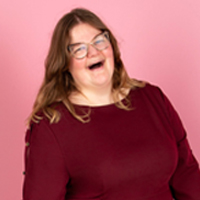 Response from Nicole

Beste Anneke, wat vervelend dat dit vestje niet helemaal netjes was afgewerkt. Gelukkig heb je het zelf kunnen verhelpen en ben je volop aan het genieten van dit veelzijdige item ;-)
Groetjes,
Nicole
Klantenservice
---
De vestjes hebben een hoog draagcomfort, ze worden wel iets wijder tijdens het dragen.
De rok heb ik nog niet geprobeerd want het was er nog geen weer voor en hij moet nog worden korter gemaakt.
Het handtasje en de handschoentjes zijn erg mooi.
de andere dingen heb ik niet gehouden omdat ze mij niet stonden. De keds schoenen deden mij pijn met lopen, helaas is het merk keds niets voor mij.
Janine Evers
&nbsp|&nbsp
2020-04-20 08:00:09
---
nl
Pracht model en vlotte niet al té grote ruitjes jurk, met roomwit vestje
Stevig katoen, komt heel goed uit op je figuur een pracht model jurk , Past in je eigen maat als aangegoten, dus lauw wassen.
Makkelijk stof en kreuk vrije katoen, te leuk voor zo'n prijsje.
Met onderjurk p.c. nog leuker, met wat smallere heup vooral.
En het mooie zachte room kleur vestje als het iets kouder gaat worden staat er prima op, kleurt goed bij 't witte van de ruit
Is niet ivoor want dat is iets meer naar de gelere kant, zoals de bolero die ik al had.
Nu maar hopen op een gezonde zomer voor iedereen.
Dank aan, Top Vintage, voor onze familie dé nummer één !
J.S.
&nbsp|&nbsp
2020-04-03 21:05:26
---
Wie immer wisst ihr, was die Kunden mögen und habt super Sachen ausgewählt. Ich kann mich bei euch totshoppen.
Die weißen Keds bestelle ich zum zweiten Mal, weil die vorherigen schon alt und nicht mehr so weiß sind, ich habe sie aber auch sehr oft getragen.
Die anderen Teile sind auch toll und sitzen wunderschön, aber am meisten mag ich das Blumenkleid, den Jeansrock und das Queen Kerosin T-Shirt. Über die Cardigans braucht man nicht zu schreiben - die braucht man einfach☺️ Die schwarzen Schuhen waren mir zu klein, deswegen wurden sie retourniert.

Pupessita
&nbsp|&nbsp
2020-03-05 19:26:38
---
Ik vind deze rok echt fantastisch, vooral de lengte! Maar ook een mooi model, fijne stof en mooie print en kleur. Helemaal goed dus.
Het witte vestje staat er heel mooi op. Het is lekker zacht. Ik heb het in mijn normale maat besteld en het past precies, het had niet kleiner moeten zijn en een maat groter had ook goed gekund.
Anne
&nbsp|&nbsp
2019-12-27 19:27:48
---
Vêtements vintages d'exception ! Produits de très bonne qualité, livraison rapide incluant toujours un petit cadeau sympa. Autrement dit, la boutique de rêve
Carole Anchyse
&nbsp|&nbsp
2019-10-29 19:58:29
---
Dies war mein erster Banned Dolly-Cardigan und bestimmt nicht mein letzter! Er fühlt sich wunderbar weich auf der Haut an, man möchte ihn am liebsten gar nicht mehr ausziehen!
Normal habe ich eigentlich immer eine 38, daher habe ich ihn auch in der Größe bestellt. Durch Corona habe ich ein paar Pfunde zu viel, daher spannt es eeetwas, wenn er zugeknöpft ist. Aber das ist überhaupt nicht schlimm ;-)
Kathrin
&nbsp|&nbsp
2021-06-23 11:31:27
---
Ich habe lange auf die weiße Strickjacke gewartet, da sie immer schnell ausverkauft ist. Jedoch Frage ich mich nun wirklich, warum? Ich bestellte die Strickjacke in S. Diese war mir 45 cm Länge deklariert, ich musste nach messen, das sie bei mir Bauchfrei war. Es waren jedoch nur 40,8cm in der Länge. Wo ist also der Rest? Am Model sieht die Jacke so aus als sei sie Hüftlang ( Pelvis Höhe), die naht saß bei mir direkt unter der Brust ( ich habe nur Körperchengr. B). Bei dem Model sitzt die Naht oder Borte deutlich tiefer.
Hinzu kommt das sie sehr durchsichtig ist. Ohne etwas drunter geht's nicht. Im Internet sieht sie Blickdichter aus. Ja, sie ist kuschelig und angenehm auf der Haut. Aber ich wollte meine Bauchfreie Strickjacke dieses mal haben, ich habe schon eine. Deswegen habe ich zurück gesendet. Komisch das keiner genau die Kriterien hinterfragt hat. Schade.
Georgina G.
&nbsp|&nbsp
2021-04-22 11:59:45
---
super weiches Material und sehr angenehm auf der Haut. Die Boleros werden oft zum Einsatz kommen. Für mich perfekt.
Cathrin Zonsius
&nbsp|&nbsp
2021-04-07 15:31:50
---