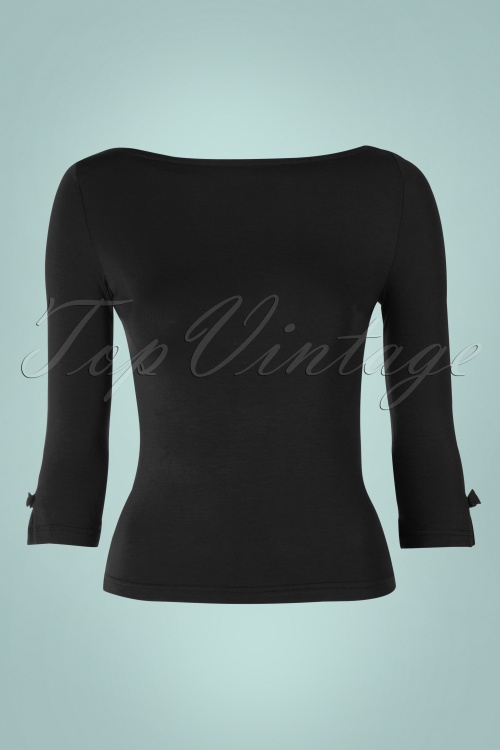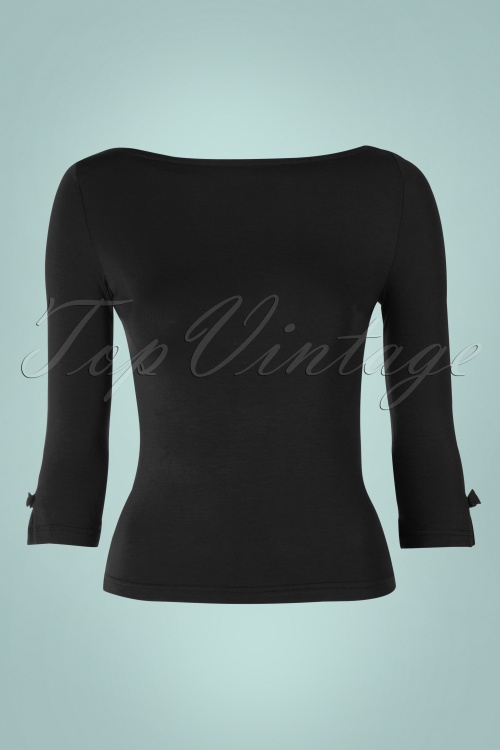 50s Modern Love Top in Black
Elegant and cute this 50s Modern Love Top in Black! Simple and yet so elegant due to the adorable detailing! The top features a beautiful boat neck and sleeves finished off with slits and little bows, só cute! Made from a lovely supple, stretchy black viscose blend that will keep its shape, even after a few washes. A versatile classy top which can't be missed in every vintage lady's wardrobe!
Handwash inside out
Wash inside out
Machine wash 30c delicate
Do not dry clean
Do not tumble dry
Ironing reverse cold
Zo blij mee. Even wat anders. Maat klopt weer vlgs tabel. Alleen wel de knopen controleren. Bij mij meteen 2 eraf.
Topje wel wat aan de dunne kant voor de winter, maar wel mooi

Beste Marly, wat fijn dat je zo blij bent met je nieuwe aanwinsten :-) Maar het is natuurlijk niet de bedoeling dat er meteen 2 knopen afvallen... Mijn excuses hiervoor! Ik zal direct contact met je opnemen om dit samen op te lossen! Tot zo!

Groetjes,
Auke
Klantenservice

marly van Beers
&nbsp|&nbsp
2017-11-28 08:11:57
---
Wat een leuke kleding, ben er erg blij mee. Past allemaal goed! Shirt met poes is nu al mn lieveling shirt! Ga zeker meer bestellen! Rokje is ook geweldig! Snelle levering!
Renske Halma
&nbsp|&nbsp
2017-10-16 07:57:35
---
nl
super warm en zo vrouwelijk
snelle levering
geweldige materialen en maakt je super vrouwelijk.

aanrader voor dames met echte klasse ;-)
marielle van beek
&nbsp|&nbsp
2017-10-11 08:58:02
---
de
Habe ich in allen Farben
Angenehm weiche Qualität, gute Länge der Ärmel, geht bis über die Hüfte.
Simone
&nbsp|&nbsp
2017-06-22 13:53:27
---
ik voel me heel mooi in deze blouse. Lekker dun stofje. Doordat hij wijd uitloopt naar onder toe, worden buikprobleempjes verdoezeld. Heel fijn.
Ria
&nbsp|&nbsp
2017-05-24 18:35:07
---
Der perfekte Begleiter für jeden Tag! Angenehm schlichter Schnitt, schöner nicht zu dicker, fließender Stoff. Lovely!
Sandy
&nbsp|&nbsp
2017-05-08 10:03:25
---
Super blij ben ik met deze mooie top!
Snelle service en er zat een veels te cute chocolate easter bunny in de verpakking.
Thank you lovely ladies :-)
Yvonne
&nbsp|&nbsp
2017-05-04 15:51:13
---
Sehr schönes Shirt zum wirklich günstigen Preis .
Süßer Schlitz am Ärmel mit Schleifchen.
Top !
Cornelia
&nbsp|&nbsp
2017-04-18 19:37:03
---
nl
love it, love it, love it!!!!!!
Echt een heel fijn bedrijf om de prachtigste kleding te kunnen kopen. Mooie stoffen en aansluiting.
kersenketting: echt een musthave!
zwarte kanten penciljurk: als een tweede huid! trek haar aan en je ziet jezelf zoals je jezelf nog nooit gezien hebt. woooouuuw!
rode blouse: mooie pasvorm en zwierig met die mouwen. ook heel mooi!
echt dames! als je je op en top vrouwelijk wil voelen: bestellen wat je leuk vindt! van ontvangen van prachtig pakket tot eventueel retourneren, alles is goed geregeld bij topvintage.
tip: superleuk ook om een vriendin of iemand anders, een topvintage cadeau te zenden.
femke
&nbsp|&nbsp
2017-02-08 07:55:58
---
i love the brand dancing days, i want to buy all products haha
good quality good size indication i am in love again and again!!
Fanny
&nbsp|&nbsp
2016-11-14 13:51:07
---
Topvintage en ik: A Perfect Match!
Zwart truitje met 3/4 mouw: zit mooi, ondanks dat het geen dikke stof is tekent het niet.
Marineblauwe pencilskirt: sluit mooi aan. Heel sexy! Zeker in combinatie met het zwarte bloesje. Verdoezelt een eventueel buikje en accentueert je sterke punten :-)
Wijde zwarte rok: een mooie basic, leuk voor een feestje met een petticoat of zonder voor een "every-day-look"
Kersen-oorbelletjes: gewoon schattig!
Zoals altijd mooi ingepakt en geleverd met een leuk cadeautje erbij.
Al met al ben ik weer heel blij met mijn aankopen en kan me nu alweer verheugen op wanneer ik weer wat mag bestellen van mezelf.
Anouk
&nbsp|&nbsp
2016-09-29 17:47:31
---
en
Absolutely perfect ! Absolument parfait !
This was my very first item from TopVintage and I couldn't be happier : this top is has perfect fit, the fabric is very comfy and I just ordered the black version of it. I REALLY recommend this item.
I bought it in L, I wear size 40 and I don't have a flat tummy :)

Ce haut fut mon premier achat sur TopVintage et je n'aurai pas pu espérer mieux : la coupe est parfaite, le tissu est très confortable et je viens juste de commander le même en noir. Je recommande VRAIMENT cet achat.
Je l'ai acheté en L, je porte du 40 et je ne suis pas très mince :)
Julie
&nbsp|&nbsp
2016-09-19 19:49:02
---
Ich bin wie immer begeistert von TopVintage. Schnelle Lieferung, sehr netter Kontakt und meine Retoure wurde auch rasend schnell bearbeitet.
Ringelshirt: Wunderbar zarter Stoff, angenehm auf der Haut und sitzt sehr schön.
Schwarzes Shirt: Etwas viel Stoff an den Achseln, aber auch sehr schön zu tragen.
Capri: Ich hatte die Hose nochmal eine Größe größer bestellt, weil sie schon seeeehr eng sitzt. Allerdings war sie dann viel zu groß und stand an der Taille ab. Ich hoffe einfach, dass sie noch ein wenig nach gibt, denn sie sieht wirklich toll aus und macht eine schöne Figur!
Alina
&nbsp|&nbsp
2016-09-15 11:38:02
---
Alweer wat moois besteld. Capri broek zit goed dankzij het maatadvies. Het gestreepte truitje heb ik ook al in het rood en zwart. Super mooi en fijne stof!
Monique
&nbsp|&nbsp
2016-09-06 20:20:50
---
Zwarte trui maat L zit perfect. Armband, oorbellen, ring en zonnebril super cute. Rode Trui met diamant hals is mooi en de stof is van goede Kwaliteit! Ben superblij met Top vintage en kan niet wachten tot de volgende bestelling. ..
Monique
&nbsp|&nbsp
2016-08-05 06:08:53
---
de
Angenehm zu tragen, aber...
Das Shirt ist weich und sehr dünn, ich trage ein Top darunter. Die Schleifen sind nach dem 1. Tragen abgefallen, bzw. hingen regelrecht "in Fetzen" am Arm und zwar auf beiden Seiten, schade :(

Hallo Sabine, ich kann mir gut vorstellen dass Sie enttäuscht sind! Sowas darf natürlich nicht passieren. Entschuldigen Sie uns bitte! Ich werde heute noch Kontakt zu Ihnen aufnehmen.

Liebe Grüße,
Desiree
Kundenservice



sabine
&nbsp|&nbsp
2016-07-29 19:17:52
---
Alles wat ik bij Topvintage bestel zit als gegoten! Zo ook deze rok
Bianca
&nbsp|&nbsp
2016-07-06 09:34:33
---
nl
Enig, die strikjes aan de mouwen!
Gelukkig heeft Topvintage deze in heel veel kleuren.
Pasvorm zit als gegoten, materiaal blijft mooi na wassen en je kunt deze top combineren met alles.
Anouk
&nbsp|&nbsp
2016-07-05 07:24:36
---
Zit heerlijk, ziet er vrolijk uit.
Echt een feestje om dit soort kleren te mogen dragen. Ik winkel bijna alleen nog maar bij Topvintage. Het komt maar zelden voor dat iets teruggaat.
Door de omschrijving vallen de maten zoals beschreven. Mocht er iets terug gaan vind ik het jammer dat er geen antwoordnummer is.
Maar ja, dat komt weinig voor..
Fenna
&nbsp|&nbsp
2016-06-24 13:33:35
---
De t-shirtjes zijn een voor een zeer mooie draagbare stukken. Zijn zijn een aanrader!
Ina
&nbsp|&nbsp
2016-06-18 21:14:03
---
Hele leuke shirtjes om dragen. Fijne, zachte stof en de strikjes maken het af. Ik ben fan :)
Lien
&nbsp|&nbsp
2016-05-19 19:49:47
---
Ich bin super zufrieden mit den Artikeln. Es sitzt alles super , macht weiter so und es war nicht die letzte Bestellung
Beate
&nbsp|&nbsp
2016-05-11 17:08:54
---
De jurken zijn geweldig. Prachtige stof en strecht fijn. De donkere shirts zijn van een dun stofje, maar voor dat geld echt heel leuk. De koker rok staat heel leuk, maar als je even zit heb je er snel vouwen in. Het is dun materiaal.
Eline
&nbsp|&nbsp
2016-04-25 21:47:05
---
en
Cute, but price not justified
I ordered this top for the cute cut and for having a universal pullover to wear with my skirts. However, I only give it 3 out of 5 due to the top being too expensive for its price. The fabric is very thin and the seams at the arms often fold outside which does not look nice. I expected a slightly thicker fabric for almost 30 Euros.
Dear Anne, I'm sorry to hear the fabric is not what you expected. Did you know we always mention the material under "Care & Product Details"? Hopefully this will prevent disappointment in the future!
Kind regards,
Nicole
Customer Service
Anne Wagner
&nbsp|&nbsp
2019-09-24 19:51:04
---
Prachtig maar simpel truitje. Maat klopt ook precies.
Jolanda
&nbsp|&nbsp
2019-09-22 08:04:44
---
Heerlijk truitje van een mooie dunne tricot met 3 kwart mouw met strikjes. Mooie halslijn waardoor je hals langer lijkt.
A. Van der Heeft-Warnaar
&nbsp|&nbsp
2019-08-29 16:27:14
---
Super bequemer T-Shirt Stoff. Sieht schön aus mit den kleinen Schleifen am Ärmel. Preis-Leistung stimmt hier auf jeden Fall!
Andrea Brenner
&nbsp|&nbsp
2019-07-13 09:11:57
---
Der Rock wird definitiv ein Lieblingsteil!
Ein toller, dünner und angenehmer Stoff. Sitzt wunderbar auf Taillenhöhe. Wer zwischen 2 Größen schwankt, kann ruhig die kleinere Größe nehmen. Bei mir sitzt meine übliche Größe doch eher locker.

Das schwarze Oberteil passt wunderbar zu dem Rock. Ein wunderschöner, bequemer Stoff. Es wird definitiv nehmen in weiteren Farben bei mir einziehen
Ilona Apitz
&nbsp|&nbsp
2019-07-10 10:43:20
---
Super comfy, classy and easy to wash and wear. Beautiful fabiric stands the test of the washing machine. Great for every day. I love them!
Natalia
&nbsp|&nbsp
2018-11-19 08:34:20
---
de
Endlich ein Shop der auch große Größen hat!
Meine Mutter ist begeistert :) Der Kirschenrock und das schwarze Oberteil dazu passen ihr perfekt und so steht unserem diesjährigem Familien Photoshooting im Vintage Style nichts im weg. Nur Schade das es hier keine Männer Kleidung gibt!
Sonja Fischer
&nbsp|&nbsp
2018-07-19 11:23:36
---
Geweldig zo gauw dat de andere kleuren weer te bestellen zijn neem ik die ook prachtig
froukje woudstra
&nbsp|&nbsp
2018-07-12 21:38:19
---
Heel mooi model op de foto. Maar de stof is veel dunner dan verwacht daardoor valt de halslijn bij mij net niet mooi. Valt ook net iets te groot helaas.
Wat te doen...de retourkosten staan bijna niet in verhouding met de prijs.

Beste Nikki, wat jammer dat je nieuwe Top niet helemaal aan je wensen voldoet, mijn excuses hiervoor! Uiteraard mag je de Top eventueel ook in envelop terugsturen, we zullen het aankoopbedrag direct aan je terugbetalen!

Groetjes,
Auke
Klantenservice
Nikki
&nbsp|&nbsp
2018-06-27 07:03:05
---
Für den Tag im Büro zur Hose oder Abends für einen Cocktail oder zum Essen gehen im Rock. Mit diesen Shirts ist man immer gut angezogen.
Ann-Kristin Timm
&nbsp|&nbsp
2018-06-23 19:43:20
---
Feminin, unaufdringlich und toll zu tragen. Dieser U- Boot - Ausschnitt ist, trotz seiner zeitlosen Linie, so selten zu finden und deshalb freue ich mich ganz besonders diesen Shop entdeckt zu haben. Ich werde sicher noch häufiger hier einkaufen. Dickes Dankeschön. Und: Allein die liebevolle Verpackung macht schon gute Laune.
Natascha Pranz
&nbsp|&nbsp
2018-05-03 16:09:25
---
Het vestje heeft een mooie pasvorm. Shirtje met lange mouwen is een mooi basic stuk, leuk afgewerkt met de strikjes aan de mouw. Shirtje met kanten bovenstuk heeft een heel mooi model, valt mooi op maat, maar gaat helaas toch retour. De stof valt tegen, is erg dun. Jammer!
Beste Natalie, wat leuk om te lezen dat je zo tevreden bent met je vestje en shirt, maar wat jammer dat het derde artikel tegenviel! Uiteraard betalen we het aankoopbedrag zo snel mogelijk terug zodra we je retour hebben ontvangen. Ik wens je natuurlijk ook heel veel draagplezier toe met de items die je houdt ;-)
Groetjes,
Nicole
Klantenservice
Natalie Brabants
&nbsp|&nbsp
2018-03-24 07:55:41
---
Shirt ..passt super.Grössen passen wie angegeben
Sabine Riedel
&nbsp|&nbsp
2018-02-14 19:41:33
---
Wat een mooi shirt! Mooi model met elegante boothals en zo schattig met de strikjes aan de mouwen. Dit gaat veel gedragen worden! En weer een lief kadootje erbij en snel geleverd. Het is weer top(vintage)!!
Simone Hermer
&nbsp|&nbsp
2018-02-09 09:53:14
---
Op zich prima basic met mooi strikje op de 3/4 mouw, maar ik heb hem niet gehouden. Net niet speciaal genoeg voor wat ik zocht. Gewoon maar weer opnieuw op zoek naar een zwart shirtje
Silvia Van Muijlwijk
&nbsp|&nbsp
2018-01-15 16:33:56
---
petit top qui se marie avec tout, à avoir dans sa garde robe :)
Carole G
&nbsp|&nbsp
2017-12-04 21:57:04
---
fr
Matière douce et légèreté
Top au top, se marie avec tout, rien à dire.
Sabine Quinet
&nbsp|&nbsp
2017-12-01 07:16:40
---
This top is made from a very thin fabric which makes it somewhat see-through when worn. Nothing a camisole can't fix, but still. I expected better quality. The bows on the sleeves are cute.
Allison Jensen
&nbsp|&nbsp
2021-01-18 16:24:18
---
Stoer en vrouwelijk tegelijk. Dankzij de maattabel direct de goede maat. De broek en en shirt zitten als gegoten en de broek flateert alle probleemgebiedjes. Gepast en ik wil ze voorlopig niet meer uit doen.
Suzanna van der Burgh
&nbsp|&nbsp
2020-08-30 15:19:35
---
Wat een teleurtselling was deze bestelling :(
De rok was zo mooi maar stond mij veel te los en gaapte vanachter.Terwijl ik toch juist heb opgemeten en goed gekeken had in de maattabel. Hier baalde ik echt van.. Dankte mischien ook beetje af van mijn postuur...

Het blauwe topje stond mij wat strak aan de borst waardoor ik een diepe inkijk had.. Persoonlijk hou ik daar niet van.Kwaliteit van de stof was wel heerlijk om te dragen..

Het zwart bloesje flatteerde mij niet echt en was beetje aan de strakke kant.. Helaas ook retour

Maar ieder kledingstuk krijgt toch een
Beste Sabrina, wat jammer dat het deze keer tegenviel! Bij twijfel over maten mag je altijd contact met ons opnemen. Wij adviseren je natuurlijk graag. Ik weet zeker dat je volgende keer weer mooie nieuwe spulletjes kan scoren ;-)
Groetjes,
Nicole
Klantenservice
Sabrina Cossero
&nbsp|&nbsp
2020-05-30 11:02:04
---
en
Gorgeous shape- fit and style
This top is fitted, gives you a slim hourglass shape, and it a super soft fabric. The boat neck is amazing- and looks just like Audrey Hepburn! 10/10 Stay true to size and it will look amazing on you!!
Sarah
&nbsp|&nbsp
2020-04-27 22:08:03
---
De bikini is in één woord TOP! Zit super lekker!
De shirts die zitten ook heerlijk en de stof voelt goed aan! Zoals ik al gelezen heb in meerdere reacties...jullie site is verslavend ;)
Saskia Horjus
&nbsp|&nbsp
2020-02-12 12:41:02
---
Eerste keer hier een bestelling gedaan. De doos is al een plaatje , mooi verpakt in vloeipapier wat heerlijk luxe is. En wat een verrassing dat beide items perfect zijn. Shirtje is idd wat van een dunne stof maar doet geen afbreuk aan hoe t staat. Zit heerlijk en de splitjes met strikjes geven net wat sjeu aan een mooi , simpel , tijdloos shirtje. De top is boven verwachting , wat zit dit mooi , zelfs met kleine boezem smoelt het super. En beide items zijn prima te combineren met pantalons , rokjes of gewoon een jeans. Heel erg blij mee . En ondanks de feestdagen een snelle levering!
Hannie van Verseveld
&nbsp|&nbsp
2019-12-29 11:48:58
---
Deze site is niet goed voor mij. Ik ga hier failliet aan...
De jas zit als gegoten en de sjaal past er mooi bij. Mouwen zitten wat strak. Een dikke trui moet je er niet onder aan doen, maar dat is altijd met mantels.
Het vestje is precies goed.
De rok en truitjes zitten als gegoten en mooie kwaliteit weer.
Alles in de maten die ik inmiddels weet per merk. Maattabel klopt voor alles. Jas wel een maat groter moeten nemen, maar dat doe je al snel bij een jas.
Kortom, ik ben weer super blij! Dank jullie wel weer!

Debbie Bakkum
&nbsp|&nbsp
2019-11-29 19:11:28
---
Deze heb ik in twee kleuren, want het zit zo lekker en het staat zo mooi. De stof is zo zacht dat mijn dochter er telkens aan wil aaien :) Het zijn geen shirtjes die je draagt als je keihard op wil vallen, maar ze ze zijn juist in hun eenvoud erg mooi. Doordat het mouwtje een strikje heeft is het niet té eenvoudig, maar precies goed. De volgende keer bestel ik er nog een kleur of 2 van bij!
Ann
&nbsp|&nbsp
2019-10-14 18:06:46
---
de
Wunderschön - aber komische Größen
Dieses tolle Shirt habe ich bereits in einem anderen Materialmix, da fällt es ganz normal aus. Dieses ist in XL viel zu klein (ich trage 40/42), ich würde sicher 3XL brauchen - furchtbar.
Doreen
&nbsp|&nbsp
2021-10-22 19:26:09
---
de
Wunderbar angenehmes Material
Super Tragekomfort, angenehme Länge und mit den Schleifchen am Ärmel etwas Besonderes. Ich werde noch weitere Farben davon bestellen.
Lis Falcke
&nbsp|&nbsp
2021-09-30 11:12:38
---