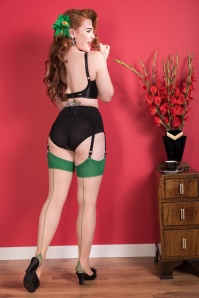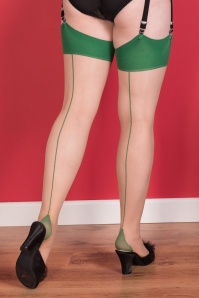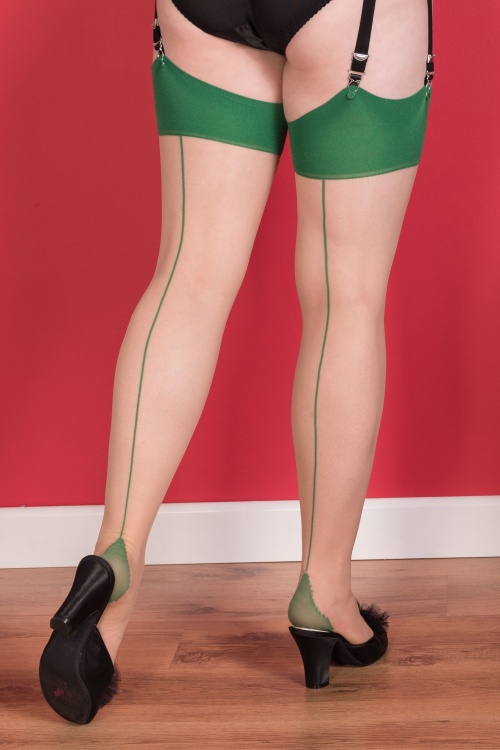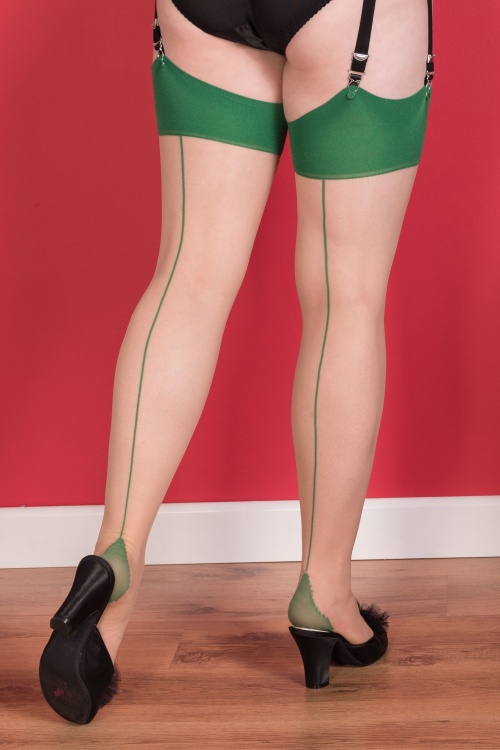 40s Retro Seamed Stockings in Green Glamour
These 40s Retro Seamed Stockings are the finishing touch to your vintage outfit! These stunning satin feel stockings have the allure and glamour of the 40's and combine the everyday comfort. Beautiful glow and wide boards with a sexy green backseam and a low pyramid shaped 'Cuban' heel. Oh la la!
15 denier
Reinforced toes
Easy to wear with suspender belt
The featured lingerie, pumps and accessories are not available in our shop. 
Article nr.
19482
74% Nylon
14% Elastane
12% Polypropylene
Handwash in lukewarm water (don't leave it in the water)
Do not tumble dry
Made in Italy
Topjes heb ik ondertussen in elk kleur en motief, de fijne basic cardigans ook en de gekleurde nylons zijn een leuke afwisseling op mijn gewone nylons.
Zoals steeds meer dan tevreden over Topvintage, mijn favo webshop die me elke maand weliswaar een platte portemonnee bezorgt, maar tegelijkertijd ook een meer dan happy meiske van me maakt ;)
xxx
Ilse
&nbsp|&nbsp
2016-12-08 00:34:31
---
Sehr außergewöhnliche Strümpfe von guter Qualität - die Lieferung ging wie immer schnell und problemlos über die Bühne.
Nadine
&nbsp|&nbsp
2016-12-06 12:01:13
---
Top webshop!
Keep up the good work ;)
xxx
Ilse
&nbsp|&nbsp
2016-11-28 12:32:12
---
Breng meer kleur in je leven, ja, ook in je kousen :)
Apart maar ik hou er van en mijn vriend ook...win win situatie :)
xxx
Ilse
&nbsp|&nbsp
2016-11-25 21:35:31
---
de
Liebe auf den ersten Blick
Als ich die Strümpfe entdeckte, war es Liebe auf den ersten Blick. Ich musste sie haben. Sie lassen sich sehr angenehm tragen. Phantastisch!
Nina
&nbsp|&nbsp
2016-10-14 08:16:15
---
Très confortable très bellesympa couleurs je recommande ! Les bas verts vont très bien avec. Porte jartelles très confortable et très beau. Beau gilet confortable. Jupon très bien confortable et jolie finition en bas. Attention short noir taille petit commander taille au dessus . Short marine joli et confortable se porte avec pas mal de hauts differents.
claire Fayolle
&nbsp|&nbsp
2019-06-10 13:59:23
---
Twijfelde over de maat aangezien ik plus size ben maar ook klein . Heb de grootste maat genomen en ze zijn wel heel lang , dus
Met mijn girdle geen optie , ga zien of het gaat lukken met mijn jarretelle broekje .
Fanny
&nbsp|&nbsp
2018-11-26 14:08:35
---
Fantastisch mooie herfstkleuren met deze prachtige kledij en bijpassende assecoires wordt het een echte vintage fall
Ik houd jullie webshop goed in het oog veel van deze pareltjes vinden wel een plaatske in mijn kast
Leen Roman
&nbsp|&nbsp
2018-09-29 07:54:46
---
groene kousen de max voor mij, geldbeugel voor mijn nichtje, top en het vestje voor mijn moeder vorige was stuk gemaakt door haar poezen. Dus weeral heel tevree.
greet van goethem
&nbsp|&nbsp
2017-08-23 09:28:54
---
Het Collectif klledje zit super mooi behalve dat de riem steeds los komt daar er geen sluiting is dus na een paar stappen komt die los,de kousen heb ik ook in het donker rood en geeft die finishing touch en zijn super mooi het groen kleedje heb ik in het zwart en is zalig om te dragen te wassen niet strijken dus een aanrader voor mee op reis te nemen en Miss L fire shoes zijn super comfy !!!! dus al bij al Im feeling good and happy !!
Sandra
&nbsp|&nbsp
2017-07-10 13:37:09
---
I love this Seamed Stockings in Green.
Valentina
&nbsp|&nbsp
2017-04-26 07:51:57
---
Prachtige kousen kan niet wachten tot ik ze kan dragen en hopelijk komen de bordeaux ook weer gauw op voorraad in mijn maat
esther
&nbsp|&nbsp
2017-01-04 14:52:08
---
These stockings are quite cool, I love the different colors - it gives a twist to every outfit, BUT the seams won't stay in place, even when you wear a garter-belt with six or more straps the stockings will turn this or that way with every move so that it is impossible to have a straight seam at the end of (or even throughout) the night which is very sad. Otherwise they are long enough, quite robust and stretchy.

Diese Strümpfe sind wirklich cool, ich liebe die verschiedenen Farben, damit kann man wirklich jedem Outfit das gewisse etwas verleihen. ABER es gibt ein Problem: die Naht bleibt einfach nicht an Ort und Stelle, selbst wenn man einen Strumpfgürtel mit 6 oder gar 8 Clips trägt! Mit jeder Bewegung wandert der Strumpf am Bein, so dass es leider unmöglich wird, längere Zeit eine gerade Naht zu behalten. Ansonsten sind die Strümpfe aber echt okay, sie sind lang genug und auch relativ robust bei hohem Stretchanteil.
Nina
&nbsp|&nbsp
2016-12-30 12:36:36
---
De suspender belt maatje S gekocht. Is veel te groot, zakt jammer genoeg af.
Alsook de stockings, veel te lang en veel te groot.
Zo zonde, was opslag verliefd op de stockings!
Ciska
&nbsp|&nbsp
2023-03-08 11:02:35
---
I have many of these WKD stockings. I love them so much. I believe it is an extra plus, when I wear matching colours in clothing and stockings.
They are i bit to the long side, when you are a short person. I would love to have a size xs.
If you treat them with care they can last for a long time.(wear gloves when taking them on and off. Use a laundry bag. Use a delicate programme. Hang them drying. )
Cecilie Nørregaard
&nbsp|&nbsp
2020-10-22 10:20:02
---