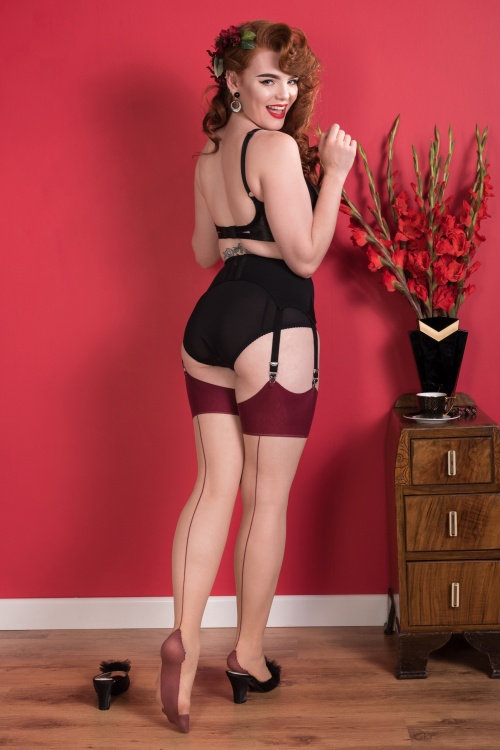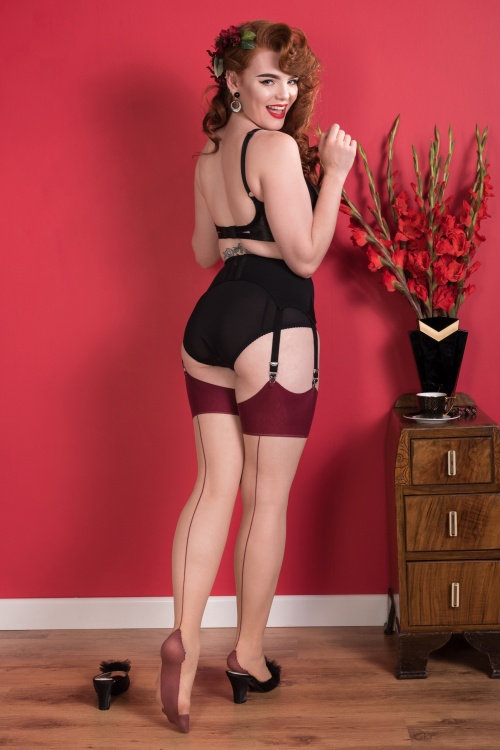 40s Retro Seamed Stockings in Burgundy Glamour
These 40s Retro Seamed Stockings are the finishing touch to your vintage outfit! These stunning satin feel stockings have the allure and glamour of the 40s and combine the everyday comfort. Beautiful glow and wide boards with a sexy burgundy red backseam and a low pyramid shaped 'Cuban' heel. Oh la la!
15 denier
Reinforced toes
Easy to wear with suspender belt
The featured lingerie, pumps and accessories are not available in our shop. 
Article nr.
20424
74% Nylon
14% Elastane
12% Polypropylene
Handwash in lukewarm water (don't leave it in the water)
Do not tumble dry
Made in Italy
Deze kousen van What Katie Did zijn al een tijdje m'n favorieten; ze gaan vrij lang mee -veel vaker dan een reguliere 20 den panty- en ze zijn erg mooi. Bij het aantrekken even opletten dat je geen scherpe nagels erdoorheen drukt, maar nogmaals, ze zijn relatief stevig. De bezorging was zoals altijd heerlijk snel, wat ik heel fijn vind. Weer een soepele ervaring met TopVintage en haar producten!
Janneke
&nbsp|&nbsp
2019-01-14 15:53:57
---
de
What Katie Did 40s Retro Seamed Stockings, Gr S/M
Endlich Strümpfe die auch bei kräftigeren Oberschenkeln passen und nicht einschneiden, ich bin begeistert!!! Ich habe die Strümpfe schon in mehreren Farben und bin von der Qualität und dem Preisleistungsverhältnis sehr angetan.
Christine
&nbsp|&nbsp
2017-11-05 10:14:34
---
De kouzen zijn zo gaaf! Ik had niet verwacht ze te passen met mijn 1,90m.. maar kan gelukkig wel aan. De portemonnee is super fijn, kunnen veel pasjes in. De zonnenbrillen zijn heel mooi, alleen jammer van de lichte glazen erin.. Als de zon heel fel schijnt, draag ik liever mijn andere zonnebril met donkere glazen erin.. Vooral tijdens autorijden merk je dat ze niet voldoende sterk zijn.
Simone
&nbsp|&nbsp
2017-03-29 23:02:39
---
Es war nicht mein erstes Paar WhatKatieDid Strümpfe. Am Anfang hab ich befürchtet, dass sie mir nicht passen könnten da ich "Meerjungfrauen Oberschenkel" hab. Wurde aber beim ersten tragen direkt vom Gegenteil überzeugt! Sie passen wunderbar und lassen sich den ganzen Tag über bequem tragen.

Ich liebe sie <3 die Farbe ist auch wunderschön und nochmal ein extra Hingucker
Lisa
&nbsp|&nbsp
2017-03-17 09:16:32
---
Helaas, het leek zo'n prachtige jurk... en het model is dat ook!
Maar de stof is heel dun en tekent super af :(
Ik kon mijn navel zien zitten, zelfs met onderjurkje.. heel jammer van het materiaal...
Kleur, model, maat was wel helemaal top!
anuschka
&nbsp|&nbsp
2017-02-24 14:27:27
---
I don't wear any less than these WKD stockings
I have tried many other stockings from different makers-even expensive italian ones!
These are nice and soft and feel really good-the strap section is very thick and sturdy
Colleen
&nbsp|&nbsp
2017-01-28 14:23:57
---
Vandaag bij de post om mijn pakje gegaan thuis gekomen en natuurlijk gepast natuurlijk en...... weeral de rits deze keer van Colllectif ,spijtig dat de ritsen toch altijd van slechte kwaliteit zijn.Ik ga ze wel houden om de kosten te besparen en zelf er iets aan doen,De blauwe broek en stockings zijn perfect.
I pray for better zippers in 2017.


Sandra
&nbsp|&nbsp
2017-01-18 13:22:53
Response from Mandy

Beste Sandra, wat vervelend dat je zo veel pech hebt met de ritsen. Dit mag natuurlijk niet gebeuren. Ik zal zo snel mogelijk contact met je opnemen en ik weet zeker dat we hier samen uit zullen komen! Onze excuses voor het ongemak!
Groetjes,
Mandy
Klantenservice
---
These stockings are quite cool, I love the different colors - it gives a twist to every outfit, BUT the seams won't stay in place, even when you wear a garter-belt with six or more straps the stockings will turn this or that way with every move so that it is impossible to have a straight seam at the end of (or even throughout) the night which is very sad. Otherwise they are long enough, quite robust and stretchy.

Diese Strümpfe sind wirklich cool, ich liebe die verschiedenen Farben, damit kann man wirklich jedem Outfit das gewisse etwas verleihen. ABER es gibt ein Problem: die Naht bleibt einfach nicht an Ort und Stelle, selbst wenn man einen Strumpfgürtel mit 6 oder gar 8 Clips trägt! Mit jeder Bewegung wandert der Strumpf am Bein, so dass es leider unmöglich wird, längere Zeit eine gerade Naht zu behalten. Ansonsten sind die Strümpfe aber echt okay, sie sind lang genug und auch relativ robust bei hohem Stretchanteil.
Nina
&nbsp|&nbsp
2016-12-30 12:36:36
---
Topjes heb ik ondertussen in elk kleur en motief, de fijne basic cardigans ook en de gekleurde nylons zijn een leuke afwisseling op mijn gewone nylons.
Zoals steeds meer dan tevreden over Topvintage, mijn favo webshop die me elke maand weliswaar een platte portemonnee bezorgt, maar tegelijkertijd ook een meer dan happy meiske van me maakt ;)
xxx
Ilse
&nbsp|&nbsp
2016-12-08 00:34:31
---
Sehr außergewöhnliche Strümpfe von guter Qualität - die Lieferung ging wie immer schnell und problemlos über die Bühne.
Nadine
&nbsp|&nbsp
2016-12-06 12:01:23
---
Top webshop!
Keep up the good work ;)
xxx
Ilse
&nbsp|&nbsp
2016-11-28 12:32:12
---
Breng meer kleur in je leven, ja, ook in je kousen :)
Apart maar ik hou er van en mijn vriend ook...win win situatie :)
xxx
Ilse
&nbsp|&nbsp
2016-11-25 21:35:31
---
Rien à dire sur ces articles de qualité :) "What Katie Did" reste une valeur sûre dans la lingerie rétro (les bas aux coutures colorées sont parfaits pour assortir ses tenues jusqu'au bout!!)
Elise Lecinski
&nbsp|&nbsp
2021-03-17 16:49:57
---
Mijn eerste kousen met jaretels!
En tevens mijn eerste kennismaking met het merk What Katie Did.

Wat mij direct opviel, is de uitstekende kwaliteit van de suspender belt en de kousen.
Luxe, stevig materiaal en keurig afgewerkt.

Het aan- en uittrekken (en wc-bezoekjes) behoeft nog wat oefening voor mij.
Maar wauw! Wat ziet dit er ultra-vrouwelijk en sexy uit!
Dit setje is hier ook helemaal Boyfriend Approved.
Kirsten
&nbsp|&nbsp
2020-12-18 15:01:59
---
De schoenen lopen als een tierelier. De sluiting was even wennen, maar ze staan en lopen als een droom.

De denimrok past prima in M, de bretels zijn precies lang genoeg. Zakken zitten goed op de heupen en de stof voelt soepel en zacht.

De jumpsuit gaat jammer genoeg wel terug. De pijpen zijn voor mij te kort en het lijfje ook. Echt zonde want verder staat en voelt hij super.

Sokjes en kousen zijn prima!
Manol van Schaik
&nbsp|&nbsp
2020-03-14 13:50:09
---
Ik had een prachtige trouwdag, mede dankzij mijn outfit
Krisje De Smet
&nbsp|&nbsp
2020-02-07 10:32:48
---
The Splendette products as perfect as usual, I needed to add yellow bangles to my collection and now it's done :)

THe dress fits like a glove, thanx to TopVintage's size chart (or the gym ahah) I have sized down, without it it would have been too large.
I think the dress will be better with a push-up, because of the way it fakely close in the front it can be a little too big (and I have some breast ahah)


Marianne D
&nbsp|&nbsp
2020-01-31 18:27:03
---
les bas couture WKD sont doux résistant et très confortable!
clara slattery
&nbsp|&nbsp
2019-03-25 13:24:04
---
de
Absolute Lieblingsteile
Die Jeans habe ich jetzt schon zum 2. Mal bestellt- bequem und sexy gleichermaßen.
Dazu passen die Cardigans perfekt, wobei diese auch zu Röcken die idealen Begleiter sind.
Die Tasche sieht traumhaft aus- ich bin unsterblich verliebt, leider bricht das Stroh sehr schnell- ich weiß nicht, ob das bei diesem Material normal ist.
Caroline Lösch
&nbsp|&nbsp
2019-03-23 15:09:49
---
fr
pieds doublés et matière épaisse
j'aime la matière de ces bas, qui rappelle à la texture un genre de flanelle fine et élastique. On garantit zéro marque au niveau des cuisses !
Les pieds sont doublés.
Très sexy.
camille anceau
&nbsp|&nbsp
2019-03-20 09:18:19
---
Schöne Farbe, schöne Verarbeitung, gutes Material. Passt auch bei dicken Oberschenkeln, da sie flexibel sind. Eine Marke, die Strümpfe für alle(!) Hautfarben macht, kaufe ich sowieso mit Freuden.

"Ja, aber lohnt sich das denn...?" Das fragen sich sicherlich einige, die überlegen, sich ein paar schicker Strümpfe zu kaufen. Bei diesen schon! Ich habe sie mehrfach unter 'gefährlichen' Bedingungen getragen. Ein mal bin ich hängen geblieben und dachte noch: Oh nein, jetzt haben sie eine Laufmasche! Hatten sie nicht. Das Fädchen, das hängen blieb hängt ein Stück raus. Sonst sind sie heile.

Vorsicht ist trotz allem aber die Mutter der schönen Strümpfe.
H
&nbsp|&nbsp
2019-03-12 20:50:33
---
fr
Magnifiques mais trop longs
J'adore le concept et le coloris, mais malheureusement, ils sont beaucoup longs pour mes jambes (je fais 1m63 mais avec petit buste pour de grandes jambes). Ces bas sont faits pour les grandes ! Tant pis :-)
Angélique
&nbsp|&nbsp
2022-04-12 13:28:25
---