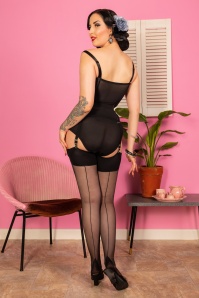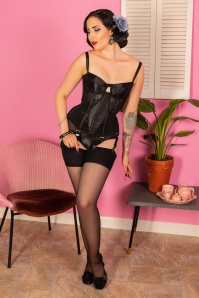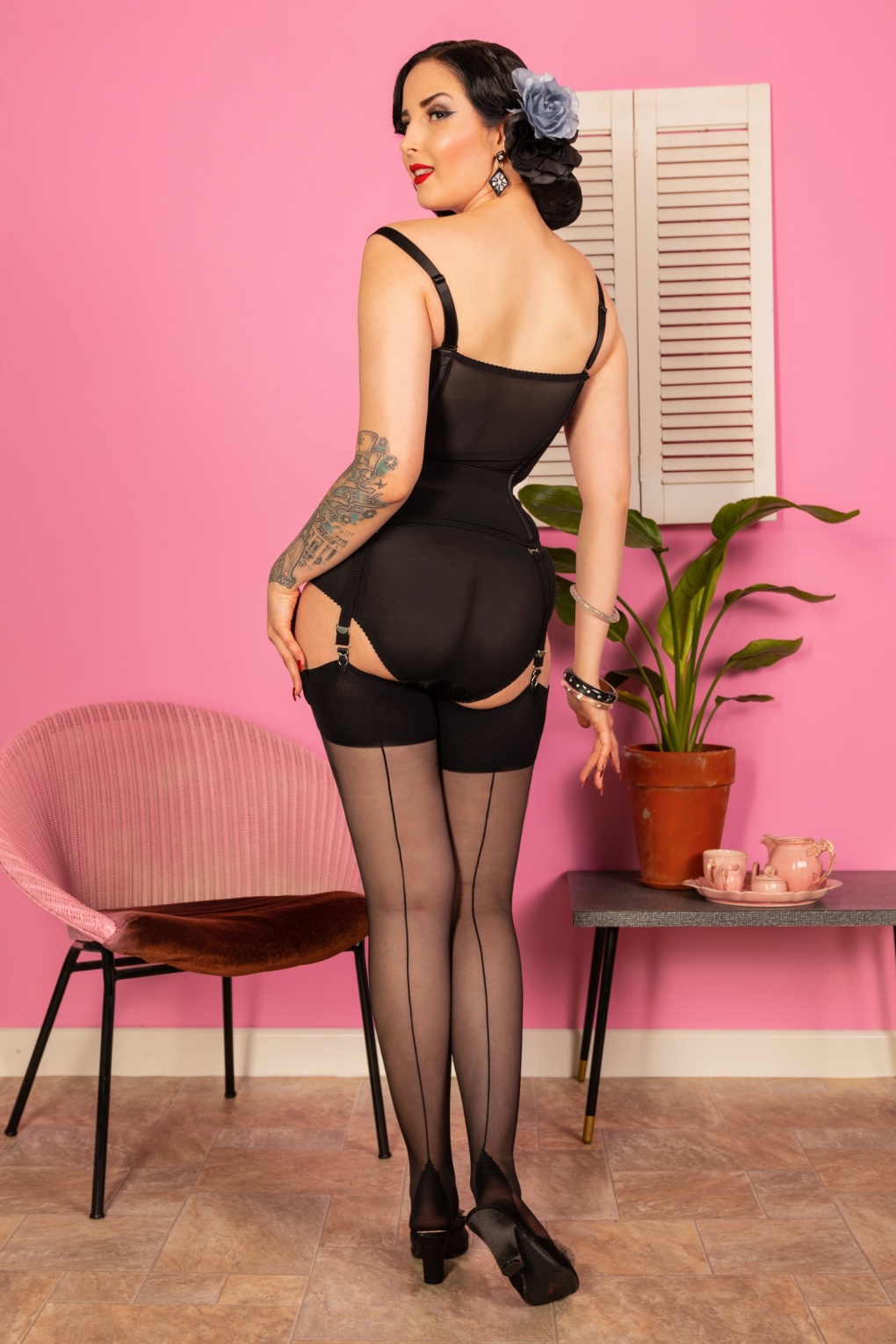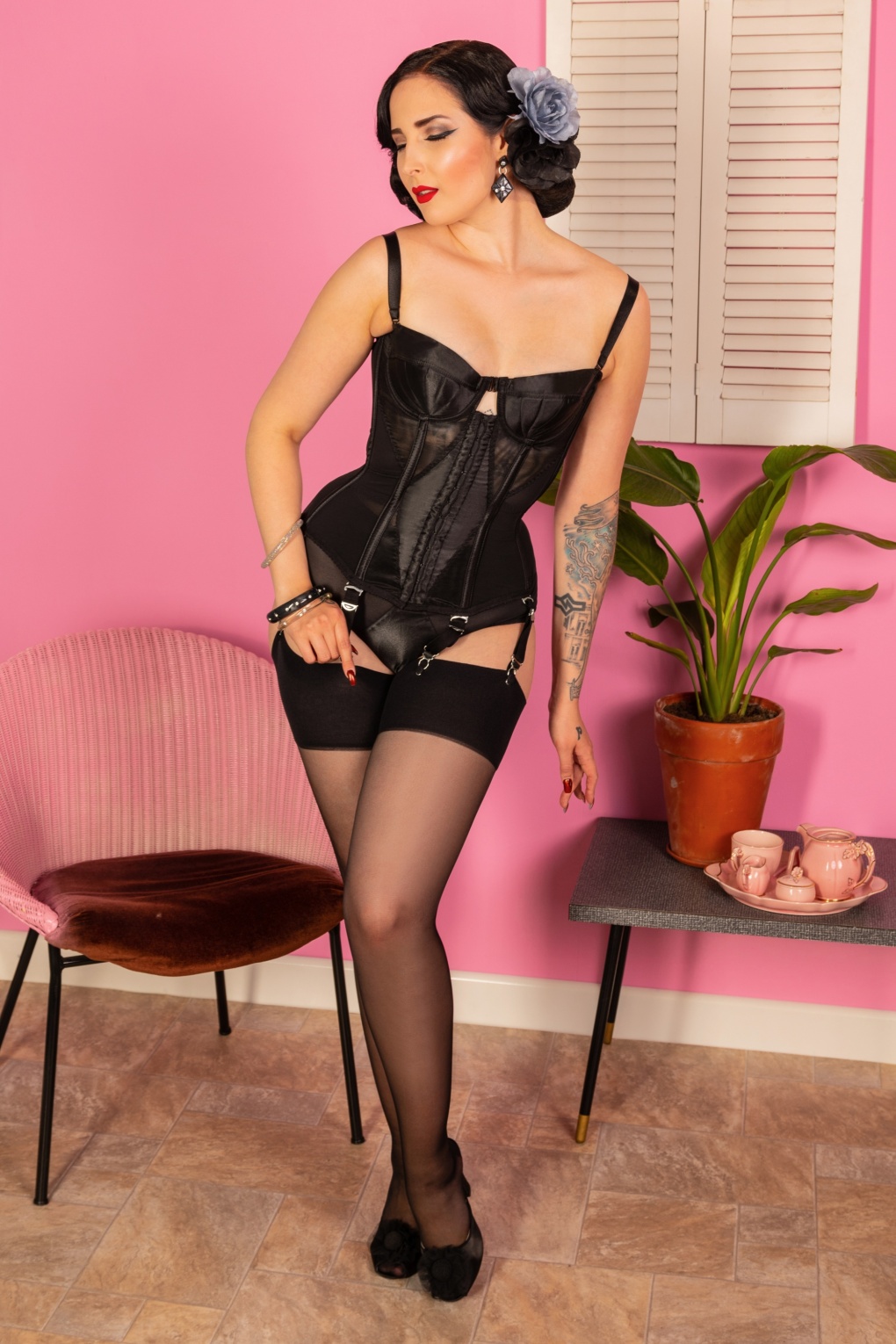 15% birthday discount!
15% OFF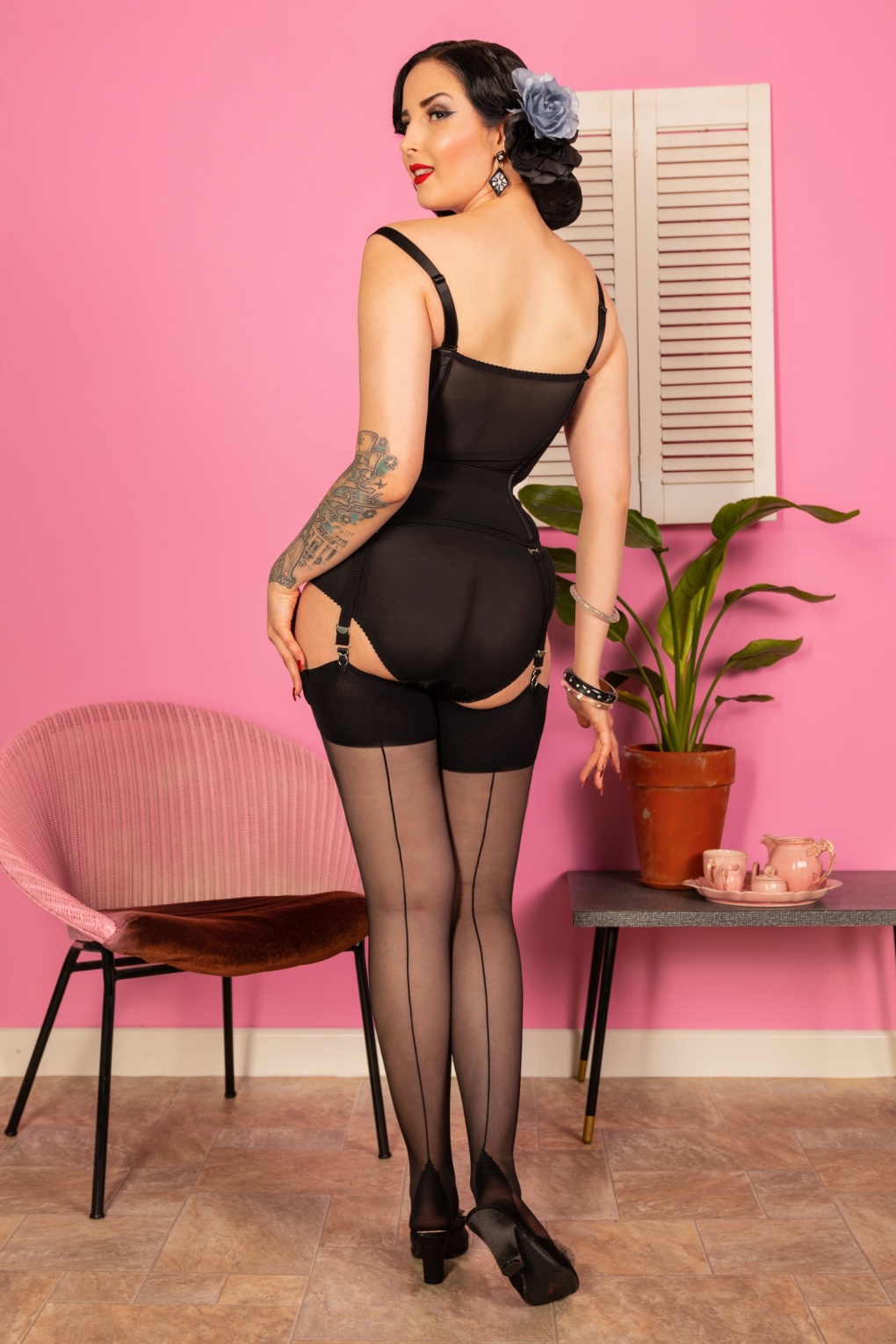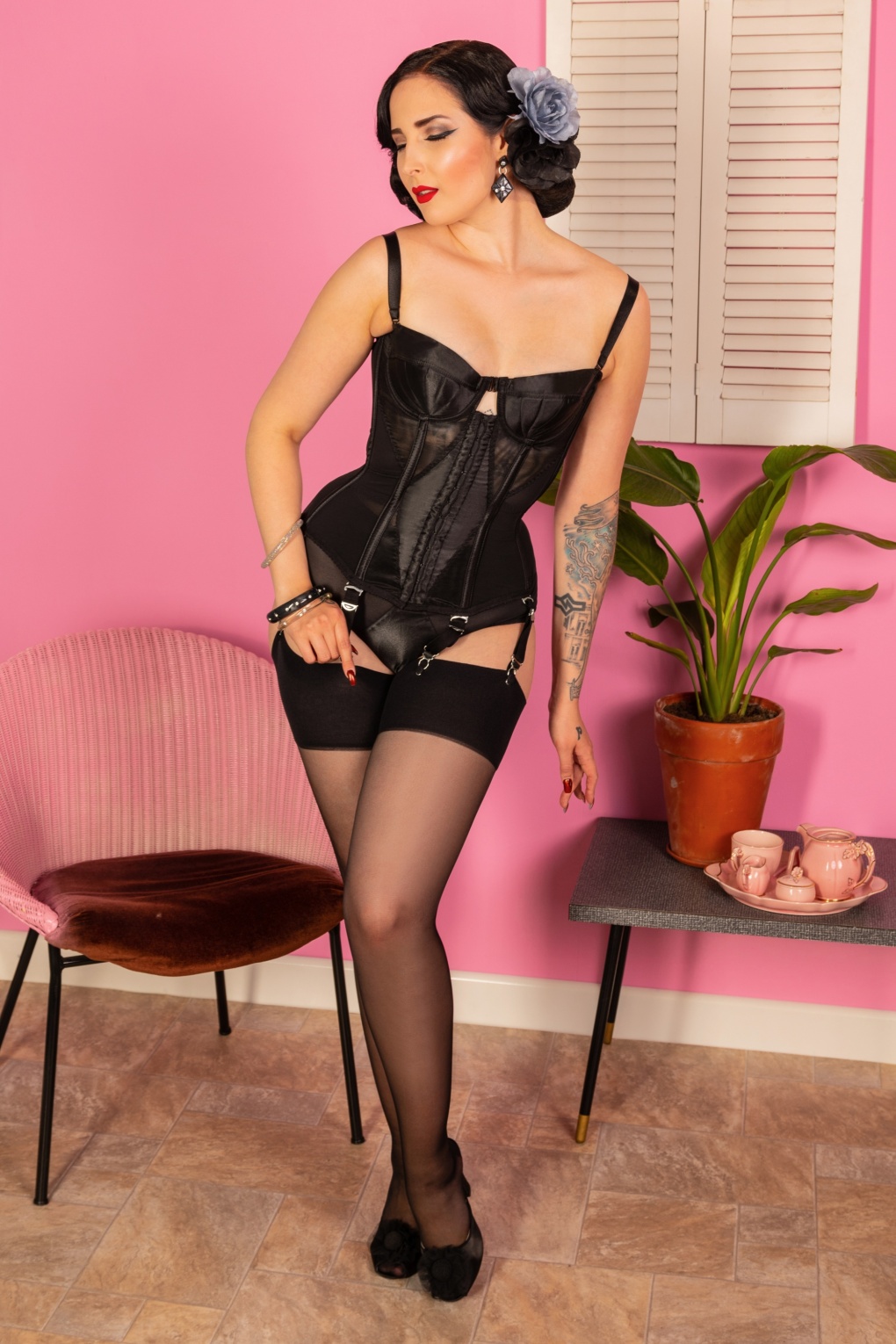 15% birthday discount!
15% OFF
40s Retro Seamed Stockings in Black
These 40s Retro Seamed Stockings are the finishing touch to your vintage outfit! These stunning satin feel stockings have the allure and glamour of the 40's and combine the everyday comfort. Beautiful glow and wide boards with a sexy backseam and a low pyramid shaped 'Cuban' heel. Oh la la!


20 denier
Reinforced toes
Easy to wear with suspender belt
The featured accessories, lingerie and pumps are not available in our shop
Article nr.
15962
74% Nylon
14% Elastane
12% Polypropyleen
Handwash cold (don't leave it in the water)
Do not tumble dry
Made in Italy
de
Leider ziemlich enttäuschend
Ich hatte ewig gewartet, bis ich die hoch gelobten Strümpfe erwischen konnte. Am Wochenende wollte ich sie endlich mal anziehen. Leider ging schon der erste Strumpf beim gerafften Hochziehen kaputt (Laufmaschen- Alarm. Und ja: kurze Fingernägel).
Schade.
Hallo Lisa, entschuldigen Sie uns bitte das die Stockings jetzt schon Defekt sind! Natürlich ist das sehr ärgerlich und das hätte auch nicht so schnell passieren dürfen! Selbstverständlich werden wir das Problem lösen! Sie werden heute noch von mir hören!

Liebe Grüße,
Mandy
Kundenservice
Lisa ter Horst | 2018-01-23 20:14:18
---
de
Gute, günstigere Strümpfe aber wirklich groß / Great value but quite large sizing wise
What Katie Did schreiben auf ihrer Homepage, dass sie ihre Strümpfe für Frauen mit UK-Größe 12-16, also nach der Umrechnung von Top Vintage und meiner Erfahrung beim Anprobieren nach 38-42, laut WKD 40-44, anpassen und das macht sich deutlich bemerkbar.
In offline Geschäften trage ich meist Gr. 36/38, habe eher kurze Beine (Hosenlänge 32 oder 30), Schuhgröße 38/39 und mir sind gehen Strümpfe in S/M locker bis unter den Hintern. Damit sind sie mit vielen meiner Strumpfhaltern, bei denen der formende Teil bis über den Hintern geht und dann erst die Halter angebracht sind, deutlich zu lang.
Qualitativ sind die Strümpfe super, fühlen sich gut an und die Naht sieht auch gut aus, sofern sie unter Spannung gebracht werden kann, aber für mich gibt es sie nicht klein genug.

Quality wise these stockings are great but in size S/M they're awfully large/long when you're under size 12 and have short-ish legs (aka wear jeans with 32 or 30 length).
If you're wearing them with a suspender belt it doesn't really matter but if you're intending to wear them with a shaping girdle or slip that finishes under your butt they're a bad choice. The suspender clips have some strap attached to them for easy handling and if the stocking already comes up to your butt where the girdle ends it's impossible to not have slipping, wrinkly stockings.
Katharina | 2017-08-23 09:44:05
---
Ich habe das 1. Mal bei TopVintage bestelltund bin total begeistert. Schnelle Lieferung und die kleine Überraschung einfach nur toll. Schuhe und Strümpfe super
Sylvia | 2016-12-06 14:57:43
---
Chemise trop petite sinon tout est ok.
Del Rosso | 2021-12-28 21:46:24
---
impossible de se louper avec des bas What Katie Did !!!! J'adore !
Gaelle | 2021-10-12 13:24:45
---
Na lang twijfelen toch maar de jarretelkousen gekocht om mijn vintage outfits helemaal af te maken, en ik ben er echt positief door verrast! Ik was een beetje bang dat de achterste bandjes zouden knappen/de kousen zouden scheuren wanneer ik buk of mijn benen over elkaar sla aangezien ik nogal aanwezige billen heb, maar het materiaal is heel sterk en alles blijft perfect op z'n plek zitten! Ik ben er ontzettend blij mee en mijn vriend is ook fan ;).

De schoenen zijn ongelooflijk mooi en zitten heerlijk. De hak is precies hoog en breed genoeg om er zonder problemen een hele dag op te kunnen lopen. Ze zijn wat aan de prijzige kant maar dat zie je gelukkig helemaal terug in de kwaliteit.
Sofie | 2021-08-26 12:41:06
---
de
Tolle Kleidung, toller Service
Dieses Mal habe ich mir eine Bluse von Collectif bestellt. Ich trage normalerweise Größe M habe aber L bestellt, da ich Angst hatte, dass die Ärmel zu kurz sein könnten. Die Ärmellänge ist super und ich mag, dass sie so weit und luftig geschnitten sind. Jedoch steht in der Beschreibung des Artikels, dass die Bluse leicht tailliert ist. Obwohl ich Größe L bestellt habe, hat sie grade so an der Taille gepasst. Die Bluse liegt recht eng an und in M hätte sie mir vermutlich nicht gepasst.
Der Suspender Belt gefällt mir gut. Für den Preis ist die Qualität in Ordnung, ich schätze aber mal, dass nach vielem Benutzen die Nähte schwach werden könnten. Leider kann man die Länge der Strapsen nicht noch kürzer machen, weswegen ich bei manchen Strümpfen die etwas höher gehen, den Gürtel eher in der Taille tragen muss, damit die Strümpfe gut halten.
Die Strümpfe von What Katie did sind super. Sie fühlen sich weich an und haben eine sehr gute Qualität.
Der Service von TopVintage ist wie immer hervorragend. Ich hatte Probleme einen Gutschein einzulösen und habe bei der Servicehotline angerufen. Super nette Mitarbeiterin und das Problem war in 2 Minuten gelöst und ich konnte ohne Probleme meinen Einkauf beenden.
Raja Monja Weber | 2019-09-11 19:17:29
---
les bas couture WKD sont doux résistant et très confortable!
clara slattery | 2019-03-25 13:24:04
---
nl
Prachtige klassieke stockings
Zeer mooie stockings, het naadje aan de achterkant zorgt direct voor vavavoom! (en blijft overigens prima op zijn plek zitten) zitten ook heel fijn aan de bovenkant en knellen niet! De stockings zijn wel heel dun maar als je er voorzichtig mee bent is er niks aan de hand :-)
Kim De Ruiter | 2019-01-29 18:51:14
---
Deze kousen van What Katie Did zijn al een tijdje m'n favorieten; ze gaan vrij lang mee -veel vaker dan een reguliere 20 den panty- en ze zijn erg mooi. Bij het aantrekken even opletten dat je geen scherpe nagels erdoorheen drukt, maar nogmaals, ze zijn relatief stevig. De bezorging was zoals altijd heerlijk snel, wat ik heel fijn vind. Weer een soepele ervaring met TopVintage en haar producten!
Janneke | 2019-01-14 15:53:57
---
The capri pants are amazing, suits me perfectly, the sizes are correct.

The black and white dress, is really beautiful, my only complain us that the arms are a little tight, but if I choose one more size, it will be too big.

The shoes are really confortable and pretty.

The red top is beautiful, a little big for me, but I like it that way, makes it more casual.

The necklace is soooo pretty, I love it!

The black and blue dress is beautiful and suits perfectly.

The belt is nice, the size is ok.

The socks and suspenders are perfecr too.

I absolutely love my order, I recommend all the clothes and accessories!!!!


Cristina | 2018-07-31 17:41:11
---
Nylons van what katie did zitten perfect, nu heb ik ze in alle kleuren.
De andere nylons zijn zeer snel stuk. Na eenmaal te dragen en aan te doen zonder juwelen en katoenen handschoenen gaan deze zeer snel stuk.
De jurk verbergt het buikje en zit perfect. Meteen aangetrokken.
De oorbellen vallen in de smaak.

De rode schoenen zijn prachtig, met nylons vallen ze wat uit maar misschien met een zooltje erin te leggen gaan ze wel passen.

De jurk van hearts and roses wordt terug gestuurd. Niet gestreken. En jurk in meer geel- beige dan wit beige. Ik ben 176 cm en de jurk komt net boven de knieen uit.
Nele | 2023-03-15 09:27:56
---
De suspender belt maatje S gekocht. Is veel te groot, zakt jammer genoeg af.
Alsook de stockings, veel te lang en veel te groot.
Zo zonde, was opslag verliefd op de stockings!
Ciska | 2023-03-08 11:02:35
---