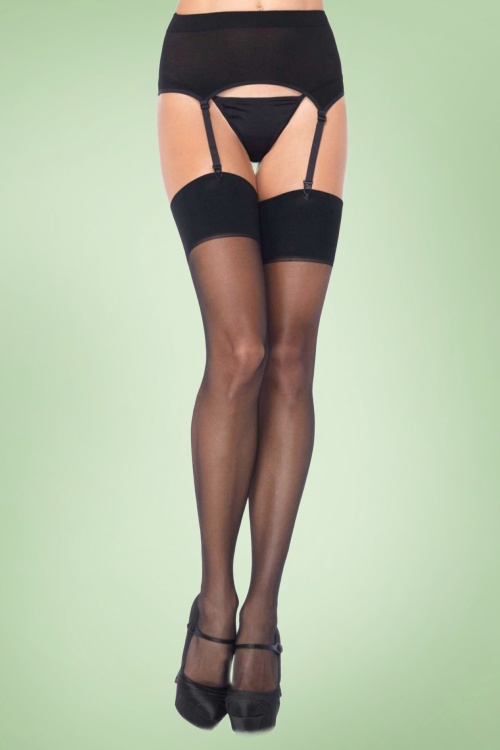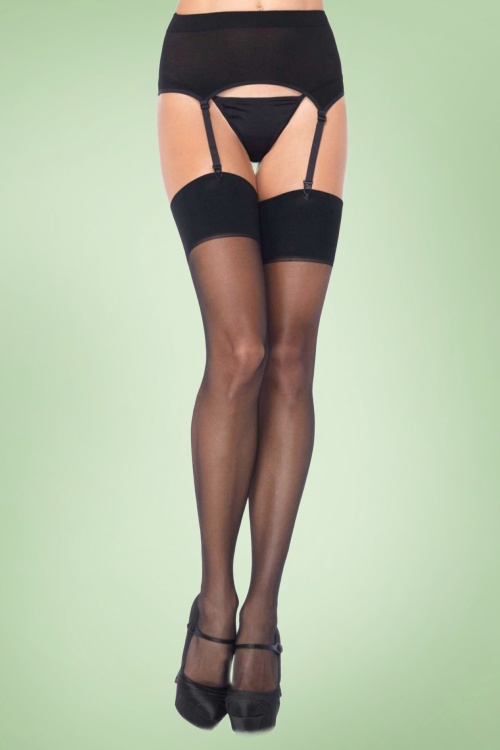 50s Lola Garterbelt and Stocking Set in Black
Feel sexy in this 50s Lola Garterbelt and Stocking Set in Black by Rouge Royale! The super stretchy semi-transparent garterbelt is just like the matching stockings made from nylon (70 denier) ensuring a perfect smooth fit, oh la la! The stunning satin feel stockings (15 denier) have a beautiful glow, reinforced toes and wide boards for a real vintage look and feel. The garterbelt can be used with all the other stockings of our range as well. This set is a must have for every vintage loving lady!
Garterbelt and stockings
Adjustable
Satin glow
Reinforced and transparent toes
Wide boards
The featured pumps are not available in our shop

Article nr.
17894
Made in Taiwan Garterbelt is 100% Nylon
Handwash cold (don't leave it in the water)
Do not dry clean
Do not tumble dry
Natural drying flat
No ironing
Hat mir nicht gefallen, ging zurück. Ich habe Größe medium und mir der gefiel der Strumpfgürtel nicht, weil ich ihn zu eng fand. Sah nicht schön aus.
Angela
&nbsp|&nbsp
2016-11-26 14:27:54
---
Breng meer kleur in je leven, ja, ook in je kousen :)
Apart maar ik hou er van en mijn vriend ook...win win situatie :)
xxx
Ilse
&nbsp|&nbsp
2016-11-25 21:35:31
---
Als je 1.78m bent en maat 42 hebt, gaat dit niet passen.
Sylvia
&nbsp|&nbsp
2016-06-07 12:58:04
---
nl
Leuke gordel met mooie kousen
Deze gordel met bijpassende kousen ,is zeker zijn prijs waard.Ideaal dat je er andere kousen kan bij dragen. Zit lekker,en goed van maat. Zeker een aanrader,prima prijs kwaliteit
Resy
&nbsp|&nbsp
2016-03-26 19:47:00
---
Ich bin mal wieder verführt worden und erneut völlig begeistert, wie schnell Versand und Lieferung erfolgen. Die Wäsche ist traumhaft schön und alles passt perfekt. Ich bin wie immer hoch zufrieden. Vielen Dank!
Nina
&nbsp|&nbsp
2016-02-05 11:04:58
---
Ich bin mal wieder verführt worden und erneut völlig begeistert, wie schnell Versand und Lieferung erfolgen. Die Wäsche ist traumhaft schön und alles passt perfekt. Ich bin wie immer hoch zufrieden. Vielen Dank!
Nina
&nbsp|&nbsp
2016-02-05 11:04:24
---
schöne Strapse,leider nicht empfehlenswert bei mehr Oberschenkel da Einheitsgrösse....
Bianca
&nbsp|&nbsp
2016-01-21 10:07:11
---
Sehr schönes Kleid freue mich schon auf den Sommer,Grössentabelle sehr hilfreich,das einzige was nicht so schön war das Kleid war sehr zerknittert als es ankam,nach waschen und bügeln war es wunderschön


Hallo Bianca! Entschuldigen Sie uns bitte dass das Kleid zerknittert ankam. Wir verpacken unsere Pakete mit viel Liebe und tun unser bestes um alles knitterfrei zu liefern. Zum Glück sind die Falten rausgegangen. Bitte Entschuldigen Sie die Unannehmlichkeiten.
Liebe Grüße,
Alexandra
Kundenservice
Bianca
&nbsp|&nbsp
2016-01-21 10:03:39
---
Liebe Top Vintage,vielen herzlichen dank für schnelle Lieferung,mit lieb gemachten Verpackung und kleine Überraschung drin.Frohe mich sehr Strümfe ist sehr Hammer und Strümpfgürtel ist auch mit sehr schöner Qualität.Hinten bischen schwer zu machen aber nach 3 versuch ist geschafft.Ich empfehle es weiter.
Nelli
&nbsp|&nbsp
2015-12-29 15:14:48
---
Thank you. Very nice. See you!
Eduard
&nbsp|&nbsp
2020-10-06 15:47:16
---
Het jumpsuit is ontzettend lief. Zit met L en 1.79m precies goed en de stof voelt koel, glad en zacht.

Rood-witte truitje van Banned heeft een fijne lengte en is lekker zacht, al schijnt het bij het wit ietsje door. Iets huidskleurigs eronder en probleem opgelost.

Het zwarte truitje van Banned laat de voorkant er mooi uitzien zonder dat ie te laag valt. Valt lekker strak.

De riem is gewoon handig. Makkelijk in gebruik en maat M sluit goed aan.

Over de jarretels ben ik nog niet helemaal zeker, maar is voor mij ook nieuw :) Ik had Queen size besteld omdat stay ups vaak niet lang genoeg zijn, maar deze komen wel heel hoog. Maar gelukkig kan je er ook andere kousen bij gebruiken dus prima!
Manol van Schaik
&nbsp|&nbsp
2020-03-05 18:10:46
---
wat een plaatje de jurk van little Mistress zeg!!!laat dat little maar weg hoor , in combinatie met de schoenen van Miz Mooz en jarretelkousen is het een waar kado aan je vrouwelijheid. En het zit geweldig.
1 nadeel.... miz mooz heeft het begrepen , de schoenen lopen zo fantastisch en zitten gegoten en is echt leer.....je wilt nooit meer andere schoenen aan! alsof je op wolken loopt.
Linda van Olderen
&nbsp|&nbsp
2019-08-06 14:11:35
---
de
schönes Set - leider die Strümpfe zu kurz
Ich wollte einen schlichten Strumpfgürtel für den Alltag, der nicht aufträgt unter Rock oder Kleid. Genau dafür ist der Strumpfgürtel gut. Die Passform ist trotz Einheitsgröße gut, er rutscht nicht und sieht gut aus. Die Strümpfe sind allerdings zu kurz geraten. Ich frage mich, wie das Foto zustande gekommen ist. Bei mir - ich bin 168 - lassen sich die Strümpfe mit Kraft gerade über die Knie ziehen und bedecken den Oberschenkel kurz nach dem Anziehen zur Hälfte. Schon nach kurzer Zeit rutschen sie nach unten und der dunkle Strumpfansatz ist in Knienähe. Unter einem längeren Rock kein Problem, bei Knielänge jedoch verursacht das schon Unsicherheiten. Werde die Strümpfe noch weiter in der Länge dehnen - vielleicht ist dann das Problem beseitigt. Ansonsten ist alles ok und das Set gefällt mir. Der Gürtel ist absolut alltagstauglich - die Strümpfe eher weniger.
Manuela Donner
&nbsp|&nbsp
2017-09-29 11:39:52
---
en
Great quality products
The stockings are comfortable and fit well. The hold-ups stay exactly where you want them to on your leg and are exactly as pictured. The shoes are really comfortable and cute! I will definitely be ordering more Tamaris brand heels. Perfect height so that you feel tall and walk well but not 6-inch stiletto levels of uncomfortable. I actually ordered a half-size up from my default size (41 instead of 40) because heels tend to be a bit snug but I regretted it - order to size.
Natasha
&nbsp|&nbsp
2017-05-21 02:22:40
---
Ik was in de veronderstelling nadat ik de bijgevoegde tekst had gelezen dat er 2 paar kousen, namelijk van 70 én van 15 denier bijgeleverd zouden worden. Dat was helaas niet het geval.

Beste Mariska, wat vervelend dat dit niet helemaal duidelijk was, mijn excuses hiervoor! Met 70 denier bedoelen we de jarretelgordel en de bovenkant van de kousen, met 15 denier hebben we over de dikte van de kousen zelf. Nogmaals excuses voor de verwarring!

Groetjes,
Auke
Klantenservice
Mariska
&nbsp|&nbsp
2017-02-15 21:16:13
---
de
Ich bin total begeistert
Die Sachen habe ich Donnerstagabend bestellt, heute (Samstag) sind sie hier. Hundert Punkte schon mal dafür.
Alles passt, wie aufgemalt, auch wenn die Hose etwas lang ist. Wenn meine Shoppingtouren mal immer so erfolgreich verliefen...
Vielen Dank
Anke
&nbsp|&nbsp
2017-01-21 16:49:11
---
Eindelijk een setje wat mij past! Er zit genoeg rek in de kousen maar ik ben verrast dat met mijn 154 deze set nog steeds mooi staat. Meestal zijn bij mij de kousen te lang. En deze staan nog steeds goed HAPPY
Daisy
&nbsp|&nbsp
2017-01-07 16:40:52
---
Ik heb de maat Queen size besteld. Ik ben 1.60 en maat 42. Kousen vind ik persoonlijk aan de wat korte kant (had meer speling verwacht) en zeer kwetsbaar, want met het passen al meteen een kleine ladder onder de voet (en toch echt voorzichtig gedaan. Ik kan het nog wel een keer met laarsjes aandoen, maar ik vrees dat de kousen dan wel weg kunnen). Nu had ik dit vooral voor de jarretelles besteld. De boord is mooi breed, maar rolt bij mij meteen om. Er lijken wat zwakke plekjes in te zitten (toen ik het uit de verpakking haalde zag ik op meerdere plekjes dat het dunner is). Ik zie er gelukkig niks van als ik het aan heb, maar ik vraag mij wel af hoe lang dit mee kan gaan. Erg jammer.
Daphne
&nbsp|&nbsp
2021-11-27 17:05:24
---
De jarretel op zich zit prima is, de kousen waren na een keer dragen al kapot, niet het geld waard
Kristy Bodt
&nbsp|&nbsp
2021-05-05 12:27:26
---