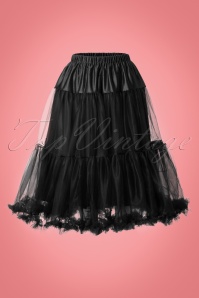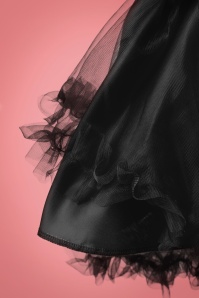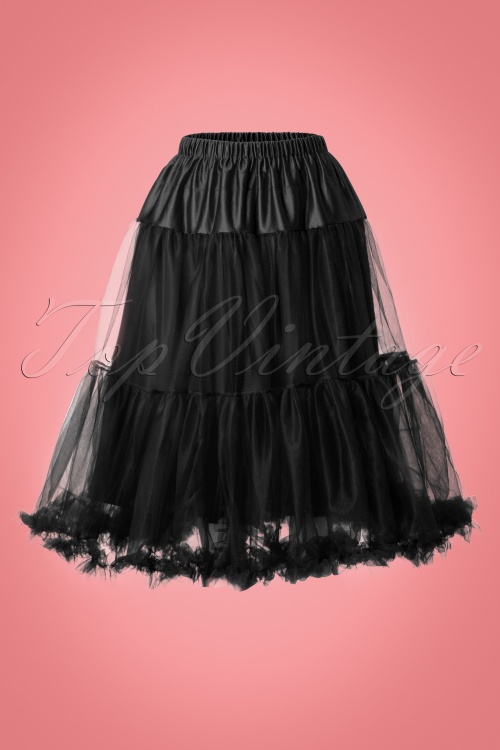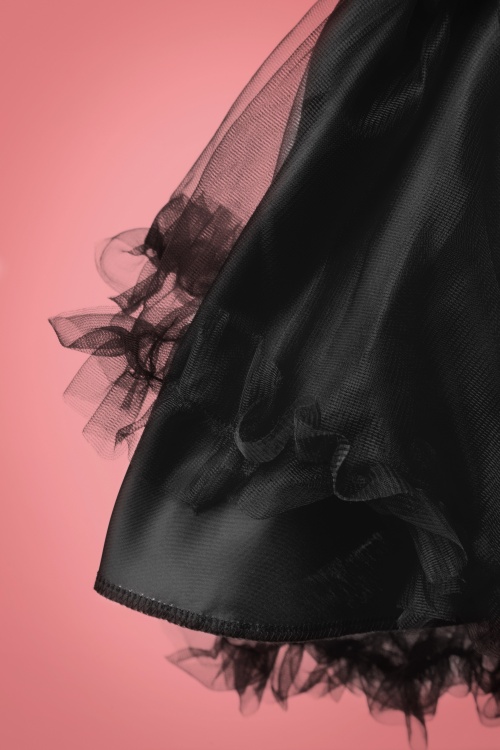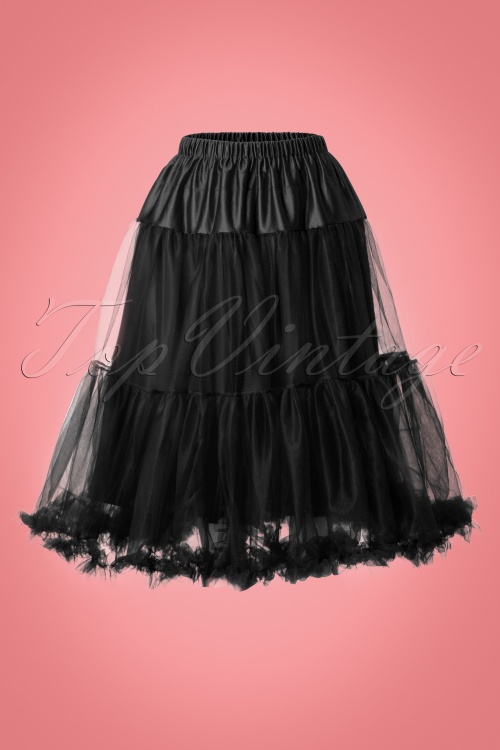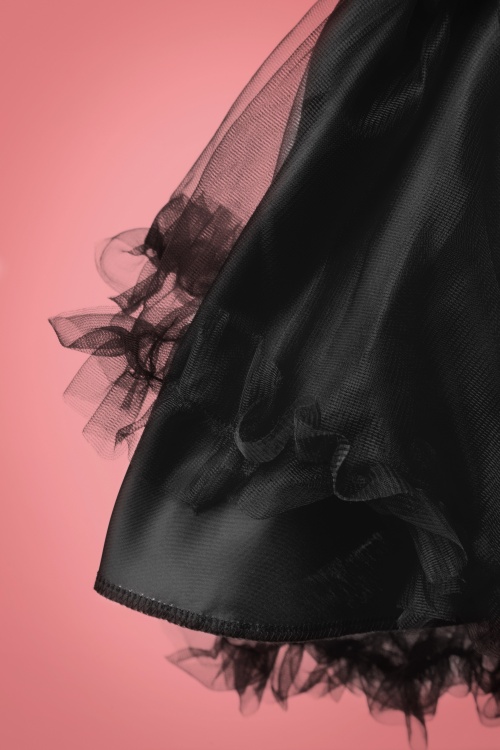 Woo-ha! Polly adds a touch of drama to all your swing dresses and skirts! This beauty consists of 2 layers: the bottom layer is made of a shiny fabric with the look of satin, while the dramatic top layer features two tiers of tulle, framed by playful ruching at the bottom to create that 'va-va-volume' effect! 
Can be worn with all our swing dresses and skirts
Elastic waist band
Article nr.
24118
Wash dark colors separately
Washing machine delicates / lingerie with in mesh laundry bag
Do not dry clean
Do not tumble dry
Iron inside out on low temperature setting
De oorbellen zijn prachtig en komen meer tot hun recht wanneer je (bij lang haar) je haar opsteekt. Petticoat is erg mooi, goede kwaliteit en lengte is perfect. De jurk was voor mij net te lang (ben 1m69) in maat 12=38/40 dus iets laten innemen en kan nu zowel met als zonder petticoat worden gedragen. Prachtig gewoon, heel sjiek en zit fijn. Mooie kwaliteit ook. By the way: voor het WAUW effect hoor je deze jurk absoluut met petticoat te dragen natuurlijk! Ik ben wederom een blije klant
Nas
&nbsp|&nbsp
2018-02-13 19:12:38
---
fr
Top service - Top quality - Je suis fan!
Commandé hier, reçu aujourd'hui et tout est simplement parfait. Les jupons et les gilets qui completent impeccablement la tenue, la robe tombe tip top. Une premiere commande, mais sûrement pas la dernière! Et tout ça à un prix tout doux, je recommande vivement.
Neu Isabelle
&nbsp|&nbsp
2018-01-23 17:47:42
---
Top vintage porte très bien son nom.
Du vintage de qualité ne peut-etre que top.
Je suis toujours satisfaite de mes commandes.
Merci pour leur gentillesse et leur amabilité a l'équipe du téléphone.
patricia bonomi
&nbsp|&nbsp
2020-04-27 16:46:39
---
de
Being absolutly fabulous!
Ich liebe jedes, absolut jedes Stück aus eurer Kollektion! Immer bleibt nur die Qual der Wahl! Wenn mal etwas nicht ganz stimmt, kann man immer auf euren fantastischen Service zählen, sodass man sich als Kundin ernstgenommen fühlt! Vielen Dank dafür!
Sil
&nbsp|&nbsp
2019-12-22 22:24:49
---
Très confortable très bellesympa couleurs je recommande ! Les bas verts vont très bien avec. Porte jartelles très confortable et très beau. Beau gilet confortable. Jupon très bien confortable et jolie finition en bas. Attention short noir taille petit commander taille au dessus . Short marine joli et confortable se porte avec pas mal de hauts differents.
claire Fayolle
&nbsp|&nbsp
2019-06-10 13:59:23
---
Ik ben groot fan van deze petticoats, ik heb ze nu in drie kleuren. Een petticoat met niet al te veel laagjes vindt ik toch wel fijn. Hij geeft gewoon net dat kleine beetje extra aan een leuke jurk of rok.
Jolanda
&nbsp|&nbsp
2019-04-25 09:52:39
---
Everything has been beautiful and came quickly.
Jennifer Evans
&nbsp|&nbsp
2019-04-18 21:51:06
---
Wonderful quality, love the ruffled bottom, and it just looks beautiful under my dresses. Love. This. Petticoat!
Kimberly Ballaro
&nbsp|&nbsp
2019-02-05 15:56:26
---
OH oh oh,
Ik ben ontzettend blij met Top vintage!
Het is een winkel uit de hemel gevallen
(voor mij dan.)
Tot nu toe heb ik 6 jurken gekocht, ik ben gewoonweg zo blij mee. kwaliteit super! prijzen vind meevallen, En wat ik zeker een pluspunt vind bij Top vintage is de manier hoe je behandeld wordt, echt toppie!
dorita de la court
&nbsp|&nbsp
2019-01-03 07:19:02
---
I bought this dress for my cousins wedding. Delivery was super fast, parcel beautifully wrapped. I Love the dress!was bit anxious cause of the mixed reviews but mine is absolutely perfect by all means.It arrived to work and I immediately put on over my clothes.college who accidentally walked in was gobsmacked!and he should be!its elegant and yet colorful dress! Top top top!thanks a lot❤️
Iveta Canigova
&nbsp|&nbsp
2018-08-28 21:05:09
---
Net wat te lang (ben 1.64 en hij komt net over de knie, had hem liever precies tot op de knie gehad), en de onderrok plakt aan de benen, had beter een katoenen onderrokje onder gekund.


Jacobien
&nbsp|&nbsp
2018-08-12 13:13:24
Response from Customer service

Beste Jacobien, wat vervelend dat de Petticoat niet helemaal perfect voor je is! Uiteraard is het geen probleem om deze naar ons terug te sturen, we zullen dan meteen het aankoopbedrag netjes aan je terugbetalen.

Groetjes,
Auke
Klantenservice
---
Sehr schönes,elegantes Kleid, passt perfekt! Idealer Weise ohne oder mit ganz "kleinem"Petticoat wunderschön. Petticoat was mitbestellt habe, passt nicht zu diesem Kleid (das Kleid ist enger geschnitten als erwartet, aber macht eine tolle Figur!), aber sonst habe noch Kleider genügend dazu.... :-)
Judit Götzhaber
&nbsp|&nbsp
2018-06-08 10:52:40
---
Habe dieses wünderschöne schlichte Kleid gekauft und bin begeistert. Um diesem Kleid noch etwas Volumen zu verleihen, habe ich noch ein Petticoat in derselben Farbe dazu bestellt. Passt beides ausgezeichnet.
Rachel Kamioka
&nbsp|&nbsp
2018-05-27 21:50:30
---
Habe dieses wünderschöne schlichte Kleid gekauft und bin begeistert. Um diesem Kleid noch etwas Volumen zu verleihen, habe ich noch ein Petticoat in derselben Farbe dazu bestellt. Passt beides ausgezeichnet.
Rachel Kamioka
&nbsp|&nbsp
2018-05-27 21:46:56
---
Jupon qui fait très bien son job ! Il a un bon volume, tout en état léger à porter. ;)
Merci Top Vintage pour le colis très soigné et le petit cadeau !
Valentina Del Giudice
&nbsp|&nbsp
2018-05-24 08:13:00
---
De rok en petticoat passen perfect onder elkaar. De petticoat is van goede kwaliteit en de rok is lekker zacht en stretchy. Mijn eerste aankoop bij TopVintage en ik ben supertevreden!
Tessa Rongen
&nbsp|&nbsp
2018-05-22 12:46:11
---
Daar wordt je inderdaad blij van!

Marianne
&nbsp|&nbsp
2018-03-14 18:19:51
---
Ik heb alleen maar zwarte vestjes en dacht, ik bestel eens n andere kleur.
Goed gedacht van mij, ze staan prachtig.
De petticoat is precies de goeie lengte, die ik al had zijn te kort of te lang.
Vandaag nog gauw n paar jurken besteld, ik ben benieuwd.

rosa busio
&nbsp|&nbsp
2018-02-14 14:24:16
---
de
Erwartungen übertroffen!
Das Kleid ist wunderbar geschnitten und passt durch den angenehm stretchigen Stoff wie angegossen. Ich hatte Angst es könnte zu lang sein aber mit meinen 1,62cm reicht es mir bis knapp unters Knie. Der Polly Petticoat passt in meinem Fall perfekt darunter. Aber auch ohne Petticoat sieht das Kleid toll aus, hat dann noch einen Vintage-Touch ist aber super auch einfach so als "modernes" Sommerkleid zu tragen.
Auch der Kundenservice war sehr zuvorkommend, auf meine Rückfrage wurde schnell und freundlich reagiert und kurze Zeit später kam dann schon die Bestellung an.
Alles in allem eine sehr angenehme Online-Shopping-Erfahrung die ich gerne wiederhole.
LG Alex
Alex
&nbsp|&nbsp
2022-07-13 13:53:53
---
en
Amazing quality & pure perfection! <3
I received them very fast. The quality of the items is perfect.
I had an issue with the dress as it was a bit tight but i was and still am on a diet so it will fit like a glove. Highly recommended site
Mina
&nbsp|&nbsp
2021-09-16 12:07:18
---
Ben verliefd op alle drie de rokken
Madelief
&nbsp|&nbsp
2021-08-07 14:19:19
---
Ik was niet van plan om ze alle 3 te houden, maar ik doe het wel!
Ik heb de teal (met stipjes) in maat 18, groen in 20 (had ook 18 kunnen nemen, misschien ga ik hem nog ruilen) en de lange jurk in maat XXL, bij allemaal de maataanwijzingen gevolgd en die kloppen heel goed.

Heel fijn ook dat de overslag hoog genoeg is. Ik hoef er niet een hemdje in passende kleur onder te dragen om een ongepast decollete te voorkomen.

Ik was verrast over hoe leuk de petticoat staat onder de 2 korte jurken, daar krijg je een supervrouwelijk silhouette van!
Anoniem
&nbsp|&nbsp
2021-04-01 16:06:40
---
nl
Top Vintage is op en Top vrouwelijk
Wat een geweldige producten en mooie kwaliteit. Welk figuur je ook hebt, je bent in deze kleding geweldig. Verder een super snelle levering en alles met aandacht ingepakt.
Gewoon een feestje om te ontvangen en een feestje om deze kleding te dragen.
Saskia
&nbsp|&nbsp
2021-03-08 11:12:12
---
Ce jupon est parfait ! Après avoir contacté le service clientèle qui est adorable et m'a dirigée vers cet article, j'en suis désormais l'heureuse propriétaire. Un jupon parfait pour du volume mais pas trop. Je recommande vivement :)
Céline LE GOUEVEC
&nbsp|&nbsp
2020-11-22 22:53:43
---
These are the first items I ordered from this boutique and I absolutely love every one!
The dress is very soft and nice, it would have been better if the sleeves were bit slim fitting but it's not a problem at all.
The pennycoat is very fluffy and silky and so are the gloves!
I'd definitely order again, my husband even received my wishlist :D
Elena
&nbsp|&nbsp
2020-11-18 15:39:53
---
fr
Pas emballé par ces achats !
d'un point de vue tout à faite personnel, il y a quelque chose qui cloche avec ces articles , les jupes sont beaucoup trop large, elle partent toutes un peu trop en forme triangulaire à mon goût, et ce n'est absolument pas une question de taille, me concernant. Quant à King Louie, je trouve que ses créations ne valent pas le prix qu'il demande car la qualité n'est pas si haute que cela.
Mimi
&nbsp|&nbsp
2020-11-13 11:15:49
---
Je viens de le recevoir aujourd'hui et je suis tellement satisfaite ! C'est la première fois que je commande sur Top Vintage et je pense être une cliente fidèle ! Je l'ai pris en 4X et il est juste parfait. J'ai l'impression d'être une princesse avec, il fait totalement l'effet attendu ! Merci encore et l'emballage est également très mignon et c'est un très bon point ! Je l'ai commandé avec le sac de rangement qui est également parfait, je recommande fortement !
Jessica Da Silva Vidal
&nbsp|&nbsp
2020-05-22 16:00:17
---
I'm a loyal customer for a few years now and as always, my last order was perfect in every way. Coat, dress and petticoat fit, shoes as well, handbag and earrings are gorgeous. All of the pieces combined result in a wonderful, flattering outfit.
Until the next time, TopVintage!
Kris
&nbsp|&nbsp
2022-11-01 16:03:14
---