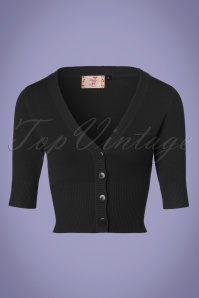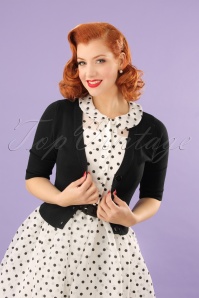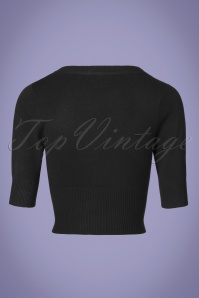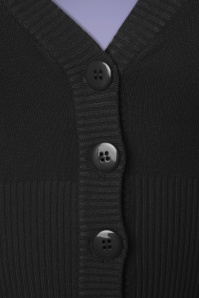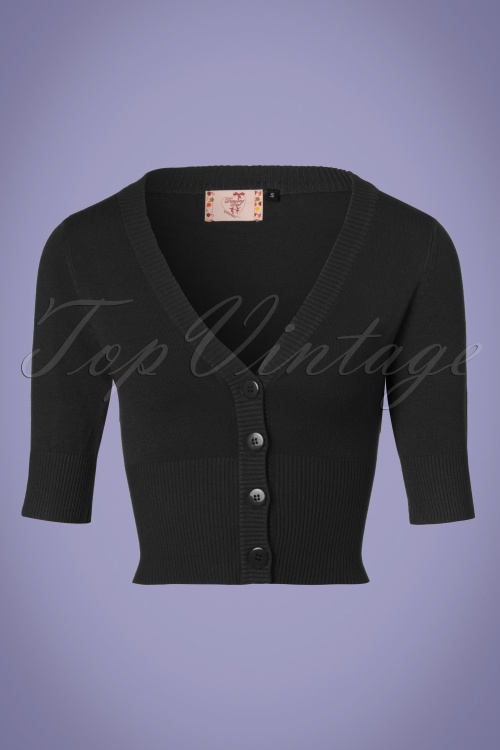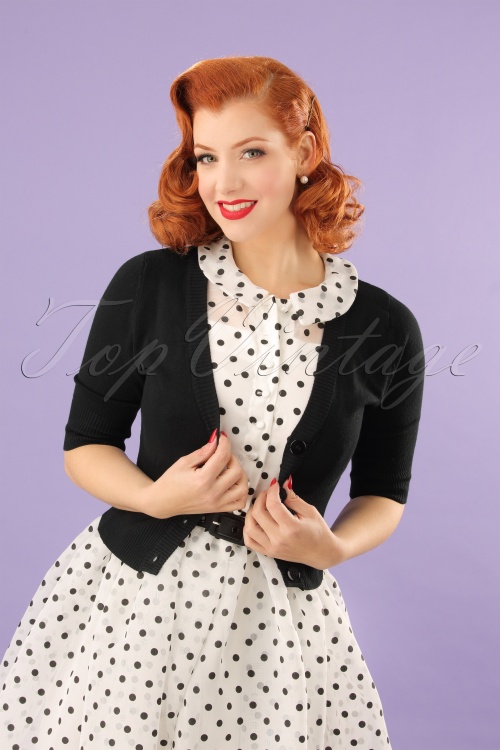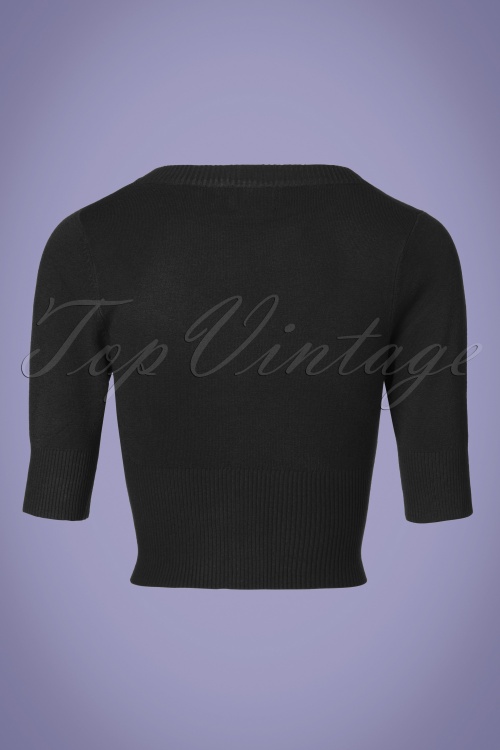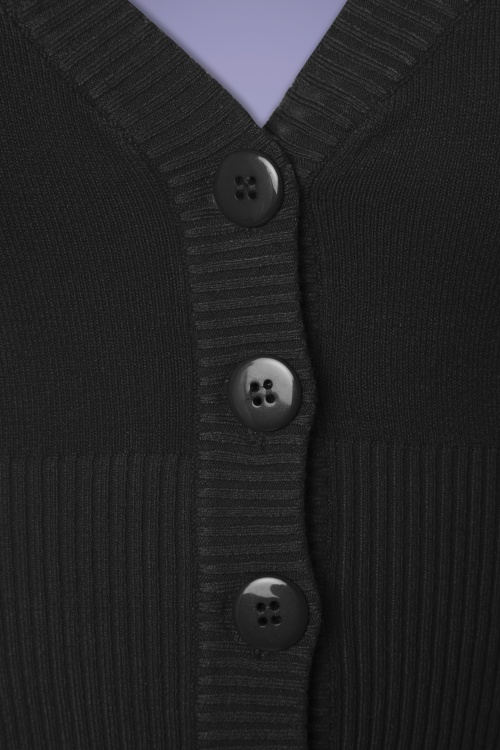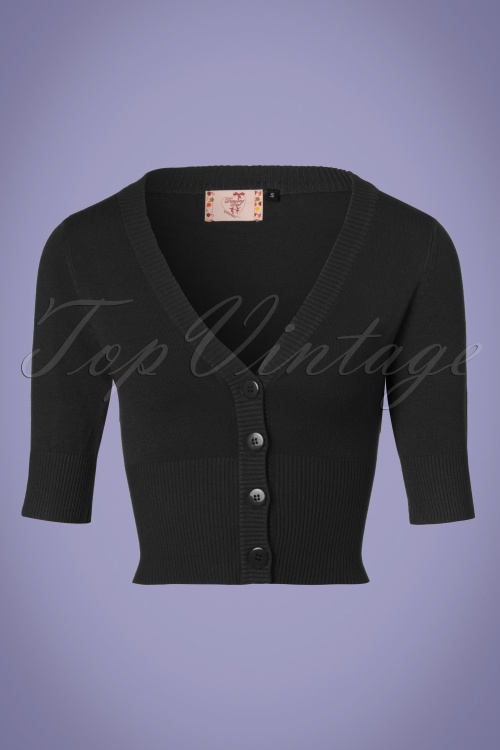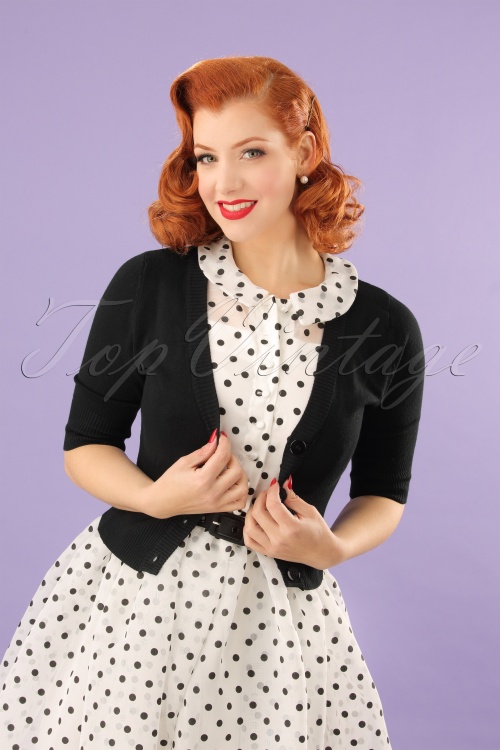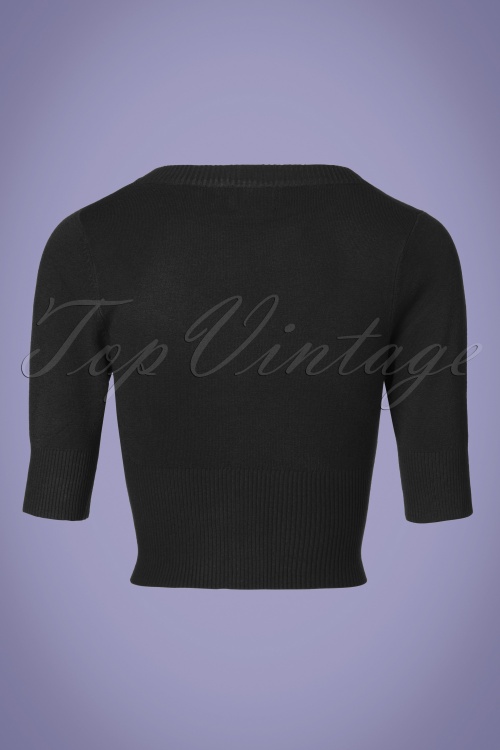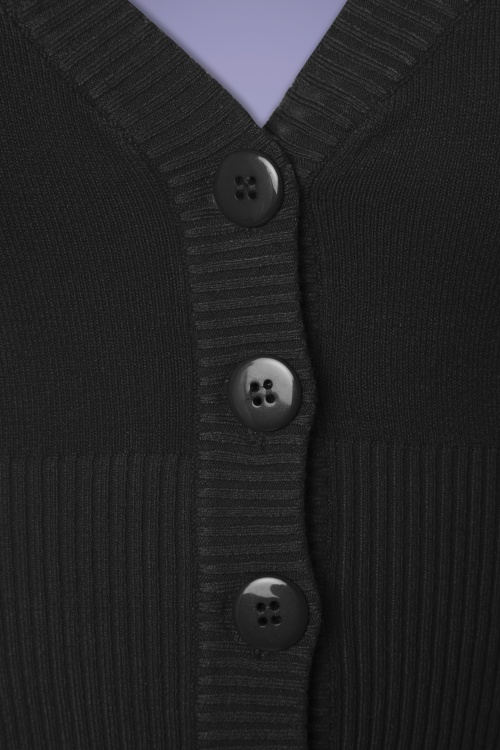 50s Overload Cardigan in Black
The 50s Overload Cardigan is an all-time classic! Classy in all its simplicity and therefore THE perfect match with all your vintage items! This short cardi features an elegant V-neckline, 1/2 sleeves and shiny buttons. Made from a fine knitted, black viscose blend with a lovely stretch for a perfect fit. The combination possibilities are endless!
V-neckline
1/2 sleeves
Row of buttons
Stretchy rib board along the neckline, sleeves and bottom
Shorter style
Article nr.
20909
60% Rayon
20% Elastane
20% Polyamid
Handwash inside out (don't leave it in the water)
Wash dark colors separately
Machine wash 30c delicates cycle
Do not dry clean
Do not tumble dry
Iron inside out on low temperature setting
de
Jäckchen ... weich und anschmiegsam
Trage dieses wunderschöne Jäckchen in Ivorie zu meinen beiden Kleidern (TopVintage und Hearts & Roses). Sie passt von Stil, Länge und Farbe hervorragend. Habe das Jäckchen gleich auch in blau und schwarz gekauft, weil sie so toll zu meinen anderen Kleidern passen und eine super Qualität haben.
Betti-Bine
&nbsp|&nbsp
2018-09-11 05:38:55
---
Ein toller Cardigan, den ich in fast allen Farben besitze. Fällt etwas groß, behält nach dem waschen seine Form. Angenehmes, kuscheliges Material. Super Kombiteil!
Christina
&nbsp|&nbsp
2018-07-04 16:37:56
---
nl
Top vintage is de max ❤️
alles dat ik bestel . Is zeer goed , het past allemaal , en ook leuke kleine dingen , dat ik is voor kado , zus , ze was er super blij mee , topvintage heeft mooie dingen ,
Liliane Vrancken
&nbsp|&nbsp
2018-06-27 07:42:04
---
souligne bien la silhouette
emeline aguilar
&nbsp|&nbsp
2018-05-15 21:24:49
---
Ik vind ze geweldig. De rode vind ik wat minder mooi! Mischien is hij in de daglicht anders. Anders ruil ik hem voor de donkerblauw.Ik hoop dat ze hem in fel geel gaan maken.Xxx
Roos
&nbsp|&nbsp
2018-04-04 18:12:32
---
fr
Top service - Top quality - Je suis fan!
Commandé hier, reçu aujourd'hui et tout est simplement parfait. Les jupons et les gilets qui completent impeccablement la tenue, la robe tombe tip top. Une premiere commande, mais sûrement pas la dernière! Et tout ça à un prix tout doux, je recommande vivement.
Neu Isabelle
&nbsp|&nbsp
2018-01-23 17:47:42
---
Pretty and comfy cardigan.
Jennie Andersson
&nbsp|&nbsp
2017-12-19 21:13:38
---
Die passform ist perfekt. Super süße Kleider ♡sie machen eine tolle Figur, betonen genau dir richtigen körperstellen und ich liebe diese fruchtmotive ..
Ich Ärger mich nur dass es kurz nach meiner Bestellung nochmal reduziert wurde ich hätte 30 Euro sparen können aber ich bin trotzdem zufrieden :)


Auch der cardigan sitzt einwandfrei und hat einen sehr schönen Stoff.

Der Gürtel ist ein tolles Accessoire, schlicht und trotzdem elegant. Perfektes Outfit ♡






Heidi Brunn
&nbsp|&nbsp
2017-08-11 20:31:31
Response from Customer service

Hallo Heidi, wie schön um zu hören dass Sie so zufrieden sind mit Ihrer Bestellung. Ich werde mich heute noch kurz bei Ihnen melden.
Liebe Grüße,
Desiree
Kundenservice
---
Wunderschönes Kleid mit einem tollen Muster. Perfekte Verarbeitung. Mausezähnchen Abschluß in schwarz... besser geht es nicht.
Größenangaben auch passend - leider steht es mir überhaupt nicht :-(((
Deshalb zurück. Ich könnte weinen...
Bolero und Börse gehen natürlich nicht zurück. Einwandfreie Qualität!
Susanna Untenecker
&nbsp|&nbsp
2017-08-09 15:11:18
---
Mooie kwaliteit en zit heerlijk!
Ik begon met de blauwe, daarna snel de witte (off white) en zwarte besteld. En nu in afwachting van de rode, zojuist besteld :)
Monique
&nbsp|&nbsp
2017-06-25 22:28:15
---
Heel leuk vestje
past perfect
daarbij een leuke attentie.
Hartelijk dank
Therese
&nbsp|&nbsp
2017-06-20 13:03:33
---
Fantastische cardigans, voor een fantastische prijs.
Heerlijke zachte stof, van een goede kwaliteit.
Ben er blij mee!
Anneke'8)
&nbsp|&nbsp
2017-06-13 08:04:24
---
Dieses süße Jäckchen werde ich sicher sehr oft tragen. Es passt ja auch fast überall dazu!
Elisabeth
&nbsp|&nbsp
2017-05-25 08:38:39
---
nl
Schattig truitje met perfecte mouw
Prachtige kwaliteit, alleen hij is wel echt kort. Als je je buik een beetje wilt camoufleren ... dan beter iets anders bestellen. Grotere maat bestellen is niet raadzaam; het model is gewoon kort. Maar prachtig truitje evenzogoed!!
k
&nbsp|&nbsp
2017-05-14 13:06:49
---
Prachtige jurk mooie stof pasvorm perfect helaasschoentjesretour ze lopen te plat voor mij maar zijn wel erg mooi vestje past mooi bij de jurk ben weer blij dank top vintage grt lucia
Lucia
&nbsp|&nbsp
2022-09-09 08:06:47
---
I love these little cardigans and would honestly want one in every colour. The lenght of the sleeves is perfect and the buttons are so cute. You can combine them with practically everything.
Marlies Kapteijn
&nbsp|&nbsp
2020-12-04 23:43:09
---
Mooi vestje, lekker rekbaar en voelt zacht aan. Ik heb normaal maat S, maar bij dit model heb ik een M nodig.
Tilly
&nbsp|&nbsp
2020-07-17 10:33:41
---
....das Bolero, passt wie angegossen, ist wunderbar weich und sehr angenehm zu tragen :-) Ich freu mich, wenn ich es zu meinen Kleidern tragen kann.
petra aigner
&nbsp|&nbsp
2020-05-25 19:09:25
---
Ich bestelle mir schon seit Jahren bei TopVintage solche Jäckchen und ich liebe sie !!!!
Die Passform entspricht genau meiner Größe also stimmt die Tabelle 100 %tig.
Die Qualität ist auch sehr gut, bin rund herum sehr zufrieden damit =)))))

Sabrina Forster
&nbsp|&nbsp
2020-02-25 12:23:23
---
Ich bestelle mir schon seit Jahren bei TopVintage solche Jäckchen und ich liebe sie !!!!
Die Passform entspricht genau meiner Größe also stimmt die Tabelle 100 %tig.
Die Qualität ist auch sehr gut, bin rund herum sehr zufrieden damit =)))))

Sabrina Forster
&nbsp|&nbsp
2020-02-25 11:54:58
---
nl
Mijn eerste,maar niet mijn laatste bestelling :) <3
Nou,wat kan ik zeggen. Ik ben niet de zekerste met mijn 1.57m en maatje 38/40.
Altijd deze stijl mooi gevonden,maar nooit goed gedurfd en deze keer toch eens doorgezet.
Ik ben helemaal verliefd op de 2 pencil skirts en de vestjes. Dit doet echt wonderen voor mijn figuur. Hoge taille en kort vestje erop.
Het groene truitje zit ook heerlijk! De maten klopten allemaal als een bus met de maattabel.

De polkadot jurk en de leopard zwierrok zijn heel mooi,maar ik ben er echt te klein voor. Ik durfde het niet aan om hier zo'n groot stuk van af te laten halen.....
Deze 2 items ga ik dan ook retour doen.
In januari hoop ik na mijn verjaardag nog een bestelling voor een goede broek te doen. TopTopTopVintage bedankt :)
Natascha van der Ster
&nbsp|&nbsp
2020-01-01 19:30:46
---
ich bin begeistert, kaufe ich definitiv noch in mehr Farben
Rebecca Bauer
&nbsp|&nbsp
2019-05-21 11:30:56
---
Der Cardigan fühlt sich wunderbar an und ist von der Länge eher kurz, aber genau das habe ich auch gesucht! Ideal auch für diverse Swing-Kleider, eben weil er so kurz ist.
Carina
&nbsp|&nbsp
2019-03-03 15:47:33
---
Deze besteld voor nu in het voorjaar over de jurk aan te doen, ik ga er zeker nog bestellen in andere kleuren, de winkel is ook een aanrader alles even leuk
Vera
&nbsp|&nbsp
2023-02-19 15:24:29
---