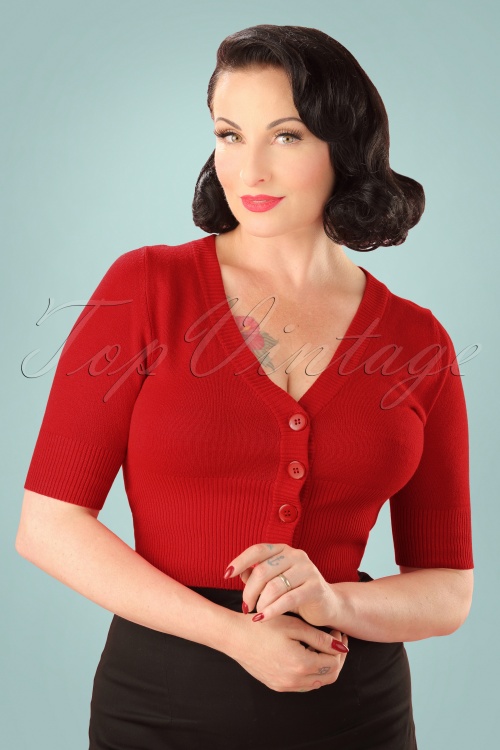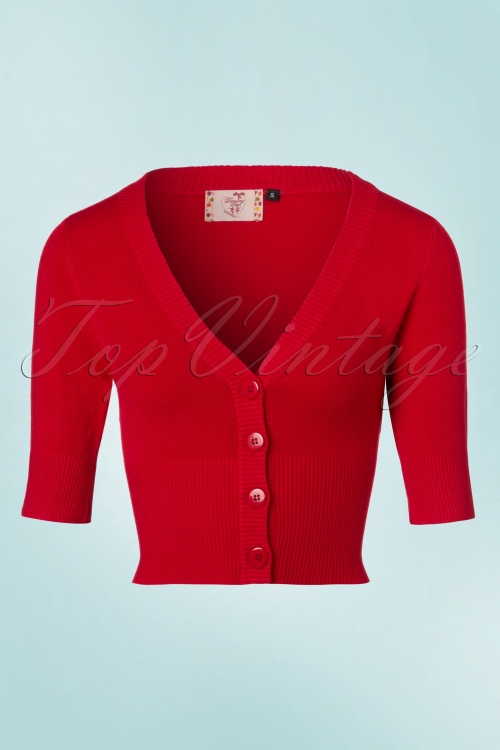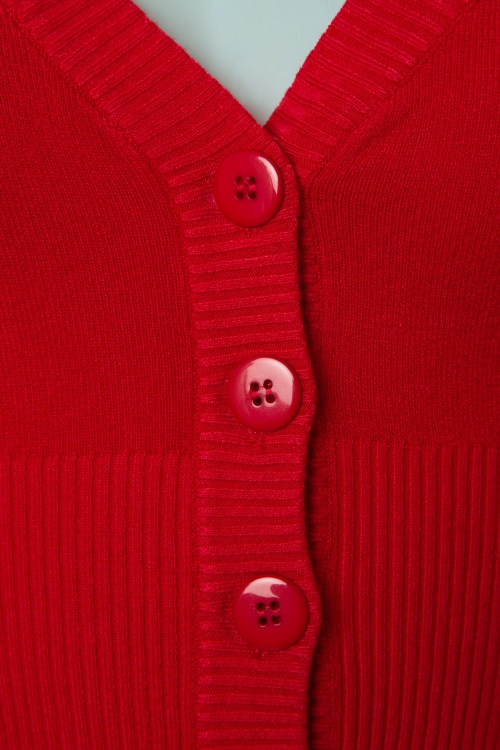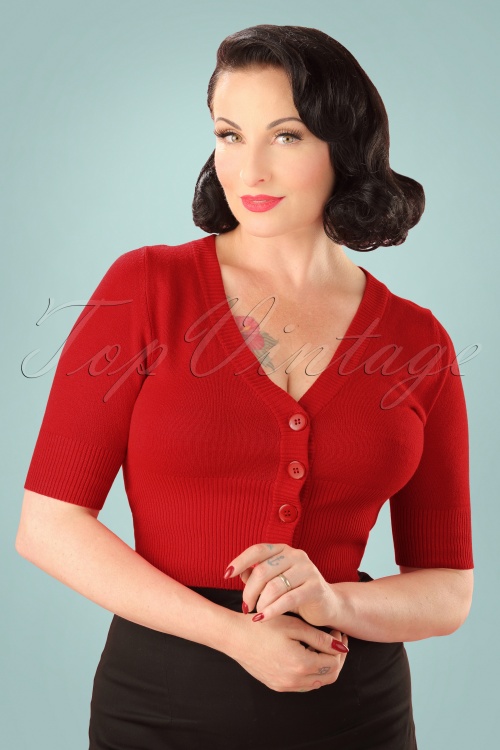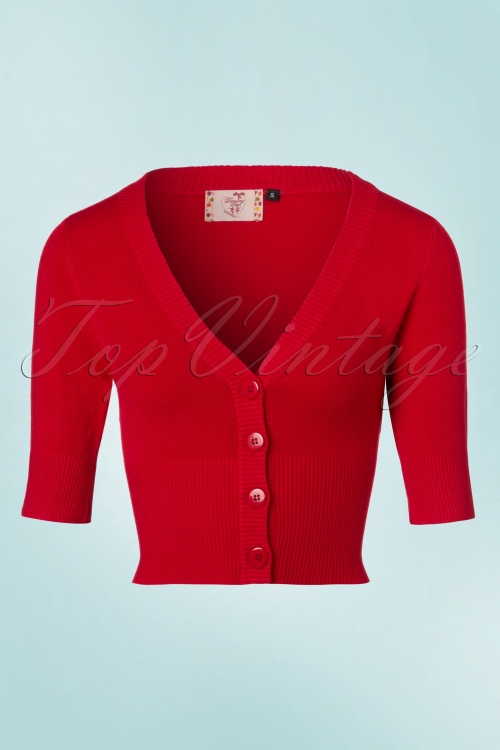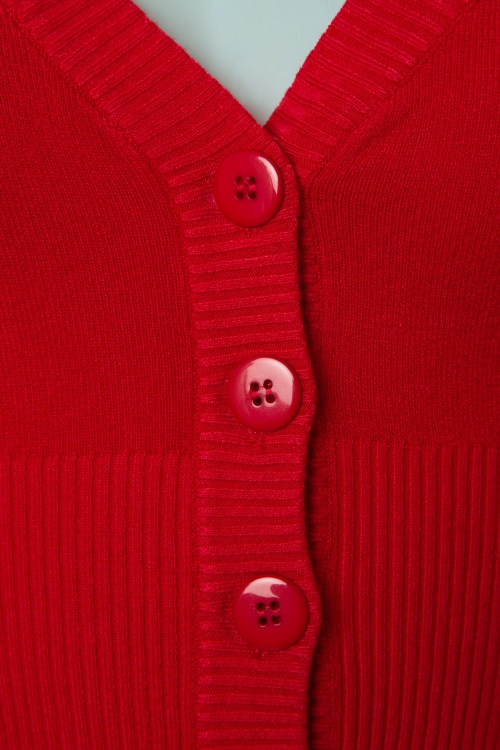 50s Overload Cardigan in Lipstick Red
The 50s Overload Cardigan is an all-time classic! Classy in all its simplicity and therefore THE perfect match with all your vintage items! This short cardi features an elegant V-neckline, 1/2 sleeves and shiny buttons. Made from a fine knitted, lipstick red viscose blend with a lovely stretch for a perfect fit. The combination possibilities are endless!
V-neckline
1/2 sleeves
Row of buttons
Stretchy rib board along the neckline, sleeves and bottom
Shorter style
Article nr.
20908
60% Rayon
20% Elastane
20% Polyamid
Handwash inside out (don't leave it in the water)
Wash dark colors separately
Machine wash 30c delicates cycle
Do not dry clean
Do not tumble dry
Iron inside out on low temperature setting
So ein wunderschönes Sommerkleid :-) Wow.
Kombiniert mit dem Ivory Petticoat, dem hübschen Jäckchen und den entzückenden Pumps von Lulu hun . . . das perfekte Outfit für die Sommerparty. (Und erschwinglich:-) )
Bei einer Größe von 1,60 mit 88-66-90 ist die Gr.S mit noch einem cm-terchen Luft perfekt. Wer es lieber sehr eng mag sollte dann XS nehmen :-)
Mein Dank an Top Vintage - auch für alle Retouren und sonstige "Unpässlichkeiten" - es ist wirklich immer alles PERFEKT ! Super Laden !
Susanna
&nbsp|&nbsp
2017-07-01 10:59:57
---
so in love! finally i found dresses that fit me perfectly and still make feel sexy!
mevr
&nbsp|&nbsp
2017-06-29 14:07:42
---
Handig vestje. Staat erg leuk bij de blauwe jurk maar kan ook bij de rode jurk
Lisa
&nbsp|&nbsp
2017-06-28 16:03:11
---
Ich habe mir das Jäckchen in rot gekauft - ein Farbtupfer für mein Kleid in schwarz/weiß. Bin total begeistert, es ist nämlich nicht leicht, solch süße Teile in meiner Größe zu bekommen... Freue mich jedenfalls riesig - nun kann die Abifeier meines Sohnes kommen!
Annette Bastigkeit
&nbsp|&nbsp
2017-06-17 15:03:26
---
Gut sitzendes Modell, fühlt sich gut an, leider ist die Farbe zu grell um meinem Hautton zu schmeicheln. Ein Ticken zu feuerwehrrot, ich bevorzuge eher kirschrot. Schade.
Sylvia
&nbsp|&nbsp
2017-06-10 17:24:09
---
Vandaag mijn eerste bestelling ontvangen. Alles past, de schoenen zitten en lopen heerlijk. En de kleding is nog mooier dan op de foto's.
Anita
&nbsp|&nbsp
2017-05-30 17:43:46
---
Net als de groene is dit ook een heel zacht truitje maar helaas past het rood niet bij mijn jurk .deze gaat dus retour .
Fanny
&nbsp|&nbsp
2017-05-11 10:25:00
---
nl
Jammer van die rode bloem
Bikini top helaas niet mijn model. Ziet er mooi uit maar jammer genoeg niet bij mij. Broekje ga ik wel houden.

Rode bloemen gaan retour. Bij openen van verpakking vielen er al gelijk gele stukjes af, ook duidelijk stukjes geel die ontbreken :(

Rode en gele cardigan voelen heel zacht en zijn mooi van kleur.

Overige accessoires zijn heel mooi :)


Liesbeth Ceulemans
&nbsp|&nbsp
2019-02-13 18:41:13
Response from Customer service

Beste Liesbeth, wat ontzettend vervelend dat bij het openen al meteen een defect zichtbaar was... dit mag natuurlijk niet gebeuren. Mijn excuses hiervoor! Ik zal meteen contact met je opnemen om dit samen op te lossen. Tot zo!

Groetjes,
Auke
Klantenservice
---
Very soft fabric, colour just like the picture. To short for regular pants but perfect for a dress or skirt.
Bit loose on the waist, but scared that the buttons will be too tight if I order a size smaller.
Leela
&nbsp|&nbsp
2019-01-25 14:23:13
---
Un grand merci pour cet envoi. Les gilets me vont parfaitement, très agréables au toucher, fins. La robe est magnifique, en coton, très féminine.
Merci à top vintage!!
A bientôt.
Sandrine DOERLER
&nbsp|&nbsp
2019-01-09 12:40:16
---
Really nice and fits me perfect. I Will continue to order from Topvintage. Everything works perfectly with ordering, returns and refunds are really fast.
Love from SWEDEN
MA
&nbsp|&nbsp
2018-05-08 08:37:02
---
De vestjes zitten heel comfortabel. Ze zijn ideaal om over de mouwloze jurken te dragen, zodat het niet de warmste temperaturen moeten zijn om die mooie stuks te dragen. Gezien de prijs en de kwaliteit van het merk had ik wel verwacht dat het rode vestje niet zou afgeven in de was, maar dat doet het dus wel. De witte bloemetjes op een donder kleedje dat erbij zat zijn nu roze. Dus dit vestje toch eventjes met azijn voorwassen om de kleur te fixeren.
Marijke Vanhoebroek
&nbsp|&nbsp
2018-04-25 07:56:32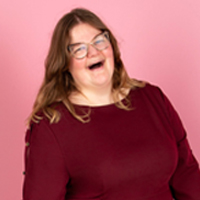 Response from Nicole

Beste Marijke, wat vervelend dat het vestje heeft afgegeven! Ik stuur je meteen even een berichtje! 
Groetjes,
Nicole
Klantenservice
---
Ik vind ze geweldig. De rode vind ik wat minder mooi! Mischien is hij in de daglicht anders. Anders ruil ik hem voor de donkerblauw.Ik hoop dat ze hem in fel geel gaan maken.Xxx
Roos
&nbsp|&nbsp
2018-04-04 18:12:32
---
Love this shop. The cardigans I ordered fit perfectly, look pretty and are of high quality. The hair rollers are great too (just need to grow my hair bit more). The "roll go" really is a great invention!
Stefanie
&nbsp|&nbsp
2018-03-28 17:57:28
---
nl
Love them! En wat een service wederom!
Prachtig materiaal....de bloem is groooot (en mooi dus)

Jacomijn Dijkers
&nbsp|&nbsp
2017-12-28 17:34:00
---
Pretty and comfy cardigan.
Jennie Andersson
&nbsp|&nbsp
2017-12-19 21:13:45
---
Inmiddels drie kleuren van deze schatjes in huis. Heerlijk zacht, draagt fantastisch, sluit mooi aan, zit lekker, en staat overal bij, jurk of rok. Erg blij mee!
Erika
&nbsp|&nbsp
2017-11-20 09:13:03
---
Seit Jahren suche ich so eine Strickjacke, weil die sogenannten "Kurz-Strickjacken" viel zu lang sind, um eine schöne Silhouette mit einem weiter Rock zu machen. Sehr weiches und strechiges Material, ich würde allerdings empfehlen, eine Größe größer als ausgemessen zu nehmen.
Ich hoffe, das Modell bleibt weiter im Sortiment und wünsche es mir noch in hellgrau, tannengrün, vanillegelb und rosa.
Susanne Liauw
&nbsp|&nbsp
2017-11-14 14:57:22
---
Past perfect, super tevreden.
Zou willen dat mijn hele garderobe van topvintage zou kunnen zijn.
Angelique
&nbsp|&nbsp
2017-08-07 18:27:42
---
Ik voel me steeds een klein kind dat de zak van Sinterklaas ziet binnenkomen. Behalve leuke kleding heeft Topvintage ook nog iets anders: ik laat nu zoetigheid en dergelijke zoveel mogelijk staan. Anders kan ik mijn mooie jurkjes niet meer aan. Heb nog nooit zoveel complimentjes gehad. Ik heb mijn stijl gevonden! Bovendien zijn de dames van de klantenservice ook echt ''aanwezig'': geen standaardteksten, zelf niet als je zelf iets verkeerds ingevoerd hebt... Als je van deze stijl houdt, is de kaart ook superleuk, die vind je nergens anders. Dit zijn overigens alle stukken van deze zomer. Jammer genoeg kwam ik er te laat achter hoe fijn de ballerina's zitten. Kon me niet voorstellen dat opvouwbare schoenen voldoende stevigheid konden geven. En nu zijn ze uitverkocht! Als er nog een lezeres van de recensies is met een ''twijfel'' paar ballerina's maat 39... ik neem graag de retourkosten voor mijn rekening! TOPvintage
Greet
&nbsp|&nbsp
2017-07-23 20:50:48
---
nl
Weer geweldig geshopt!
Het strapless jurkje is echt geweldig! Het rode vestje is heel mooi van kleur. De bikini heeft een prachtige sailorlook, zeker met de haarband. Kortom weer helemaal blij met mijn aankopen!
Andrea
&nbsp|&nbsp
2017-07-22 19:24:38
---
Die Lulu Hun Pumps fallen tatsächlich aus wie 36. Kombiniert mit dem Kleid und dem Jäckchen das perfekte Sommer-Outfit. Bin begeistert.
Susanna
&nbsp|&nbsp
2017-07-04 07:10:40
---
Wat een fijn vestjes zijn dit! Precies de juiste lengte, lekker zacht en met praktisch alles te combineren!
Ze blijven na het wassen mooi en peelen helemaal niet!
Aanraders
kim
&nbsp|&nbsp
2017-07-03 11:14:08
---
de
Neue Liebe im Kleiderschrank ❤
Das gelbe Kleid mit dem grünen Jäckchen und dem Bastsonnenschutz ist mein neues absolutes Lieblingsoutfit. Es fällt geschmeidig und figurumschmeichelnd und zaubert durch den raffinierten Schnitt an der Brust eine ganze Körbchengröße mehr. Ich habe einige Komplimente für diese Kombination bekommen einfach traumhaft. ❤
Das blau- weiße Kleid wirkt in Wirklichkeit viel frischer und sommerlicher als auf dem Foto zusammen mit dem roten Jäckchen auch ein absoluter Hingucker. Auch hier wieder ein absoluter Figurschmeichler obwohl mir der Ausschnitt einen Hauch zu großzügig ausfällt. Alles in Allem wundervolle und absolut Liebenswerte Alltime favourites ❤
Melanie
&nbsp|&nbsp
2021-06-19 14:13:53
---
nl
In plaats van vakantie mooie kleren gekocht!
Vandaag de mooie doos met de strik ontvangen en meteen uitgepakt.
De groene jurk in L gekocht omdat M niet voorradig is. Inderdaad te groot maar door mijn grote cupmaat en de riem kan het nog net. Te mooi om terug te sturen! Ideale jurk voor een smalle taille en een grote boezem. Ik ben maar 1.62 dus de jurken zijn altijd wel wat lang. Wel vind ik het raar dat op de foto's geen inkijk te zien is terwijl het toch echt een heel lage jurk is. Er moet een shirtje onder of een vestje over.
De rode jurk (maat M) is ook al zo mooi, zit fantastisch! Denk er om dat er geen stress in zit dus bij mij is de taille ruim en bij de borsten kan het nog maar net. Jammer genoeg is de afwerking wat minder. Draadjes zitten niet goed vastgehecht, een bandje voor de riem zit al los en er hangen allerlei kleuren losse draden aan en in de jurk. Bij mij is de jurk niet doorschijnend en ziet er uit als linnen.
Het blauwe vestje is helaas niet mijn model, iets te lang en te ruim. Maar erg mooie stof en kleur.
De andere gekleurde vestjes zijn erg kort maar heel handig om te hebben. De groene vind ik een vreemde kleur en de blauwe had een paar lusjes. Die gaan dus terug.
Het zwarte vestje is eigenlijk niet mijn ding, met die kraag en strikjes. Maar het zit heel erg mooi en door de kraag luxe en netjes, voor naar het werk. Echt een aanrader! Mooie lengte mouwen.
De onderjurk is prijzig maar werkt echt. Er zitten geen vervelende naden in en het kruipt niet omhoog. Door de grote cupmaat trekken de bandjes een beetje maar dat stoort me niet.
Liep er mee door de kamer en zag pas later dat de achterkant doorschijnende stof heeft!
De rode schoenen zien er erg mooi uit maar ik weet nog niet of ik ze houd. De tip gevolgd en een maat kleiner besteld maar hopelijk lopen ze nog wel iets uit. De kanten randen in de schoen moeten ook even wennen aan je voeten. Ik vind het niet praktisch en hoop dat ze de panty's niet stuk maken.
De panty met steunbroekje zit prima en ondersteunt echt. De kleur/tint is ook mooi. Alleen is het verder gewoon een panty, die bij mij bij de eerste keer dragen altijd stuk gaan. Ben benieuwd of ik ze na morgen weg kan gooien.
Kortom, heel veel geld uitgegeven maar wel aan heel mooie kleding.
Marjolein
&nbsp|&nbsp
2021-06-10 16:46:40
---
de
Softes Tragevergnügen:-)
Die Cardigans hab ich mittlerweile in 3 Farben und sie sind eindeutig zu schade zum Darübertragen. Werde sie als Oberteil mit Jeans und Röcken direkt auf der Haut kombinieren. Der rote Cardigan hat eine wunder-wunderschöne rote Farbe...
Katharina
&nbsp|&nbsp
2021-05-06 06:08:32
---
de
wie Balsam für die Haut ;)
Die tollen Oberteile fühlen sich einfach super angenehm an.
Die Farben sind sooo schön...
Habe mir gerade noch einige weitere Schmuckstücke gegönnt!!!
Freue mich schon sehr auf die kommende Woche :-)

Madeline
&nbsp|&nbsp
2020-11-28 14:59:48
---
Nog even nazomeren met deze geweldige kleding!
Het vestje zit heerlijk en is zacht van stof, de lange jurk eveneens en past perfect. Heel wat leuke complimentjes gehad op de oorbellen. Het rokje is van een dunne makkelijke niet doorschijnende stof voor de warme (na)zomerdagen
Annette
&nbsp|&nbsp
2020-09-08 08:17:02
---
....das Bolero, passt wie angegossen, ist wunderbar weich und sehr angenehm zu tragen :-) Ich freu mich, wenn ich es zu meinen Kleidern tragen kann.
petra aigner
&nbsp|&nbsp
2020-05-25 19:09:25
---
Oh wat ben ik blij dat ik deze webshop gevonden heb! Ik wil alles wel hebben maar probeer me in te houden...deze truitjes die ik besteld heb zitten perfect en de stof is zo mooi en zacht, hele fijne kwaliteit.
Top vintage, jullie hebben een fan erbij!
Kimm Kalkhoven
&nbsp|&nbsp
2020-01-14 16:47:03
---
en
Holly berry it is so beautiful!
Oh the fabric is so good,and it fits perfect!And the red belt makes so chic! I can't wait for christmas time!
And wow,how it was packed! Best cartonbox ever!
Detty
&nbsp|&nbsp
2019-11-07 22:54:41
---
aber nicht perfekt. Nach meinem Geschmack dürften die Ärmel einen Tick kürzer sein. Und ich fülle die Oberarme nicht aus, so dass der Stoff jeweils seitlich am Oberarmansatz Falten wirft. Ich behalte sie aber trotzdem, weil sie ansonsten gut sitzen und der Stoff sich angenehm anfühlt. Insofern würde ich mich auch sehr über weitere Farben freuen, etwa in Hellblau, Türkis, Gelb und über die Rückkehr von Orange.
Uta
&nbsp|&nbsp
2019-09-08 13:35:40
---
de
Tolles Rot, angenehm weicher Strick
So ein tolles neutrales Rot, das passt zu vielem! Der Strick fühlt sich weich und angenehm an und das Jäckchen fällt größengerecht aus. Über Waschverhalten/Beständigkeit kann ich noch nichts sagen. Lieferung war superschnell :)
Eva
&nbsp|&nbsp
2022-11-08 11:39:08
---