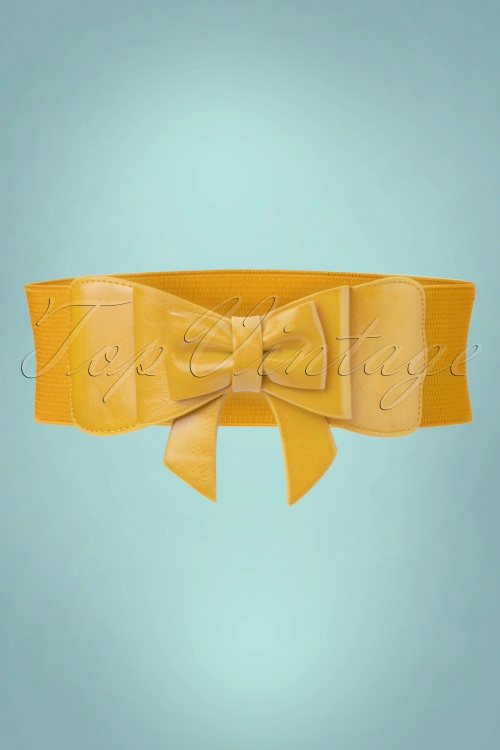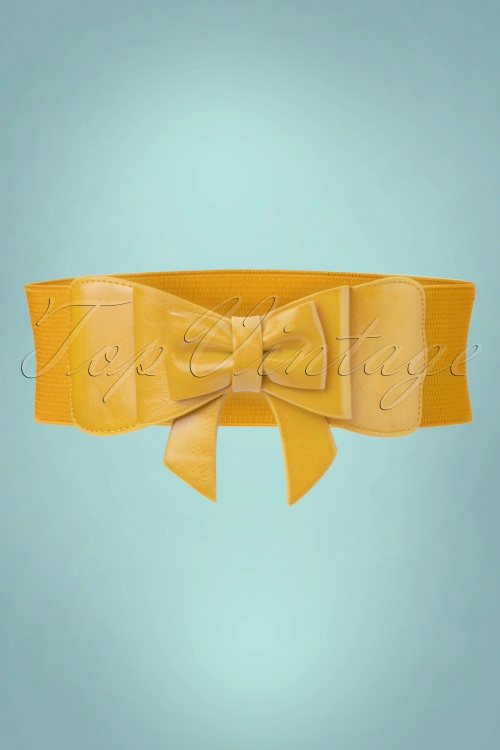 50s Play It Right Bow Belt in Mustard
This 50s Play It Right Bow Belt in Mustard is a great addition to your vintage wardrobe. An instant perfect hourglass figure! This elastic beauty is made from a mustard yellow faux leather and features a classy bow. Hook the bow onto the closure and your retro fifties outfit is totally complete! 


Avoid contact with water/parfum/cleaning agent
de
Edel gegürtet und behütet ;)
Die Mütze ist, wie auch ihre schwarze Schwester, einfach niedlich und ist auch für Menschen ohne Hutgesicht geeignet. Sie minimal dünner als die schwarze, was daran liegt, dass die rote Wolle nicht ganz so dick ist und sie deswegen auch etwas lockerer gestrickt ist. Dafür kommt das hübsche Muster hier deutlicher zur Geltung. Da beide Mützen aus zwei gestrickten Schichten bestehen, störte es mich gar nicht, dass diese Version etwas dünner ist, beide halten trotzdem schön warm.
Nun zu den Gürteln:
Die beiden mit den Kunstlederschleifen in senfgelb und schwarz tragen sich angenehm, auch wenn man sie stark dehnen muss. Beim Verschließen sollte man aufpassen, da sie hinter der Schleife durch zwei Ösen und Haken verschlossen werden. Ich könnte mir vorstellen, dass dies bei sehr empfindlicher Kleidung (z.B. Spitze) durchaus problematisch sein kann. Mich stört es jedenfalls nicht und ich finde, das diese zwei eine tolle Figur machen und durch die pfiffigen Schleifen, die edel aussehen, fast jedem Outfit den letzten Schliff geben.
Der schmale Schleifchengürtel ist einfach nur genial! Auch dieser wird mit einem Haken verschlossen, wobei hier der Verschluss fast in und nicht abstehend hinter der Schleife liegt. Der Clou ist aber die Verstellbarkeit der Größe! Am Rücken lässt sich dieses schmucke Stück einfach auf die eigene Größe bringen, das ist einfach genial, selbst bei Gewichtsschwankungen bleibt es passend. Ich wünschte es gäbe mehr davon. Auch hier wirkt nichts billig und ich werde ihn häufig tragen.
Der schwarze Gürtel mit der Stoffschleife ist okay, auch er wird vorne verschlossen, diesmal aber mit Druckknöpfen. Die Dehnbarkeit ist genauso gut wie bei den oben genannten, aber ich finde den Verschluss weniger vertrauenswürdig. Ich befürchte, dass die Druckknöpfe irgendwann ausleiern und es dann passieren kann, dass der Gürtel sich von alleine öffnet. Diese Vorstellung ist nicht so angenehm: Man sitzt ganz unschuldig im Cafe und plötzlich wird derjenige am Nachbartisch mit meinem Gürtel beschossen...
Auch die Schleife gefällt mir bei den anderen Güteln besser.
Insgesamt aber wieder einmal ein erfolgreicher Einkauf, der meine Garderobe um schöne Stücke bereichert!
Sil
&nbsp|&nbsp
2019-12-14 16:11:52
---
I wear it all time, it's practical, pretty and comfortable!
SK
&nbsp|&nbsp
2019-11-26 17:55:04
---
Alles wieder wie gewohnt , schön , passt und einmalig.
Das Pipiterkeid sitz , wackelt und hat Luft und hat genau die richtige Länge.
Der Gürtel macht die Figur richtig perfekt , die Bluse ist für jeden Katzenfan ein Muss und das
andere Kleid ist wegen dem außergewöhnlichen Muster ein Hingucker .
Macht weiter so
Danke für alles kathi
katja voigt
&nbsp|&nbsp
2017-10-05 19:28:09
---
Der Rock passt wie immer sehr gut und fällt schön. Leider glitzert er doch sehr stark und ging daher zurück.
Den Gürtel habe ich schon in anderen Farben und ist wie erwartet top!! Perfekt für den Herbst.
Dorothea
&nbsp|&nbsp
2017-09-07 09:43:56
---
La robe tombe parfaitement bien, le tissu est très agréable et qualitatif. Portée avec des chaussures et une ceinture jaune, les couleurs se marient à merveille je vous la conseille !
Christelle
&nbsp|&nbsp
2021-03-13 18:21:10
---
Comment dire. Tt est parfait.
Dorianne
&nbsp|&nbsp
2020-12-09 07:56:34
---
Bon produit très confortable
Dorianne
&nbsp|&nbsp
2020-11-04 16:13:13
---
nl
Mooi maar niet zoals op de foto
Hoewel ik de riem op zich wel heel mooi vindt, had ik gehoopt dat hij zoals op de foto iets feller geel zou zijn. De riem is in het echt gewoon okerkleurig. Dus eerder een herfst- dan een zomertint volgens mij.
L.
&nbsp|&nbsp
2020-07-03 08:15:30
---
Cela fait plusieurs fois que je commande [ou mon entourage pour me l'offrir ;-)] sur top vintage.
J'ai eu un soucis de taille une fois, le service client a été très réactif ! Les vêtements ou les accessoires que je commande sont toujours au top et correspondent vraiment au visuel.
Prochaine étape, pour compléter mon petit dressing, les chaussures !
Sénéchal-Danni
&nbsp|&nbsp
2020-05-25 12:15:03
---
de
Jeder Gürtel ist ein Gewinn für die Garderobe!
Ich liebe sie alle,insbesondere die verstellbaren!
Sil
&nbsp|&nbsp
2020-02-01 20:53:10
---
de
Being absolutly fabulous!
Ich liebe jedes, absolut jedes Stück aus eurer Kollektion! Immer bleibt nur die Qual der Wahl! Wenn mal etwas nicht ganz stimmt, kann man immer auf euren fantastischen Service zählen, sodass man sich als Kundin ernstgenommen fühlt! Vielen Dank dafür!
Sil
&nbsp|&nbsp
2019-12-22 22:24:49
---
de
Alle einfach wunderbar!
Ich liebe diese Gürtel! Sie geben jedem Outfit den letzten Schliff!
Sl
&nbsp|&nbsp
2019-12-22 22:09:45
---
nl
super fier op mijn nieuwe aanwinst
alles is gewoon prachtig ..al had het blauwe bolerootje niet zo direkt juiste kleur ik hou het toch omda super mooi is ..en zoek wel kleedje met juiste blauw in ;)
anja bisschop
&nbsp|&nbsp
2021-07-15 17:17:56
---
nl
Wow, wat een mooie pasvorm. Zo vrouwelijk.
Weer een geweldig snelle levering. Ideaal dat je online vragen kan stellen en al heel snel een passend antwoord krijgt. Ik voel me super vrouwelijk in mijn nieuwe jurk. En met mijn nieuwe accessoires kan ik weer mixen en matchen. Bedankt
Margaret
&nbsp|&nbsp
2021-06-20 07:55:53
---