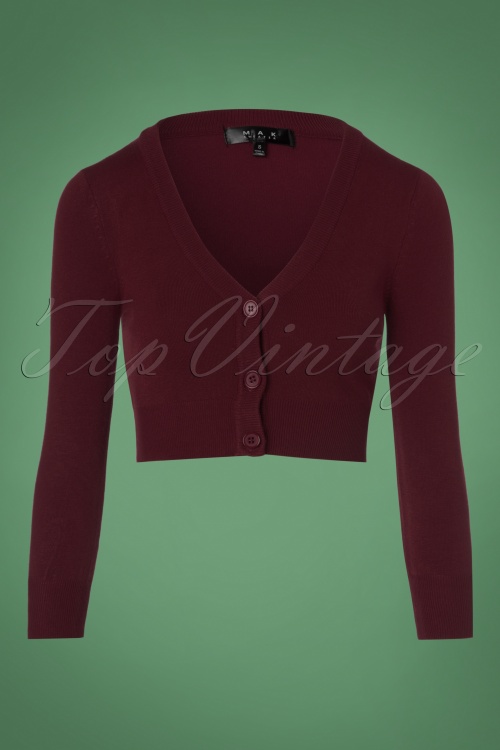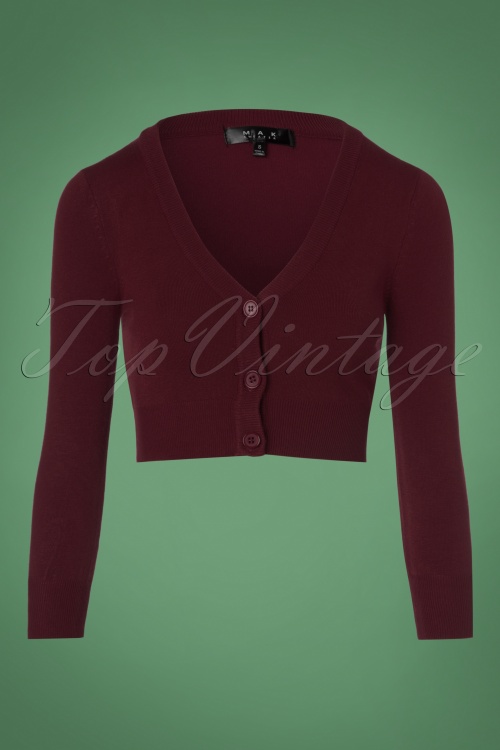 50s Shela Cropped Cardigan in Burgundy
The 50s Shela Cropped Cardigan in Burgundy is an all-time classic! Classy in all its simplicity and therefore THE perfect match with all your vintage items! This short cardi features an elegant V-neckline, 3/4 sleeves and shiny buttons. Made from a fine knitted, soft, burgundy red acrylic blend with a lovely stretch for a perfect fit. The combination possibilities are endless!
Shorter style
V-neckline
3/4 sleeves
Row of buttons
Stretchy board along the neckline, sleeves and bottom
Article nr.
23273
80% Acrylic
18% Nylon
2% Elastane
Handwash cold (don't leave it in the water)
Wash inside out
Wash dark colors separately
Machine wash Wool cycle COLD
Do not dry clean
Do not tumble dry
Air-dry flat
Iron inside out on low temperature setting
Vol verwachting koos ik zorgvuldig mijn aanvulling op mijn kleding uit en werd zowel beloond als wat teleurgesteld.

Niet dat de artikelen daar wat aan konden doen. Stuk voor stuk zijn ze prachtig.
Het rode vestje en de zwarte sweater doorstonden de 1e roneronde met glans.
De sweater zo goed dat ik er direct nog 1 besteld heb en dat alleen maar omdat 2 niet mogelijk was.....dus nog 1 in de nabestelling....in de hoop op....het burgundy vestje was wat te krap en wat te kort, het zwarte shirt kriebelde dus beide gaan retour....maar de rok....dat is een twijfelgeval. Hij is prachtig.
Iet wat te chique/te netjes, niet gevoerd......maar prachtig....daar ga ik een nachtje over slapen.
Tineke Vermeulen
&nbsp|&nbsp
2018-09-11 17:40:21
---
de
Perfekt für High-waist-Kleider und Röcke
Sehr schöne Farbe. Endet genau auf der schmalsten Stelle meiner Taille, so das ein Gürtel optimal zur Geltung kommt.
Florentine
&nbsp|&nbsp
2017-11-30 20:58:46
---
Der kurze Cardigan ist perfekt für Kleider und die Farbe ist einfach super! Er passt auch perfekt - nur Achtung bei großer Oberweite, da könnten die Knöpfe zu sehr auseinander gezogen werden. Ich hab 75C und die M passt perfekt.
Der Gürtel ist auch genau so wie erwartet, er hat keine Löcher - hält aber durch den goldenen Ring in der Mitte perfekt! Die Farbe ist auch toll.
Das Kleid ist wunderschön, ich hab mich schon beim ersten ansehen verliebt. Die Farben und die Qualität ist einfach atemberaubend. Ein schöner, schwerer Stoff, perfekt für Herbst/Winter!
Leider ist mir die M viel zu groß! Ich hab mich eigentlich an die Maße gehalten, aber an der Taille ist es mir locker um 5-10cm zu weit, auch an den Schulten steht es ab.
Ich werde wohl mind. eine Größe kleiner benötigen. Schade, aber ansonsten stimmen die Angaben von der Größe für gewöhnlich sehr gut.


Silke Neuhauser
&nbsp|&nbsp
2017-11-27 16:58:29
Response from Mandy

Hallo Silke, entschuldigen Sie uns bitte dass Sie nicht zufrieden sind mit den Größen. Es tut uns sehr Leid. Ich werde mich heute noch mit Ihnen in Verbindung setzen sodass wir das Problem lösen können.

Liebe Grüße,
Mandy
Kundenservice
---
Zoals altijd past het weer perfect! Nergens verkrijgbaar zulke korte vestjes (met heerlijke 3/4 mouw) voor bv op een A-lijn rokje. Blij!!
J. W.
&nbsp|&nbsp
2017-11-25 13:25:19
---
Seit Jahren suche ich so eine Strickjacke, weil die sogenannten "Kurz-Strickjacken" viel zu lang sind, um eine schöne Silhouette mit einem weiter Rock zu machen. Sehr weiches und strechiges Material, ich würde allerdings empfehlen, eine Größe größer als ausgemessen zu nehmen.
Ich hoffe, das Modell bleibt weiter im Sortiment und wünsche es mir noch in hellgrau, tannengrün, vanillegelb und rosa.
Susanne Liauw
&nbsp|&nbsp
2017-11-14 14:57:22
---
Dieses Kleid ist ein absoluter Figurschmeichler und betont nur, wo es soll. Ich schreibe nie Rezensionen, aber dieses tolle Teil muss man weiter empfehlen!
Jessica Schumacher
&nbsp|&nbsp
2017-11-02 13:20:16
---
Heerlijke vestjes die lekker kort zijn. Heel mooi voorop jurken waar je de taille of riem nog zichtbaar wil houden
Natalie Cleton
&nbsp|&nbsp
2017-10-29 18:21:47
---
Prachtige kleur, precies wat ik zocht. Prima vestje voor een prima prijs!
Alianne van Gene
&nbsp|&nbsp
2017-10-13 18:13:18
---
de
praktisch und vielseitig
Ich habe schon einige Modelle des Cardigans, allerdings musste ich bisher immer in den USA bestellen und Zollgebühren zahlen. Darüber hinaus waren die klassischen Farben in den kleinen Größen meist ausverkauft. Zum Glück schafft Top Vintage hier Abhilfe. Für den Preis ist die Qualität sehr gut und die Strickjäckchen haben genau die richtige Länge, sodass sie auch bei kleinen Frauen perfekt an der Taille enden. Ich bin begeistert.
Nadine Werlich
&nbsp|&nbsp
2017-10-07 10:29:21
---
Na de 1x te hebben besteld (maat 44 met e cup) die echt veeeel te ruim zat de l besteld . Deze zit nu echt mooi maar aan mijn bovenarmen zit het wat strak . Mischien bestel ik nog maar eens de xl maar hoop dat het truitje dan weer niet te los gaat zitten .
fanny w
&nbsp|&nbsp
2017-10-05 15:03:23
---
Love it! Its soft, true to size the only thing is it's a little more purple then in the picture but again I LOVE IT!
Elsa
&nbsp|&nbsp
2021-08-13 12:20:58
---
nl
Topvintage brings my full wardrobe
Judith
&nbsp|&nbsp
2020-12-06 20:58:31
---
Mooi en praktisch. Verschillende kleuren en mouw lengtes en langere en kortere lijfjes. Lekker warm en zacht. Mooi voor op rokken en jurken of een klassieke broek met hoge taille.


Gerda Pastoor
&nbsp|&nbsp
2020-10-01 20:16:22
---
The dress is a bit tighter than the measurements indicate. I feared it might be a little too wide across the chest. But it is figure hugging and perfect. The fabric is a nice quality and colour. I absolutely love it. It combines very nicely with the little red vest.
Margo Visser
&nbsp|&nbsp
2019-12-10 19:47:50
---
en
Perfect in every way...
... soft, snuggly, stretchy - and the color matches the one depicted in the photograph to a tee. Beautiful piece. I'm thinking about getting it in other colors soon.
Ms. S
&nbsp|&nbsp
2019-01-10 20:50:05
---
Un grand merci pour cet envoi. Les gilets me vont parfaitement, très agréables au toucher, fins. La robe est magnifique, en coton, très féminine.
Merci à top vintage!!
A bientôt.
Sandrine DOERLER
&nbsp|&nbsp
2019-01-09 12:40:16
---
nl
Leuke basics voor de herfst
Bij Topvintage vind ik altijd wat ik zoek, ook deze keer deze mooie stevige basics die passen op ieder herfstjurkje in mijn kast. Opnieuw snel binnen (BE), fijn verpakt en met leuk presentje, dankjewel Topvintage!
Justien Jonckheere
&nbsp|&nbsp
2018-12-04 10:38:12
---
de
Mädels, holt euch dieses Strickjäckchen
Passt wunderbar zu dunkelblauen Kleidern!
Sabrina Fückel
&nbsp|&nbsp
2018-11-07 22:09:45
---
nl
De perfecte taille herfst-cardigan
Ik denk dat ik wel zo'n 15x die "houd mij op de hoogte" knop heb aangeklikt als het ging om deze Mak vestjes en elke keer was ik net 5 minuten, een uur...wat dan ook te laat. Zelfs contact met Mak opgenomen, overal in Europa gekeken en niks.

Totdat ik eens een nacht niet kon slapen en er een melding binnenkwam van TV (grappig tijdstip) dat de burgundy weer binnen was. Met 4 kleuren op de verlanglijst (Zwart schrapte ik: had net al een taillevestje van Banned in zwart gekocht en die mag dan net ietsje langer zijn, maar valt toch nog redelijk kort en is dikker), was dat in ieder geval een 25% winst! En zo zie ik het zeker.

Toegegeven -laat ik dat direct maar direct zeggen - de stof is wel een beetje aan de dunne kant. Mijn Banned, H&R en Collectif vestjes zijn van betere kwaliteit bvb. Maar als je kijkt naar de prijs dan zijn ze ook een stuk goedkoper dan de meeste merken en in verhouding zijn ze dat zeker waard.

Verder snap ik nu ook waarom ze continu uitverkocht zijn en kan ik je vertellen dat vestje 3 & 4 op de wensenlijst blijven (ik scoorde een week erna de lipstick rode ook omdat ik zo blij was met burgundy en die is mooi warm rood van kleur en net zo fijn. 50% score. Nu de groene en dikkere teal kleur nog).

Ze zitten allereerst heel lekker, de kleur is mooi vol en die lengte... mag ik even een Hallelujah!? Die lengte is perfectie. Zeker als je een kleine dwerg bent zoals ik, zijn alle vestjes altijd te lang. En ik vind persoonlijk een taille-cardigan gewoon het mooiste op een swingdress. En deze valt zo heerlijk kort, ook bij mij. Super! De mouwen zijn ook ideaal (volgens mij zijn ze 3/4 wat ze voor mij dus een normale polslengte maakt, hihi).

Omdat ik zo klein ben had ik een S besteld en dat gaat net omdat er een diepe V in zit. Met een goede borst (D) hebben de knoopjes het dicht wel een beetje zwaar, dus beter een M, maar ik vind het nog wel kunnen.
En open staat hij ook prima, hoewel hij wel gemaakt is om dicht te dragen heb ik het idee.

Ik ben een happy retrobabe!
Djamila.
&nbsp|&nbsp
2018-10-31 23:45:05
---
Diese Cardigans sind einfach perfekt! Habe sie mittlerweile in so vielen Farben und sie sind einfach so schön, weich und passen immer und zu allem.
Laurie-Ann Zander
&nbsp|&nbsp
2021-08-14 11:59:29
---