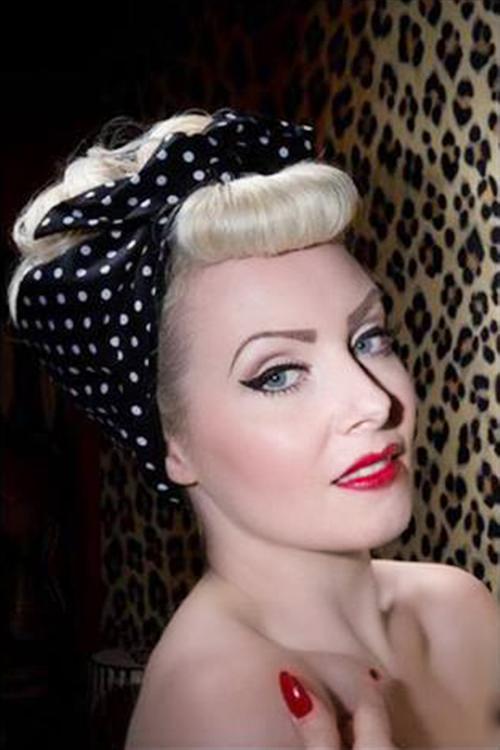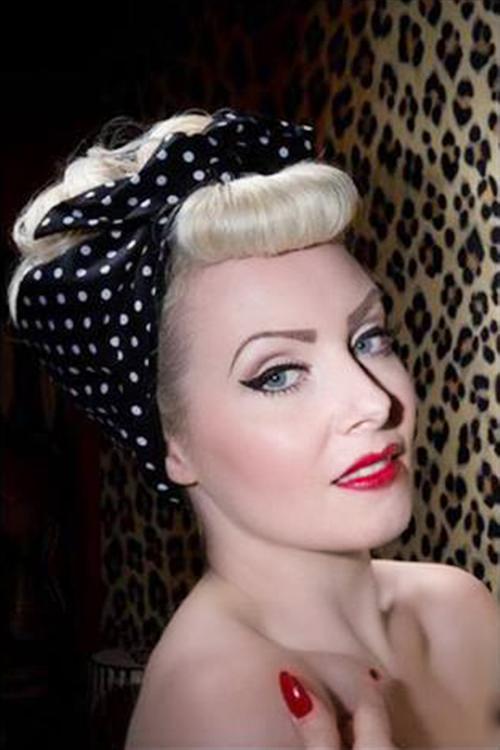 50s I Want Polkadots In My Hair Scarf in Black
The 50s I Want Polkadots In My Hair Scarf totally completes your vintage look! What would you like? A headband? A bow? You can do everything with this super cute hair scarf. Made from cotton with playful polkadots and on the other side a plain black colour. Due to the wire the hair scarf will always stay in place, just the way you want it to be. L-O-V-E!
Can be worn in different ways
Provided with wire
Article nr.
14139
Wiedermal alles toll!!!! Die Pullis passen wie angegossen und sind ein echter Hingucker!! Der Pullover mit den Herzen ist ein Traum! Ich wurde sofort darauf angesprochen. Vielen Dank an Top Vintage für die schnelle Lieferung und das süße Geschenk! <3
Daniela
&nbsp|&nbsp
2016-10-20 08:05:43
---
Ik was al heel lang aan het twijfelen over een groen jurkje. Het jurkje waar ik weg van was heb ik te lang over getwijfeld en was helaas niet meer te krijgen. Maar in plaats daarvan heb ik er nu 2. En ze zitten super. (Mt. 38/ 40) De donkergroene sluit perfect aan. Ik heb geen hele grote cupmaat, vrij smalle schouders en wat bredere heupen. (90x80x105) Het accent ligt op de schouders en dankzij de a-lijn, zijn deze modellen perfect. De licht groene in wat ruimer rond mijn taille, maar een smal tailleriempje lost dit prima op. Ik ben niet heel groot (164cm) waardoor de jurkjes tot over mijn knieën komen. Waar ik eerder wel eens een jurkje korter heb laten maken, heb ik dat nu eens niet gedaan. De zwarte jurk met de dieren ben ik helemaal verliefd op. Het maakt de komst van de herfst een stuk minder moeilijk. En ook deze zit als gegoten. Precies volgens de maattabelen.
Tot slot ben ik ook erg blij met de haarbanden. Ik heb krullen die ik nonchalant in de band kwijt kan. Lekker even mijn haar uit m'n gezicht, zonder een staartje te moeten maken. Kortom: weer helemaal blij en heel tevreden met mijn nieuwe aanwinsten! Dank je wel topvintage...
Maike
&nbsp|&nbsp
2016-09-06 19:59:17
---
Absolutely gorgeous!
dejane goes
&nbsp|&nbsp
2016-08-07 15:37:54
---
Sehr schade,müssen leider beide wieder zurück. Mein Kopf ist wohl nicht dafür gemacht. Der Stoff ist aber supers schön .
mel
&nbsp|&nbsp
2016-04-07 13:03:04
---
Deze haarbandjes gaan retour. Ze zien er leuk uit, en het ijzerdraadje is zeker handig, maar ze zijn iets te groot voor mijn hoofd en vallen de hele tijd af. Het chiffon stippensjaaltje stuur ik terug omdat het kapot geleverd is. Het stiksel aan de zijkant heeft losgelaten en bijgevolg zit er een redelijk groot gat in.
Silke
&nbsp|&nbsp
2016-01-14 14:31:22
---
nl
Zocht ik al vele jaren, is erg geschikt voor onhandelbaar haar
Musthaves ! Ik ben grote fan van al deze haarbanden. Mijn favoriet is de zwarte met polka dots van Be Bop, en die is wel een heel stuk duurder, maar door de breedte is het ook ideaal voor een bad hair day, en de ijzerdraad maakt het heel handig in gebruik.
Ook de rode sjaal is speciaal gemaakt van vorm, waardoor het makkelijk is om hem mooi te knopen of er een strikje van te maken. Blijven allemaal ook goed zitten.
Arwen
&nbsp|&nbsp
2015-06-30 00:59:59
---
Voor het eerst besteld , geïnspireerd door al die positieve reacties hier. En het klopt allemaal. Snelle levering , Met zorg verpakt.
Het vestje stond al lang op mijn verlanglijstje. Prachtig. Jurkje perfect. Allebei maat L. Het shirt heb ik maat M genomen en past precies. Enige nadeel; ik word er zo hebberig van.
Lenneke
&nbsp|&nbsp
2015-02-07 14:59:45
---
Alles was ich bestellt habe, sitzt perfekt! Man fühlt sich auch mit Rundungen rundum wohl! Kurven werden betont! Einfach toll!
Sabrina Neulinger
&nbsp|&nbsp
2018-12-15 21:17:45
---
Zowel kleding als haarbanden zijn geweldig! Snelle levering, trouwens leuke doos waar in het verpakt zit! Ik ben fan!
Elke
&nbsp|&nbsp
2017-01-25 21:04:46
---