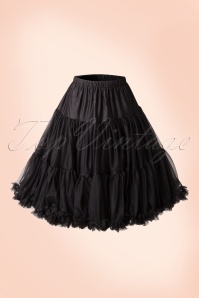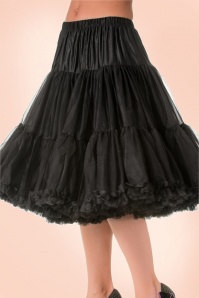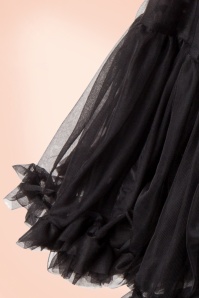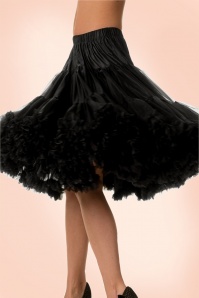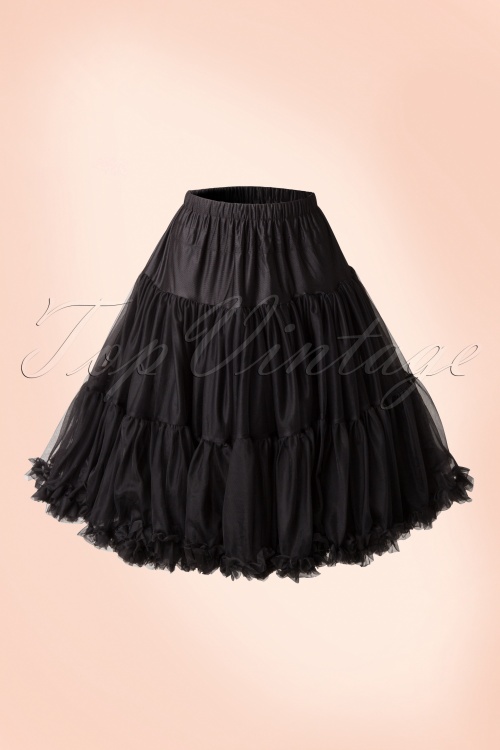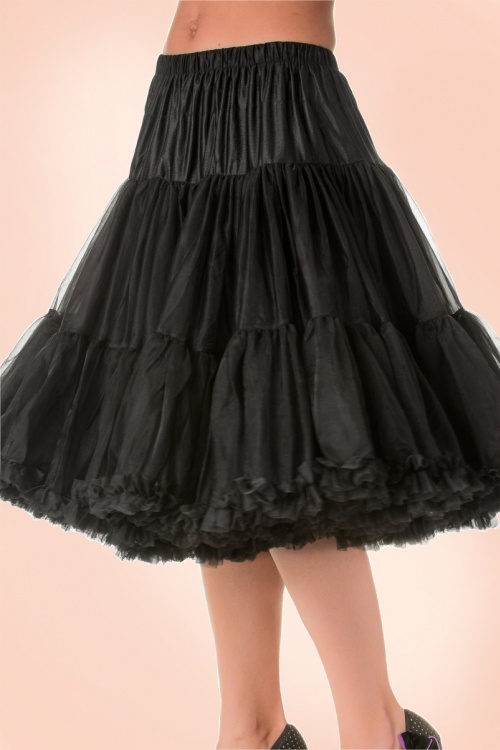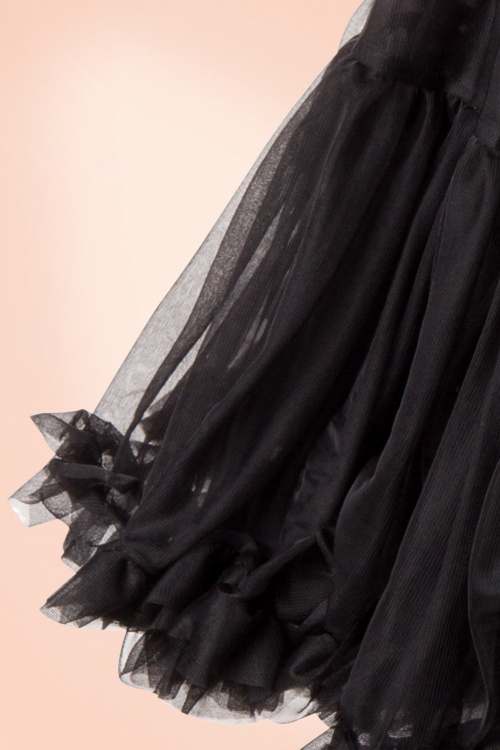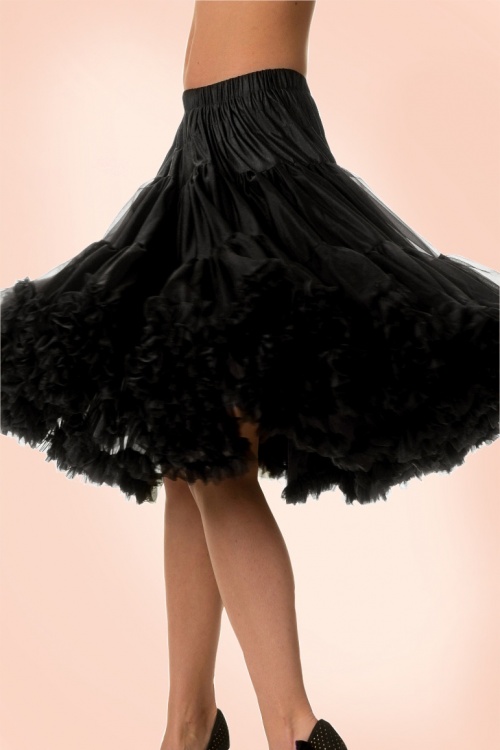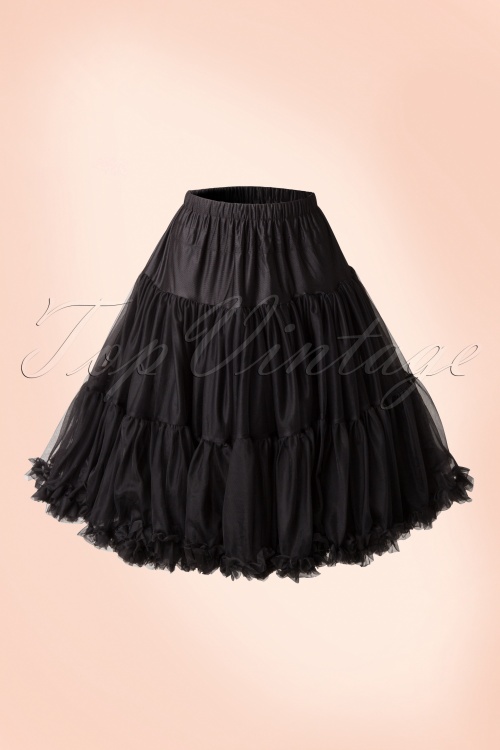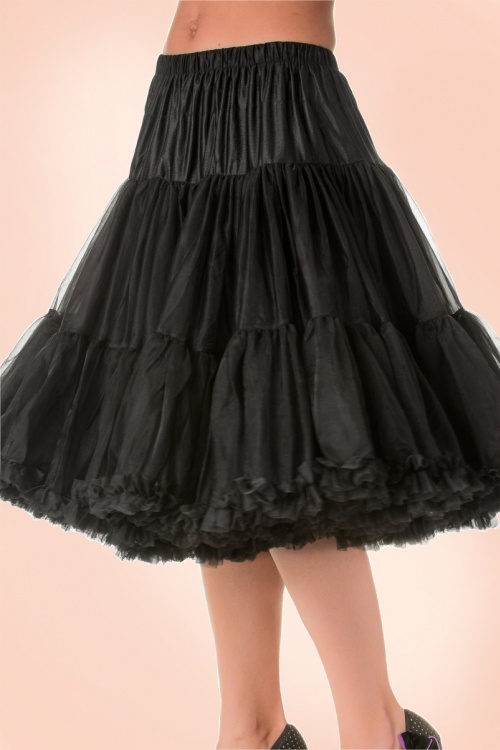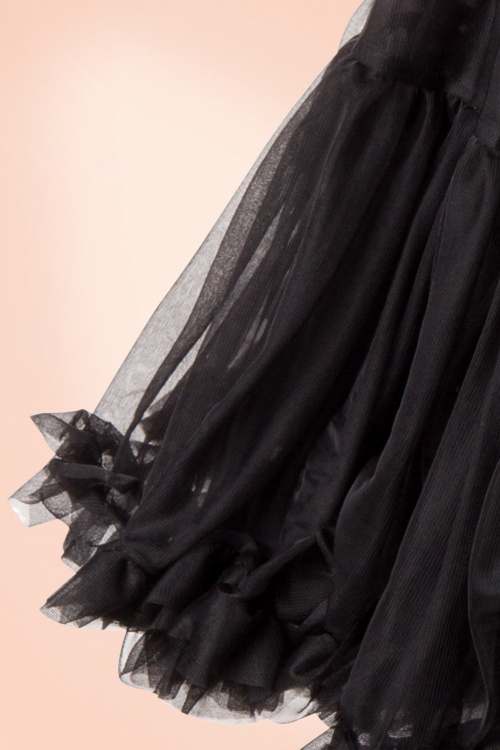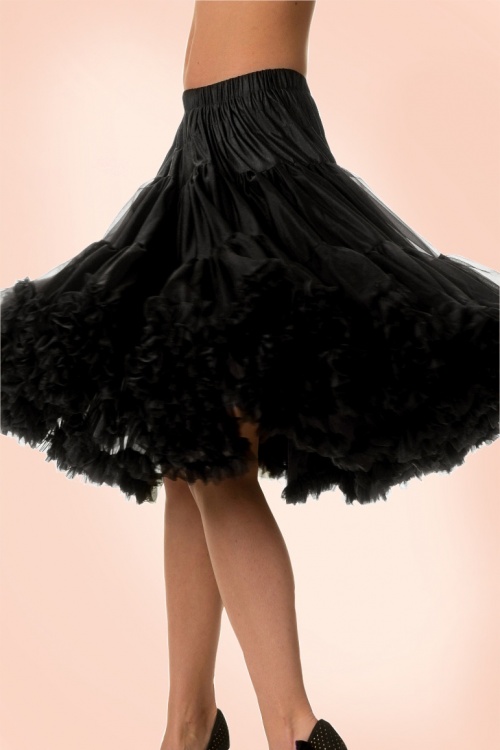 Lola Lifeforms Petticoat in Black
Behind every great twirl is a trusty petticoat! The 2 fluffy layers create extra volume, sway along with every move you make and are framed by playful ruching at the bottom. The upper part is made of black tulle and the underskirt is made of shiny sateen. The petticoat is finished with an elastic band. This petticoat will bring the va-va-voom to any swing dress! 
Can be worn with all of our swing dresses and skirts 
Elastic waist band
Hits below the knee at a height of 1.70m / 5'7"
Article nr.
14714
80% Polyamid
17% Polyester
3% Elastane
Handwash inside out (don't leave it in the water)
Wash inside out
Wash dark colors separately
Machine wash 30c delicates cycle
Do not tumble dry
Do not iron
nl
Mijn favoriete petticoats!
Sinds ik deze petticoats ontdekt heb, zijn het de enige die ik nog bestel... De petticoats van Banned zijn de beste prijs/kwaliteit die ik al gezien heb. Ze vallen soepel, zijn totaal niet kriebelig of krabbelig zoals goedkopere soms zijn, en de kleuren zijn prachtig. Onder sommige jurken zijn de petticoats misschien net te volumineus, maar is dat echt een nadeel?

Ik ga eerlijk zijn: ik gebruik mijn verjaardagskorting elk jaar om mijn voorraad petticoats aan te vullen... dit jaar een zwarte (eindelijk de kriebelige goedkope die ik al had vervangen), ivoorwitte (wit is soms té wit) en een roze (had ik nog niet...). Bedankt TopVintage, ik ga ze allemaal met veel plezier dragen!
Kristel
&nbsp|&nbsp
2018-08-30 22:04:36
---
Ideaal om te combineren met mijn Collectif Polkadot Dress.
Ik heb nu wel een witte en 2-laags versie besteld. Net iets mooier bij mijn zwarte jurk en 4 lagen bij 30° zijn net iets te warm ☺
Tina
&nbsp|&nbsp
2018-07-31 21:23:44
---
Zo blij als mijn zoon die een nieuwe doos lego krijgt... zo blij ben ik met mijn aankopen. Het kleedje zit als gegoten (dankzij de nauwkeurige maattabel) en de pettycoat maakt het helemaal af. Ik heb het gekocht voor een vintage-trouwfeest maar kan het kleedje ook doordeweeks dragen zonder pettycoat. Verder ook prachtig verpakt en geleverd binnen de 24u. Dankjewel en tot gauw.
Tina Cuyt
&nbsp|&nbsp
2018-05-17 16:43:22
---
en
Best Petticoat Ever Made!
I've owned many different brands of petticoats and this is by far my favorite. It is the perfect length and provides the perfect amount of fluff and is so very soft. I am selling my Hell Bunny petticoats and replacing them with Banned. My Bunny petticoats would hurt my skin when wearing them all day because of the scratchy fabric (especially when working and sitting most of the day). This Banned petticoat is so soft and I get absolutely no skin irritation. I am in love and excited to buy more colors :0)
Hillory
&nbsp|&nbsp
2018-05-01 17:11:55
---
Superschnelle Lieferung, in die Website hatte ich mich bereits verliebt, das war bevor ich die liebevoll aufgemachte Verpackung erhielt. Sehr bezaubernd.
Aus dem Petticoat lösten sich, beim Auspacken, ein paar kleine Stofffasern. Wenn er sich nicht beim ersten Waschen weiter auflöst, ist alles perfekt.
Andrea Hofmann
&nbsp|&nbsp
2018-03-29 18:27:46
---
Oh wow, what to say... almost everything was wonderful! It took a while to arrive, mostly since I'm in the states, but it was so worth it.

Little hat-
A bit odd. The clip is positioned in a way that makes it hard to drape the netting nicely, and it's hard to attach to thinner hair.

Coat-
Wonderful and very cozy! It's a bit loose around the waist so I might need to get it tailored, but it fits like a glove everywhere else.

Vixen dress
My only big complaint here. I ordered a medium but it fits more like a large. I'm practically swimming in it. I don't even know if tailoring can fix it....

Red blouse
Amazing! Perfect fit! New favorite in my wardrobe! Looks amazing with the belt I got.

Trixie Doll Dress
This dress is so glamorous! I feel amazing in it! Perfect for formal occasions, looks best with some pearls.

tights
Also amazing quality, but buy multiple pairs because you never know if they'll snag or tear, especially if you're wearing them out someplace.

belt
Perfect accessory for any outfit! I'm planning to buy more in other colors.

Petticoat
Excellent quality! It's so big!! The picture doesn't do it justice, it's massive. If you're looking for a slight poof, this isn't for you. It's also a little longer than most skirts, but nothing that can't be fixe by rolling it up a bit and tailoring.
Sydney Grigorakakis
&nbsp|&nbsp
2018-02-21 21:16:54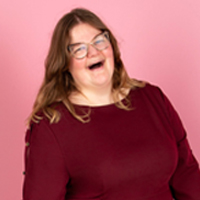 Response from Nicole

Dear Sydney, I'm so happy to read your amazing review, I bet the items look great on you ;-) However, I'm sorry to read there are some problems with 2 of the items. I will e-mail you right away so we can look into it together! 
Kind regards,
Nicole
Customer service
---
Lekker zachte pettie. Geen prikstof! Goed lang maar ook optie om koeter te maken.



Natalie
&nbsp|&nbsp
2018-02-19 22:27:41
---
Habe es heute bekommen und es wird eines meiner Lieblingskleider.
Sehr schön verarbeitet, toller Sitz. Für mich perfekt !!
Claudia Krist
&nbsp|&nbsp
2018-02-14 21:35:19
---
de
Umwerfend in Optik und Qualität
Das Kleid ist allein schon ein Hingucker, aber mit dem Petticoat ist es nicht mehr zu toppen. Ich habe schon ein paar andere Petticoats probiert, aber alle waren in der Qualität nicht so besonders. Vor allem raschelt und kratzt dieser - wirklich hochwertige -Petticoat nicht. Ich habe mit beiden Teilen meine Lieblingsstücke gefunden!
Regina Martl
&nbsp|&nbsp
2018-02-02 10:41:30
---
de
Immer wieder sehr gern!
Zum Jahresende habe ich nochmal einiges bestellt und kann nur zu jedem einzelnen Teil meine absolute Begeisterung ausdrücken! Wunderschön, passgenau und sehr bequem zu tragen!
Bisher konnte ich mich immer auf die Maßangaben verlassen und kann auch bei den Produkten, bei denen lediglich Standartgrößen gelistet sind, nach einer einmaligen Fehleinschätzung verlässlich immer die richtige Größe bestellen, und weiß, dass es passen wird. Herrlich entspannt! Zwei Pullover habe ich zurückschicken müssen, da sie mir leider nicht gestanden haben (50s first knit top in red und 60s Kat knitted jumper) bzw. der Schnitt einfach nicht gut zu mir passte. Ansonsten habe ich aber alle aufgeführten Teile behalten und bisher viel Freude mit ihnen gehabt. Besonders begeistert haben mich tatsächlich die Pullover bzw. auch die 60s pole Bluse dadurch, dass sie unwahrscheinlich gut anliegen und passen, dabei jedoch auch schön warm halten. Und das Vintage Diva Bombschell pencil dress ist qualitativ und optisch tatsächlich einfach nur ein echter Hammer!
Kurz und bündig: Ich bin sowohl von den 'Basics', als auch den Teilen mit dem gewissen Chic absolut überzeugt, begeistert und freue mich schon auf die neuen, kommenden Kollektionen!

Carmen A.
&nbsp|&nbsp
2017-12-22 17:35:41
---
Ich war mir zuerst sehr unsicher ob mir die Sachen stehen! Aber was soll ich sagen? Es schaut super aus zusammen! Goldschmuck passt super dazu! Ich war der Hit an der Weihnachtsparty!
manuela rusch
&nbsp|&nbsp
2017-12-16 20:39:36
---
en
The dresses of a hundred compliments!
Every time I wear these dresses, I receive compliments everywhere I go. I love these shirt dresses with their matching belts. The fit is a bit big for me, but that is because I am a size 00. I take all of my clothing to the tailor, so no problem there. I always wear them with a petticoat! The Dancing Days petticoat works well with both dresses. The fabric on both of these is of a nice weight and soft. I only wish they had more of these.
Maud Logue
&nbsp|&nbsp
2017-12-04 14:49:39
---
Anna Grygiel
&nbsp|&nbsp
2017-11-08 21:00:40
---
Super schnelle Lieferung! Toller Petticoat ganz weich und bauschig, so wie er sein muss. I love it!
Britta
&nbsp|&nbsp
2017-11-02 12:09:57
---
Lang getwijfeld want ben ik (54) niet te oud voor een petticoat? Maar na aanschaf van een geweldige rode swingjurk van Lindy Bop ging het knopje om. Hier MOEST gewoon een petticoat onder. Bewust voor deze gekozen omdat ze zo heerlijk zacht is. Tegelijkertijd ook maar de waszak besteld zodat ze mooi blijft tijdens het wassen. En nu? Op naar London voor een heerlijke (swingende) week vakantie.
meriam maatje
&nbsp|&nbsp
2017-10-18 14:38:04
---
en
This skirt is gorgeous!
I have waited so long for a very full circle skirt, and I have finally found it! This skirt is so beautiful. The fabric is soft. The colors are just as pictured online. I purchased the black petitcoat as well. It is very fluffy and fun to wear. I cannot wait to purchase other items from this store. Shipping was great. I live in the United States. It took under two weeks to receive my items. The box arrived damaged, but not the items inside. I have not used the rollers for my hair yet, but I am looking forward to using them this very weekend. They are quite soft. The book that comes with it makes it easy to understand how to create different hairstyles. Thank you Top Vintage for sending me this beautiful skirt. I will be wearing it all the time!
Maud Logue
&nbsp|&nbsp
2017-10-10 05:18:20
---
Ik bestel al heel wat jaren en nog steeds sta ik versteld van de prijs- kwaliteit verhoudingen. Ik ben zelf coupeuse maar soms gewoon te ui om achter het naaimachine te kruipen ;-) maar dit is echt super in elkaar gezet!! Mijn bijzondere lichaamsvorm komt niet altijd mooi uit in de pasvorm maar daar weet ik wel raad mee. Ik heb al hee wat Vintage kleding sites afgelopen maar er tipt er niet een aan Top Vintage!! Toppers, ik ben zo blij met jullie!
Simone van Beurden
&nbsp|&nbsp
2017-09-06 12:20:18
---
Wahnsinns petticoat der absolut nicht kratz und sich sooo toll anfühlt. Waren am Wochenende auf einem Rock 'n' Roll Festival und die dort angebotenen petticoat's waren kratzen und billig. Also Mädels gebt bissl mehr aus und ihr werdet es definitiv nicht bereuen. Würde 10 Herzchen vergeben wenn es möglich wäre

Top Vintage macht weiter so
Nathalie Pötzl
&nbsp|&nbsp
2017-07-31 09:04:17
---
Die Röcke passen alle wie maßgeschneidert. Ich mag sie alle mit Ihren verschiedenen Schnitten. Für verschiedene Anlässe, das Top passt auch durch den Reißverschluss perfekt, ist nur gewöhnungsbedürftig zum zumachen mit Haken. Das Rot ist schön und passt zu allen Röcken. die Strickjacke hat einen schönen Schnitt und passt mit einen Rosenaplikationen zu vielen. Der Petticoat hat genau die Richtige Länge für diesen Rock und auch meinen bereits vohandenen Kleider. und die Netzte sind einfach praktisch.
Claudia
&nbsp|&nbsp
2017-07-17 18:26:27
---
de
Super Hingucker,man fällt auf !
War gestern auf einem Boogie Abend habe das Kleid mit Petticoat getragen.
Habe von Frauen und Männern viele Komplimente bekommen.
Ulrike Strobel
&nbsp|&nbsp
2017-06-05 16:56:44
---
Gestern bestellt und heute schon da. Hatte mir vorher einen günstigen Petticoat im Internet bestellt. Gestern einen von euch....Mädels lasst euch gesagt sein, kauft hier. Eine super Qualität....und die Größen Tabelle ist genau. Es ist mittlerweile die 3. Bestellung.
Brigitte
&nbsp|&nbsp
2017-06-01 10:53:45
---
Geweldig hoe jullie er een echt moment van maken... Bestelling was de volgende dag al binnen en ik kon niet blijer zijn!

De jurk is geweldig en zit fantastisch! De petticoat komt er net iets onderuit, waardoor de jurk nog leuker wordt! Ook de bolero past perfect en wat een heerlijk stofje...

En dan... Het moment supreme... De schoenen, mijn grote droom... Ik heb ze op advies van topvintage in mijn eigen maat besteld en ze passen goed... Het lopen is nog even wennen, maar dat ligt meer aan mij dan de schoenen haha... Ik ben verliefd!
Mirjam
&nbsp|&nbsp
2017-05-24 14:56:04
---
Heerlijk zacht en zwierig. Voelt lekker 'gewichtig'. Staat super onder mijn red Cat Swing dress!
Athanassia
&nbsp|&nbsp
2017-05-21 14:40:47
---
Deze jurk is helemaal geweldig; mooi, grappig, zit lekker en is zwierig. Fijn dat er steekzakken in zitten, dat mis ik vaak bij jurken. Printje is superleuk! Moet nog wel een beetje wennen aan die brede open hals.Inmiddels heb ik er een zwarte petticoat bij; dat maakt het feestje compleet.
Athanassia
&nbsp|&nbsp
2017-05-21 12:43:25
---
de
..toller Artikel..... :-)
Wunderschöner Pettycoat ...ich liebe ihn ....taotaaal schön zu tragen :-) ;-)

...leider ist seine Schwester uin "Salmon Pink" trotz Artikelgleichheit nicht so dolle und eher vom Volumen her entäuschend!!!!!!! :-(
Claudia
&nbsp|&nbsp
2021-05-27 22:49:17
---
de
Was für eine Schönheit
Jetzt war es aber auch mal an der Zeit Meine Bestellungen bei Top Vintage zu bewerten bzw, Zu berichten.
Ich habe Top Vintage mit all seinen süßen und wunder schönen Sachen, auf der Suche nach einem schwarzen und ausreichend langem, sowie, hochwertigen Petticoat, durch Zufall entdeckt. Zuvor hatte ich schon nicht so tolle Erfahrungen mit anderen Petticoats gemacht, doch der Lola Lifeforms Petticoat in schwarz hat mich positiv gestimmt, in seiner fluffigkeit, der gesamten Qualität. Er lässt Die Swing-Kleider einfach fabelhaft erscheinen und man fühlt sich wohl. dazu wanderten noch ein Parr niedliche Schleifenohrstecker in den Warenkorb. Sie passten perfekt zu meinem Weihnachtskleid von HellBunny. Die erste Bestellung aus eurem Shop kahm in einem süßen rosa Leo-Paket bei mir an und war mit Sorgfalt gepackt. Die Ohrstecker befanden sich nochmal extra in einem Organza-Beutel und alles war in lila Seidenpapier eingeschlagen . Dazu war noch eine Tasche als Überraschung beigelegt, was ich so aufmerksam fand. Ehe ich mich versah hatte ich das zweite mal bei euch bestellt. Ein süßes Portemonnaie in schwarzrot, welches auch als Clutch verwendet werden könnte. Wie durch ein Zufall passt es perfekt zu einem anderen Kleid, welches mein Kleiderschrank beherbergt. Dazu durfte noch ein roter Cardigan, für das Weihnachtsfest, in den Einkaufskorb hüpfen. Der Cardigan ist superweich und behält seine Form nach dem Waschen. Auch leiert er nicht so schnell aus wie andere Cardigans für gewöhnlich. Mein Kleiderschrank muss bald anbauen, wenn Ihr weiter so verführerische und schöne Mode anbietet.
Chantal
&nbsp|&nbsp
2021-02-07 15:46:33
---
Wa t een prachtige fluffie volle petticoat. Staat geweldig onder mijn jurken! Let wel, als je iets kleiner bent als ik 1.66 m dat valt hij iets meer dan een beetje over de knie. Door het stevige elastiek is het wel makkelijk om hem wat hoger te dragen. Helaas zit het elastiek wat ruim in de band, waardoor hij wel wat gedraaid kan zitten voor het aantrekken. Is wel zo weer opgelost, dus geen groot probleem.
Renske
&nbsp|&nbsp
2020-07-10 12:44:27
---
Prachtige jurk vooral met de passende zwarte petticoat. Dit wordt vast en zeker een van mijn favoriete jurken. Spijtig dat de riem te groot is voor mij. Hiervoor had ik wellicht een maatje kleiner moeten nemen. Belangrijker is dat de jurk goed past
Brit
&nbsp|&nbsp
2020-06-24 11:29:41
---
Très beau jupon qui me paraît être de qualité. Il est assez long et conviendra pour des jupes/robes midi (finissant en dessous du genou). Très agréable à porter !
Le seul petit bémol est que le tulle laisse plein de petites poussières partout, même après un lavage en machine... Peut être qu'un seul lavage n'aura pas suffit à dégager toutes les poussières de la fabrication, il me semble qu'après l'avoir porté une journée, il en tombait quand même beaucoup moins.
Sarah Bernadoux
&nbsp|&nbsp
2020-01-14 10:08:54
---
Ik had een net iets langere petticoat nodig voor onder mijn kerst jurk, en deze in maat M/L valt precies zoals ik hem hebben wil: net ietsje onder de rok van de jurk waardoor je een superleuk geribbeld effect krijgt.
Emurelle
&nbsp|&nbsp
2019-11-23 15:12:58
---
de
Großartiger Petticoat, so schön, dass man ihn ohne Rock tragen könnte
Ich hatte die Bewertungen zu einem Petticoat gelesen und daraufhin bestellt, ich wurde nicht enttäuscht. Die Qualität - traumhaft, üppig, weich und wunderschön. Ich bin froh, dass ich hier bestellt habe. Auch der Lackschuh von Tamaris war die richtige Wahl, sehr bequem mit der soften EInlage. TopVintage trägt seinen Namen zu Recht - es ist alles top!
Sabine K.
&nbsp|&nbsp
2019-11-11 12:47:00
---
Erg blij met de service van TopVintage! Het zwarte jurkje is helemaal fantastisch, vooral met de petticoat eronder, ik ben een typische maat 38 en maat m van het zwarte jurkje zit dan ook perfect. Voor het groene jurkje (perfecte kleur) heb ik toch gekozen voor maat S die zat net wat beter dan de M. De blauwe jurk was jammer genoeg niet mijn pasvorm, dus die is retour. Dank TopVintage.
Laetitia Gerards
&nbsp|&nbsp
2019-10-08 09:09:24
---
Jurk (met en zonder petticoat) is fantastisch!
Zit ontzettend mooi en de donker groen is ook heel mooi.
Heel blij met de tas, maar die gaat snel open.
Heb magneet drukknopen gekocht en die aan de binnenkant van de tas genaaid. Tot nu toe heel tevreden, tas blijft dicht.
Rianne van Vuuren
&nbsp|&nbsp
2019-09-07 12:05:25
---
Ich habe mir hier meinen ersten Petticoat geholt und bin super zufrieden! Der Petticoat ist voluminös, angenehm zu tragen und qualitativ sehr hochwertig! Die Länge und die Tatsache, dass man ihn in der Weite einstellen kann haben mich noch zusätzlich überzeugt! Wer also nach einem schönen, qualitativ hochwertigen Petticoat sucht, ist hier genau richtig!
Celiné Gottstein
&nbsp|&nbsp
2019-07-10 10:48:48
---
Das grüne Swingkleid ist megaschön, elegant in einem supersattem Grün.
Das schwarz-weiße Kleid ist ebenfalls entzückend.
Der schwarze Petticoat ist superflauschig und sehr angenehm zu tragen.
Der Fascinator passt perfekt zu den Outfits und gibt jeder Vintagefrisur das gewisse Etwas.
Die Gürtel habe ich gleich in beiden Farben bestellt das sie wirklich spitze an Swingkleidern aussehen.
Love Topvintage !!!
Karin Posch
&nbsp|&nbsp
2019-03-09 12:47:23
---
Super mooie jurkjes. Had het blauwe in een medium besteld, was te groot bovenaan, dus retour voor een maatje kleiner dit zat perfect. De zwarte petit coat maakte het kleedje perfect voor een feestje in de jaren 50 stijl. Zeer blij met de aankoop.
Nancy Seghers
&nbsp|&nbsp
2019-01-31 03:59:53
---
Was für ein süßes fluffiges Petticoat, superleicht und äußerst strapazierfähig! Das Tanzen macht gleich doppelt so viel Spaß: Kreiseln, Wirbeln und Rotieren bis in den Morgen! Meine Charlestonkleider haben das Nachsehen und warten derweil im Schrank.
Kombiniert mit einem schlichten Swingrock, einem sexy Top und ellenbogenlangen Spitzenhandschuhen ist das Partyoutfit schon komplett und tatsächlich der Höhepunkt auf der Tanzfläche. Ich bin noch nie so viel gefilmt, fotografiert und umworben worden wie mit diesem Schätzchen. Nur so als kleine "Vorwarnung" ;-)
Mein Fazit nach 4 durchtanzten Nächten innerhalb einer Woche: Das Petticoat ist wie neu und unversehrt. Der Gummizug ist eng genug, dass auch beim wildesten Dreh nichts verrutscht, ohne dabei zu drücken. Nach einer Stunde Autofahrt steig ich aus, schüttle das Petticoat hinten ein wenig aus und schon ist es wieder schön aufgebauscht. Nichts ist verbeult oder eingedrückt. Auch nach etlichen durchtanzten Stunden hab ich darunter nicht mehr geschwitzt als nur im Kleid oder Rock. Das Waschen ist problemlos und trotz der vielen Unterröcke trocknet es innerhalb eines knappen Tages und ist bereit für die nächste Party - mein wundervolles Schätzchen!


Tara
&nbsp|&nbsp
2019-01-01 16:39:39
---
fr
D'une douceur extrème !
Ce jupon est parfaitement à ma taille (XS/S pour une taille de 74) et la matière est toute douce, j'adore !
Camille
&nbsp|&nbsp
2018-12-03 00:09:26
---
nl
Fantastische combinatie!
Ik was al blij met mijn luipaardprint swingdress van Topvintage maar heb uiteindelijk toch ook maar een petticoat erbij besteld. Dit maakt het helemaal af! Ben er zo ongelofelijk happy mee! Ik wil vaker dit soort stijlen gaan dragen (vooral jurken en rokken) en op wat feestelijke dagen maakt zo een petticoat het gewoon af. Ik heb mijn ogen al gericht op een volgende bestelling, maar even wachten tot volgende maand. Dank jullie wel, jullie zijn echt Top... Vintage!
Ivanka van der Reest
&nbsp|&nbsp
2018-09-30 18:55:30
---
Erstmal lieben Dank für die prompte Lieferung. Ich habe nun mein absolutes Lieblingskleid im Schrank hängen. Dank eurer Tabelle habe ich die richtige Größe gefunden, es sitzt wie angegossen. Bin 1,58 m, 55 kg, 94, 71, 92 sind meine Maße und Größe S passt perfekt. Auch der Petticoat überzeugt in Größe xs/s. Die Qualität der beiden Teile finde ich super. Ich werde sicher öfter bei euch bestellen. Weiter so... LG Nadine
thomas fischer
&nbsp|&nbsp
2018-09-01 12:59:25
---
Der Karorock ist wirklich sehr bequem, und er hat Taschen.... Yesss... Er schwingt ganz leicht, bin sehr zufrieden mit meinem neuen Herbstteil
Katharina
&nbsp|&nbsp
2022-09-30 04:59:20
---
de
Traumhaft und sehr Edel mit einem Schuß Sexapeal im Ausschnitt
Dieses Kleid ist wirklich ein absoluter Traum. Tolle Farbe, Royal Blue, leicht schimmernder, fester Stoff, super Tragekomfort und sitzt wie angegossen. Das Kleid hat eine tolle Länge und Endet bei mir mit meinen 1,76m Größe sehr schön unterhalb des Knies. Der schöne V-Ausschnitt ist sehr tief geschnitten und macht ein schönes, sexy Decolete, was mir sehr gut gefällt. Den schwarzen Petticoat habe ich dazubestellt, sehr schöne Kombi. Trotzdem werde ich das Kleid mit meinem cremefarbenen Petticoat tragen, das sieht flotter aus, finde ich. Klare Kaufempfehlung von mir.
Alice
&nbsp|&nbsp
2022-09-07 13:52:34
---
Un jupon qui donne envie d'aller danser !! Ma robe 50's est superbe avec ce jupon !
Sarah
&nbsp|&nbsp
2022-06-27 10:17:42
---
fr
la plus belle pour aller danser!!!!!
Je suis mais plus que ravi de mon achat!!!!!j'ai une soirée à thème samedi soir sur les année 20 à 50, et il est parfait!!! il est très très doux, agréable sur la peau, léger et tiens parfaitement à la taille, rien avoir avec celui que j'ai acheté sur un autre site (en tulle rêche qui gratte et ne met même pas en valeur ma robe car il n'a pas cet effet bouffant que je recherchais tant).Danseuse de rock et boogie, il va sublimer toute mes robe vintage. Je vous le recommande à mille pour cent. Service client au top, répond très vite au mails!!! Je reviendrai très prochainement sur ce site. Merci encore .
agathe
&nbsp|&nbsp
2022-01-12 12:17:53
---
Super! Ik had van te voren advies ingevraagd van de lieve dames van de klanteservice omdat ik de meeste volume wilde en dat is gelukt! Hij staat super onder mijn swing rokken en jurk!
KItty Erina
&nbsp|&nbsp
2021-12-21 20:01:36
---
Een prachtige jurk!! ? De stof valt zacht en soepel om je heen en voelt warm aan. In combi met de petticoat staat hij zeer mooi maar zelf zonder petticoat is het een mooie jurk! Een aanrader!! Klein minpuntje (heel ienniemienie) is dat de petticoat best wel statisch wordt omdat het kunstof vezels bevat… maar het blijft een plaatje van een jurk!! Zo happy…..!!! ?
Gema
&nbsp|&nbsp
2021-12-09 14:13:16
---
en
The WOW factor is real!
The quality is amazing, the spin feeling is spot on and it looks extra smashing with the amazing petticoat! The only little thing is that it was a little loose over the belly for me personally (fit is PERFECT everywhere else!), but I'll just kinch it with a wide belt. ;)

I'm absolutely blown away by how festive and gorgeous I feel in this dress! It's amazing! I can't possibly recommend it warmly enough! Love the little bra strap holders too, such a great addition for this beautiful dress.
Maria W
&nbsp|&nbsp
2021-11-18 17:49:42
---
... und passt perfekt auf meine Maße. Ich habe ihn in XL bestellt, da ich eine größere Oberweite, aber schmale Taille habe. Das Volumen ab Taille mit Rock und Petticoat ist perfekt. Ja, der Stoff ist fest, aber da er wirklich wasserabweisend ist, muss er so sein. Einmal gebügelt und er fällt toll, ohne aufzutragen. Neues Lieblingsteil.
Andrea Kaminski
&nbsp|&nbsp
2021-08-20 07:20:53
---
Ich habe eine ganze Weile überlegt, ob ich mir einen Petticoat zu meinen Swingkleidern bestellen soll oder nicht. Ladies, er ist einfach traumhaft und definitiv das Geld wert
Nadine
&nbsp|&nbsp
2021-06-22 16:02:13
---
Top. Schnelle Lieferung. Passt perfekt
Sabine
&nbsp|&nbsp
2023-07-15 14:34:33
---