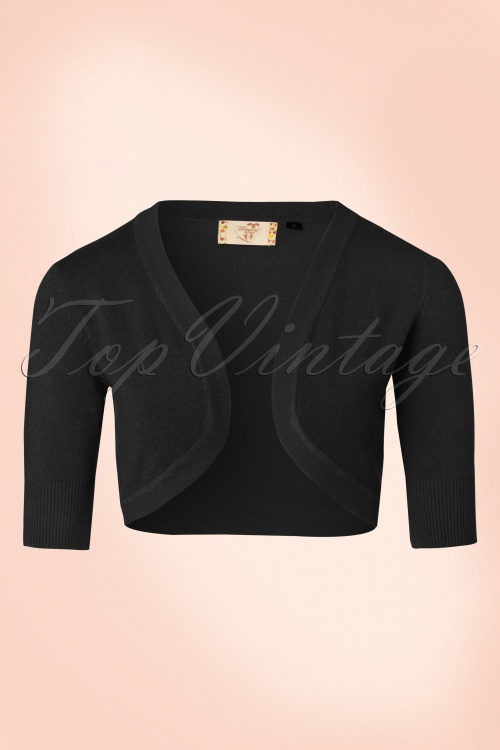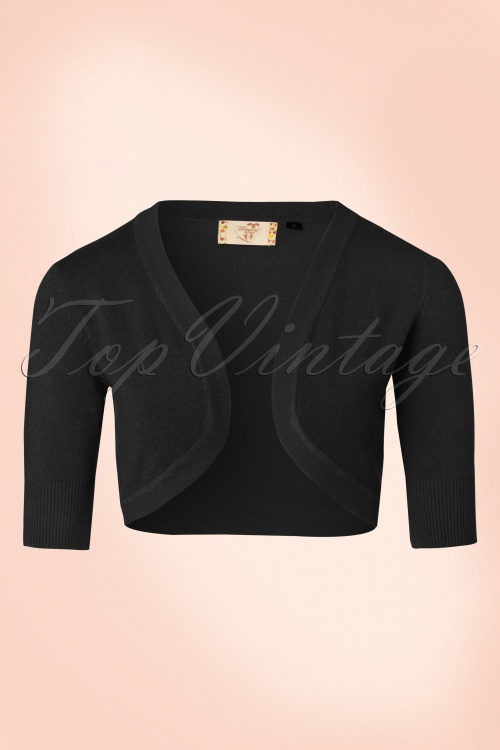 50s Hudson Bolero in Black
Make sure your retro outfit stays in tact with this 50s Hudson Bolero! Even summer nights tend to get a bit chilly but you are wearing your prettiest summer dress and a jacket would cover it up too much, what now? Well, you should wear this classy bolero! Made from a comfy, stretchy, knitted, rayon blend and rounded for a nice fit around your bustline. Finished off with a broad ribboard along the 1/2 sleeves to ensure it won't loose its shape. Leave your jacket on the coat rack because this bolero is warm and elegant!

Rounded board
1/2 sleeves
Elastic ribboard
Article nr.
20901
60% Rayon
20% Elastane
20% Polyamid
Handwash in lukewarm water (don't leave it in the water)
Wash dark colors separately
Machine wash 30c delicates cycle
Do not dry clean
Do not tumble dry
Iron inside out on low temperature setting
Ein sehr schöner Bolero, der gut anliegt und sich perfekt an meine Kurven schmiegt. Länge und Material sind auch toll!
Christina
&nbsp|&nbsp
2018-04-10 14:32:54
---
de
Bester Internetshop der Welt!!!!!
Der beste Internetshop der Welt!!!!!!!Schnelle Lieferung,super Preise für super Qualität,Kundenservice top:bei Fragen etc.äusserst freundlich und zuvorkommend!Das Paket an sich schon sehr ansprechend,die Verpackung der Ware im Inneren zuckersüß und wenn dann auch noch dank der tollen individuellen Grössenberatung alles passt,ist die Freude grenzenlos!Es ist jedes mal ein Vergnügen bei Euch zu bestellen,denn selbst mit ein paar Kurven ist das einkaufen bei Top Vintage immer wahnsinnig erfolgreich!!!!
Ich liebe Top Vintage!!!!!!!!!!!!



Katrin
&nbsp|&nbsp
2018-04-08 19:19:25
---
de
Ich kaufe fast nur noch bei euch ein. Ich liebe die Mode der 50er Jahre und habe von euch, außer den angeklickten Modellen noch Sommer/Swingkleider und eine Wintermantel aus den 30er Jahren. Die Qualität aller Kleidungsstücke ist, genau wie die Passf
Das Bolero ist absolut Topp. Preis und Qualität stimmen. Das Kleid sitzt perfekt. Überall, wo ich es trage errege ich Bewunderung und werde gefragt:" Wo hast du das her?" Wenn ich das blaue Kleid trage verstummen die Leute und ich ernte nur bewundernde Blicke und höre : Super, das nenne ich Eleganz. Das rote Kleid mit der Satinschleife, ist wirklich was für den großen Auftritt, wenn ich damit komme, verschlägt es den Leuten den Atem und alle Frauen gucken neidisch. Auch das rote Swing- kleid ist eine Wucht, mit und ohne Petticoat erregt man Aufsehen. Das Preis- Leistungsverhältnis stimmt immer. Die Größen passen perfekt. Ich besitze außerdem noch etliche Sommerkleider, einen weißen und schwarzen Petticoat und einen Mantel aus den 30er Jahren; alles TOPP ! Meist ist die Qualität der Ware so toll, dass man nach dem Waschen nicht mehr Bügeln muss. SUPER, waschen, aufhängen, anziehen und du siehst au wie ei Modell. Das ist mein Shop - ohne TopVintage geht gar nichts.
Brigitte Franz-Sips
&nbsp|&nbsp
2017-11-09 16:40:51
---
de
Jetzt habe ich sie alle!
Diese entzückenden Boleros. Kann man immer gebrauchen. Ich wünschte, es gäbe noch mehr Farben. Das Material ist blickdicht und kuschelig weich. Das Gelb ist aber schon recht grell und passt eigentlich nicht zu dem Zitronenkleid von Lady V; zu einem anderen meiner Kleider ist es allerdings perfekt.
Dorothea
&nbsp|&nbsp
2017-06-30 12:14:28
---
Geweldig hoe jullie er een echt moment van maken... Bestelling was de volgende dag al binnen en ik kon niet blijer zijn!

De jurk is geweldig en zit fantastisch! De petticoat komt er net iets onderuit, waardoor de jurk nog leuker wordt! Ook de bolero past perfect en wat een heerlijk stofje...

En dan... Het moment supreme... De schoenen, mijn grote droom... Ik heb ze op advies van topvintage in mijn eigen maat besteld en ze passen goed... Het lopen is nog even wennen, maar dat ligt meer aan mij dan de schoenen haha... Ik ben verliefd!
Mirjam
&nbsp|&nbsp
2017-05-24 14:56:04
---
Nice and soft bolero. Great fit, but it is rather short.
Jennie
&nbsp|&nbsp
2017-05-14 19:39:08
---
Blij met m'n vestje,mooi zwart en goede kwaliteit!
Petra
&nbsp|&nbsp
2017-05-05 16:30:17
---
Ich habe diesen Bolero mittlerweile in fast jeder Farbe, einfach ein Traum. So weich und passt super! In kühleren Sommernächten ein Muss.
Chantal
&nbsp|&nbsp
2020-04-18 16:22:59
---
Het rode truitje is geweldig. Ik heb al eerder een donkerblauwe, zwarte en witte besteld. Het viel mij op de rode langer is dan de anderen en ook iets langere mouwen heeft. De andere shirtjes heb ik ruim anderhalf jaar geleden gekocht. De witte heb ik nauwelijks gedragen, dus daar heb ik hem ook mee vergeleken. Ik vind de extra lengte van dit truitje wel heel fijn.

Het zwarte vestje is leuk om over een jurkje te doen wanneer het wat kouder is. De stof is fijn om te dragen.

De rok is helemaal geweldig en hij heeft behoorlijk diepe zakken. Mijn telefoon kan er helemaal in zonder dat ik bang hoef te zijn dat hij uitsteekt of eruit kan vallen. Fantastisch!

De panty's zitten heerlijk en staan mooi. Ik vermoed dat ze best wel een tijd mee zullen gaan.

Astrid Lippolt
&nbsp|&nbsp
2018-09-14 12:53:56
---