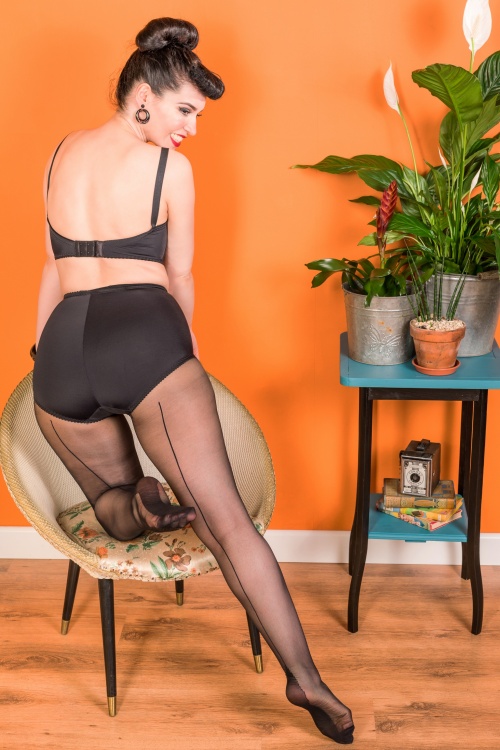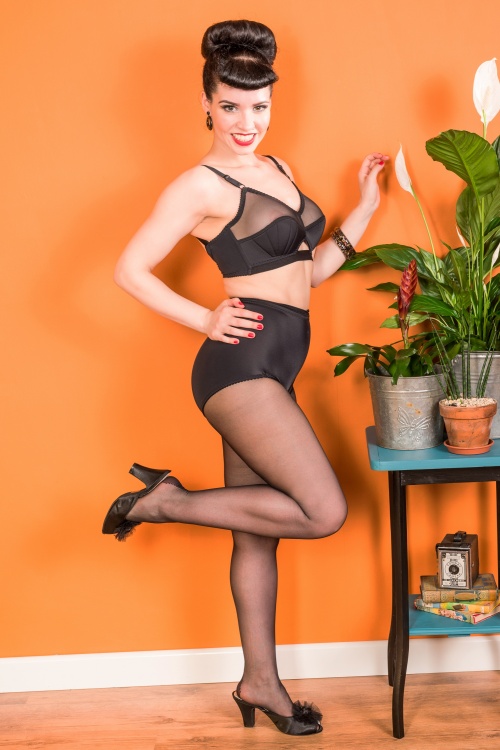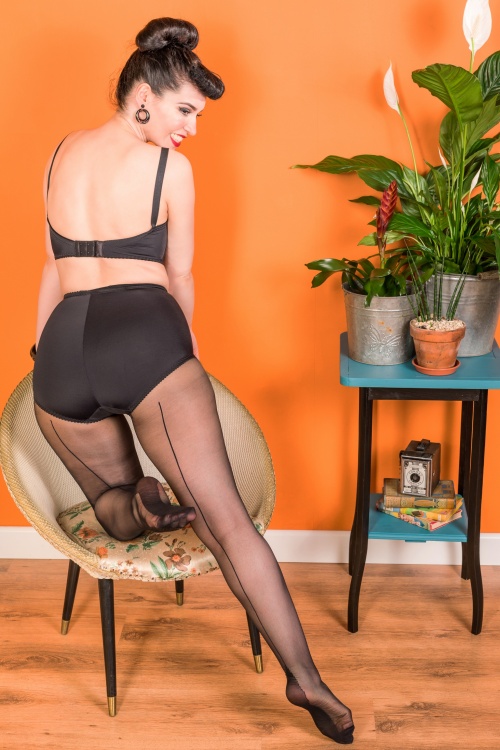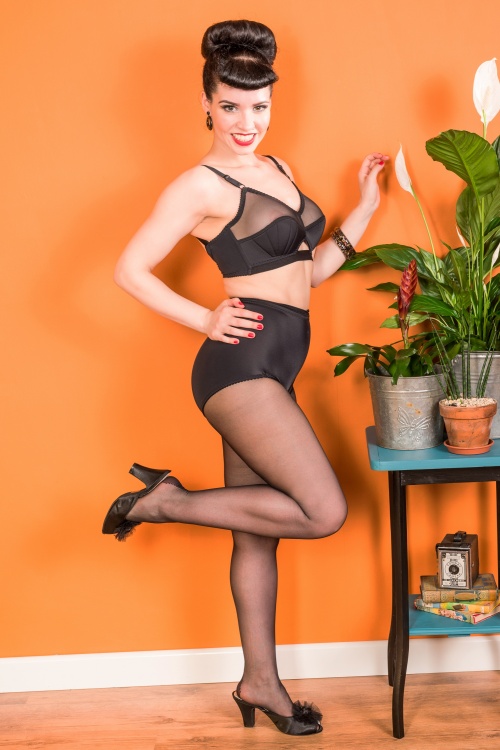 Retro Seamed Tights in Black
Classic with a vintage touch best describes these Retro Seamed Tights in Black from What Katie Did! These black seamed tights made of soft and fine 15 denier feature a pointy 'Havana heel' and a sexy black back seam. They also have reinforced toes and heels and are completely sheer. These sexy seamed tights combine the glamour and allure of yesteryear with everyday comfort.
Seamed tights
15 denier
Reinforced toes
Pointy (Havana) heel
The featured clothes, accessories and pumps are not available in our shop
Article nr.
15958
74% Nylon
14% Elastane
12% Polypropyleen
Handwash cold (don't leave it in the water)
Do not tumble dry
Made in Italy
Deze panty is sterker dan dat die voet en eruit ziet maar helaas na 2 keer aantrekken zitten er Gaatjes in en een heel klein haaltje vraag me niet hoe ik doe ze super voorzichtig aan en probeer er heel voorzichtig mee om te gaan ik heb ze nog niet gewassen weet niet of ik het aandurf ik vind het wel zonde van me geld dat die na 2 keer aantrekken al in deze staat is.

Beste Linda, je hebt helemaal gelijk! Het mag natuurlijk niet gebeuren dat de panty zo snel kapot gaat! Onze excuses hiervoor! Ik zal vandaag nog even contact met je opnemen zodat we dit probleem ook direct kunnen oplossen!

Groetjes,
Mandy
Klantenservice
linda
&nbsp|&nbsp
2016-01-07 14:52:00
---
Wirklich großartig, was dieses Kleid aus unseren Kurven macht ;) Der Bauch verschwindet, die Hüften wirken top in Form und das Dekolletee sitzt wunderschön.
Es fällt größengerecht aus, meiner Meinung nach. Der Ausschnitt ist relativ groß , Frauen mit wenig Oberweite müssen ggf. etwas schummeln.

Ich bin begeistert
Vanessa
&nbsp|&nbsp
2015-12-26 20:51:24
---
de
Liebes TopVintage -Team...
... Heute habe ich meine Bestellung erhalten, ohne lange Wartezeit.Alleine die Verpackung ist super süß gestaltet und bereitet Freude.

Das Kleid passt wie angenäht und auch der verarbeitete Stoff trägt sich angenehm.
Ebenfalls ist es so mit den Schuhen.

Man fühlt sich sehr wohl und gleichzeitig LadyLike .

Ein ganz großes Lob an euch. Ich bestelle gerne wieder. ☺☺☺☺
Isabel
&nbsp|&nbsp
2015-12-11 15:19:30
---
de panty is super mooi alleen de kwaliteit is zo teer ik heb er met me hand even ingezeten om te kijken of de kleur goed was omdat mijn handjes om 1 plekje wat ruwer was dan de rest van me handen waren er al gelijk kleine haaltjes zo jammer ik heb hem voor de kers gekocht ik hoop dat ik hem die dag aankan en dat die de dag doorkomt ik koop denk ik voor de zkerheid nog wel een back-up panty want ik vertrouw het niet zo met deze panyt
linda
&nbsp|&nbsp
2015-11-26 14:19:44
---
Gistermiddag de
Stop Staring! - 50s Billion Dollar Floral Pencil Dress in Blue binnen gekregen en meteen gepast. Ik dacht niet dat het me mooi zou staan omdat ik dus heel erg veel ben afgevallen maar daardoor nu wel wat huid bij mijn buik over heb. De Trinny and Suzanna shapewear zorgt er echter voor dat mijn buik niet meer is dan een heel klein bolletje. De jurk zit als gegoten en ik heb hem gisteravond meteen aangedaan naar een optreden van Danny Vera. Wat voelde ik me mooi! Nooit gedacht dat ik ooit zoiets aan zou kunnen.
De jurk is echt stunning, hele mooie stof, een beetje glanzend maar niet té, en een mooi decolleté maar nog wel netjes. Geweldig!
Samen met het zwarte jasje en de panty was het echt een heel prachtig geheel.
De jurk is prijzig, maar hij is wel echt enorm mooi!
Wel weer jammer van het lavendel geurzakje in de doos. Het gebaar is natuurlijk super, maar de geur zó enorm overheersend dat zelfs de pakketbezorger er iets over zei. Alles ruikt er naar. Gelukkig niet de spullen die in plastic verpakt zaten.


Vond de Postbode lavendel niet lekker Mirjam? Nee zonder gekheid, we zijn bezig hier naar te kijken. Dankjewel voor de melding hiervan!
Groetjes
Sandra
Teamleider Klantenservice
mirjam
&nbsp|&nbsp
2015-10-01 08:59:55
---
... that's all I got to say about that... ! ;-)
Vanessa
&nbsp|&nbsp
2015-09-22 10:50:20
---
Ik ben al een een jaar opzoek naar de perfecte panties met back seam en ik denk nu echt dat ik de perfecte panties heb gevonden. De kwaliteit is goed, de naad is niet te dik zoals bij sommige andere merken en ik kan de panties met gemak optrekken tot aan mijn taille (ik ben 1,72). Blijf dit merk vooral verkopen, i'll be back for more ;)
Merel Beemster
&nbsp|&nbsp
2018-11-27 16:11:26
---
Oh wow, what to say... almost everything was wonderful! It took a while to arrive, mostly since I'm in the states, but it was so worth it.

Little hat-
A bit odd. The clip is positioned in a way that makes it hard to drape the netting nicely, and it's hard to attach to thinner hair.

Coat-
Wonderful and very cozy! It's a bit loose around the waist so I might need to get it tailored, but it fits like a glove everywhere else.

Vixen dress
My only big complaint here. I ordered a medium but it fits more like a large. I'm practically swimming in it. I don't even know if tailoring can fix it....

Red blouse
Amazing! Perfect fit! New favorite in my wardrobe! Looks amazing with the belt I got.

Trixie Doll Dress
This dress is so glamorous! I feel amazing in it! Perfect for formal occasions, looks best with some pearls.

tights
Also amazing quality, but buy multiple pairs because you never know if they'll snag or tear, especially if you're wearing them out someplace.

belt
Perfect accessory for any outfit! I'm planning to buy more in other colors.

Petticoat
Excellent quality! It's so big!! The picture doesn't do it justice, it's massive. If you're looking for a slight poof, this isn't for you. It's also a little longer than most skirts, but nothing that can't be fixe by rolling it up a bit and tailoring.
Dear Sydney, I'm so happy to read your amazing review, I bet the items look great on you ;-) However, I'm sorry to read there are some problems with 2 of the items. I will e-mail you right away so we can look into it together! 
Kind regards,
Nicole
Customer service
Sydney Grigorakakis
&nbsp|&nbsp
2018-02-21 21:16:54
---
Passt zu vielen Kleidern. Sehr schön und kleidend... Ich bin sehr zufrieden, dass ich "euch" entdeckt habe!
Simone
&nbsp|&nbsp
2017-12-18 22:58:41
---
fr
Porté une seule soirée et déjà troué! :'(
super contente d'avoir pu les enfiler et dès la fin de soirée, un gros trou au niveau du haut des cuisses et du bas des fesses, trop triste d'être toujours déçue des nylons :'(
Bonjour Cordy,
Je suis désolée que les nylons sont déjà troué! Je vous contacterai aujourd'hui pour trouver une solution!
Cordialement,
Nicole
Service clientèle
cordy
&nbsp|&nbsp
2017-07-03 09:53:45
---
Net mijn bestelling binnen gekregen.
Het is echt een geweldig kadootje voor mezelf om uit te pakken. Ook Angelique en haar Team nog extra kadootje erbij hebben gedaan.

De broek zit heerlijk en voelt soepel aan. Ik draag liever de shirtjes erover, het gestreepte shirtje is heerlijk zacht en schijnt niet door ook mooi met het vestje erover voor de kou. Geweldige combi samen.
Het jurkje heeft een diepe decolleté moet er klein beetje aan wennen omdat ik eigenlijk nooit zo iets draag maar met een mooie panty ben je wel helemaal klaar voor het vavavoom moment.

Bedankt voor de snelle service en tot de volgende bestelling!
Rosa
&nbsp|&nbsp
2017-03-04 11:59:29
---
tous ces articles ont déjà été "notés" de ma part...
je peux ajouter que je ne suis jamais déçue ... je regarde déjà quelles seront mes prochaines commandes.
DENIS
&nbsp|&nbsp
2016-09-27 14:32:30
---
tous ces articles sont d'une qualité irréprochable ...
j'attends l'automne avec impatience pour pouvoir les porte.
DENIS
&nbsp|&nbsp
2016-09-05 14:42:13
---
Danke Leibes TopVintage-Team.

Es ist ein sehr schönes Kleid, ideal für den Übergang von Sommer/Herbst und Herbst/Winter .
Ich habe es an Weihnachten getragen und es schaute einfach hinreißend aus.
Später habe ich mir noch ein Petticoat gekauft und auf dem nächsten Geburtstag war ich in dem Kleid der Hingucker :-) :-) :-) .

Danke für dieses wunder schöne Kleid und danke für die hilfreiche Größentabelle, dadurch passt das Kleid, als wäre es für mich gemacht worden.
Danke :-)
Yvonne
&nbsp|&nbsp
2016-03-07 09:55:23
---
Livraison en avance !!! Le service client adorable, qui a de très bon conseils!
Le packaging magnifique, bien emballé, il sent bon et en plus une petite surprise chocolaté !!! J adooore! Quand aux produits que du bonheur ! Merci !
Karine Riondet
&nbsp|&nbsp
2018-12-22 10:20:59
---
Habe extra die teuerste Strumpfhose bestellt um gute Qualität zu bekommen.
Leider ist die Hose rauh und riecht nach Chemie. Das Maschenbild ist unregelmäßig, sieht
wie schonmal "getragen" aus. Sehr schade.
Liebe Desiree, wir können uns sehr gut vorstellen dass Sie enttäuscht sind über die Qualität der Strumpfhose. Bitte entschuldigen Sie uns dafür! Sie können Sich darauf verlassen dass wir Ihr Anliegen nach Zufriedenheit klären werden.
Liebe Grüße,
Sylvia
Kundenservice
Desiree Becher
&nbsp|&nbsp
2018-11-24 15:41:57
---