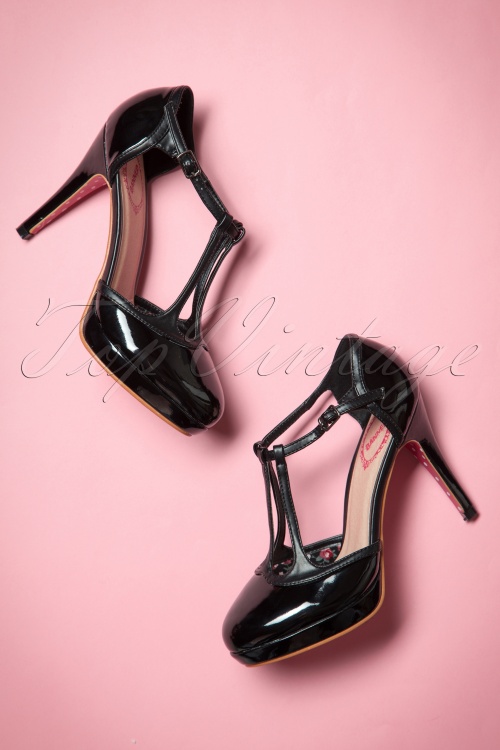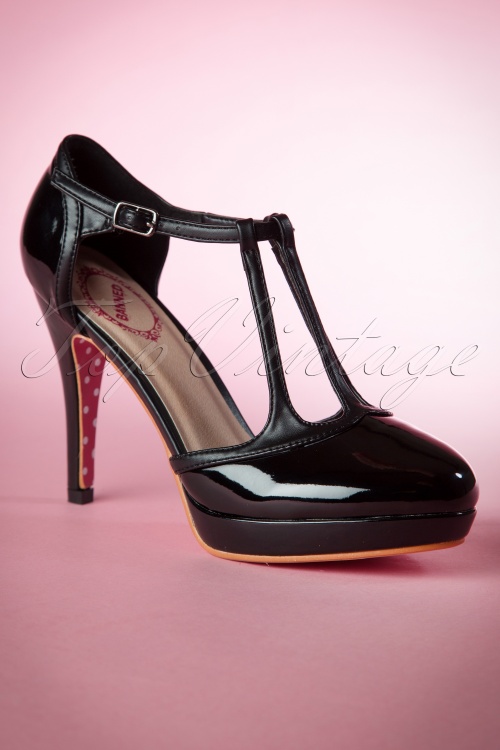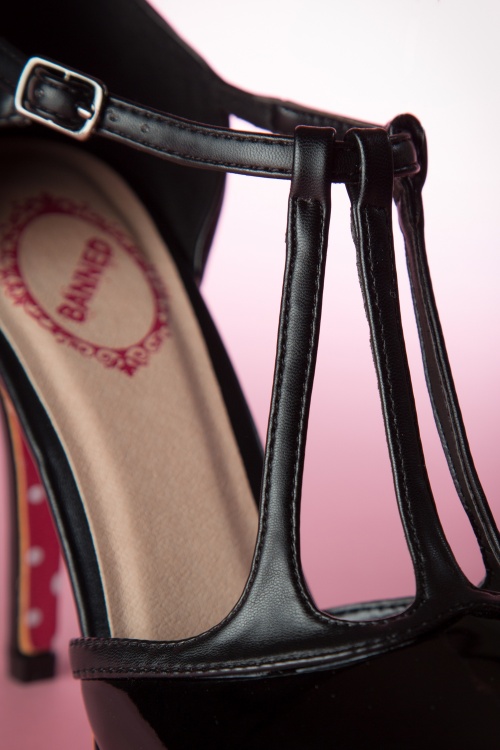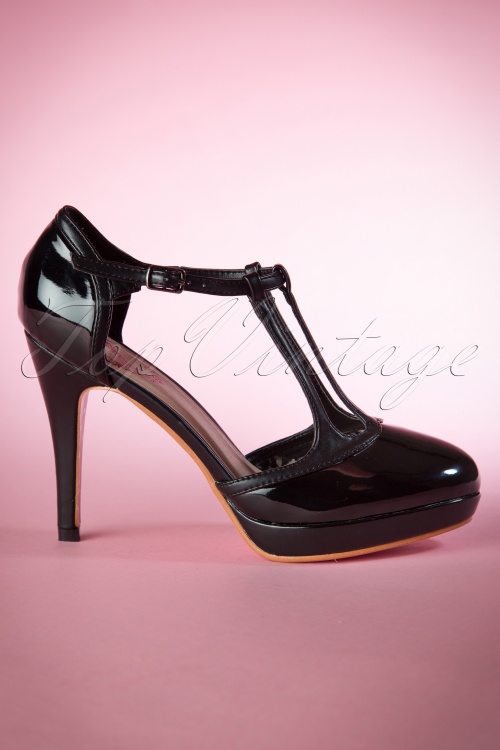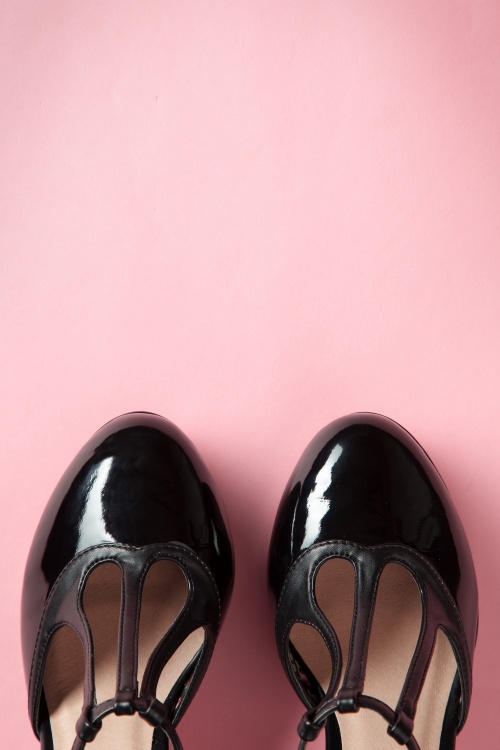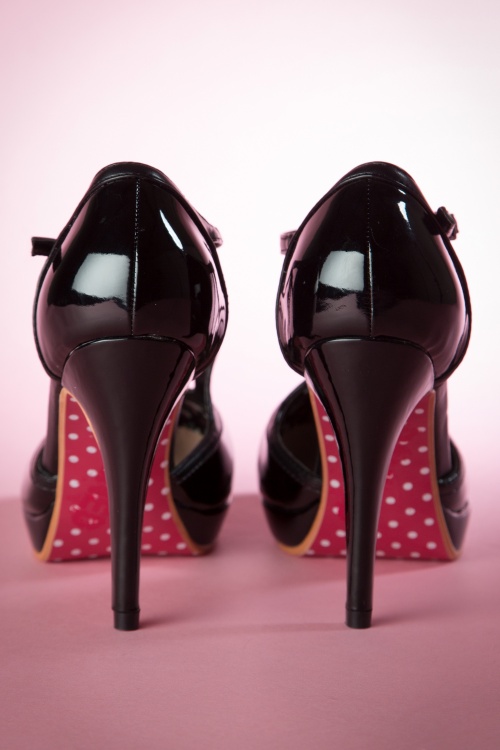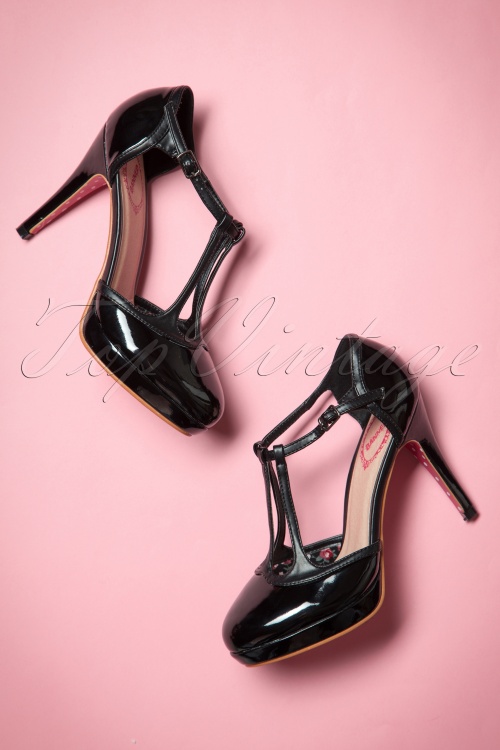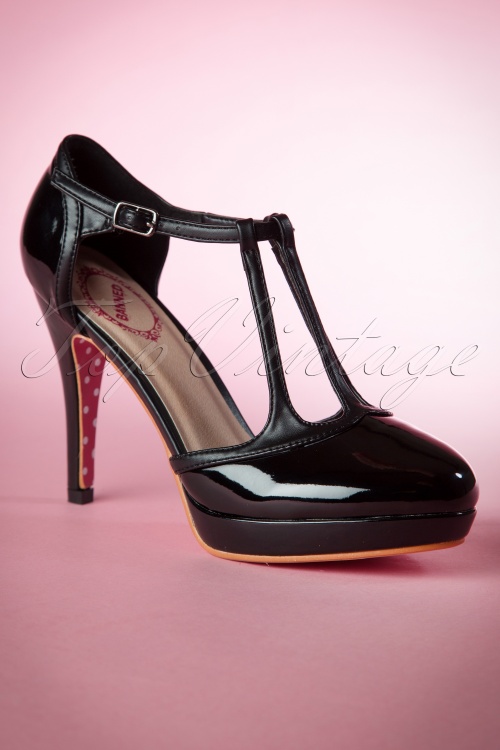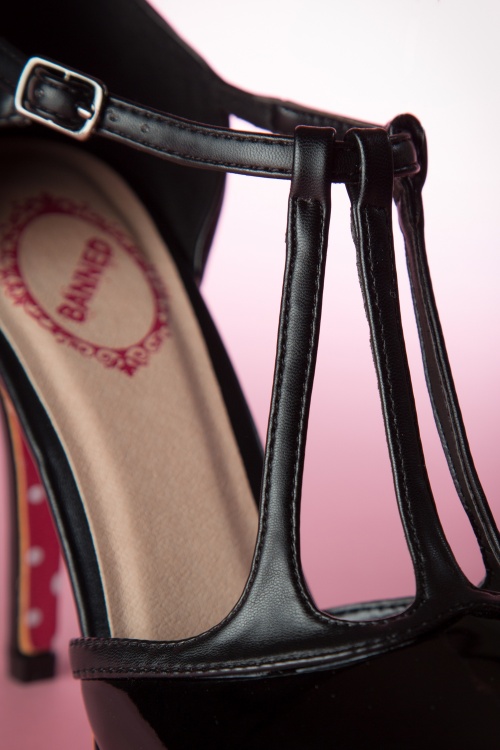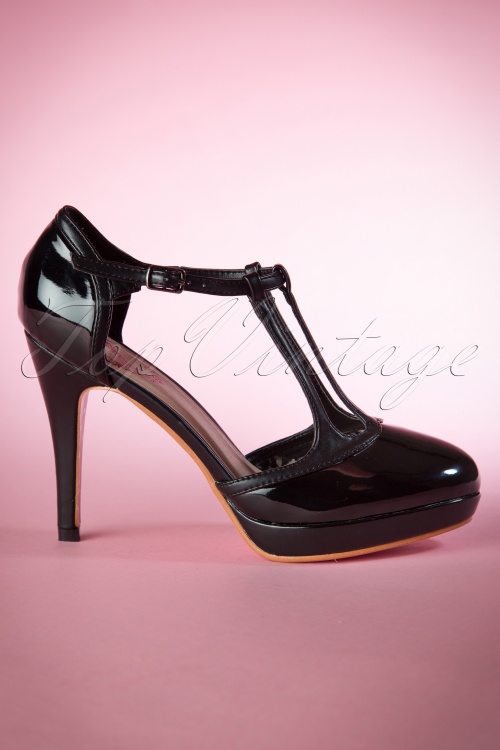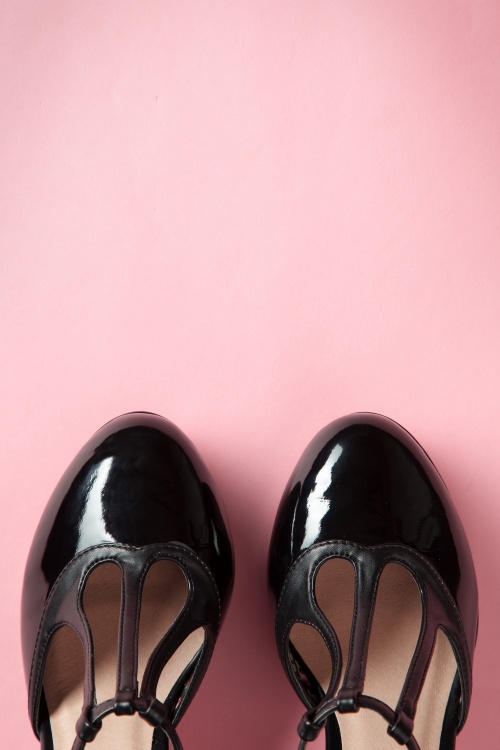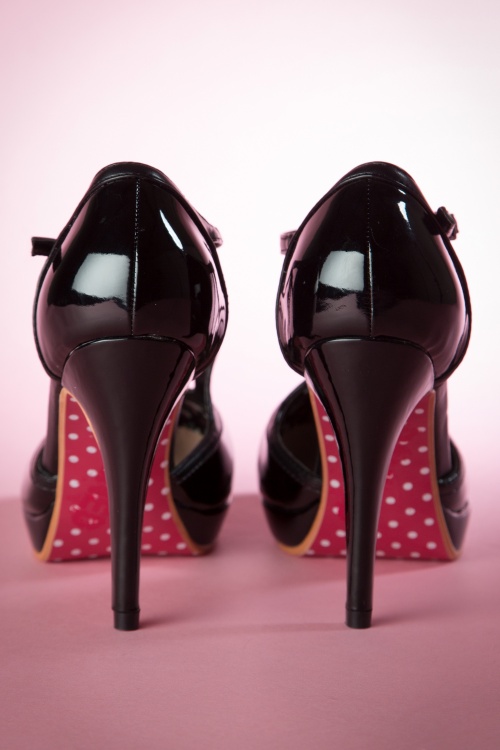 How do you spell va-va-voom? These gorgeous 50s Betty Pumps in Black are the ultimate pin-up pumps! Banned did it again... It's simply impossible to resist these beauties. They add plenty of sass to your look thanks to the classy black lacquer, the trims, the adjustable ankle strap with a characteristic vintage-style T-strap and the platform that makes them feel less high than they seem. If you could frame them you would. And when you put them on, take a moment to enjoy the super comfy footbed. We bet you are just one click away from making them yours! ;-)
Adjustable T-strap
High heel 
Comfortable insole
Platform
Non-skid outsole
Article nr.
15140
Vegan leather
Patent
Synthetic sole
Avoid contact with water/parfum/cleaning agent
nl
Comfortabel voor zon hoge hak
Voor zulke hoge hakken zijn ze echt supercomfortabel. Het stiksel vind ik alleen niet zo heel netjes erop zitten.

Beste Suzanne, wat fijn dat de pumps je qua pasvorm zo goed bevallen! Ik zal vandaag nog contact met je opnemen in verband met het stiksel wat niet netjes is verwerkt! Onze excuses hiervoor!

Groetjes,
Mandy
Klantenservice
Suzanne
&nbsp|&nbsp
2015-08-12 22:00:33
---
In love with these shoes!! Zitten prachtig en lopen heerlijk. Een aanwinst voor mijn collectie!
Diane
&nbsp|&nbsp
2015-08-11 13:11:24
---
Dit geweldige setje op elkaar afgestemd, heerlijke stoffen, broek moet ik iets laten innemen. Eerste keer zo'n hoge taille broek, maar ik ben verkocht
Ingrid
&nbsp|&nbsp
2015-08-02 08:03:21
---
Helemaal vereerd door het mooi ingepakte pakket.
Leuk presentje en mijn bestelde jurk prachtig ingepakt.
De schoenen zaten in een prachtige doos en ik ben ècht super verliefd.
Omdat ik nu wat dikke voeten heb van heel de dag werken wacht ik nog met passen en bekijk ik het op mijn gemak of ik ze wil behouden. Zal niet aan het uiterlijk van de schoen liggen, want die is verpletterend
Joanita
&nbsp|&nbsp
2015-07-23 17:39:28
---
Net thuis gekomen en mijn pakje uitgepakt. Wat een cadeautje alleen al om het open te maken. Je voelt je al gelijk speciaal. Leuke tekst op de doos, leuk presentje èn prachtig ingepakt..alleen daar wordt je al verliefd op. Dan de jurk...ècht wauw...ik ben zo verliefd, prachtige pasvorm, mooie kleur zoals op de foto's. Ben zeer tevreden staat prachtig bij mijn lange rode haar.
Toen de schoenen uitgepakt die in een prachtige doos verpakt zitten.
Ook wèèr in èèn woord wauw!
Ik heb nog zat op mijn wishlist staan en die artikelen komen er op zeker
Joanita
&nbsp|&nbsp
2015-07-23 17:10:23
---
Alles passt sehr gut , schnelle Lieferung. Ich bin begeistert.
Nicole Künzel
&nbsp|&nbsp
2019-01-09 21:42:10
---
Heel blij met deze rok. Zacht en mooi strak. Samen met de schoenen een sexy uitstraling. De jurk viel tegen, met name de pasvorm.
beppie remmits
&nbsp|&nbsp
2018-12-12 18:25:52
---
Pasvorm, materiaal perfect, levering snel
marije zwaard
&nbsp|&nbsp
2018-11-24 06:06:47
---
Al maanden zocht ik naar dé outfit voor de bruiloft van mijn schoonzus. En ik was behoorlijk kieskeurig, ik wilde een pencil dress, niet te sexy, niet te dunne stof, met mouwtjes, niet te kort rokje, maar het moest wel bij me passen, dus een felle kleur; ik ben geen type voor een brave jurk. En ik wilde high heels waar ik gewoon op kan lopen ;) ook niet onbelangrijk. Deze combinatie is fantastisch! De jurk is WAUW, de schoenen sluiten daar perfect bij aan! De schoenen zijn wel voor vrij smalle voeten, maar lopen voor high heels zeker niet verkeerd. De stof vd jurk is vrij dik, dat maakt het vrij warm maar kwalitatief erg goed. Fijn dat het mijn figuur flatteert, na 4 zwangerschappen werkt mijn huid niet altijd even goed meer mee.
Daisy Pieters
&nbsp|&nbsp
2018-07-24 11:09:32
---
Wie alle Schuhe der Marke Banned, war auch dieses Paar ein absoluter Volltreffer. Sie vereinen Sexappeal mit dem Komfort eines Hausschuhs.
Vanessa Förschler
&nbsp|&nbsp
2018-07-12 18:41:01
---
Prachtige schoenen, passen perfect. Enorm snel geleverd. En voor mijn verjaardag zat er nog een klein extraatje in. Bedankt!
Jily Piessens
&nbsp|&nbsp
2018-05-18 13:30:48
---
de
Ich bin total begeistert
Ich habe zum zweiten Mal bei TopVintage bestellt und bin begeistert. Begonnen hat es mit ein paar wunderbaren Tanzschuhen. Die süßen Tanzschuhe passen perfekt und auf Partys kann man diese ewig tragen. Diesmal habe ich zwei Oberteile und einen Pencil Skirt gekauft. Ich kaufe online nie Kleidung, da sie nie wirklich passen oder so auschauen wie auf den Bildern. Da ich ein Bäuchlein habe ; ) nahm ich den lieben Rat an und bestellte alles in L anstatt in M. Das war gut so, denn sie passen perfekt. Der Rock könnte etwas enger sein, aber es soll ja schick aussehen und nicht wie rein gepresst. Auch ich zog alles an und wollte gleich ausgehen. Das Material überzeugt mich, da gibt man doch lieber ein paar Euro mehr aus. Die schnelle Lieferung, die so liebevoll eingepackt wird, ist auch perfekt. Danke, Danke Danke.
Diana
&nbsp|&nbsp
2018-02-20 06:32:21
---
Wat een leuke schoenen, passen echt overal bij!
Bovendien lopen ze HEEL gemakkelijk, als pantoffels bijna :)
Nina Bentein
&nbsp|&nbsp
2017-10-23 12:58:56
---
...fühlt man sich in den Schuhen wie in Pantoffeln
Wika
&nbsp|&nbsp
2017-04-23 00:41:05
---
Die Schuhe sind, trotzt der Höhe (Plateau schon abgezogen)sehr bequem. Auch die Größe passt. Allerdings sollte man was von innen an den Randabschluss kleben, denn barfuß reibt es leider etwas an den Seiten, aber kein Grund, die wieder her zu geben.
Anja
&nbsp|&nbsp
2017-02-02 07:23:30
---
Topvintage heeft mijn hart gestolen!
Volgens mij zijn bijna alle jurkjes in mijn kast van jullie afkomstig.

maar de topper is toch wel de rode polkadotjurk. Wat een(polkat) dotje! Zo blij mee, dat ik direct maar een extra jurk heb besteld want ik ga ze helemaal afdragen. Trouwens, ik kort ze altijd een cm of 5 in vanwege mij iemini benen. Maar dat zitten ze perfect.

En de groene jurk zit als een droom! Krijg zoveel complimentjes als ik hem aan heb, vooral in combinatie met de zwarte pumps.

De mint groene jurk stond mij helaas niet zo mooi. Ik denk vanwege de kleur. Maar het model was heel flatteus dus daar lag het zeker niet aan.
Inge
&nbsp|&nbsp
2016-12-21 08:57:10
---
Ich habe das 1. Mal bei TopVintage bestelltund bin total begeistert. Schnelle Lieferung und die kleine Überraschung einfach nur toll. Schuhe und Strümpfe super
Sylvia
&nbsp|&nbsp
2016-12-06 14:57:43
---
d'un confort absolu ... merveilleusement bien finies ... je les adore
DENIS
&nbsp|&nbsp
2016-09-05 14:53:44
---
D'un confort irréprochable. on se croirait dans des chaussons.
DENIS
&nbsp|&nbsp
2016-09-05 14:38:49
---
Well the first time I been think looot about to this bag to my special day of wedding or not because I thought perhaps it's could too big. But it's perfectly small accurate look and luxury look. Happy I got it!
Diana
&nbsp|&nbsp
2016-07-22 13:39:11
---
This glasses really can complete any look! I luv it!
Diana
&nbsp|&nbsp
2016-07-22 13:35:55
---
nl
Prachtige schoenen en ze dragen heerlijk!
Ik heb best lastige voeten en draag hierdoor altijd Gabor schoenen i.v.m. pasvorm etc. Na veel tobben heb ik deze schoenen alsnog besteld om naar een feest te gaan. En wat blijkt....heel de avond heerlijk gedanst tot diep middernacht. Heel veel complimenten gehad zowel mijn rode jurk die ik aanhad en mijn schoenen. Ik heb absoluut geen spijt en ben zeer tevreden met alles wat ik tot nu toe besteld heb. Ook zeer tevreden met mijn bestelling want alles wat ik besteld had kreeg ik de volgende dag al bezorgd. Het is een feest op ze uit te pakken, zeer keurig en goed ingepakt met een kleine attentie erbij. Topklasse!!
Aileen
&nbsp|&nbsp
2015-11-14 07:49:58
---
de
Banned - 50s Betty Pumps in Black
meine frau findet die schuhe spitze und die lieferung war sehr schnell !!!!
christian
&nbsp|&nbsp
2015-08-20 20:04:49
---
Wat een prachtige pumps,

Ze zitten heel comfortabel het moment dat je de pumps al aan doet.

Kan hier wel een hele dag op lopen,

Ze zien er ook nog eens prachtig uit
Hilja
&nbsp|&nbsp
2021-05-27 09:27:43
---
Normaal altijd schoenmaat 39
Heb hier ook nog nooit problemen gehad.
Maar ik heb een klein beetje plat voeten.
Ik heb zeker geen dikke voeten maar hier spanden de schoennen toch aan de zijkanten van mijn voet.

Heb deze dus ook retour gestuurd en een maat groter gevraagd ;)
Noëmie
&nbsp|&nbsp
2020-08-22 13:43:17
---
Ik had het blousje en schoenen bij een zwarte kokerrok gekocht en het staat super.

Het blousje schijnt flink door dus huidskleurige onderkleding is wel zo handig. Tis een dun, fijn stofje en de mouwtjes zijn heel lief. Ondanks de juiste maat wil het bij de borst een tikkeltje openpiepen, maar dankzij het strikje zie je dat niet.

Ik was bang dat de schoenen te smal zouden zijn, maar ze zijn nèt niet te smal, hoera! Loopt als een tierelier, ziet er supervrouwelijk en toch stoer uit, top!
Manol van Schaik
&nbsp|&nbsp
2020-03-10 17:15:26
---
Prachtige schoenen staan echt heel mooi!
Wel erg hoog... zijn mooie zit schoenen niet om hele dag op te lopen Wel erg hoog... zijn mooie zit schoenen niet om hele dag op te lopen
Miranda
&nbsp|&nbsp
2020-02-23 18:57:52
---
Ce matin j'en tend la factrice qui me crie qu'elle a un colis pour moi, je me dit, non pas déjà le colis Top vintage, et bien si !!, je laisse tomber tout ce que j'étais entrain de faire et me jette sur mon colis pour l'ouvrir, et la... Whaaaaa papier de soie, petite poche pour les chaussures, emballage au top, et je découvre ma commande... La robe une qualité au top le tissu agréable, j'essaie tout, très vite, tellement que je n'arrivais pas à l'enfiler, j'allais vraiment trop vite. Ça y est c'est enfilé et c'est juste parfait, belle coupe, taille parfaite, chaussure hyper confortable... J'adore tout simplement... J'ai trouvé MON SITE de vêtements.. merci beaucoup !!
Karine
Karine Valencia
&nbsp|&nbsp
2019-10-26 10:09:31
---
Hele elegante schoentjes, dat miste ik eindelijk nog een dichte pump voor bij al mijn swing jurkjes en bij mijn prachtige Top Vintage winterjas. Ga zeker nog pumps in een andere kleur bestellen.
Deze lopen heerlijk hak hoogte is prima.
Marit Alma
&nbsp|&nbsp
2019-09-27 19:53:08
---
De ideale mix!
Een schoen waarmee je makkelijk "kilometers" maakt en er ondertussen onwijs sexy uitziet.
De maatvoering klopt
Carmen
&nbsp|&nbsp
2019-07-10 22:05:25
---
I love this shoes!They are so beautiful.It looks very comfortable.Usually my number is 38,and this 38 feets.Delivery was fast,but shipping costs to Croatia are to expensive.
Gift is very cute,thank you!
Good cooperation,fast delivery,amazing shoes.FIVE STARS!:-D
Sandra Plecas
&nbsp|&nbsp
2019-03-22 13:40:04
---
de
Etwas anders als auf dem Foto
Die Sohle des Schuhs hat eine andere Farbe als auf dem Foto im Laden. Anstelle von roten Punkten habe ich etwas dunkelrosa bekommen??‍♀️
Außerdem passt die Größe perfekt 42-Fuß-Länge beträgt etwa 27 cm. Ich habe schon die nächsten Dinge im Laden gesichtet, die ich haben muss. Ich empfehle
Malgorzata
&nbsp|&nbsp
2022-03-11 13:12:37
---
de
Kann mich nicht entscheiden
Was will ich jetzt?
Will ich Regenwetter um diesen wunderschönen Schirm zu tragen oder will ich angenehme Temperaturen für diese traumhaft bequemen Pumps?
Ich bin ratlos, denn am liebsten will ich diese Teile immerzu!
Josephine Wagner
&nbsp|&nbsp
2022-01-20 21:20:58
---