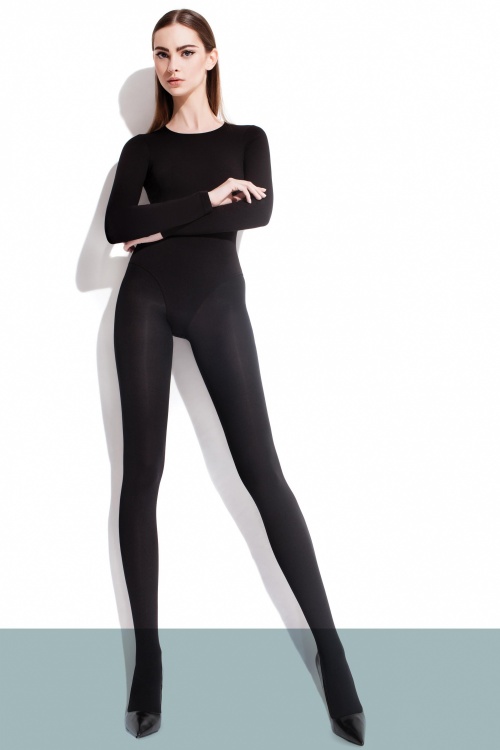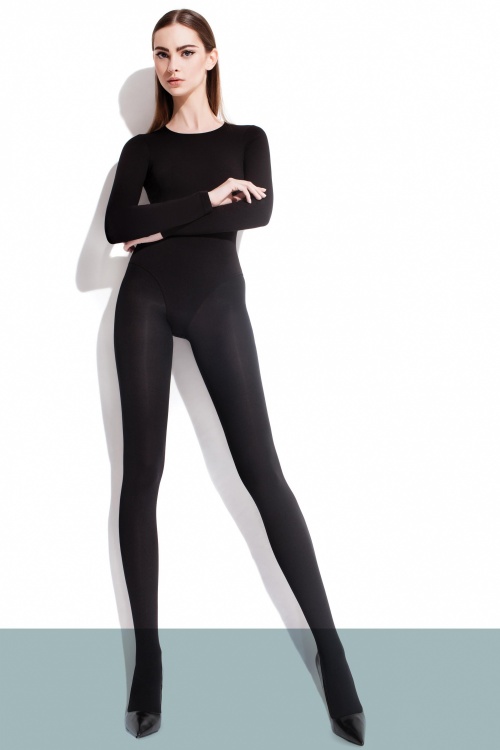 Olga Classic Tights in Black
These Olga Classic Tights in Black by Fiorella are the ultimate black tights to go with that beautiful dress. Forget about ribbons, back seams and faux suspenders... These classic black 100 denier tights have a flattering matte finish and do exactly what they are supposed to do; show off your legs as elegantly as possible! Finished with a reinforced foot and gusset for a comfy fit. Whether you go for an everyday look, a business look or a chic evening look; these tights are always the perfect choice! ;-)
100 denier
Reinforced foot and gusset 
The featured shoes and body stocking are not available in our shop
Article nr.
17454
86% Polyamid
14% Elastane
OEKO-TEX® Certificate We are happy to inform that our tights have obtained an OEKO-TEX® Standard 100 Certificate. The cerificate guarantees that the tights are free from any potentially harmful substances.
Handwash cold (don't leave it in the water)
Do not tumble dry
Weeral twee topjes besteld en alle twee van goede kwaliteit en mooi.
Kousen blikdichte en KL met pindots, laat de winter maar komen.
Ketting voor mijn nichtje als presentje en wat blijkt dochtertje van bijna twee heeft ze zich toe- geeigend.
greet
&nbsp|&nbsp
2016-08-23 12:13:25
---
Jurkje zit als het voor mij gemaakt is. Prima kwaliteit voor die prijs en de panty's zijn ook voor de prijs een aanrader.
Jacobien
&nbsp|&nbsp
2016-02-05 16:38:58
---
Schöne Strumpfhose
mel
&nbsp|&nbsp
2015-12-08 20:13:16
---
Was für ein schöner Rock,ein hingucker! Danke.
mel
&nbsp|&nbsp
2015-12-06 19:27:12
---
Had ik al gezegd dat ik mijn panty's nu alleen maar bij Topvintage haal?
Ze hebben voor mij een goede pasvorm en lengte en mooi materiaal. Ook gaan ze langer mee ( goede investering).
Johannah!
&nbsp|&nbsp
2018-01-15 15:14:33
---
Mooie dikke panty van prima kwaliteit
Silvia Van Muijlwijk
&nbsp|&nbsp
2018-01-07 16:05:29
---
Lang hat es gedauert bis ich mal eine wirklich blickdichte Strumpfhose für kalte Wintertage gefunden hab! Gutes Teil :-)
A. Benecke
&nbsp|&nbsp
2018-01-03 20:13:32
---
Het rokje vind ik echt zo gaaf, mooie kleur groen en zit super! ( kleine vraag, er zitten vouwen in doordat hij opgevouwen aankwam, hoe krijg ik die eruit? Je mag niet strijken en mag alleen handwas en niet in droger. Weten jullie een oplossing)?)

De blouse is geweldig, zo fijn die knoopjes zo dicht op elkaar zodat je niet van die openingen krijgt en de pasvorm is heel vrouwelijk! Fijne stevige stof, waar pluisjes inderdaad wel makkelijk hechten, maar dat mag de pret niet drukken!

Fijne panty, mooi dik en lang genoeg voor mijn 1,80

Beste Silvia, onze excuses dat je de rok nog niet hebt kunnen dragen door de kreukels, natuurlijk is dit heel vervelend. Uiteraard zullen wij dit probleem voor je oplossen! Ik neem vandaag nog even contact met je op en ik weet zeker dat we hier samen uit zullen komen!

Groetjes,
Mandy
Klantenservice
Silvia Van Muijlwijk
&nbsp|&nbsp
2017-12-14 07:19:15
---
Ik ben dol op jullie panties. Ze zitten altijd goed en maken mooie benen nög mooier. Krijg er geen genoeg van
Johannah
&nbsp|&nbsp
2017-04-01 14:33:21
---
Wat kan ik over deze panties zeggen? Ze zijn geweldig. Ik heb er al zoveel van besteld, maar ik vind dat ik niet genoeg heb. Goede kwaliteit en pasvorm. Niet alleen onder de jurken, ook onder pantalons heerlijk warm, zeker als je met dit koude weer moet fietsen.
Johannah
&nbsp|&nbsp
2017-01-20 09:02:52
---
Mooie pantys, zitten goed en een goede dikte voor de winter.
Ben er erg blij mee ☺
Ellen
&nbsp|&nbsp
2017-01-17 21:51:32
---
La robe est jolie , bien taillee, mais la qualité n'est pas aussi bonne que mes précédent achat . l'ourlet est mal'fini , je suis très déçue ! Pour les collants , super qualité ! Le pantalon est juste bien ... Un peu long . mais j'ai l'habitude , je l'envoie a la couturière ! J'ai quand même cette mauvaise impression que la qualité de vos produits n'est plus la

Bonjour Murielle, je regrette vraiment que vous êtes decue de votre nouvelle robe! Je vous contacterai ce jour pour voir si je peux vous aider. Je vous présente nos excuses sincères pour l'inconvénient !

Cordialement,
Fleur
Service à la clientèle
DENIS
&nbsp|&nbsp
2017-01-06 16:05:41
---
Zoals steeds zijn dit weer prachtig goed zittende stukken, die passen zoals beschreven in de maattabel
Silke Huysmans
&nbsp|&nbsp
2020-01-31 14:57:54
---
de
Passte mir leider gar nicht.
Irgendwie hat es hier mit der Beschreibung der Maße und meinem Körper nicht so ganz geklappt. Also ging es leider zurück und habe den Preis auch erstattet bekommen.
Liebe Franzi, vielen dank für deine Bewertung trotz Rücksendung. Es freut uns dass Sie zufrieden sind über unser Service. Hoffentlich klappt es bei Ihre nächste Bestellung wieder von der Größe her :-) 
Liebe Grüße,
Sylvia
Kundenservice 
Franzi
&nbsp|&nbsp
2019-02-05 10:28:47
---