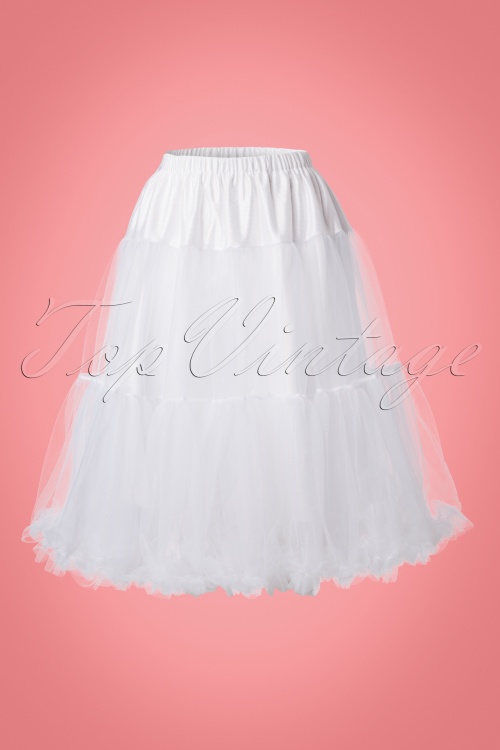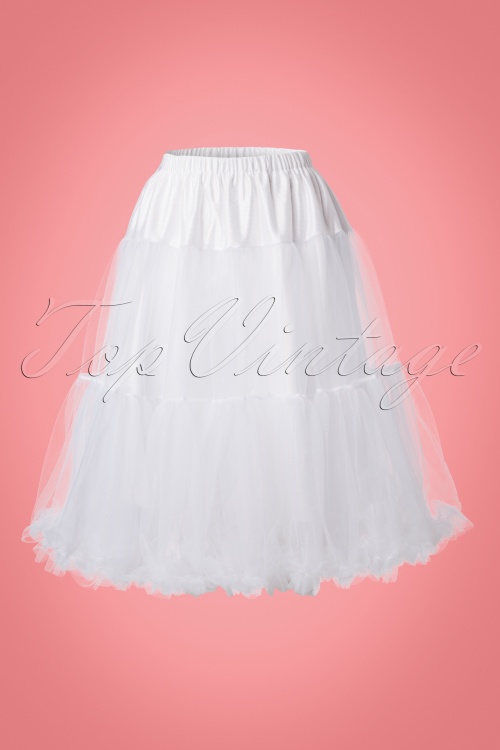 Woo-ha! Polly adds a touch of drama to all your swing dresses and skirts! This beauty consists of 2 layers: the bottom layer is made of a shiny fabric with the look of satin, while the dramatic top layer features two tiers of tulle, framed by playful ruching at the bottom to create that 'va-va-volume' effect! 
Can be worn with all our swing dresses and skirts
Elastic waist band
Article nr.
24119
Washing machine delicates / lingerie with in mesh laundry bag
Do not dry clean
Do not tumble dry
Iron inside out on low temperature setting
Ik had de blauwe versie al een tijdje geleden gekocht en was daar al zo blij mee. Deze rode is ook weer een pareltje. Ik kan beide rokken nu iets extras geven door de petticoat eronder te dragen.
Sabine van der Stadt
&nbsp|&nbsp
2019-07-16 15:56:41
---
Heel erg blij met deze petticoat ♡ eerder al 1 besteld, die helaas te poefie was. Op advies van Sylvia deze gekocht en super tevreden. Past heel fijn onder mijn jurken en rokken. De andere kleuren binnenkort ook maar bestellen.
De schoenen zitten heerlijk :)

Thanxx
Margot Schnieders
&nbsp|&nbsp
2019-04-30 17:17:04
---
Ik had deze rok al een tijdje op het oog. ZO blij dat ik besloten heb om hem te kopen. Was in eerste instantie bang dat ie vrij popperig zou zijn, roze is namelijk eigenlijk helemaal niet mijn kleur. Maar WAUW, wat is ie mooi! Ik ben 1.72 m lang en qua lengte komt de rok net over de knie, precies waar ik naar op zoek was. Ben ook super blij dat ik de petticoat erbij besteld hem. Lijkt het geheel net nog wat specialer.
Jolanda Witvoet
&nbsp|&nbsp
2019-03-28 18:07:10
---
Les articles sont de qualité et l'envoi est toujours très très bien soigné. On est toujours gâté quand on commande. En plus un service client rapide et franchement adorable. C'est tellement rare, restez comme ça !
Lucie Rouillé
&nbsp|&nbsp
2019-01-07 14:07:49
---
Ich bin einfach nur begeistert! Egal was ich bestelle, es sieht perfekt aus und vorallem gibt es kein Problem mit den Größen
Love Love Love❤️
Emmy Teichmann
&nbsp|&nbsp
2018-11-26 20:15:30
---
I ordered several dresses and decided to buy one petticoat to see the difference. Well ... Why did I wait sooo long! It brings really the dress and style to another level. Love it!
Stéphanie
&nbsp|&nbsp
2018-09-15 13:39:15
---
It is exactly as described and fits perfectly! Gives just the right amount of volume. The elastic isn't itchy, but it can get a bit tight after wearing it for several hours.
Elia
&nbsp|&nbsp
2018-08-17 13:55:20
---
Gisteravond besteld, zojuist alles gepast en bewonderd. Super mooie kwaliteit schoentjes en jurken. De witte jurk valt erg ruim voor mij. Met de petticoat kleed die wel beter af, maar ik zal hem toch retourneren. De perzik kleurige met kattenprint zit helemaal fantastisch. De flatjes zitten ook heerlijk en de pumps vind ik echt sjiek, heb vandaag gelijk ook de tas erbij besteld. Ik ga zeker vaker bestellen!
Renée Kolsteeg
&nbsp|&nbsp
2018-08-15 17:07:07
---
Ideaal voor het vintage-trouwfeest van nu zaterdag! Ik draag meestal uitsluitend zwart maar dit zag er zo mooi uit. Met de pettycoat is het helemaal af. En het past ook perfect dankzij de maattabel en tips.
Ook nog bedankt om de jurk te reserveren!
Tina Cuyt
&nbsp|&nbsp
2018-08-02 11:03:32
---
de
Schönes Kleid mit Petticoat für meine Tochter
Gestern bestellt. Heute da. Schön verpackt mit kleinem Geschenk. Top Service. Ich fürchte der Petticoat wird etwas zu gross sein, das Kleid sieht wunderbar aus, wahrscheinlich auch ein Tick zu groß, aber sie wird dadurch länger spaß dran haben.
Anne W.
&nbsp|&nbsp
2018-06-20 10:59:03
---
Dieses Kleid sitzt perfekt, das Material trägt sich super angenehm. In Verbindung mit dem Petticoat einfach ein Traum. Ich war sehr positiv überrascht von der Qualität und Verarbeitung.
Es war liebevoll verpackt, wurde super schnell geliefert und das kleine beigefügte Präsent war zauberhaft. Vielen Dank , gerne wieder ☺️

Issy
&nbsp|&nbsp
2018-05-14 18:39:34
---
Not only was the article just as described, and perfect for what I wanted, but the delivery and communication with the shop was friendly and on time :) The packaging was so thoughtful and with a really cute surprise in it!
Miriam Gerlach
&nbsp|&nbsp
2018-04-27 10:49:56
---
nl
geweldige outfit voor mijn jaren-70-feest!!
40 jaar getrouwd en dat vieren we met een party van toen!! Ik kom hiermee geweldig voor de dag!! Top topvintage!!!
Paulien Kruithof
&nbsp|&nbsp
2018-04-21 03:26:09
---
Voor de zekerheid 2 maten besteld. Maat S en M.
Volgens de tabel had ik een M nodig en eventueel zelfs een L. (voor de taille). Normaal kledingmaat 38. De jurk valt inderdaad ruimer. Bij maatje M zaten de bandjes van de schouders op mijn bovenarmen. Dus maat S zat goed. Goed telefonisch advies gekregen over de petticoat. Ze nam hier ruim de tijd voor en ik kreeg ook nog tips over de betaling. via Pay Pal . Ik heb voor de "dunnere "petticoat gekozen . Ben er heel blij mee. De jurk is netjes afgewerkt en jullie service is uitstekend. Complimenten.
MC Oosterbaan-Lockefeer
&nbsp|&nbsp
2018-03-28 12:42:53
---
de
Super schöne Sachen...
Man fällt auf mit der Kleidung, mit den Größen muss man ausprobieren die Maßtabelle ist zwar hilfreich könnte ein wenig verbessert werden. Aber sonst bin ich richtig zufrieden mit der Kleidung.


Karen Treder
&nbsp|&nbsp
2018-02-19 08:38:26
Response from Mandy

Hallo Karen, vielen Dank für Ihr Feedback! Wir sind neugierig wie wir die Größetabelle noch verbessern können und deswegen werden wir uns heute noch bei Ihnen melden! :-)

Liebe Grüße,
Mandy
Kundenservice
---
Der Winterrock ist etwas dunkler als abgebildet, dennoch gefällt mir die Farbe sehr gut! Das Futter ist schön weich und die XS passt perfekt um meine Taille.
Vom Petticoat bin ich ebenso begeistert. Ich werde ihn unter meinem Brautkleid tragen.

Vielen Dank an das TopVintage-Team ❤️
Sherli
&nbsp|&nbsp
2021-10-05 17:32:13
---
Geniet er telkens opnieuw van
Nancy
&nbsp|&nbsp
2021-09-22 18:27:58
---
Hele leuke jurk. Echt speels. In combi met de petticoat en het vestje is ie helemaal af. Niet stetchy, love the buttons!!!!! Heb wel de bandjes korter gemaakt, die gleden elke keer af.
Marielle
&nbsp|&nbsp
2021-08-05 10:20:06
---
de
Habe ihn nun auch in Weiß
Für meine hellen Kleider habe ich mir nun diesen Petticoat von Hell Bunny geholt und bin absolut zufrieden. Er gibt dem Kleid nochmal Fülle und Form ohne zu dick aufzutragen - genau, was ich wollte.
Verena
&nbsp|&nbsp
2021-07-24 19:54:20
---
nl
beautyfull and elegandt dress
I love this dress, with and without petticoat. the white petticoat makes it just a bit more chrismass but without it's amazing for any selebration
Camille
&nbsp|&nbsp
2020-11-13 12:20:23
---
Tartan-Rock: Tolles Muster, und passt super in Größe S (bei Konfektionsgröße 36).

Sweater: Wunderschöne Farbe, und die Schleifchen sind ein tolles Detail. Der Stoff ist nicht so dick, für den Herbst geht es. Angenehme Länge, so dass ich den Sweater auch zur Jeans tragen kann.

Habe für die Kombi schon viele Komplimente bekommen. Top.
Gaby
&nbsp|&nbsp
2020-09-09 14:38:22
---
Ein unerlässliches Stück in jedem Vintage Kleiderschrank. Beim anprobieren war er elektrisch aufgeladen und zog sich zusammen. Ich hoffe, dass sich das legt. Fühlt sich angenehm weich und federleicht an.
Susanne Hamann
&nbsp|&nbsp
2020-05-13 16:49:17
---
Dit is de eerste petticoat die ik bij jullie gekocht heb. Hij is echt heel mooi! De kwaliteit is goed en het wordt niet te warm met dit mooie weer. Helemaal blij!
Iris Terlaak
&nbsp|&nbsp
2020-04-08 18:23:31
---
Super blij met de jurken! Ze passen goed en de kleuren zijn in het echt net als op de foto. Heb getwijfeld over de pettycoat, maar onder de Polkadot jurk gaf het een geweldig effect! Kreeg op mijn verjaardagsfeest alleen maar complimenten.
Ilona Strumberger-Bakker
&nbsp|&nbsp
2020-03-08 20:22:28
---
J'ai d'autre jupons mais celui et super bouffant juste ce qu'il faut et il taille parfaitement.
J'adore
SANDRA GOT
&nbsp|&nbsp
2020-01-22 07:03:14
---
Ik had nog nooit een petticoat gekocht dus ik wist niet wat ik moest verwachten. Ik besloot ze in 3 verschillende prijsklassen te bestellen om te vergelijken. 2 verschillende van Bunny en de de duurste was van Banned Retro. De goedkoopste (Bunny 24,95) is subtiel en op zich prima, maar het is niet zo'n fijne stof, zegmaar duidelijk goedkoop. De wat duurdere (Bunny 37,95) is een stuk wijder uitstaand, heeft echt veel volume en is dus zeker een hogere prijs waard. Ik durfde het zelf niet aan omdat ik wel erg veel ruimte innam als ik hem aan had. Verder raakte hij af en toe een beetje in de knoop mer zichzelf, dus je moet er wel op blijven letten. Dan tenslotte de duurste, van Banned Retro (49,95), was echt geweldig. Hij heeft wat minder volume dan de vorige, maar zwiert wel veel mooier mee met je bewegingen. Hij is daardoor ook wat beter zichtbaar als je beweegt, wat ik zelf erg leuk vind! Hij is van heel zachte stof waar je gewoon mee wil knuffelen als je het voelt. Ik vond 50 euro voor een petticoat in eerste instantie erg veel geld, maar weet dat hij dat geld zeker waard is!
Ik hoop dat ik anderen die twijfelen over welke ze moeten kopen hiermee kan helpen!! En voor TopVintage, super dat jullie zo'n ruime keuze hebben in petticoats, zodat er voor ieder wat wils is.
Aliek Hasperhoven
&nbsp|&nbsp
2020-01-20 12:25:08
---
Wer nicht ganz so extrem viel Volumen will unterm kleid ist mit diesem petticoat perfekt bedient. Dennoch deutlicher Unterschied ob mit petticoat oder ohne.
Celine Dannenberg
&nbsp|&nbsp
2019-12-21 21:27:06
---
de
Schöner Schnitt aber kratzig auf der Haut
Petticoat muss leider zurück, weil er kratzt.
Dani
&nbsp|&nbsp
2019-10-27 18:02:06
---
nl
Opvallend, fleurig, vrolijk, vrouwelijk en mooi. Real vintage!
Gekocht voor op de bühne en ik krijg er veel positief commentaar op.
Jurk past bij de muziek uit vervlogen tijden.. Compleet in stijl!

Lilian Dentener
&nbsp|&nbsp
2019-10-10 16:07:35
---
nl
Nog nooit zoveel complimenten gehad
Ik heb nog nooit zoveel complimenten op kleding gehad en het voelde allemaal geweldig. Ik heb me nog nooit zo prettig gevoeld in een outfit en ik kreeg van mijn collega's te horen dat de zelfverzekerdheid van me af straalde.

De kleding paste prima. Er zat genoeg rek in het truitje dat mijn ietwat vollere bovenkant niet plat gedrukt werd terwijl het goed om mijn middel paste.

De rok zat goed en ik kon het niet laten om af en toe rond te draaien. De zakken zijn ook goed en stevig genoeg dat e mijn telefoon even in kwijt kan. Met de petticoat eronder gaf het een net iets dramatischer statement, plus het was wat warmer, wat wel fijn is als je voor zeven uur 's ochtends op de bus staat te wachten.

De schoenen zijn stevig. Ik ben benieuwd om te zien hoe ze het vol houden bij mijn loop hoeveelheid. Wees wel voorzichtig op gladde ondergrond. Ik maakte bijna een zwieper op het linoleum op werk.

Het tasje is klein genoeg om alleen de essentiele items in mee te nemen (geen overvolle Mary Poppins taferelen meer!) en groot genoeg dat ik kwijt kan wat ik echt nodig heb.
Brigitte Berends
&nbsp|&nbsp
2019-10-02 18:37:21
---
nl
Ik blijf maar rondjes draaien
Hele fijne petticoat. Het geeft je swingdress net dat beetje extra. De wasbak is ook handig hij past er perfect in. Je moet er alleen wel iedere keer een knoop in leggen, anders gaat hij open tijdens het wassen.
Anke van der Wielen
&nbsp|&nbsp
2019-09-21 19:06:42
---
fr
Très très belle robe et son élégant jupon
Coupe magnifique ❤️
Kathie
&nbsp|&nbsp
2022-06-17 20:12:26
---
Une robe très chic et élégante. On ne peut que se sentir belle dedans. J'ai hâte de la porter.
Laude
&nbsp|&nbsp
2022-05-20 09:21:59
---
Die Shirts und Röcke sind spitze .

Nina
&nbsp|&nbsp
2022-05-09 19:48:10
---
I just received this dress last week to wear to a wedding. The quality of the fabric and construction is amazingly high quality. EU sizes normally run small on me, so I ordered one size up rather than risk the dress being too small. I should have trusted the measurements provided, because the dress is indeed a little too big. Plus, there is a slight bit of give to the fabric, which is great. With some alterations it will be perfect. TopVintage did a great job with the size guide, so I will definitely trust it from now on! I can't wait to wear this dress -- it's a true classic that will never go out of style.
Susan
&nbsp|&nbsp
2022-04-22 22:42:10
---
Ich bin 100% zufrieden. Wunderschöne Kleider. Fühlen sich mega gut an und ich werde sie häufig tragen.
Lisa
&nbsp|&nbsp
2022-04-06 09:45:15
---
Na lang zoeken naar een betrouwbare winkel hier de jurk en petticoat besteld, en ik ben zeer tevreden! De petticoat had iets kleiner gemogen, maar verder hen ik heel blij. Kwalitatief ook zeker goed!
Sharon
&nbsp|&nbsp
2022-03-20 18:28:49
---
Totalement satisfaite par les articles qui sont très beau
Mélina Gobert
&nbsp|&nbsp
2022-03-07 17:09:35
---
Fijne petticoat, met ondoorzichtige onderjurk. De maat is goed, hij voelt ruim, maar zakt niet
Marjolein
&nbsp|&nbsp
2022-02-03 18:24:40
---
nl
Leuk om de jurken nog feestelijker te maken, mooi wit, elastische band. TOP
Leuk om de jurken nog feestelijker te maken, mooi wit, elastische band. TOP
Al erg dik, heb ook de slag dunner besteld, kan je wat eerder dragen denk ik.
Irma
&nbsp|&nbsp
2023-04-22 19:56:45
---
nl
past prima, leuke petrolgroene kleur,rokwijdte minder geschikt voor petticoat
superblij met het jurkje, want het past me prima! echter, de bijbestelde petticoat (heel bunnyzal ik er niet onder dragen, rok is niet wijd genoeg, de petticoat zit er 'strak' onder.


nelie
&nbsp|&nbsp
2022-06-22 07:42:36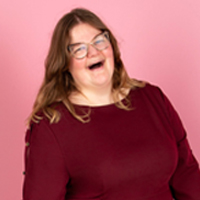 Response from Nicole

Beste Nelie, wat fijn dat je zo blij bent met deze mooie jurk! Het is inderdaad een semi-swing model; deze zijn over het algemeen iets minder geschikt om te combineren met petticoat dan een volwaardig swing model. Ik wens je heel veel draagplezier toe, de jurk staat je vast prachtig :-)

Groetjes,
Nicole
Klantenservice
---