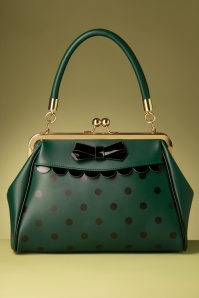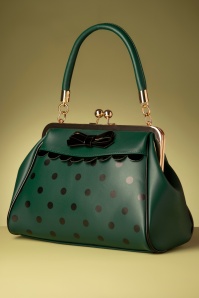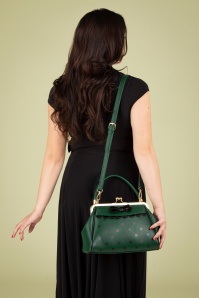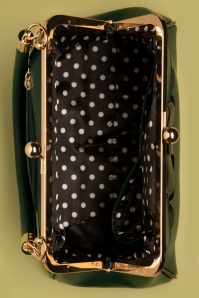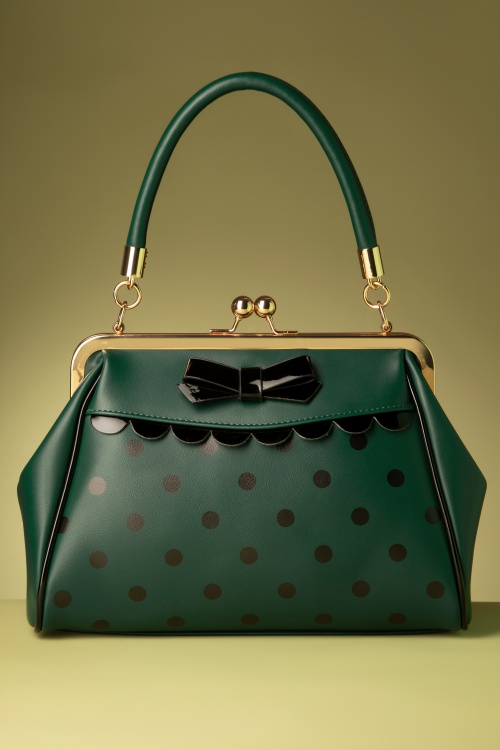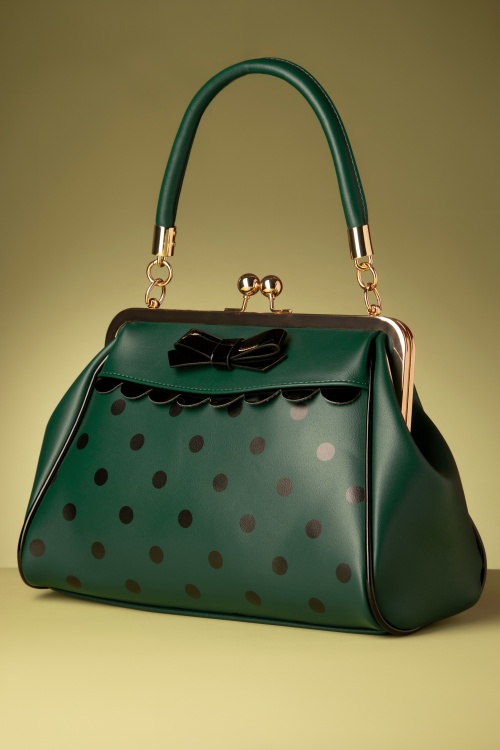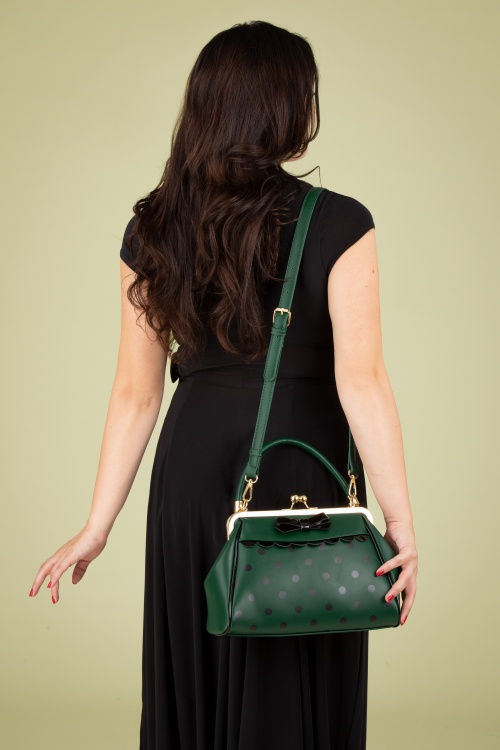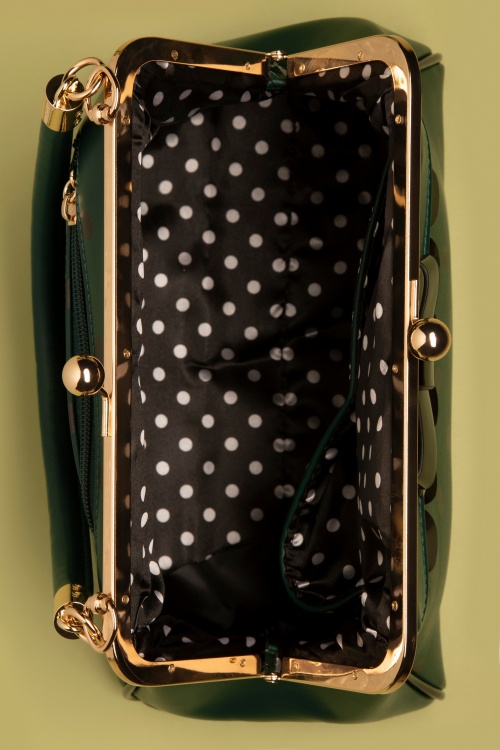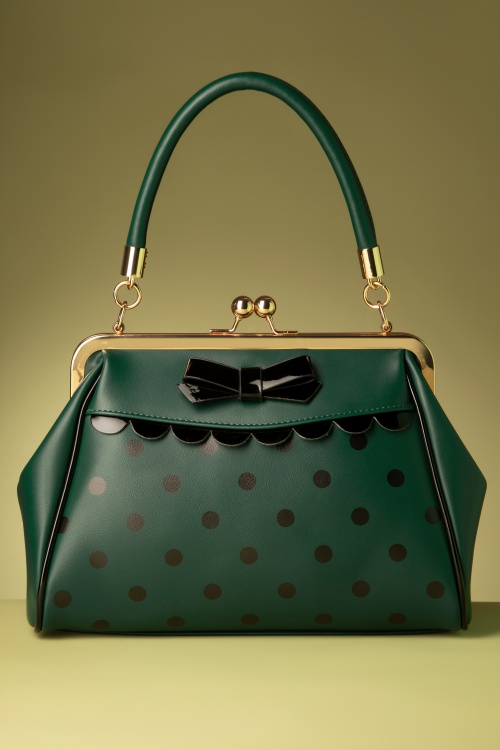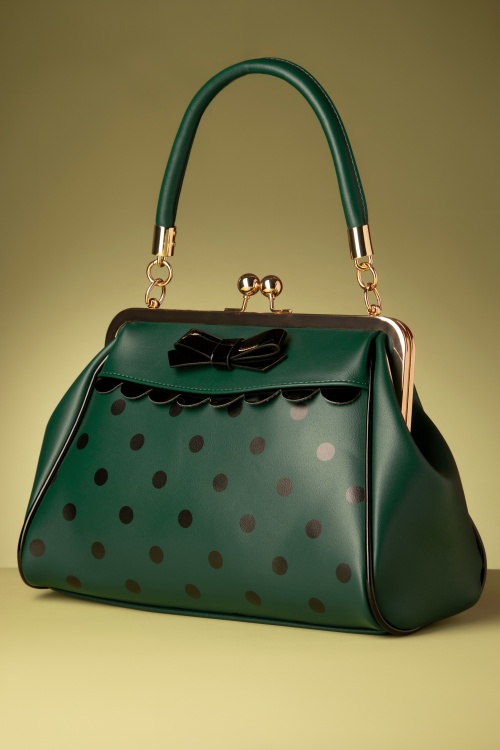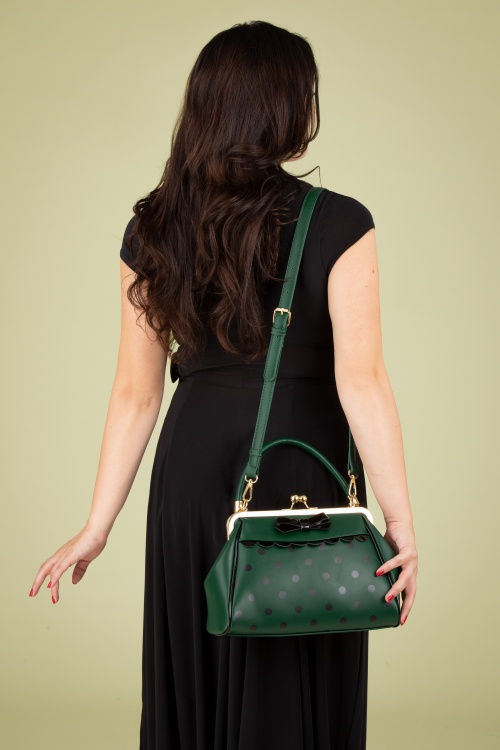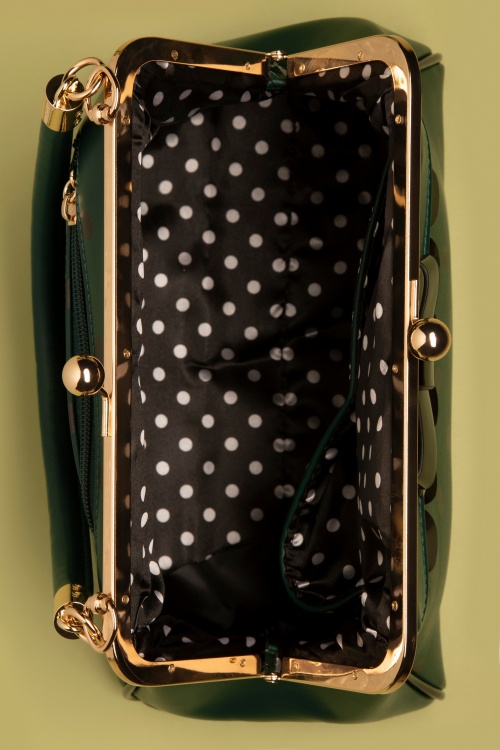 50s Crazy Little Thing Bag in Green
Cute, cuter, cutest... that's the best way to describe this 50s Crazy Little Thing Bag in Green! A true polkadot cutie! This handbag in green features a striking gold toned clip closure for an authentic vintage touch. Made of dark green faux leather with a stunning black polkadot print and finished off with a faux patent leather bow detail and scalloped trims. This cutie comes with an adjustable strap, so you can wear her over your shoulder as well. It fits most of your personal belongings, therefore we see no reason why you should NOT order this cutie right away. Just one click... and this vintage treasure can be yours ;-) 
Small sized
Clip closure
Compartment with 3 extra pockets, 1 with zipper
Detachable strap
Can be worn crossbody
Fully lined
Enough space for your phone, keys and a small make-up bag
Article nr.
22243
Height: 21 cm
Width: 30 cm
Depth: 8 cm
Strap: 60-115 cm
This bag is measured without handle.
Gold tone base metal
Vegan leather
Polyester Lining
Avoid contact with water/parfum/cleaning agent
wat een leuke tas! Ik word er weer helemaal blij van:)
Diana kramer
&nbsp|&nbsp
2017-09-24 10:40:53
---
Alles is weer top! Het past allemaal perfect. Heel duidelijke maattabel, als je deze volgt zit je goed. Snelle en correcte levering. Super webshop! Niets dan liefde
Annick Billion
&nbsp|&nbsp
2017-09-06 09:13:40
---
I treated myself to a new bag and wow what a treat it arrived today and to say its fab is a under statement even down the wrapping just fabulous thank you so much I would highly recommend top vintage
Sandra
&nbsp|&nbsp
2021-11-08 16:30:38
---
Eine süße Tasche
Annette
&nbsp|&nbsp
2020-11-18 16:21:03
---
Egal ob Kleid oder Acessoire- alles was ich in letzter Zeit bestellt habe war einfach wieder super toll und empfehlenswert!
Die Qualität ist einfach sichtbar und spürbar, ich freue mich jetzt schon auf wärmere Tage um das Kleid öfter auszuführen :D ..
Die Größenangabe passt übrigens auch perfekt
nina bode
&nbsp|&nbsp
2019-02-14 18:48:32
---
Die Tasche sieht toll aus und hat eine schöne Größe. Doch leider muss ich sie wohl ein paar Tage auslüften, da sie sehr nach Kunststoff riecht.


Jennifer Küllmar
&nbsp|&nbsp
2018-09-08 12:13:17
Response from Customer service

Hallo Jennifer, es tut uns sehr Leid dass die Tasche nach Kunststoff riecht. Falls der Geruch nicht raus geht nehmen wir die Tasche selbstverständlich zurück und sorgen dafür dass der Kaufbetrag schnellstens wieder auf Ihr Konto überwiesen wird. 

Liebe Grüße, 
Alexandra
Kundenservice
---
Deze tas stond al lang op mijn verlanglijstje, was uitverkocht!
Maar ineens was het er weer, niet na gedacht gelijk besteld.
En viel niet tegen
J
&nbsp|&nbsp
2018-01-05 23:10:17
---
nl
niet geschikt voor mij
Op zoek naar een goede corrigerende panty, maar deze is niet geschikt voor mij. Ik heb de normale maat besteld. Heb de panty een uur aan en is gewoon voor mijn lengte van 164 cm te lang. Hoopt zich op bij de enkels en mijn onderjurk kruipt omhoog door de gladde stof. Jammer, ik had hoge verwachtingen. Daarin tegen ben ik wel superblij met mijn tasje, corrigerende ondergoed en mijn jumpsuit. De laatst genoemde zit als gegoten....


Miranda Dunnewind
&nbsp|&nbsp
2017-12-20 09:05:24
Response from Customer service

Beste Miranda, wat jammer dat de panty niet helemaal naar wens is! Je zou kunnen proberen om de panty met een beetje wasverzachter in de wasmachine te wassen, dit gaat het plakken met de bovenkleding tegen. Hopelijk heb je er zo toch nog veel plezier mee!

Groetjes,
Auke
Klantenservice
---
Enorm blij met deze tas
Lucine Weij
&nbsp|&nbsp
2017-11-25 16:30:36
---
nl
2 prachtige setjes , 1 scheur
altijd weer een bijzonder moment voor jezelf als het pakketje binnenkomt.
het groene setje inclusief tas is een echte blikvanger ( vixen Tartan pencil skirt en Vixen top met prrrrrachtige tas). het zit als gegoten.
het Mademoiselle YeYe shirtje is een snoepje en staat prachtig op de Izzy pencil skirt van Banned ( die trouwens lekker warm is) alleen wat ik vreemd vond dat deze rok direct op de naad scheurde zonder dat deze te strak zit . gelukkig wel op de naad maar niet fijn als je op punt van uitgaan staat en je rok uit elkaar valt . was een minpuntje dus van Banned.
Linda Kardos
&nbsp|&nbsp
2017-10-31 15:46:07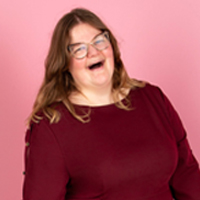 Response from Nicole

Beste Linda, wat fijn om te horen dat je tevreden bent over onze items, maar het is natuurlijk niet de bedoeling dat de naad scheurt. Onze excuses! Ik neem meteen contact met je op! 
Groetjes,
Nicole 
Klantenservice
---
Helemaal blij mee!:) hij is echt schattig..
Diana Kramer
&nbsp|&nbsp
2017-09-24 18:40:49
---
de
Super Kleidung, tolle Schuhe und tolle Tasche!!!
Liebes Team von TopVintage! Habe gestern mein Paket mit den Kleidungsstücken, sowie Schuhe und Tasche bekommen. Ich habe mich sehr gefreut, gute Qualität und es passt alles perfekt! Ich habe von euch auch noch eine Einladung zur Bewertung auf Trustpilot bekommen. Da ich mich aber dort nicht registrieren möchte, bitte ich, dass ich meine Bewertung wo anders abgeben kann. Recht herzlichen Dank! Elke Schippany
Elke Schippany
&nbsp|&nbsp
2022-01-11 07:19:36
---