Styling
Vintage styling is made fun and easy
How is it possible that Elizabeth Taylor, Audrey Hepburn, Sofia Loren, Marilyn Monroe, Brigitte Bardot and all the other retro style icons looked fantastic every time a camera could catch them? They had stylists with years of experience in putting together the most beautiful looks.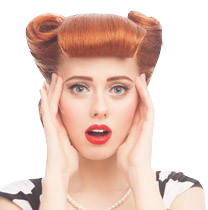 Unfortunately, there were no results! But... that doesn't mean we don't have what you're looking for. Our items often have the most fabulous foreign fantasy names, therefore we suggest to choose between one of our head menus above first, then filter on the left by category, colour, style, size and price.

If you are looking for something in particular and you still can't find it, please do not hesitate to ask: we're happy to assist you!