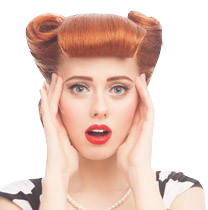 Sorry, we couldn't find any results! But... that doesn't mean that we don't have what you're looking for. Our items often have fabulous, creative and mostly foreign names, therefore we suggest that you select a category from our main menu first and then narrow your search by using the different filters available at the top, like colour, style, brand, size and price.

If you are looking for something particular and you still can't find it, please don't hesitate to ask: we're happy to help, gorgeous! 
Collectif Loves Topvintage
Collectif Clothing, a brand that everyone knows and loves. Lovely colours, great quality and a perfect fit… Now also available in collaboration with Topvintage. Because we love Collectif Clothing and Collectif loves Topvintage! Of course, these eye-catchers are available exclusively at Collectif and Topvintage.