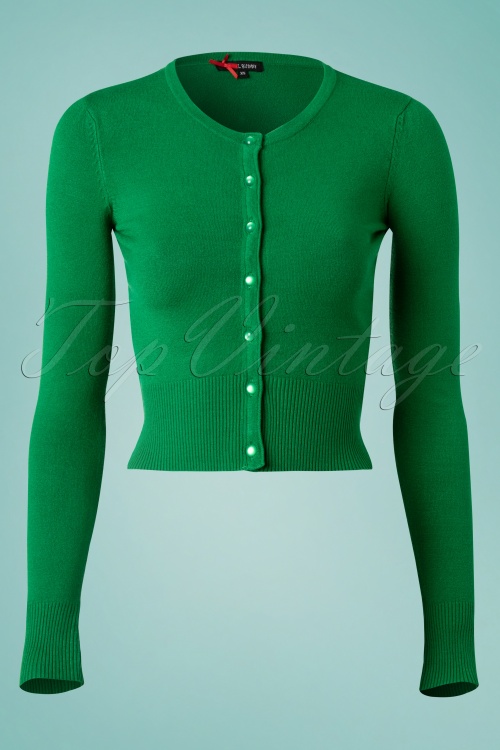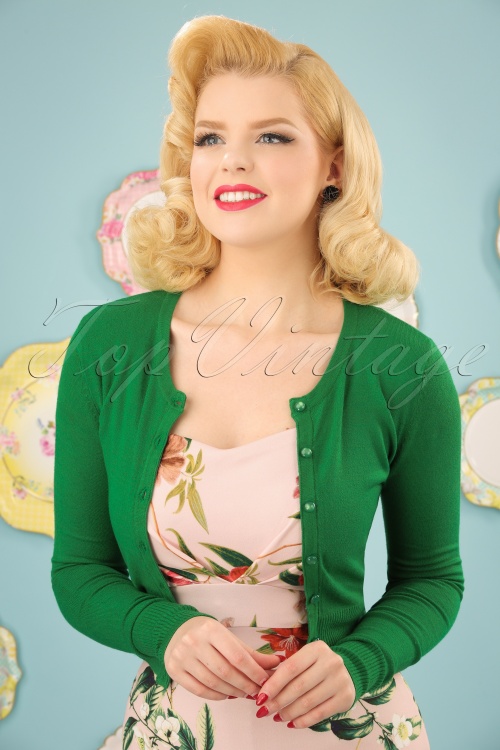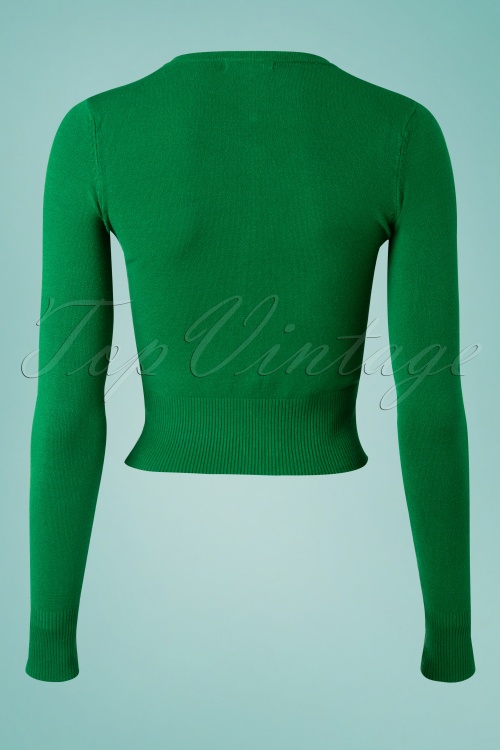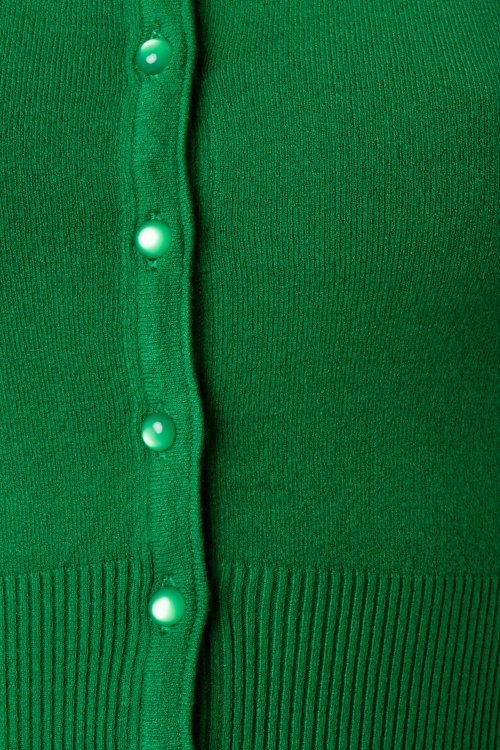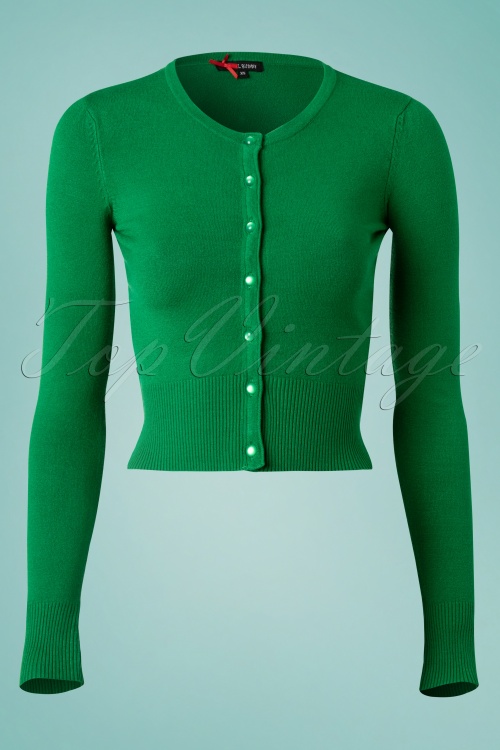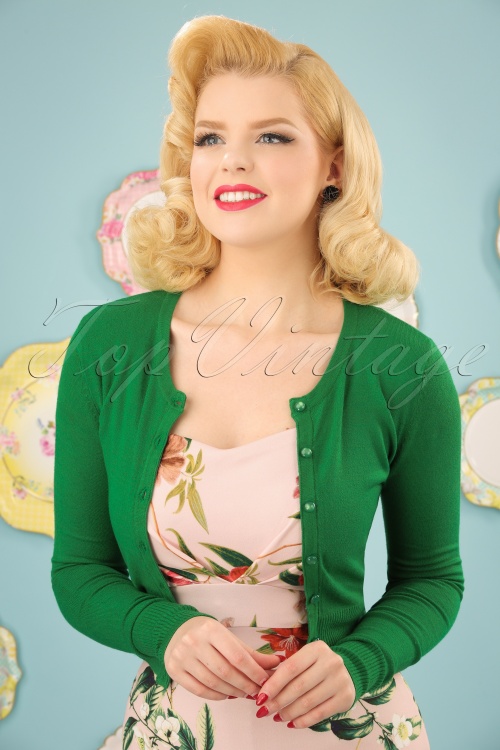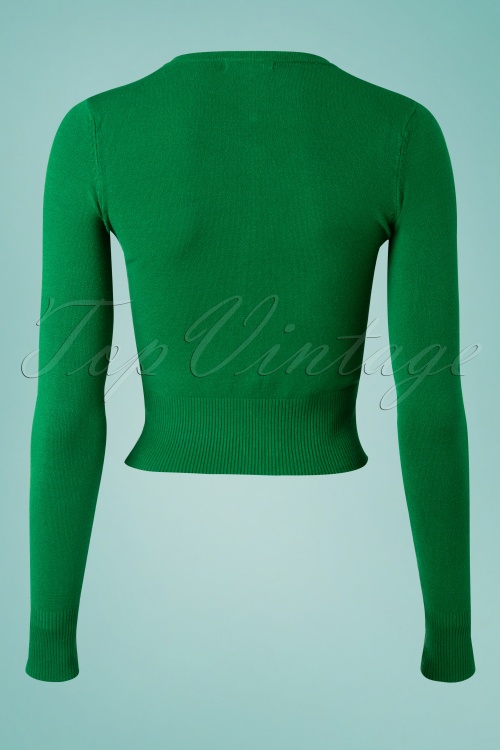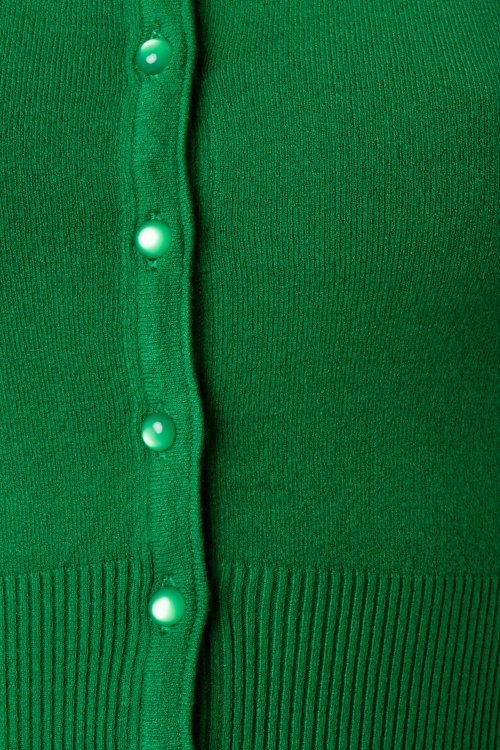 50s Paloma Cardigan in Green
The 50s Paloma Cardigan in Green is a stunning cardigan in vintage fifties style! One can never have too many cardies! This short cutie with a playful round neckline and long sleeves hits just below the waist and is made of a super soft, green fabric with a lovely stretch that will keep its nicely fitted shape. Must-have!
Round neckline
Long sleeves
Shorter style
Article nr.
11550
80% Rayon
15% Nylon
5% Elastane
Handwash inside out
Do not dry clean
Do not tumble dry
No ironing
nl
Super vestje in fijne groene kleur
Fijne kwaliteit en super snelle levering. Hele mooie kleur groen. Heel blij mee. En wat een leuke verpakking :)
Marjolein
&nbsp|&nbsp
2015-06-03 18:39:14
---
nl
Super vestje in fijne groene kleur
Fijne kwaliteit en super snelle levering. Hele mooie kleur groen. Heel blij mee. En wat een leuke verpakking :)
Marjolein
&nbsp|&nbsp
2015-06-03 18:39:00
---
nl
Altijd een compliment.
Een pakketje van TopVintage ontvangen is altijd een feestje en welke vrouw verdient dat nu niet. Ik heb al verschillende jurken en kledingstukken in mijn kast hangen. Welke jurk ik ook aantrek, het levert elke keer wel een compliment op. De kwaliteit en service is super. Kortom: heel blij dat jullie er zijn team TopVintage :-)
Severiene
&nbsp|&nbsp
2015-04-04 10:18:08
---
fijne zachte kwaliteit, perfecte pasvorm. topper. Ik wil er meer van hebben!
Helga
&nbsp|&nbsp
2015-02-06 15:43:47
---
Schickes grün, endlich kann man mal Farbe bekennen.... Ansonsten stimmiges Preis-Leistungsverhältnis, Material ist angenehm auf der Haut.
Christina
&nbsp|&nbsp
2015-01-23 16:10:53
---
Ich habe meinen ersten Einkauf hier bei Topvintage getätigt und bin begeistert. Die Hose sitzt sehr gut und macht eine schlanke und knackige Figur, eine richtige "Zauberhose". Der Cardigan sieht in echt dunkler aus aber das stört mich nicht, denn er gefällt mir, besonders der weiche und angenehme Stoff. Die niedlichen Haarspangen geben einen tollen Retrolook fürs Haar ab. Alles kam sehr hübsch verpackt in lilanem Seidenpapier und im Paket lag noch ein kleines Geschenk, sehr niedlich. So macht shoppen Spaß und es war definitiv nicht das letzte Mal.
Angela
&nbsp|&nbsp
2015-01-22 19:04:24
---
Alles weer juist zoals verwacht en past perfect. Ook dank aan sinterklaas voor het kadootje.
An
&nbsp|&nbsp
2014-12-03 10:33:15
---
Egal welches von diesen zauberhaften Modellen ich trage - bin ich mir der bewunderten Blicke bewußt!!!
Monika
&nbsp|&nbsp
2014-10-29 17:32:37
---
Mooi vestje, lekker zachte stof en mooie kleur.
Manon
&nbsp|&nbsp
2014-08-03 14:17:48
---
Heel lekker zacht stofje wel erg kort.Bij mij iig te kort voor op de highwaist spijkerbroek van Miss Candyfloss
Anc
&nbsp|&nbsp
2014-03-25 22:07:32
---
Das Grün ist sehr schön. Ich habe Normal die Kleidergrösse 48. Habe hier die Grösse 4XL bestellt. Ich denke 3XL hätte auch gereicht. Aber sonst sehr schön.
Anita
&nbsp|&nbsp
2022-09-25 18:00:45
---
en
Lovely fabric and colour but wrong shape
Il tessuto è gradevole e il colore bellissimo, ma il modello è diverso da come appare in foto: sembra ben avvitato, invece è completamente dritto. Non adatto alle mie forme purtroppo: restituito

The fabric is pleasant and the colour is beautiful, but the shape is not what it looks like in the picture: it seems waisted, it is rather boxy instead. Doesn't fit my shape unfortunately: returned
Delia
&nbsp|&nbsp
2022-02-05 19:26:18
---
nl
You can never have enough cardigans :-)
De groene cardigan van Hell Bunny: mooi felgroen! Maat L is perfect.

De rood- bordeaux (eerder berry kleur) en mustard (minder fel als op de foto) kleur van Vixen: XL genomen, iets slobberig aan de oksel maar zonder jurk eronder gepast.

De bordeaux van Circus: goede kwaliteit, geen fel bordeaux.

De oker kleurige van Mak: heel licht, wel wat dun maar past perfect bij één van mijn H&R kleedjes

Alweer tevreden en net mijn volgende bestelling geplaatst ;-)
Anneke
&nbsp|&nbsp
2021-11-06 08:57:39
---
Super weich und angenehm zu tragen.
Passen perfekt zum Kleid, Rock oder zur Hose.
Wie immer ein GLÜCKSKAUF!
Brigitte Erberich
&nbsp|&nbsp
2018-03-06 12:57:55
---
für die Rockabilly Kleider die besten Westen/Cardigans. angenehmes Material, schön lange Ärmel, schöne Farbe.
kira
&nbsp|&nbsp
2017-01-06 22:54:41
---
Wat een super leuke schoenen! Heb ze in mijn eigen maat besteld en die zaten meteen goed. En die kleur geel, echt geweldig. Blij!!

Shirt met streepje, erg leuk. Ook eigen maat besteld en perfect. Heel leuke achterkant!

Haarband: deze gaat naar mijn nichtje. Staat mij helemaal niet, meer iets voor een jong meisje.

Broek: geweldig, wat een mooie pasvorm. Hij sluit wat hoger, perfect voor mij. Ik draag maat 44 en broek 2XL genomen.

Groene vestje, hele mooie stof, goede kwaliteit en zit heel mooi. Ook in 2XL genomen vanwege wat grotere buste, heel mooi!

En.. een chocoladeletter erbij als verrassing, super leuk!! Dank je wel weer Topvintage!
Nielke
&nbsp|&nbsp
2016-11-26 17:29:07
---
Wat een verwennerij! Onderjurkje valt ruim en is wat lang maar past perfect onder de kersenjurk. Het vestje is voor overdag, de petticoat voor het feest 's avonds. Echt heel fijn!
Natalie
&nbsp|&nbsp
2016-04-16 21:07:14
---
nl
Laat de lente maar komen
Heb dit groene jurkje besteld wat een mooi vallende stof zooo blij mee de look compleet gemaakt met bijpassend groen tasje en groen vestje klaar voor de lente kreeg veel complimentjes toen ik het aan had bij verjaardag kleindochter. Ga zo door mijn comlimenten voor de snelle service
Marijke
&nbsp|&nbsp
2016-03-28 18:15:00
---
echt happy ! kersenkleedje is prachtig, mooie stof en past heel mooi met het groene vestje.
nicole
&nbsp|&nbsp
2016-03-03 23:42:17
---
nl
Heerlijk Handige Vestje, blij mee rekbaar goede maat 2xl
Blij mee, mooi kleur, goed rekbaar. Wel extra lange mouw, maar dat komt ik grote maat qua omvang moest hebben 2xl. Al veel gedragen, heb hem ook in het rood, net zo fijn.
Irma
&nbsp|&nbsp
2023-04-22 19:45:02
---