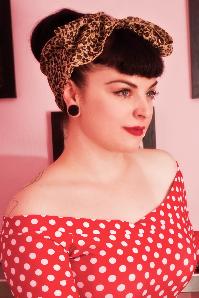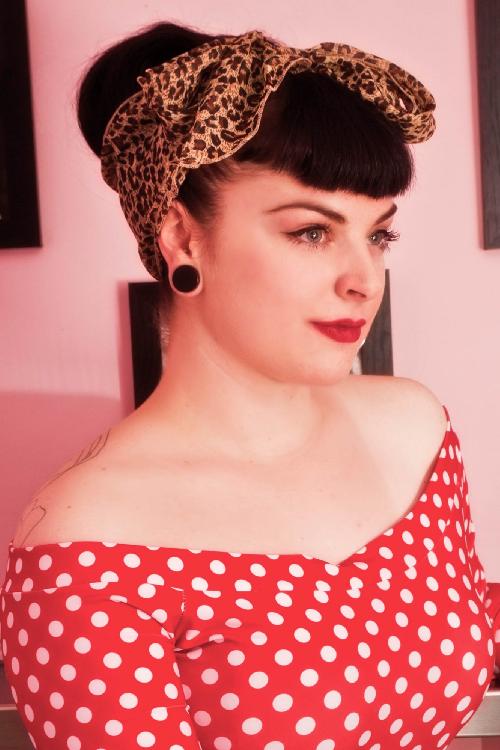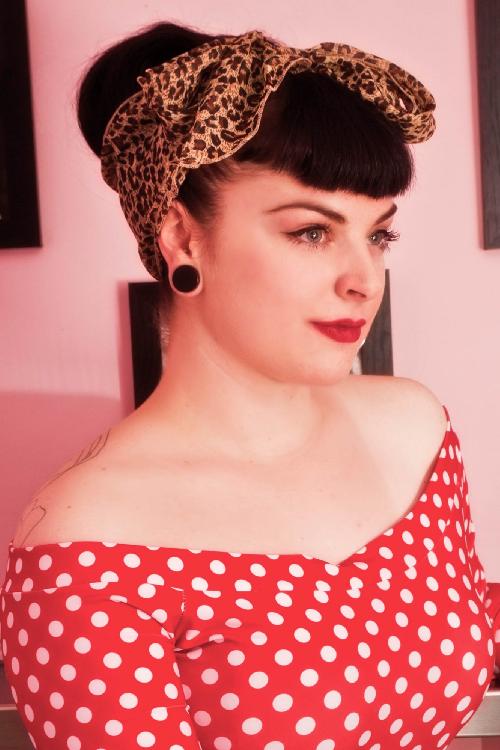 Vintage Retro Hair Scarf in Leopard Print
Complete your retro look with this semi-sheer, leopard-print scarf. Wear her in your hair, attached to your bag or playfully tied around your neck or your hip... she is the perfect accessory!
Versatile scarf
The featured clothes are not available in our shop
Article nr.
10673
Length: 160 cm
Width: 13 cm
my new best friend!! ik vind deze haarband absoluut geweldig!! i love it
Adrienne Artsen
&nbsp|&nbsp
2012-12-19 15:39:56
---
Vandaag bestelling ontvangen helemaal blij mee!! Weer geweldige service.
Manouk
&nbsp|&nbsp
2012-09-17 16:46:38
---
Mooie handige tas,
Het sjaaltje is dun, maar mooi.

De Rockin' rollers zijn ook top, ik ben een verslaafd aan dreads- zetten/ vaak haar verven en krullen inzetten met de krultang: alleen niet best voor je haar. Maar omdat dit zonder warmtebron gedaan wordt is dit veel beter voor het haar! Top spullen en zoals altijd snel geleverd en leuk verpakt!
Marieke
&nbsp|&nbsp
2016-04-20 14:30:32
---
Eindelijk mijn rode schoentjes en sjaaltje gekregen.. Danku aan het top vintage team om alsnog mijn verloren pakje te leveren.. Jullie zijn een top team!!
Deborah
&nbsp|&nbsp
2016-03-01 19:33:31
---
Nu in alle kleurtjes en ben er super blij mee.
Maakt je haarcreaties helemaal af ☺
Thnx voor jullie leuke hebbedingetjes
Ellen
&nbsp|&nbsp
2015-09-22 18:29:18
---
Ein schönes Haarband welches trotz des Leomusters nicht billig aussieht. Würde ich immer wieder kaufen. Der Stoff ist leider etwas rutschig, sodass man das Band gut festpinnen muss.
Nadine
&nbsp|&nbsp
2015-05-28 06:25:10
---
Wie immer schnelle Lieferung, völlig unkompliziert und die kleinen "Goodies" sind auch immer perfekt :-)
MANUELA
&nbsp|&nbsp
2015-04-09 13:45:24
---
Leuke, handige, zachte sjaaltjes. Ze zijn ook lang genoeg om eventueel als 'riem' te dragen.
Stephanie
&nbsp|&nbsp
2015-03-05 12:02:25
---
I love TopVintage's service; they are very kind.

The dress is adorable. The fabric feels nice and has a lovely print.

I've worn the scarf in my hair several times already and it can make something as simple as a ponytail look dashing.

I'm in love with the ring and shoes since they are so cute.
Femke
&nbsp|&nbsp
2015-02-16 11:32:34
---
Prachtige broek, mooie kwaliteit stof!
Past perfect, ben er zeer blij mee.
Ben met alles blij wat ik besteld heb.
Prima en nette levering en altijd een hele leuke verrassing erbij!
Nancy Koopmans
&nbsp|&nbsp
2014-05-08 11:04:35
---
Wat een geweldige bikini ! Na lang twijfelen uiteindelijk toch maar besteld, en wat ben ik er blij mee!
Absolute aanrader.

Ook de sjaaltjes zijn schattig. :)
Bianca Campen
&nbsp|&nbsp
2014-04-01 17:43:59
---
Ik wilde hier even van de gelegenheid gebruik maken om te zeggen dat TopVintage niet alleen geweldige items verkoopt, maar ook een fantastische klantenservice heeft, die heel snel, correct en behulpzaam is! Jullie zijn een topbedrijf en ik kan (en zal) jullie aan iedereen die op zoek is naar mooie retro artikelen van harte aanbevelen. Ga zo door!
Marelle
&nbsp|&nbsp
2014-02-27 11:05:45
---
Hi there, need to post how satisfied I'm with my order. Just got it today delivered to Austria and it didn't take long.
Everything fits and I'm really happy! Will shop again soon for sure!!!
Hugs, Ute
Ute Wedam
&nbsp|&nbsp
2014-02-25 11:06:23
---
Weer een fantastisch goede levering van jullie. Veel goede reacties gekregen op het jurkje, heel mooi voor je figuur. Alleen zit het jurkje bij mij een beetje krap aan de borsten, dus niet voor cupmaat D en meer. Wel heel erg mooi!
Evelien Vanden Broeck
&nbsp|&nbsp
2014-01-23 16:28:16
---
Wat had ik me verheugd op het pak van Miss Candyfloss........maar helaas niet echt een model voor als je 1,75 bent ;( Te kort van stuk en van pijp, helaas retour.
Dus dames M en L komt terug....hou het in de gaten als je het pak graag wilt hebben ;)
Heidi Delissen
&nbsp|&nbsp
2013-12-03 13:30:21
---
thank you- now i need to figure out how to make these hairscarf stay in place
Colleen Poole
&nbsp|&nbsp
2013-09-26 11:17:18
---
Op zoek naar een heerlijk jurkje... Stipjes? Mintgroen? Wat kan daar nou fout aan zijn? Niks dus.
Moet alleen nog op zoek naar een bh die er onder kan ;-)
Wietske Coster
&nbsp|&nbsp
2013-06-24 19:39:54
---
Wauw, mijn eerste bestelling online en... alles past perfect. (handige maattabel/goede informatie)
Niet alleen ik maar ook mijn man en zonen vinden alles mooi en net dat tikkeltje anders! Dat zegt genoeg voor mij. Een dikke pluim voor alle medewerkers van Top Vintage en de mooie uitgewerkte site! Momenteel ben ik in blijde verwachting van het volgende kleedje en een stemmetje in mij zegt dat dit waarschijnlijk niet het laatste zal zijn.
Leen Didden
&nbsp|&nbsp
2013-05-24 20:44:00
---
...sowohl für die Haare als auch um den Hals! Viele Möglichkeiten und gibt jedem Outfit das
" i - tüpfelchen ". Toller Preis für die super Qualität
Stefanie Ziller-Schawer
&nbsp|&nbsp
2018-05-26 14:43:03
---
Ich liebe diese tücher und trage sie so oft es geht. Der Stoff ist meines erachtens etwas zu glatt, so dass der Halt auf dem Kopf nicht ganz gegeben ist, dafür helfen Bobbypins ;)
Nina Thienel
&nbsp|&nbsp
2018-05-16 15:13:45
---
de
Wunderschönes und vielseitiges Tuch
Ich habe nun mittlerweile drei von den Tüchern und bin begeistert von der Qualität und den Farben.
Absolutes Must Have!
Lina
&nbsp|&nbsp
2017-11-11 12:52:15
---
Fühlt sich nach Plastik an und rutscht.
Jasmina
&nbsp|&nbsp
2017-10-24 13:41:12
---
nl
elastiek in je haar, sjaaltje er bij en klaar!
elastiek in je haar, sjaaltje er bij en klaar! makkelijk om je outfit dat extra's te geven in een handomdraai!
JC Holleman
&nbsp|&nbsp
2017-08-03 11:04:08
---
Oooh wat ben ik blij met Mn pakketje wat ik net uitgepakt heb! De vestjes en het shirtje zijn heerlijk zachte basics die je Supergoed kunt mixen en matchen met allerlei jurken, broeken en rokken. Let op, de vestjes en shirtjes zijn wel kort, staan hierdoor goed op bijv pencilrokken. De jurken en rok zitten ook perfect , mooie dikke stofkwaliteit die je figuur goed laat uitkomen en daar waar nodig iets verdoezeld. De floral dress met de parkietjes erop heeft in het echt mooiere en fellere kleuren dan op de foto, groene vestje staat er erg goed bij.
Sietske
&nbsp|&nbsp
2017-05-02 14:52:22
---
Die Hose ist super angenehm zu tragen und ein echter Hingucker! Der Stoff fühlt sich richtig schön weich an! Die angegebenen Maße sind perfekt. Ich war beim Auspacken zwar etwas irritiert, weil die Hose sehr klein aussah, aber da sie sehr stretchig passt sie wie angegossen. :)
Und auch der Schal ist aus einen sehr schönen Satin-artigen Stoff und passt super zur Hose.
Der Versand ging wie immer total schnell! Ich bin wirklich begeistert!
Sandra
&nbsp|&nbsp
2016-12-09 08:50:44
---
I've been eyeing up the beautiful Birman brooch for a number of months, and after seeing it in the sale, finally decided to buy it. I don't regret it. It's a beautifully made, gorgeous item & hopefully the start of an Erstwilder brooch.

Another couple of notes- this is my third TopVintage order, and the customer service is excellent. I'm always shocked at how quick delivery is- a matter of days- and orders always contain freebies.
Also- for British customers- I've noticed that when paying through Paypal, the exchange rate is different to TV's and you end up paying slightly more. I'm not sure if this is the case of you pay through Amazon.
Amy
&nbsp|&nbsp
2016-07-29 14:10:48
---
Helemaal happy met Top Vintage, maar moet me echt inhouden met bestellen haha...Zelf ben ik goed voor een maatje 46 en ik vind het leuk dat ik kleding heb gevonden dat mij mooi & sexy staat (in pluszise). Jurken zitten goed, sjaaltjes in mijn haar en ready to GO
Chanel
&nbsp|&nbsp
2016-05-27 20:35:28
---
Ok lieve mensen. Ik móet dit even delen: wat een prachtige spullen. Mooi ingepakt, en in beide bestellingen een ander kadootje erbij.
Een paar jaar geleden heb ik ook accessoires besteld bij TV, maar was toen wat teleurgesteld, de kwaliteit liet te wensen over. Misschien heb ik nu geluk, maar deze spullen zijn in werkelijkheid prachtig!
Graag nog meer van dit soort classy, maar sexy accessoires in jullie bestand opnemen. Het is spot on.

Helena
&nbsp|&nbsp
2018-11-08 14:51:36
---