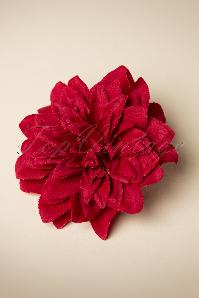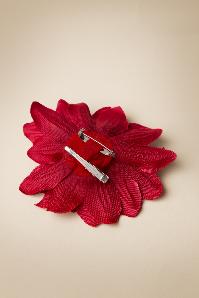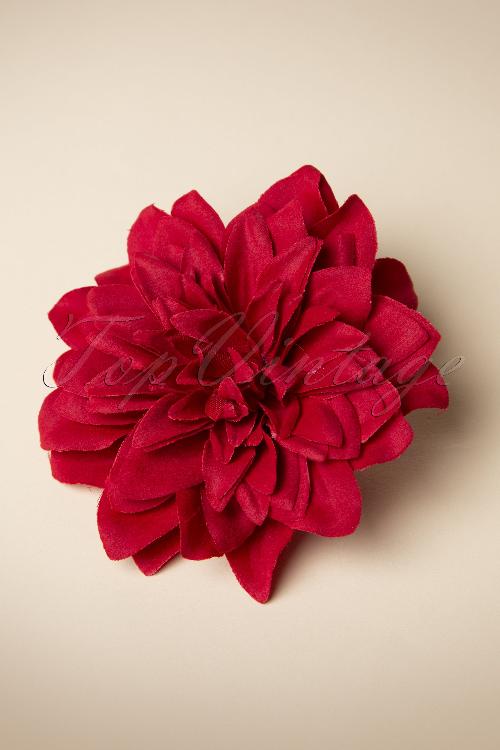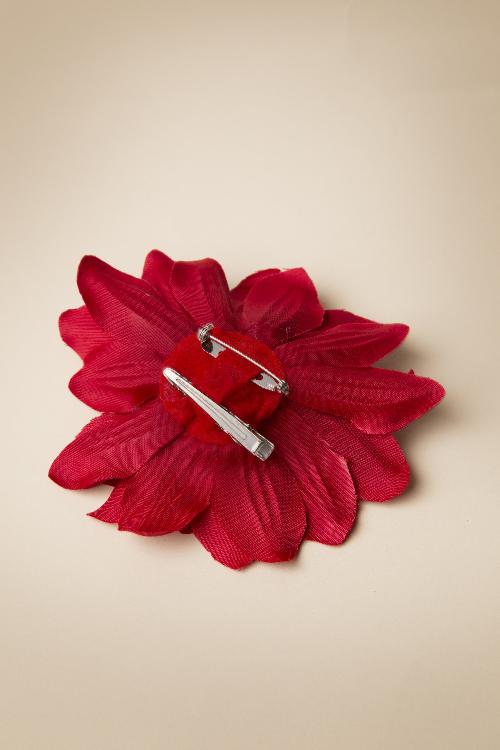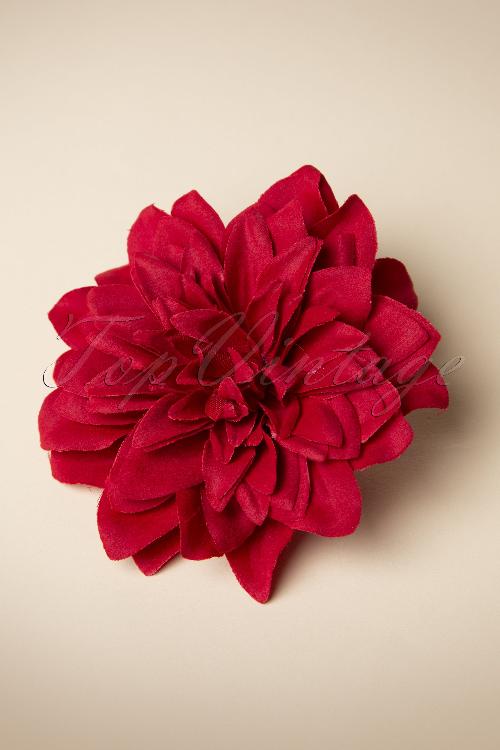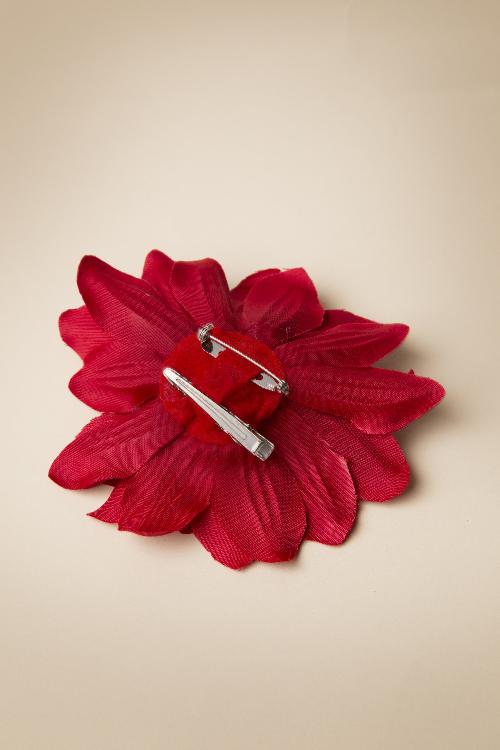 Flower Hair Clip & Brooch in Red
This hair flower adds a sassy Flamenco touch to your (vintage) outfit! At the back of the red, fabric flower you'll find both a silver-toned metal clip and a pin closure.
Fabric
Silver tone base metal
de
Wunderschöne Handtaschen & Asseccoires heute erhalten!!!!
Ich bin einmal wieder mehr als begeistert!!!!
Dieses Mal habe ich meinen Gutschein als "Customer of the month march" eingelöst um für mich und meine Mutter zwei tolle Handtaschen zu bestellen!!!
Wir waren einfach hin und weg von diesen bezaubernden Handtaschen!!!
Und die Ohrringe sind auch wunderschön...
Wie immer bei TopVintage...meine Lieblingsboutique schlechthin!
Kerstin Flügge
&nbsp|&nbsp
2015-04-01 15:51:55
---
Waaw wat een mooie outfit!! Kleedje wel een maat groter besteld omdat het kant niet stretcht. Bloemen werken het af. Schoenen zijn heel comfortabel.
Laura
&nbsp|&nbsp
2014-10-31 19:57:12
---
Ik ben verslaafd!!!!
Wat een mooie spullen! Ik heb nu al zoveel besteld en alles is even mooi. Dankzij de uitgebreide beschrijving en de maattabel, heb ik nog nooit iets terug hoeven doen. Ik hoop mij in de toekomst elke dag in deze mooie kleding te mogen hullen! Bedankt ook voor de snelle levering, de attenties en de goede service. Jullie zijn in een woord GEWELDIG
Karin Profijt
&nbsp|&nbsp
2014-10-10 09:05:37
---
In de eerste instantie had ik het zwarte jurkje besteld. Erg mooi maar niet helemaal flatterend voor mijn figuur in combinatie met mijn lengte. Ook een rode petticoat. Heel mooi maar voor mij nog een beetje 'too much'. Daarvoor in de plaats het jurkje met de envelopjes en een bolero besteld. Erg mooi! Het jurkje valt bij mijn lengte (1.62) net boven mijn knie. Ik laat er nog wel een V-hals inmaken zodat het jurkje helemaal op mijn lijf is geschreven. Verder heel blij met de snelle levering en het leuke cadeautje in het pakket. Top!
M. Duiven
&nbsp|&nbsp
2014-08-30 16:06:47
---
Leuk detail voor in mijn haar bij een zwarte zomer jurk. Love!
Martine
&nbsp|&nbsp
2016-05-06 20:52:31
---
Wat een superdress! Daar voel ik me echt supervrouwelijk in. Lelijke benen en klutsknieën bedekt. Mooi slank silhouet. Zit als gegoten door de fijne stretchstof. Klaar voor de bruiloft van grote zoon. Top! Tip: maatje groter bestellen, dat wel. De maattabel volgen voor taille en heupen, dan gaat het goed.
Roos
&nbsp|&nbsp
2016-04-30 12:52:35
---
de
Wie immer: Tip Top mit Sahne <3
Alle 4 Kleider passen wie angegossen - Sprich wie immer :) Und die rote Haarspange/Brosche ist ebenfalls wunderschön

Der Sommer kann kommen
Katharina
&nbsp|&nbsp
2016-04-05 07:36:13
---
De eerste keer besteld bij TopVintage en ik kan niet anders zeggen dan: Top! De website geeft goede en kloppende informatie, de artikelen worden zeer snel bezorgd en zijn prachtig verpakt. Cadeautjes waar een meisje blij van wordt. Voor een themafeest hebben wij 6 jurkjes in diverse maten besteld en bij eenieder zit het jurkje als gegoten.
Myranda
&nbsp|&nbsp
2016-02-24 12:04:40
---
Ich habe das erste Mal hier bestellt und bin sofort begeistert.Die Seite ist wunderschön gestaltet und das Angebot fantastisch. Die Lieferung ist sehr schnell, das Paket wunderhübsch verpackt. Ein kleines Geschenk lag dabei und dieses Kleid ist einfach nur der Hammer.Es passt perfekt und sieht traumhaft aus!
Cornelia
&nbsp|&nbsp
2016-02-07 16:45:59
---
Generell: sehr nette Verpackung, wieder einmal liebsten Dank für ALLE, die am Gesamtprozess beteiligt waren :)

Blaues Oberteil: angenehme Baumwolle, kräftiges Blau-sehr schōn! Brauche nur einen BH, dessen Träger man weiter seitlich tragen kann. Im Sommer evtl. Gefahr des Schwitzens - der Winter hat also auch seine Vorteile :)

Rote Hose: der HAMMER!!! Der Stoff etwas dicker, wie ich es eben erwartet habe, qualitativ sehr hochwertig verarbeitet! Farbe dem Bild entsprechend!
Ich glaube, die Hersteller haben sogar an die etwas längeren Damen gedacht - die untere Falte lässt sich mit einer feinen Nagelschere wunderbar lōsen, somit gewinnt man nochmal 5,5cm (!!) in der Länge. PERFEKT!! Bestelle sie jetzt auch noch schnell in blau ;)

Rotes Tuch: Farbe dem Hauptbild (Dame mit offenen Haaren) entsprechend (ein etwas helleres Rot-im Vergleich zur Hose oder Blume z.B.), feines, durchsichtiges Chiffon, Enden schōn abgenäht!

Rote Blume: farblich perfekt zur Hose, mit der Haarklammer suuuuper fest an dem eigenen Haargummi "montierbar" - bleibt auch wirklich den ganzen Tag (!) fest!

Roter Gürtel: Perfekt! Wie auf der Abbildung, Masche sogar fester als erwartet - bekommt daher noch einen extra-Pluspunkt!

Schwarz-rote Pumps: leider nicht für meine Fūße vorgesehen, obwohl der Schuh im Original einfach nur rockt!! Maschen individuell abnehmbar-wenn erwünscht. Die Herzhandtasche passt mit der Farbe perfekt dazu -also, wenn Eure Füße mit dieser Schuhmarke gut kōnnen, Tasche unbedingt mitbestellen!

Herz-Handtasche: schōnes, qualitatives Material, mit einem festen Griff. Beim Öffnen schützt ein seitlich eingenähter Stoff die weiblichen (100 000) Utensilien vor dem Herausfallen ;). Farblich perfekt zu den Pumps!

Alles in Allem: wieder einmal WUNDERBAR! Dankeschōn für Eure qualitative und liebevolle Arbeit! :)
Petra
&nbsp|&nbsp
2016-01-30 20:22:17
---
Ich hab zum ersten mal hier bestellt und gleich einen Volltreffer gelandet. Jeder Artikel passt wie angegossen!
Herzlichen Dank liebes TopVintage Team
Irene
&nbsp|&nbsp
2015-12-22 04:12:02
---
Vandaag mijn bestelling mogen ontvangen, wat een feest om uit te pakken. En alles zit perfect, heel erg blij mee!
Jolanda
&nbsp|&nbsp
2015-11-04 18:16:56
---
Die Hose sitzt super, leider muss ich sie ändern lassen bin etwas zu klein. Sonst alles einfach Wunderschön!!!!!
Susanne
&nbsp|&nbsp
2015-09-07 11:08:16
---
Passt super zu dem rot/weißen Kleid, welches ich ebenfalls hier bestellt habe.
Aufmerksam geworden bin ich durch die "das passt dazu" Vorschläge. Einfach top!
Sarah
&nbsp|&nbsp
2015-08-21 09:45:20
---
nl
Deze webshop gaat een verslaving worden :)
Snelle levering, kwalitatief goed afgewerkt, voldoet aan verwachting, maten kloppen overwegend. Style en klasse!!! Can get used to this
Mariska
&nbsp|&nbsp
2015-08-11 21:51:45
---
Gisteren binnen gekregen. Past perfect.
Heel blij mee. Morgen weer mooi op mijn zoons 18e verjaardag.
Als de zwarte weer voorradig is bestel ik die ook.
Marcella
&nbsp|&nbsp
2015-07-10 10:57:29
---
Gisteren binnen gekregen. Past perfect.
Heel blij mee. Morgen weer mooi op mijn zoons 18e verjaardag.
Als de zwarte weer voorradig is bestel ik die ook.
Marcella
&nbsp|&nbsp
2015-07-10 10:56:26
---
Blüte kann im Haar und auf der Kleidung getragen werden.
Super Idee!
Sylke
&nbsp|&nbsp
2015-07-03 15:20:42
---
Als je deze jurk draagt zie je het zonnetje in elke persoon stralen!!
Elly
&nbsp|&nbsp
2015-06-14 13:54:21
---
Ik heb al de mooie jurk besteld en de steviger riem met de kleine strik. Deze combinatie geeft net dat beetje extra stevigheid en is net wat mooier.
Met de laktas erbij helemaal chic.
Het bolerovestje voor als het te frisjes is. Het is doorschijnend, maar dat vind ik juist mooi. Zo kun je toch de jurk zien.
De bloem is net te zwaar voor op het vestje, maar hier heb ik wel andere alternatieven voor.
Paraplu ook heel leuk, maar hopelijk heb ik deze niet nodig!
Nog een kleinigheidje bestellen en dan ben ik klaar!
Top Vintage, bedankt voor de altijd snelle leveringen.
Ik blijf kijken op jullie site!
Truus
&nbsp|&nbsp
2015-05-19 11:54:43
---
Also: Ich bin mit fast allem sehr zufrieden was ich mir bisher bei TopVintage bestellt habe!
Bis auf die Schuhe waren auch alle Grössenangaben super!!! (Schuhe vielen leider sehr groß aus und gingen zurück)
Das Shirt ist nach 2 Wäschen nicht mehr ganz so in der Form wie vorher. (leicht ausgeleiert trotz Schonwäsche!!! SCHADE ansonsten sehr schön)
Jeans ist mega toll auch nach dem Waschgang!
Großes Lob an Euch für Die liebevolle Verpackung und die kleinen Überraschungen in den Paketen!
Die Strickjacke und die Accessoires sind einfach nur schön!!!
Werde wohl noch öfters bestellen! :-)
GLG Nancy






Nancy
&nbsp|&nbsp
2017-02-25 21:03:01
Response from Customer service

Hallo Nancy, bitte entschuldigen Sie uns dass das Shirt nach dem Waschen nicht mehr so schön in Form ist. Das darf nicht passieren. Ich werde mich heute noch kurz bei Ihnen melden um Ihnen eine Lösung anzubieten.
Liebe Grüße,
Desiree
Kundenservice
---
Alles precies zoals op de foto. Super!!!
Wendy Elvira
&nbsp|&nbsp
2017-02-03 12:17:21
---
Schattige bloem die als clip in het haar of als broche kan worden gedraden.
Andrea
&nbsp|&nbsp
2016-11-05 11:08:37
---
Perfecte bloem! maakt je kapsel echt af, hij is ook licht van gewicht dus aangenaam om te dragen, één van mijn favoriete bloemen :D
Astrid
&nbsp|&nbsp
2016-09-13 21:05:08
---
Lang zal ik leven....! Allemaal wishlist spulletjes voor mijn verjaardagscentjes :) Tasje is heel schattig (alleen in mn Banned portemonnee nét iets te groot...maar dat overleef ik wel), de bloem is mooi en blijft goed zitten. En de jeans! WOW. uit de doos aan en past perfect! Ik wil nou ook de zwarte....dan maar weer een nieuwe wishlist maken :)
Chantalle
&nbsp|&nbsp
2016-08-19 07:13:05
---
Well the first time I been think looot about to this bag to my special day of wedding or not because I thought perhaps it's could too big. But it's perfectly small accurate look and luxury look. Happy I got it!
Diana
&nbsp|&nbsp
2016-07-22 13:39:11
---
This glasses really can complete any look! I luv it!
Diana
&nbsp|&nbsp
2016-07-22 13:35:55
---
nl
Altijd net iets specialer met een bloemetje in je haar.
Prima haarclip. What you see is what you get.
Anouk
&nbsp|&nbsp
2016-07-05 08:13:51
---
Vandaag netjes op tijd mijn pakje ontvangen
Stefanie
&nbsp|&nbsp
2016-05-31 11:16:44
---
Zowel broche als voor in je haar, super leuk en handig.
Athanassia
&nbsp|&nbsp
2017-05-27 09:34:30
---