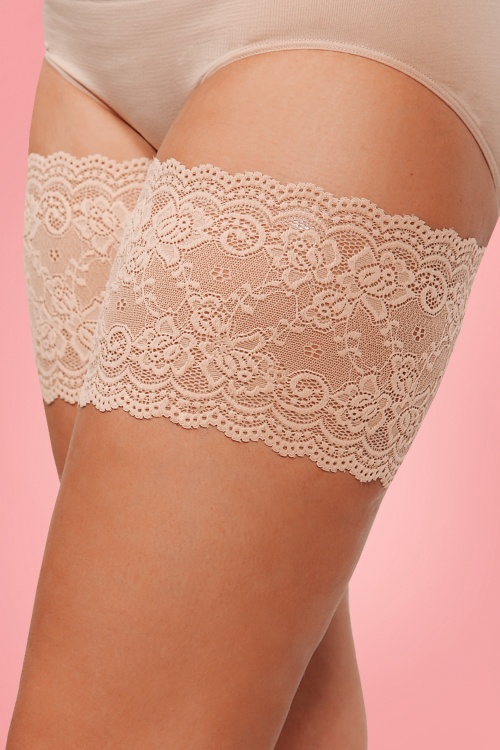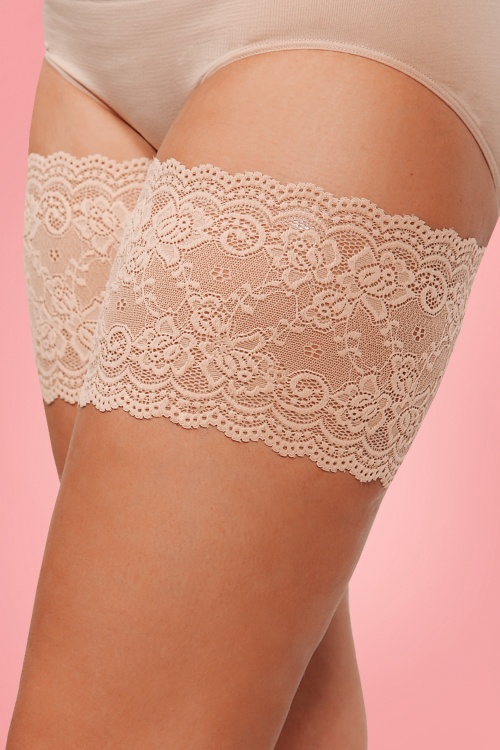 Onyx Bandelettes in Beige
Thigh chafing is a thing of the past with these Onyx Bandelettes in Beige! Many women experience this problem, especially when wearing dresses or skirts that they would prefer to wear without tights or shorts. 'Practical' and 'discrete' doesn't sound very sexy, but these Bandelettes are beautiful and will make you feel feminine all day long! You wear these bands around your thighs, they are made of elegant and soft beige lace and finished off with silicone strips that will keep them in place throughout the day. "Love your thighs, not the rub!''
Lace
Silicone strips
Please beware; You should use the tips mentioned in our fit advice and size guide to determine the right size for you, it tells you exactly how you should measure yourself!
Article nr.
26065
90% Nylon
10% Elastane
Silicone
Handwash cold (don't leave it in the water)
Do not tumble dry
No ironing
I was so skeptical about these. But i have to say, they worked! They stayed up without ( too much) rolling. The only thing is i wish they were 2 inches wider. ( size D)
Lisa
&nbsp|&nbsp
2018-08-03 11:09:43
---
de
Tolle Produkte, schnelle Lieferung und immer super Service!
Donnerstag Abend bestellt, Samstag früh geliefert!
Susanne Mühl
&nbsp|&nbsp
2018-06-29 16:58:44
---
Heute Abend konnte ich dann direkt eine Testrunde durch die Wohnung laufen ;)
Was sind die angenehm zu tragen! Und so weich! Am Sonntag kommt dann der Praxistest im Museum ;)
Und ich danke euch von TopVintage ganz ganz herzlich für die schnelle und problemlose Hilfe! Ihr seid wunderbar!
Ein sonniges Wochenende wünscht
Nanny
Nanny Sauer
&nbsp|&nbsp
2018-06-08 17:14:32
---
Ich habe sie schon in schwarz und musste sie mir einfach noch in Beige holen! Sie sind super weich und angenehm. Durch die Größentabelle kann man gar nicht falsch liegen - sie sitzen wie eine zweite Haut. Endlich kein Scheuern und wund werden mehr zwischen den Beinen! Ein Traum! Habe schon unzählige Höschen ausprobiert, aber alle rutschen oder rollen sich mit der Zeit nach oben - ein ständiges gezupfe also! Aber diese hier halten fest an Ort und Stelle ohne einzuschnüren! Perfekt!
Steffi
&nbsp|&nbsp
2021-07-06 14:59:44
---
Eh bien, c'est la solution pour atténuer les frottements des cuisses et les irritations qui les accompagnent. Ce produit est d'une texture légère et agréable, le guide des tailles est parfait.

Elise
&nbsp|&nbsp
2020-08-12 19:20:58
---
Stuk voor stuk zijn dit prachtige jurken. Helaas voel ik me in geen van beide modellen goed. De Jurk met de plooitjes en smalle bandjes maakt me veel zwaarder t.h.v. mikn heupen, en ik heb al maat xxl nodig. Maar wat een prachtige kleuren en mooie stevige stof. De jurk met het kraagje staat niet mooi bij mijn figuur (ik wist vooraf dat dit model een gokje was). Maar ook hier prachtige kleuren en zeer aangename lichte stof om te dragen. Met pijn in het hart zend ik deze jurken terug. Maar het verleden heeft me geleerd dat als ik me niet 100% goed voel in een kledingstuk, het in de kast zal blijven hangen en dat zou zonde zijn. Deze jurken verdienen een dame die ermee zal pronken!

De bandelettes vind ik aangenaam en door het volgen van de maattabel precies de juiste maat gekregen. Het voelt een stuk luchtiger dan steeds een shortje onder mijn jurk te moeten dragen.
Lamote Tiffany
&nbsp|&nbsp
2020-07-07 16:22:16
---
Ik had al vaker verlekkerd rondgesnuffeld op TopVintage, maar nog nooit iets besteld. Ik koop zelden iets online, maar nu toch maar de stap genomen. En ik moet zeggen, ik heb er absoluut geen spijt van. De producten waren snel in huis en leuk verpakt. Ik kom hier zeker weer eens terug.

Ik zocht een bolero bij mijn koraalkleurige jurk met ivoorkleurige details en dit is een goede match. De maat was ook goed. Over de maat twijfelde ik nog even, want afhankelijk van het merk en model heb ik een L of een XL. Uiteindelijk voor de XL gegaan en deze past precies.

De footies zijn erg fijn. Ik heb ze ook van de H***, maar die kan ik steeds uit mijn schoenen vissen. Deze blijven perfect zitten waar ze horen; om mijn voeten.

De bandelettes zijn ook fijn. Ze blijven goed op hun plek en zijn luchtiger dan de broekjes die ik normaal draag. Enig (kleine) minpuntje is dat ik ze zachtjes tegen elkaar hoor wrijven bij het lopen.

De schoenen passen ook goed en zijn lekker luchtig. In de beschrijving staat dat je ze ook zonder sokken kunt dragen, maar daarvoor vind ik de randjes waar ze mee afgewerkt zijn wat
te scherp/stug, Ze zijn echter van leer, dus ik kan me ook voorstellen dat de randjes veel soepeler worden met het dragen.

De jurk was nog wel een dingetje. In het echt waren de kleuren nog frisser dan op de foto. De jurk paste mij ook perfect. (Mijn 11 jarige zoon zei zelfs "wow, mama!" toen ik hem aanpaste.) De jurk was echter ontzettend statisch en bleef enorm aan mijn benen plakken.

Ik twijfelde of ik hem terug zou sturen of niet. Aan de ene kant maakte hij mij met zijn kleuren en pasvorm super blij, aan de andere kant is een statische jurk niet fijn om te dragen. Ik ben op zoek gegaan naar een oplossing en vond dat wasverzachter kon helpen. Dus de kaartjes eraf en de jurk wassen met wasverzachter. Ik vond het best wel spannend, maar het probleem is opgelost. Phew :-)
Anna
&nbsp|&nbsp
2020-06-07 09:09:36
---
there really soft & comfortable, i dont have to worry about my thighs rubbing against each other. There a real life changer, I definitely recommend!❤
yessenia
&nbsp|&nbsp
2019-08-08 07:40:13
---
De bandelettes werken prima. De pantalon is helaas te lang, dus daar ga ik een stuk vanaf halen. De panty's zijn heel mooi
Karin van Son
&nbsp|&nbsp
2019-08-03 11:03:59
---
Ich hab ewig nach einer Lösung gesucht, im Sommer Kleider zu tragen ohne Spanx oder Radlerhosen. Die Dinger verrutschen nicht, auch nicht beim ein- und aussteigen in oder aus dem Auto, sind bequem, hübsch, weich und haben genau die richtige Länge und Größe.
Martina Brandl
&nbsp|&nbsp
2019-06-26 13:27:45
---
kein Scheuern, kein Reiben an den Oberschenkeln
Beatrix
&nbsp|&nbsp
2018-08-15 18:31:32
---
Article super!!.je vais enfin profiter de mes jupes et robes l'été!
Carole Grosset
&nbsp|&nbsp
2018-08-04 22:12:33
---
Helaas rollen deze constant naar beneden en blijven totaal niet zitten. Een grote miskoop
Jolanda
&nbsp|&nbsp
2021-08-23 15:22:31
---