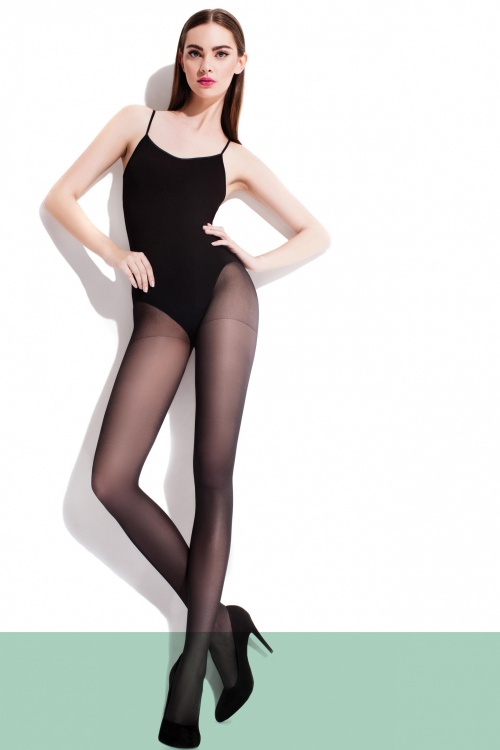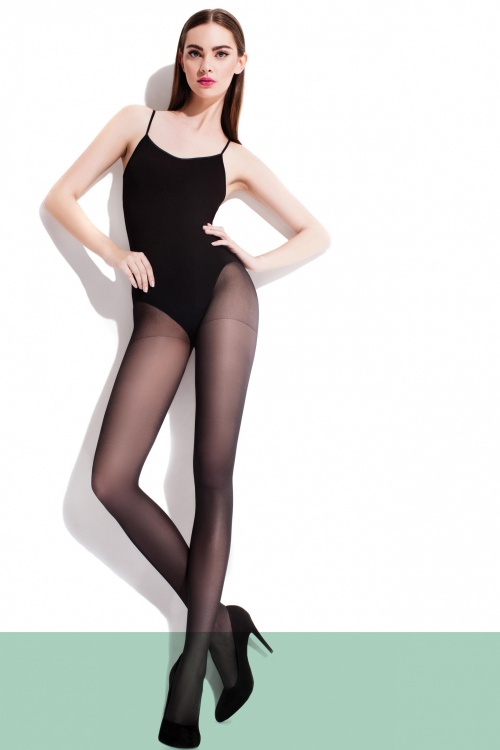 Nina Classic Tights in Black
These Nina Classic Tights in Black by Fiorella are the ultimate black tights to go with that beautiful dress! Forget about ribbons, back seams and faux suspenders... These classic black 40 denier tights have a soft sheen and do exactly what they are supposed to do; show off your legs as elegantly as possible. Finished with a reinforced foot and gusset for a comfy fit. Whether you go for an everyday look, a business look or a chic evening look; these tights are always the perfect choice! ;-)
40 denier
Soft sheen 
Reinforced foot and gusset 
The featured shoes and body stocking are not available in our shop
Article nr.
17452
86% Polyamid
14% Elastane
OEKO-TEX® Certificate We are happy to inform that our tights have obtained an OEKO-TEX® Standard 100 Certificate. The cerificate guarantees that the tights are free from any potentially harmful substances.
Handwash cold (don't leave it in the water)
Do not tumble dry
Prachtige panty's! Al veel verschillende merken geprobeerd maar deze springen er qua kwaliteit en prijsverhouding wel echt uit! Maat volgens de maattabel viel voor mij perfect uit!
Nadia
&nbsp|&nbsp
2021-03-12 08:01:27
---
Heb alle panty's nu zo'n 10 keer gedragen, ze blijven in model en op een klein haaltje na zijn ze allemaal nog heel. Echte aanraders!
Esther
&nbsp|&nbsp
2019-01-31 14:55:05
---
Hele fijne panty, zeker voor het geld, Volg de maattabel dan heb je altijd de juiste maat, Als je de panty liever ietsjes losser wilt hebben neem dan 1 maatje groter. Voor het bedrag hoef je het zeker niet te laten, de stof voelt zeer stevig en beter dan elke panty die ik gehad heb!
Kim De Ruiter
&nbsp|&nbsp
2019-01-29 18:56:16
---
nl
Fantastische eerste order!
Voor het eerst wat besteld bij Topvintage!
De jurk zit geweldig en is op mooie lengte voor mij (ongeveer op de knie). Hij kleed mooi af maar zit niet té strak.

De choker is misschien ietsjes te groot voor mij maar zelfs dan staat hij niet gek.
De panty, nou ja het is een panty. Kan vrij weinig mee mis gaan.

Bolero zit ook prima. Misschien voor de dames met wat bredere schouders een tip om hem misschien een maatje groter te nemen.
Kirsten
&nbsp|&nbsp
2018-03-28 05:20:18
---
Panty's zijn Supercute! Wel voorzichtig aantrekken, dan gaat het goed. Ik was één keer te enthousiast en toen zat er meteen een ladder in.
Leonie van Rheden
&nbsp|&nbsp
2017-12-17 21:04:46
---
Wat kan ik over deze panties zeggen? Ze zijn geweldig. Ik heb er al zoveel van besteld, maar ik vind dat ik niet genoeg heb. Goede kwaliteit en pasvorm. Niet alleen onder de jurken, ook onder pantalons heerlijk warm, zeker als je met dit koude weer moet fietsen.
Johannah
&nbsp|&nbsp
2017-01-20 09:02:52
---
de
Alles einfach wunderbar und zum Verlieben!
Alle Artikel, die ich diesmal bestellt habe, sind einfach wundervoll!
Die Handschue sind sehr edel und aus einem tollen Material.
Die Strumpfhosen sehen sehr wertig aus und sind angenehm zu tragen.
Die Jeans sitzt super und macht eine tolle weibliche Figur. Dank des hohen Sitzes "quetscht" nichts hervor.
Das schwarze Kleid ist ebenfalls ein Traum, zu jedem Anlass super geeignet und wirlkich süß!
Das blaue Jäckchen trägt sich aufgrund des weichen Stoffes sehr angenehm. Bei größerem Busen (ich habe 75 E) sollte man allerdings zu M tendieren, da S "aufklappt".
Das Kleid mit den roten Herzchen ist super süß und sieht einfach toll aus.

... Ich werde noch arm! :)
Christina
&nbsp|&nbsp
2016-12-05 11:40:05
---
Perfect! Danke! xxx
Ilse
&nbsp|&nbsp
2016-11-26 19:58:34
---
De Navy jumpsuit en rode jurk zijn super! Van hetzelfde soepele sterke stof gemaakt, zo vrouwelijk. Ik ben 1.78 en de lengte van de jumpsuit is perfect.
De zwarte ribtop is heerlijk lang en zit heel comfortabel. De cherry top met lange mouw valt ook lang genoeg en van hele prettige stof. De rode top is zo mooi van kleur, is lang genoeg maar valt tegen. De stof is dunner dan ik voor ogen had en tekent hierdoor.
Het cherry witte vestje gaat helaas ook retour, die valt bij mij te kort en bij mijn schouders niet zo mooi.
De zeep ruikt zooooo lekker. Het is kleiner dan ik dacht, maar ik had zelf niet goed gekeken.
De paraplu stond al een tijdje op mijn wishlist, zo leuk!
De panty's heb ik nog niet geprobeerd, maar dat zal ook wel goed zijn.
Ik ben blij met al mijn mooie items.
Nancy
&nbsp|&nbsp
2022-04-03 18:38:53
---