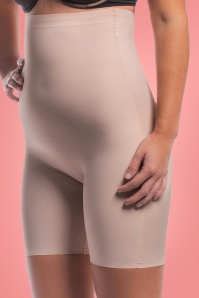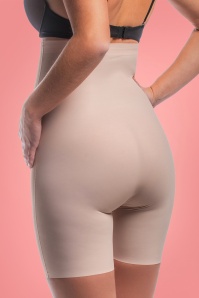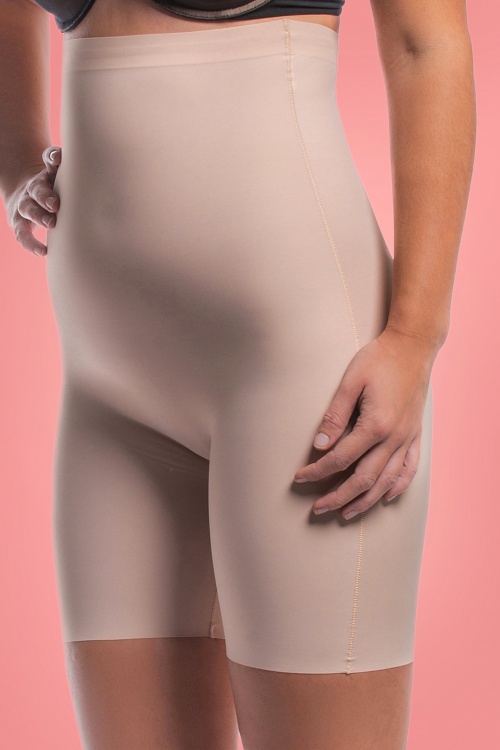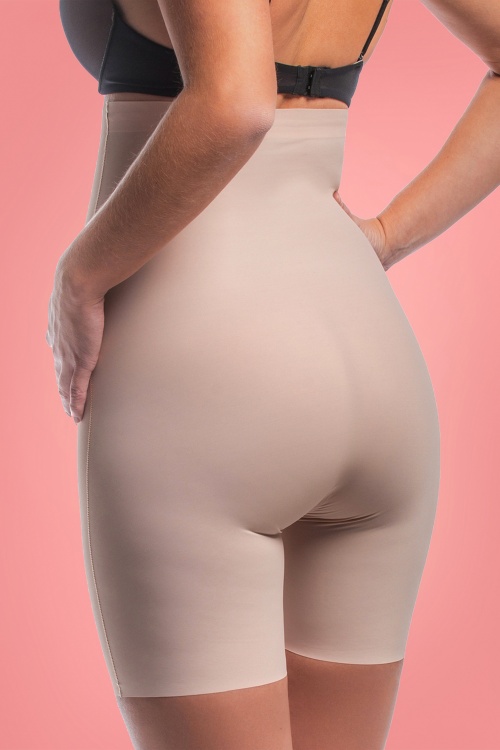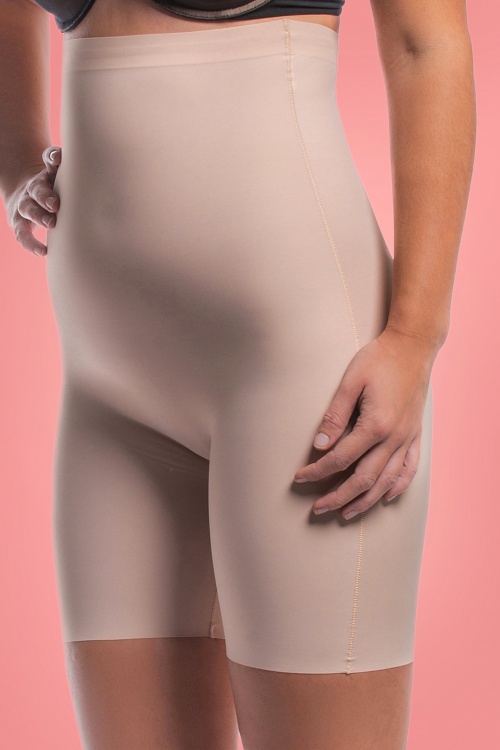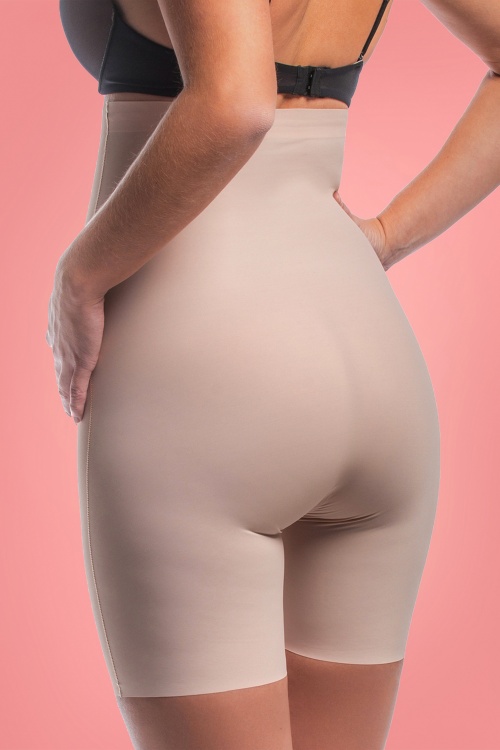 Maxi Sexy Hi Bermuda in Latte
The Maxi Sexy Hi Bermuda in Latte ensures a perfect fit for every garment!

Experience the feeling of a second skin with this Maxi Sexy Hi Bermuda. This perfect shaping bermuda with high waist shapes the total upper body, hips and thighs for a totally slim look! Made from a smooth and thin material for a perfect and seamless fit. A beautiful basic to wear underneath any type of tight clothing!
Medium shaping level
Silicone inside on top
Seamless waist band
The featured bra is not available in our shop
Article nr.
26082
54% Polyamid
46% Elastane
Handwash inside out (don't leave it in the water)
Wash inside out
Washing machine delicates / lingerie with in mesh laundry bag
Do not tumble dry
Do not iron
Mijn favo correctie broekje. Trekt alles goed strak dus super voor wiggle rokken en jurken. Heb er een aantal van en heb nog geen betere gevonden.
Natalie
&nbsp|&nbsp
2020-11-12 20:34:51
---
de
Einfach zauberhaft/ Simply Lovely!
Bin seit Jahren zufriedene Kundin und auch diese Großbestellung hat mein Herz höher schlagen lassen. Ich musste einfach alles behalten! Ihr habt die Erwartungen übertroffen:

Der bunte Rock und das dazugehörige Oberteil...
...sind der absolute Wahnsinn! Die Kombination sieht umwerfend aus! Das Oberteil schmiegt sich toll an die Kurven und ist bei großer Oberweite ein Traum. Der Stoff ist dick und die Brustpartie raffiniert. Der Rock mit seinen Farben ist in echt sogar noch schöner. Der Stoff vom Rock ist relativ dünn - das sollte man nur wissen.

Die hochgeschnittene Hose...
hat einen total raffinierten Reisverschluss und einen sehr dicken, hochwertigen Stoff. Macht eine tollen Hintern und hält gleichzeitig den Bauch "zusammen".

Die Shape Hose...
macht eine schöne Silhouette. Die Hose rollt oben am Gummi leider trotzdem runter, wenn man da die ein oder andere Speckrolle hat.

Das rosa Etuikleid...
hat einen festen Stoff und macht (bei Kleidergröße 44 mit Spanx) eine tolle Figur. Ein toller Schnapper im Sale!

Der Wahnsinns, blaue Jumpsuit mit offenen Rücken...
ist der absolute Hingucker! Selbst in Größe 44 sitzt er toll und man sieht trotz Rücken keinen Speck. Auch bei größerer Oberweite kann man ihn getrost ohne oder mit Klebe-BH tragen, da der Fokus einfach auf den Rücken liegt. Die Hosenbeine sind weiter als gedacht und der Stoff der Beine ist relativ dünn. Der Tragekomfort ist überraschend bequem. Die Flügelärmel und der Rückenausschnitt machen den Jumpsuit zum Highlight. Was für Mutige mit Stil!
Andrea
&nbsp|&nbsp
2019-12-17 09:40:21
---
de
Diesmal gemischte Gefühle
Dieses Mal war die Bestellung gemischt.
TopVintage war mal wieder super, schnelle Lieferung und ein leckeres kleines Geschenk :)

Bei der Bestellung war allerdings alles an Beurteilung dabei:

Der senffarbene Rock hat mich echt sauer gemacht. Über dem Reißverschlussende gibt es auf der Innenseite einen kleinen metallenen Hacken um den Reißverschluss zu unterstützen. Allerdings ist dieser so spitz, dass er zwei Löcher in meinen Pulli gerissen hat, den ich dazu getragen habe. Der Rock ist schön und wintertauglich, deshalb behalte ich ihn, aber unbedingt den Tipp beachten: schneitet vor dem Tragen den Hacken mit einer Nagelschere weg. Er ist unnötig und macht den Stoff eures Oberteils kaputt.

Der Mohnblumenschmuck ist ein Traum! Ich liebe ihn! Da er aus Porzelan ist habe ich etwas Angst, allerdings habe ich ihn schon dreimal getragen und bis jetzt ist noch alles heile. Nur die Kette des Anhängers ist billig und der Verschluss schließt nicht richtig. Habe sie durch eine eigene, echtsilberne Kette ersetzt.

Der Hosenträgerrock sitzt vom Schnitt leider gar nicht schön. Ging zurück.

Das Denimkleid ist zwar richtig schön und süß, aber sehr kurz. Das Tragen überlasse ich lieber den jungen Mädels ;) Ich bin da aus dem Alter raus. Wenn es länger gewesen wäre, hätte ich es behalten.

Die weiße Bluse ist leider gar nicht schön. Sitzt nicht gut, der Stoff ist durchsichtig und fühlt sich nicht gut an und war am Busen zu klein. Ging absolut zurück.

Mit der schwarzen Bluse habe ich gehadert. Sie sitzt gut und fühlt sich gut an. Hat mir einfach vom Geschmack her nicht so gut gefallen. Trotzdem schön.

Die Fantasy-Bluse ist der Hammer! Alles top! Ich kann es kaum erwarten bis endlich Frühling ist und ich sie tragen kann. Leider habe ich keinen roten Rock dazu gefunden, aber mit einem hellen Jeansrock sieht es auch super aus.

Ich habe noch nie einen Bodyformer benutzt und ihn aus einer Laune heraus gekauft. Bin begeistert und werde ihn definitiv bei enganliegender Kleidung verwenden.

Alles in allem waren ein paar Highlihts dabei, über die ich mich sehr freue. Danke TopVintage.
Mel Firu
&nbsp|&nbsp
2019-12-15 08:08:58
---
nl
Welkom terug figuur :)
Na mijn zwangerschap is mijn lichaam nog niet terug bij mijn oude figuur, dan is het fijn om tot die tijd iets te hebben wat je toch weer een beetje in shape brengt. Ben echt blij verrast door dit broekje. Het was wel even een werk om hem aan te krijgen want hij zit goed strak. Maar eenmaal aan zit hij als een 2e huid en wordt mijn buikje weer mooi plat gemaakt :)
Sabine van der Stadt
&nbsp|&nbsp
2019-07-16 15:54:12
---
I bought these in a size XL (14) which is my regular bottom size (the product adviced to buy your normal size) - however I couldn't even get them halfway up my thighs even though I tried several times. I know that these are supposed to be very tight, but they shouldn't be impossible to get on. I'm so dissapointed right now! I was careful to buy the correct size (or so I thought) as return postage from Denmark is SO expensive. Now I'm stuck with something I can't use. :(
Maria Märcher
&nbsp|&nbsp
2018-07-31 13:18:07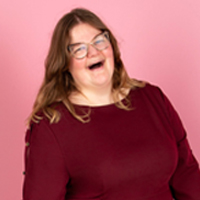 Response from Nicole

Dear Maria, I'm very sorry to hear your item is too small! I'm going to contact you immediately so we can have a look into the size guide together. Of course we are happy to solve any problem!
Kind regards,
Nicole
Customer Service
---
Werkt prima, maakt gladder. Naa het lezen van de reviews heb ik topvintage gebeld en heb op aanrader van een medewerker een maat groter besteld en dat is perfect. Pijpjes rollen wel een beetje op, maar toont niet onder mijn pencildresses, dus top!
Margo
&nbsp|&nbsp
2018-07-01 09:24:35
---
Allemaal pareltjes...wederom erg blij mee. Met name de mooie broche met uil, schitterend van uitvoering, in het echt nog mooier.
Annegreet van Ooik
&nbsp|&nbsp
2018-06-07 14:20:34
---
Ik heb wel 6 stuks van deze broekjes want ze zitten zo heerlijk. Maar denk dat er een herontwerp is want deze nieuwe passen niet eens meer over mijn ene been. Had de Latte in dezelfde maat besteld en die zat perfect. Jammer
Nate
&nbsp|&nbsp
2022-05-17 18:42:32
---
de
Trotz Shapeware: Fällt klein aus
Ich trage Hosen in 31 bzw. 42 und bin nur bis Mitte der Oberschenkel gekommen. Daher finde ich, dass sie klein ausfallen (hatte eine XL bestellt). Stoff wirkte sehr angenehm glatt. Sommertauglich. Oben mit gummiertem Rand.
Katja
&nbsp|&nbsp
2021-05-29 15:00:13
---