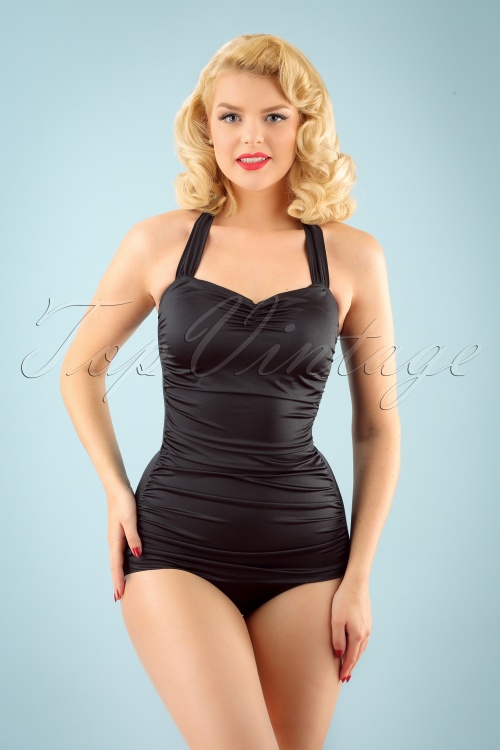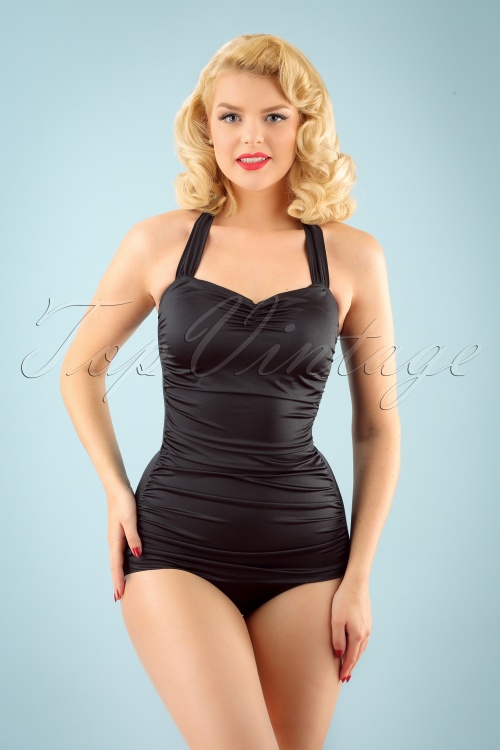 Classic Fifties One Piece Swimsuit Black
This Classic Fifties One Piece Swimsuit is a stunning 50s inspired swimsuit! We love this beauty just as much as Marilyn Monroe did! Halter top with pleated sweetheart neckline, flattering gathered sides, a skirted typical fifties front and ruching over the tummy. Suits all body shapes and is incredibly slimming thanks to the composition of the fabric and the clever design. Made from a stretchy black fabric and inside the swimsuit you have all the support you could possibly need; sewn soft cups with an elastic band under the bust ensure a perfect cleavage. Your vintage swimwear collection just can't do without, do it like Marilyn ;-)
Pleated sweetheart neckline
Halter tie straps
Pleated "skirt"
Sewn in soft cups
Elastic band under the bust for extra support
Low cutted legs
Our gorgeous blonde Rachel is 1.72m / 5'8''
Article nr.
10378
Handwash cold (don't leave it in the water)
Wash inside out
Wash dark colors seperately
Do not tumble dry
Made in USA
Wat een service: gisteren besteld en vandaag al in België aangekomen! Leuk verpakt ook en het zit als gegoten, ben er superblij mee! Bedankt.

An
An Van Rompa
&nbsp|&nbsp
2013-05-17 12:45:45
---
machtig  
christel deprez
&nbsp|&nbsp
2011-06-22 10:17:59
---
Ben heel blij met mijn Esther Williams badpak.
ik vind jullie maattabellen heel handig. Vind jullie jurken ook fantastisch. Ga ik binnenkort ook bestellen!
Zita
&nbsp|&nbsp
2011-06-13 11:51:22
---
Vandaag heb ik mijn bestelling ontvangen, weer heel snel, zoals gewoonlijk. Mijn badpak ( Esther Williams classic fifties badpak) zit heerlijk! enkel in de 60s mod Owl bronze ketting ben ik een heel klein beetje teleur gesteld. Op foto leek de ketting zelf langer. Maar dit is niet iets wat ik niet zou kunnen oplossen dus, Weer een tevreden klant  
Shari
&nbsp|&nbsp
2011-05-17 15:30:44
---
Hallo,

Hartelijk dank voor de snelle levering,heel blij in het bezit te zijn van een Esther Williams retro badpak, laat de zon maar komen en aan jullie, doe zo verder, super !
Kelly Le Roy
&nbsp|&nbsp
2011-03-17 08:02:41
---
Dinsdagavond dit leuke badpak besteld, donderdag al aangekregen (België). Dankzij de maattabel meteen de juiste maat en hij zit heerlijk! Bedankt ook voor de kleine verrassing, heel erg leuk :)
Nathalie
&nbsp|&nbsp
2015-05-10 19:37:02
---
Ik heb het badpak nu ruim een jaar. Het blijft prachtig. Echter ik zou een maat kleiner bestellen want hij valt ruim.
S
&nbsp|&nbsp
2015-03-15 12:19:31
---
Wow! Ik heb er nog nooit zo goed uitgezien in een badpak! Ik ben erg onzeker over mijn buik sinds de geboorte van ons zoontje 5 maanden geleden. Ik heb namelijk veel overtollige huid rond mijn buik, maar in dit badbak zie je er niks van!!!! Top!! <3
Marlou
&nbsp|&nbsp
2015-03-14 15:51:52
---
Wauw, wat ben ik mooi in dit badpak! Dank jullie wel!
Mieke
&nbsp|&nbsp
2015-02-08 16:40:50
---
de
Schöne Hose, leider sofort kaputt
Hallo, als die Hose nach einer Woche endlich ankam, war ich total glücklich, kurz anprobiert, passte wie angegossen und dann dann vorletzte Woche zum Doppelbesuchstag mit meinem Chef, auch noch bei einem wichtigem Kunden ist die Naht am ganzen rechten Bein entlang aussen aufgegangen, ohne daß die Hose eng sitzt. Mega peinlich, ich mußte einen halben Urlaubstag nehmen und habe nun für viel Geld alle Nähte nachnähen lassen. Sehr schade, aber ich hoffe, daß ich nur ein Montagsmodell erwischt habe. Wundert mich auch nicht wirklich bei Made in Transylvanien. Sehr schade :-(
Hallo Daniela, es tut uns sehr Leid dass Sie eine Hoser erhalten haben dessen Nähten beim Tragen aufgingen. Wir werden Sie heute kontaktieren und wir werden bestimmt eine lösung für das Problem finden.

Mit freundlichen Grüßen
Marie-Louise Kern
Kundenservice
Daniela
&nbsp|&nbsp
2015-01-18 20:49:20
---
de
Top-Boutique, Bauch wird weggemogelt
Ich bin Neukundin bei topvintage. Bisher habe ich einen Badeanzug, eine Jeans und 2 Tops gekauft.
So tolle Sachen hatte ich noch nie! Ich bin 1,76 m groß, und wiege ca. 80 kg. Habe eine relativ große Oberweite und einen sichtbaren Bauch. Bisher hatte ich immer Schwierigkeiten, etwas zu finden, was einigermaßen sitzt, und die Schwachstellen nicht auch noch betont. Die Sachen von topvintage dagegen sind für meine Figur perfekt! Die Hose hat die perfekte Länge, mein Bauch ist praktisch unsichtbar, und ich habe endlich wieder eine Taille! Auch die Tops sind phantastisch, darin sieht die große Oberweite Super aus, ohne ordinär zu wirken. Und erst der Badeanzug! Trotz der Körbchengröße sehe ich darin nicht wie eine Oma aus.
Auch die Qualität der Stoffe und die Verarbeitung findet man so nicht oft. Super süße, liebevolle Detaills.
Auch die kurze Lieferzeit (gerade mal 2 Werktage.

Ich werde auf jeden Fall weitere Sachen bestellen!
Heidi
&nbsp|&nbsp
2014-11-15 13:34:54
---
Mooi badpak sjieke uitstraling! Mijn vriend was heel enthousiast! Kleedt mooi af. Wel 1 maatje groter besteld, normaal heb ik 38 maar maat 40 zat net iets beter. Ben zelf 1,52. Alleen jammer dat retour kosten voor eigen rekening is 6,75...
D Klein
&nbsp|&nbsp
2014-07-21 15:17:53
---
Heel blij met mooi badpak..staat goed en zit lekker..site is tip van vriendin..thanks
Hilde Van Dijke
&nbsp|&nbsp
2014-07-17 20:27:41
---
geweldig badpak en schoenen top service,
zo blij om kleding te vinden waar niet iedereen mee loopt
saskia levens
&nbsp|&nbsp
2014-04-09 10:07:36
---
Fantastisch badpak. Supersnelle levering zoals altijd. Moet niet te vaak hier kijken, ga ik failliet ;-).
Jacqueline
&nbsp|&nbsp
2014-04-03 08:43:56
---
Super badpak! Zit comfortablen en is ideaal om een buikje te camoufleren.
Eva
&nbsp|&nbsp
2014-01-22 19:52:24
---
Vandaag mijn bestelling ontvangen. Wat is alles prachtig. Mijn nieuwe rode polka jurkje van Collectif gelijk aangetrokken naar een verjaardag. Direct complimenten gekregen. Zelfs het badpak, waar ik eerst mijn twijfels over had ivm de maat, zit prima.
En de broek is helemaal geweldig.
Mary Westland
&nbsp|&nbsp
2013-08-27 20:15:04
---
Net mijn badpak ontvangen en dat zit super: de maattabel klopt dus! Ik voel me heel andere vrouw:-) Hier bestel ik nog!
Karin
&nbsp|&nbsp
2013-08-06 16:02:43
---
Topvintageverslaving, het bestaat! ;-) Van elke bestelling word ik weer supervrolijk! De rokken en jurken en accessoires en het badpak, ja alles zit weer perfect! <3 topvintage! :-)
Liesbet Das
&nbsp|&nbsp
2013-07-31 11:26:23
---
Dankzij goede maattabel in 1 keer goed :-) Snelle levering wederom. Badpak voldoet aan alle verwachtingen, fijn materiaal, goede pasvorm. Heel blij mee!! Nu de zon nog!
Claudia
&nbsp|&nbsp
2013-06-26 19:43:31
---
Zo tevreden over mijn aankopen..super service..snelle levering en geweldige producten. Helemaal verliefd op mijn erika dress. Volgende week ga ik de stranden afstruinen met mijn fabu badpak en cateye zonnebril. Topvintage...Top
Leonilda Fortes
&nbsp|&nbsp
2013-06-19 18:35:49
---
Superblij met m'n nieuwe badpak! Flatteert enorm ook als je geen topmodelmaatje hebt. Nu de zon nog!
Barbara
&nbsp|&nbsp
2013-05-24 13:38:22
---
Wat een prachtig badpak. Helaas groots in materiaal en uitvoering maar de kleinste maat ook (te)groots voor mijn lichaam. Ging retour voor een passender lijf!
Rita Metzelaar
&nbsp|&nbsp
2019-05-31 06:28:40
---
Meteen zin om te gaan zwemmen!
Het zwempak is ongelofelijk flatterend!
Het trekt mijn buikje in en accentueert mijn boezem!
Zo'n badpakken zijn een unicum!
Siel
&nbsp|&nbsp
2017-04-08 10:42:25
---
nl
Super voor mijn onzekerheid
Ik heb sinds mijn eerste zwangerschap een buikje. Met dit zwempak kan ik zelfverzekerd op pad. Mijn man vind bikini's mooier en ik mocht nooit badpakken aan maar deze vind hij wel heel mooi.

De krullers heb ik nog maar 1x gebruikt en ik merk dat ik nog veel moet oefen ermee. Maar mijn krullen beven wel de hele dag zitten normaal zijn ze er met een uurtje eruit (krultang)
Joyce
&nbsp|&nbsp
2017-02-15 16:53:15
---
de
Nichts für kleine Oberweite
Ich habe den Esther Williams Badeanzug einmal in Rot in Gr. S und einmal in Schwarz in M bestellt. Die Verarbeitung beim Roten war top. Beim Schwarzen hatte ich das Gefühl, dass er in der Mitte vom Ausschnitt irgendwie schief genäht war.
Untenrum saßen beide ganz gut (Hüfte habe ich 98 cm), wobei der in S alles etwas straffer zusammengedrückt hat, in M war er dafür etwas bequemer. Dennoch fand ich, dass beide an den Beinansätzen eingeschnitten haben. Obenrum haben beide nicht gepasst, unter einem C-Körbchen halte ich den Badeanzug für unpassend. Bei beiden blitzte das Innenfutter hervor (ich denke, weil die Cups nicht genug ausgefüllt waren, ich habe einen Umfang von 86 cm, ein keines B-Körbchen). Geht daher zurück. Schade.
Steffi
&nbsp|&nbsp
2017-01-03 09:25:11
---
Lang getwijfeld vanwege de prijs, nu toch aangeschaft en nog geen spijt.
Mooie pasvorm en kwaliteit!
Nina
&nbsp|&nbsp
2016-10-15 19:48:26
---
Klaar met zwemmen, dan broekje of rokje aan en je hebt er nog een top aan ook! hij mag mee op vakantie!!
Anouk
&nbsp|&nbsp
2016-07-07 09:03:27
---

Dit super mooie badpak besteld en dankzij de maattabel meteen de juiste maat het zit perfect ben er heel blij mee.

De rok zit als gegoten is prima te combineren en bij elke gelegenheid te dragen zowel chique als wel sportief. Malee
Mallee
&nbsp|&nbsp
2015-08-26 22:22:43
---
de
Großartig, vor allem bei Kurven!
Ein wunderbarer Badeanzug! Speckpölsterchen werden weggemogelt, Kurven kommen zur Geltung und das Wichtigste: durch den moderaten Beinausschnitt sieht man nicht den halben Po ;)
I love it!
Devi
&nbsp|&nbsp
2015-05-20 09:02:43
---
nl
Zit als gegoten! Ook met kleine (cup)maat
Veel reviews die ik las gaan over hoe geweldig flatterend dit badpak is voor grotere maten en loszittend vel na zwangerschap.

Loszittend vel na meerdere zwangerschappen heb ik zeker, maar een mooie volle boezem heb ik er helaas niet aan overgehouden. Ook mijn volle heupen ben ik kwijt. Maar ook in die omstandigheden zit dit badpak als gegoten! Dus ook voor dames met kleine maatjes is dit een prachtig badpak.
Sterre
&nbsp|&nbsp
2022-08-09 12:32:18
---
Staat prachtig op het model die het draagt. Bij mij zag het er echt uit als zo'n oma badpak, helaas
Suzanne
&nbsp|&nbsp
2021-03-17 15:30:24
---