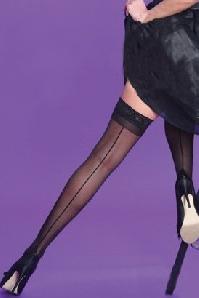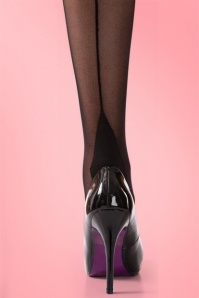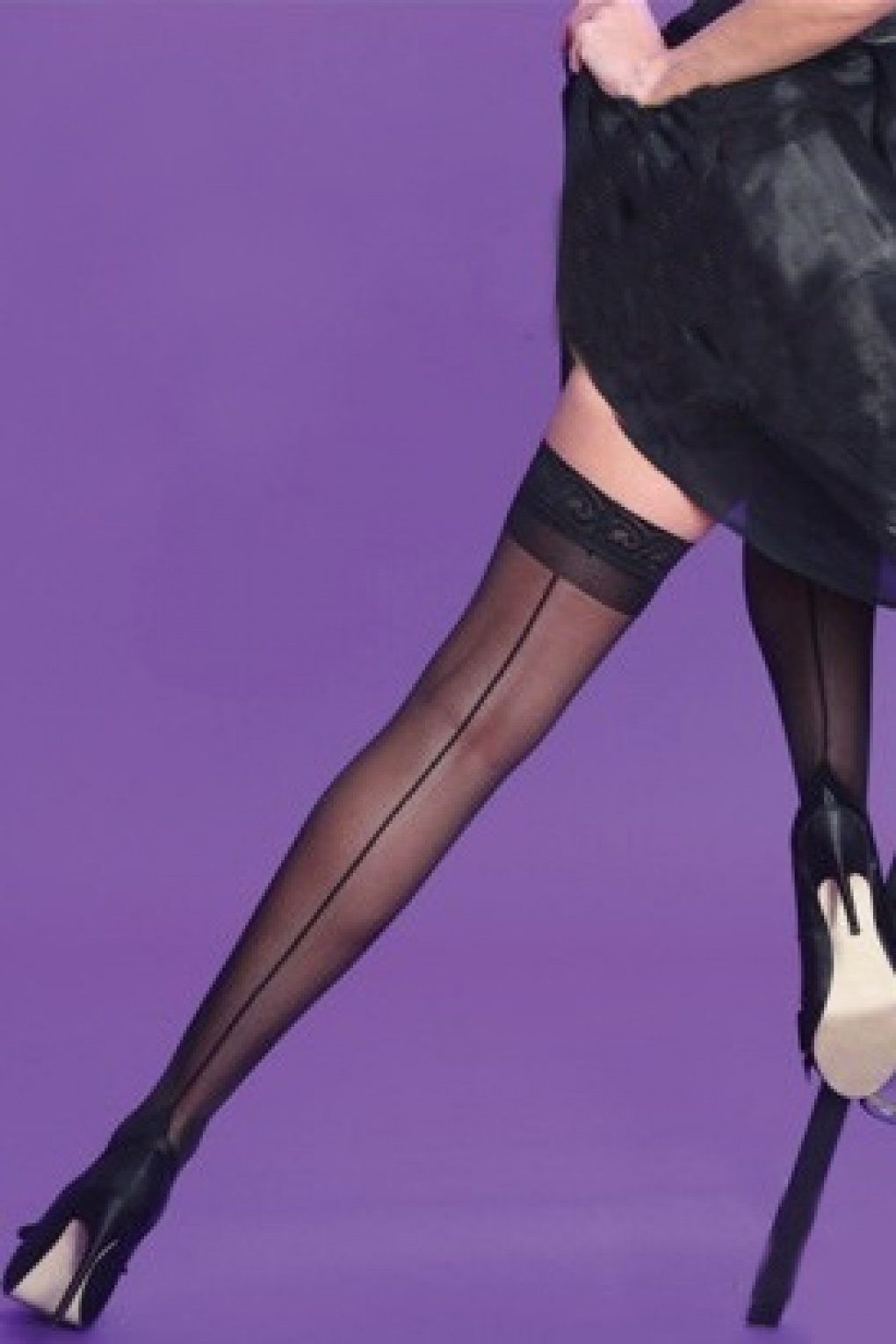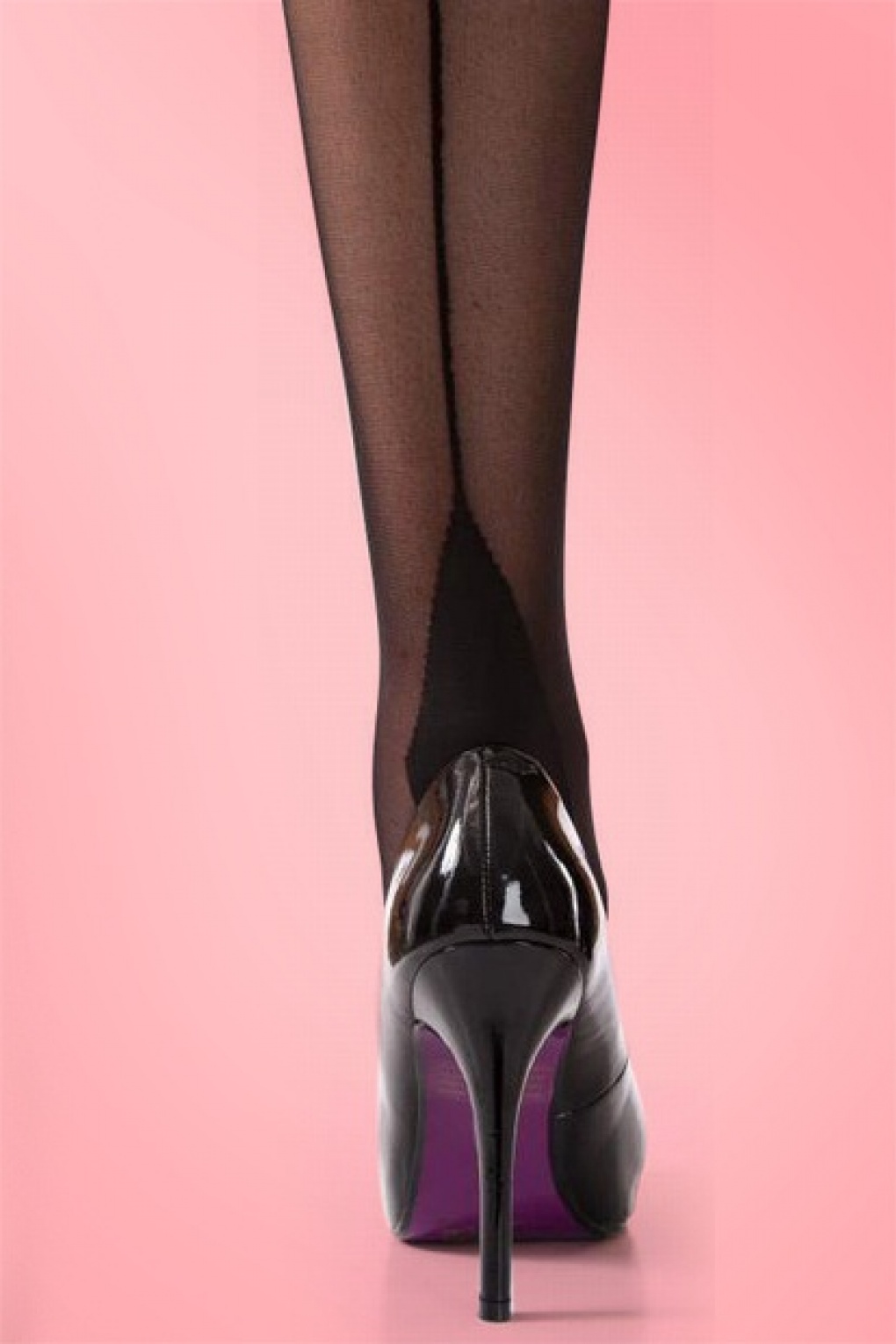 15% birthday discount!
15% OFF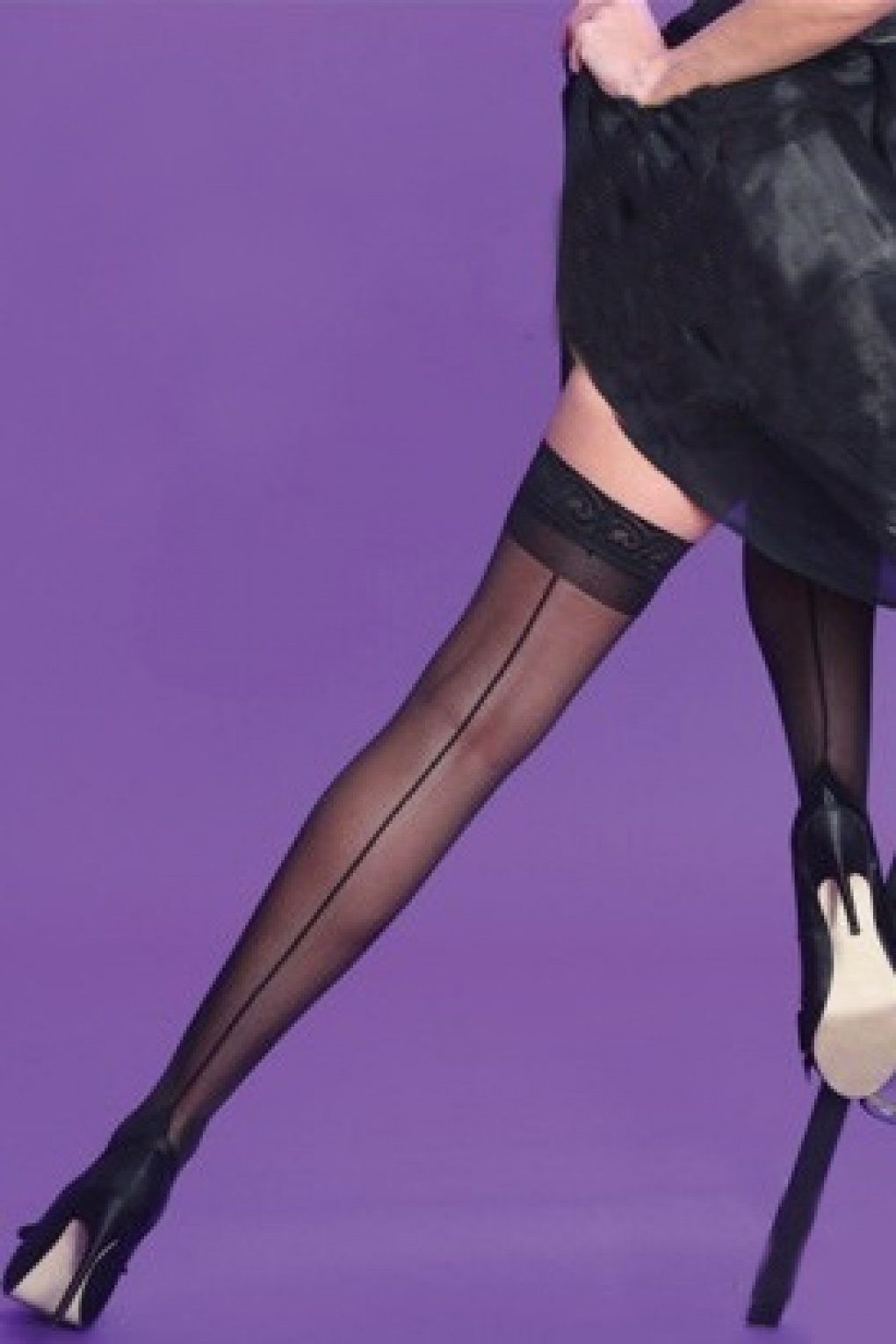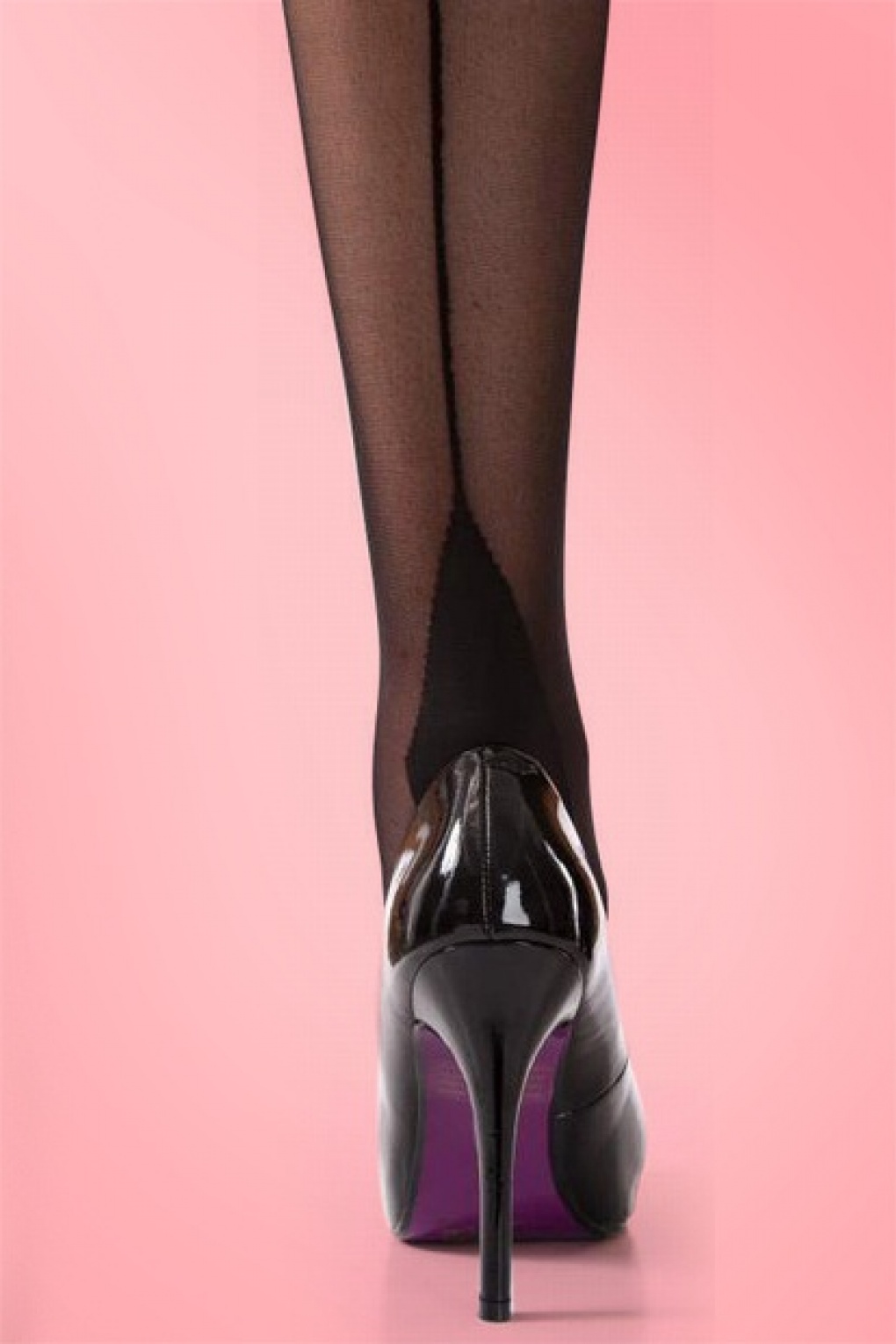 15% birthday discount!
15% OFF
Classic Seamer Lace top Hold Ups in Black
These vintage inspired Classic Seamer Lace Top Hold Ups in Black are made of a soft and fine fabric (15 denier) styled with a pointy so-called Havana heel and a black back seam. These sheer hold-ups are finished with beautiful lace tops, flat seams and reinforced toes. Sexy hold-ups that pair old time glamour and allure with everyday comfort!
Hold-ups
Lace tops 
Flat seams 
Reinforced toes 
The featured shoes and skirt are not available in our shop 
Article nr.
10582
Handwash cold (don't leave it in the water)
Do not tumble dry
de
Ich habe mich verliebt und hier seht ihr...
....mein Brautkleid mit Accessoires.

Danke, Danke, Danke für Euren Beitrag zu meiner Hochzeit mit diesem super Outfit!!
Kirsten M. | 2018-10-19 22:17:15
---
nl
Not what I was hoping for
unfortunatelly it was not what I was hoping for. I am 1.65cm and there are extremely long for me so not suitable for someone with my height. The "one size" guideline maybe should be altered or mention that it is not suitable for "ladies who are not so tall.
Fay | 2015-12-26 17:25:46
---
Die Strümpfe sehen toll aus, aber leider sind sie viel länger und größer als das gleiche Modell in hautfarben, weshalb sie bei mir nicht optimal sitzen und ziemlich rutschen.
Nadine | 2015-05-28 06:26:17
---
zoals altijd geweldige service goede kwaliteit ...
Thamar | 2015-03-31 11:55:39
---
Ben weer 3 kledingstukken rijker geworden.
Had een cadeaubon van mijn schoonzusje gekregen voor mijn verjaardag, gelijk iets leuks uitgezocht en toen deed de code van de cadeaubon het niet :(
1 mailtje naar de klantenservice en een dag later kon ik de code gebruiken :D

De rok van Bunny is echt een mooie rok en chic, het paarse truitje wilde ik al even hebben maar deze was steeds uitverkocht en nu was deze weer op voorraad, gelijk besteld.
Mooie fijne stof heeft het truitje had het een dunnere stof verwacht maar dit is in tegendeel, juist een iets dikker stofje erg comfortabel met dragen.
De naad panty maakt het geheel mooi af, ben weer een blije meid zoals gewoonlijk als er een pakje bezorgd wordt van TopVintage, zag er weer mooi uit en het rook heerlijk naar het lavendel hartzeepje die in het pakketje zat :)

Alleen 1 nadeel als je zulke leuke dingen ziet en besteld bij TopVintage dat mijn kast te klein gaat worden haha

Thnx TopVintage voor dit leuke pakketje weer en tot de volgende bestelling maar weer xxx
Ellen | 2015-03-04 09:41:40
---
Heerlijke kousen, erg mooi en zitten zalig, superzacht, ik wil niet anders meer?
Angelique | 2022-02-07 05:49:31
---
De jurk is helaas een hele andere kleur groen dan op de foto's. Meer koel groen.
Ook de stof valt tegen, de jurk zit niet lekker.
De panties blijven niet plakken en hangen dus op je knieën. De tweede verpakking maar retour gestuurd met de jurk....
Zonde...en jammer.
Beste Marloes, wat jammer dat je aankopen deze keer tegenvielen! We proberen de kleur altijd zo realistisch mogelijk af te wijken, maar door verschil in beeldschermhelderheid en/of pixels kan de kleur toch iets anders zijn. Ik weet zeker dat je de volgende keer weer meer geluk hebt!
Groetjes,
Nicole
Klantenservice
Marloes Kort | 2020-01-16 16:02:21
---
Leuk riempje! Zowel op de heup als in de taille te dragen!
Kim Van Duysen | 2013-11-19 20:44:04
---
Mijn outfit:
Spin Doctor 1930s Ariana Black Lace Fishtail Dress
Scarlet Classic Seamer Lace top Hold Ups in Black
Pinup Couture 40s Cutiepie Mary Jane Lipstick Red platform lak pumps
Darling Divine Glamour Hairflower & Brooch Black

Voor de premiere van de documentaire van mijn vriend tijdens het Nederlands Film Festival wilde ik natuurlijk wel even extra m'n best doen met een mooie outfit. Nou Topvintage, dat is gelukt hoor! De hele avond complimentjes mogen ontvangen! Enige minpuntje, de kousen bleven halverwege de avond niet meer plakken... Gelukkig liggen de 'postbode-elastieken' in de straten van Utrecht voor het oprapen, waarmee alles toch nog netjes op z'n plek bleef zitten!
marjolein | 2013-10-25 22:25:43
---
Wauw wat een te gekke site!
Aanbod van de artikelen is zo breed en gewoon fantastisch!
Tevens is de services van het bestellen ontzettend goed, binnen 1,5 dag had ik mijn bestelling in huis. Helaas had ik 1 artikel niet goed besteld en de ruilservices met reacties is erg snel. Fijn om te snel te weten waar je aan toe bent.
Thanx Top Vintage!
Yvonne | 2013-02-15 13:13:00
---
Terug super blij met mijn derde bestelling! :)
Bedankt om mij ook altijd goed te helpen bij mijn vragen. De kleren zijn van superkwalitieit en gewoonweg SUPER! x x x
Evelien Vandendriessche | 2013-01-21 14:03:00
---