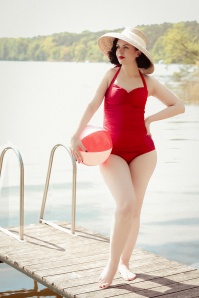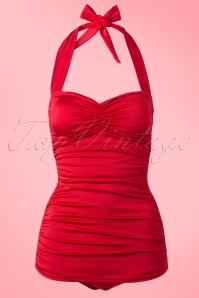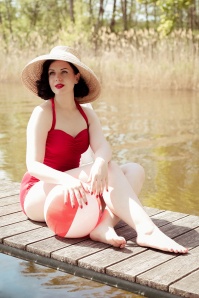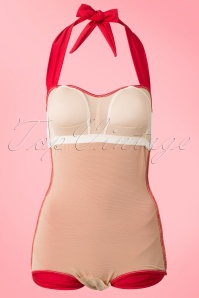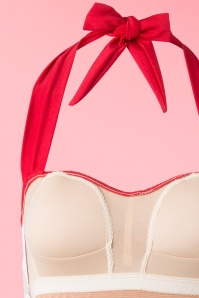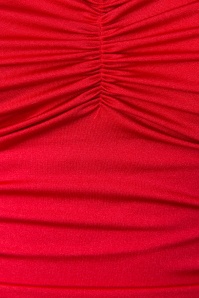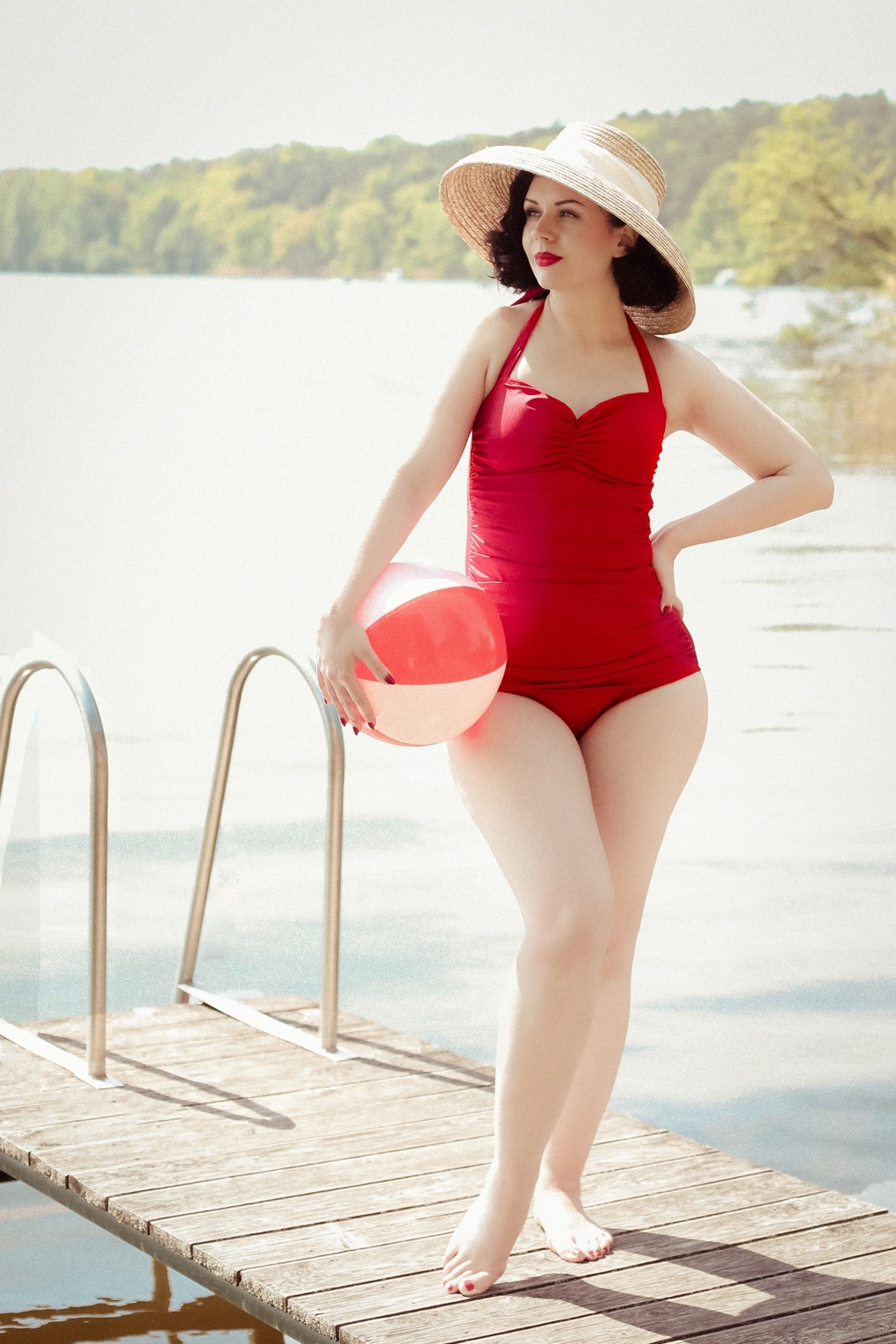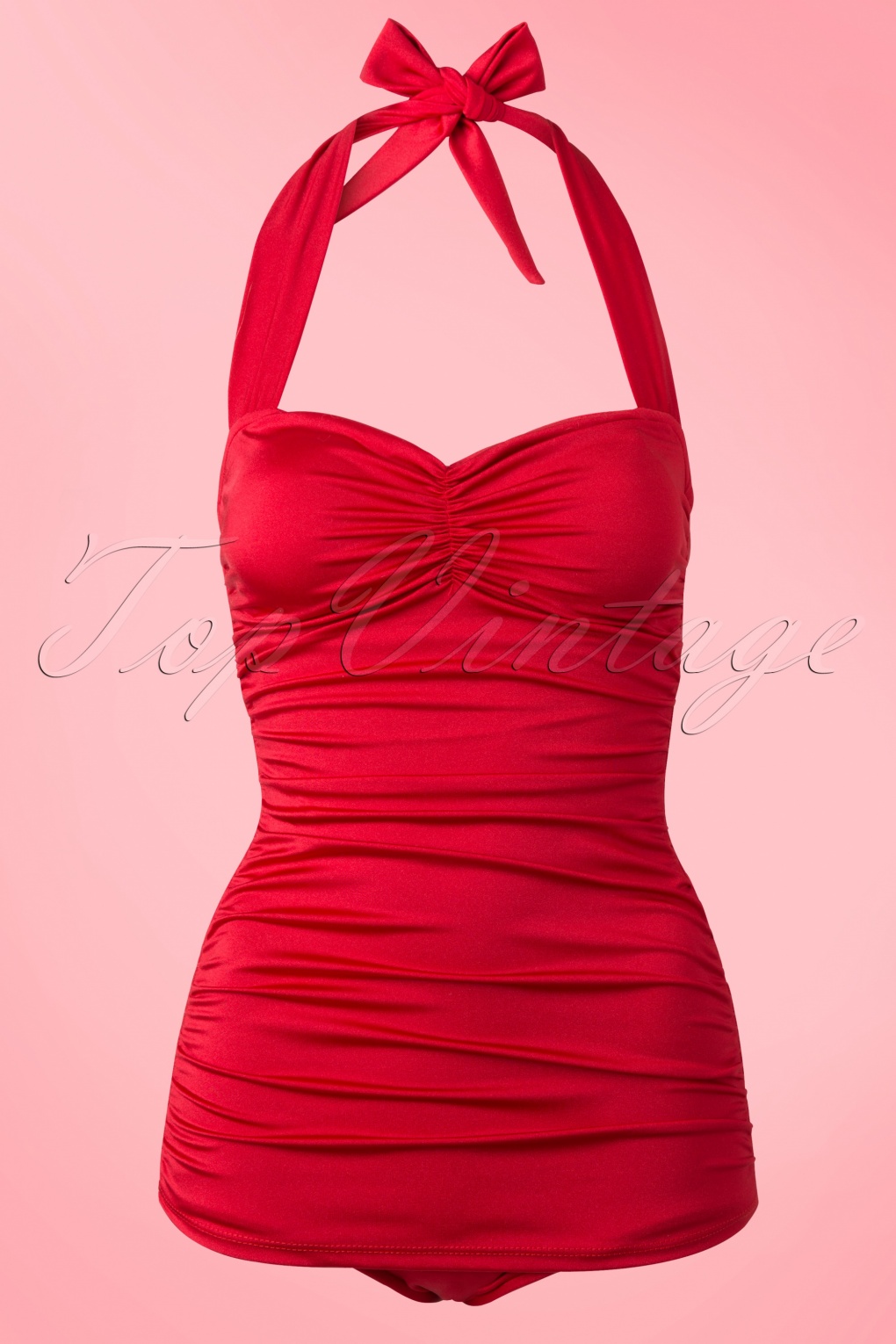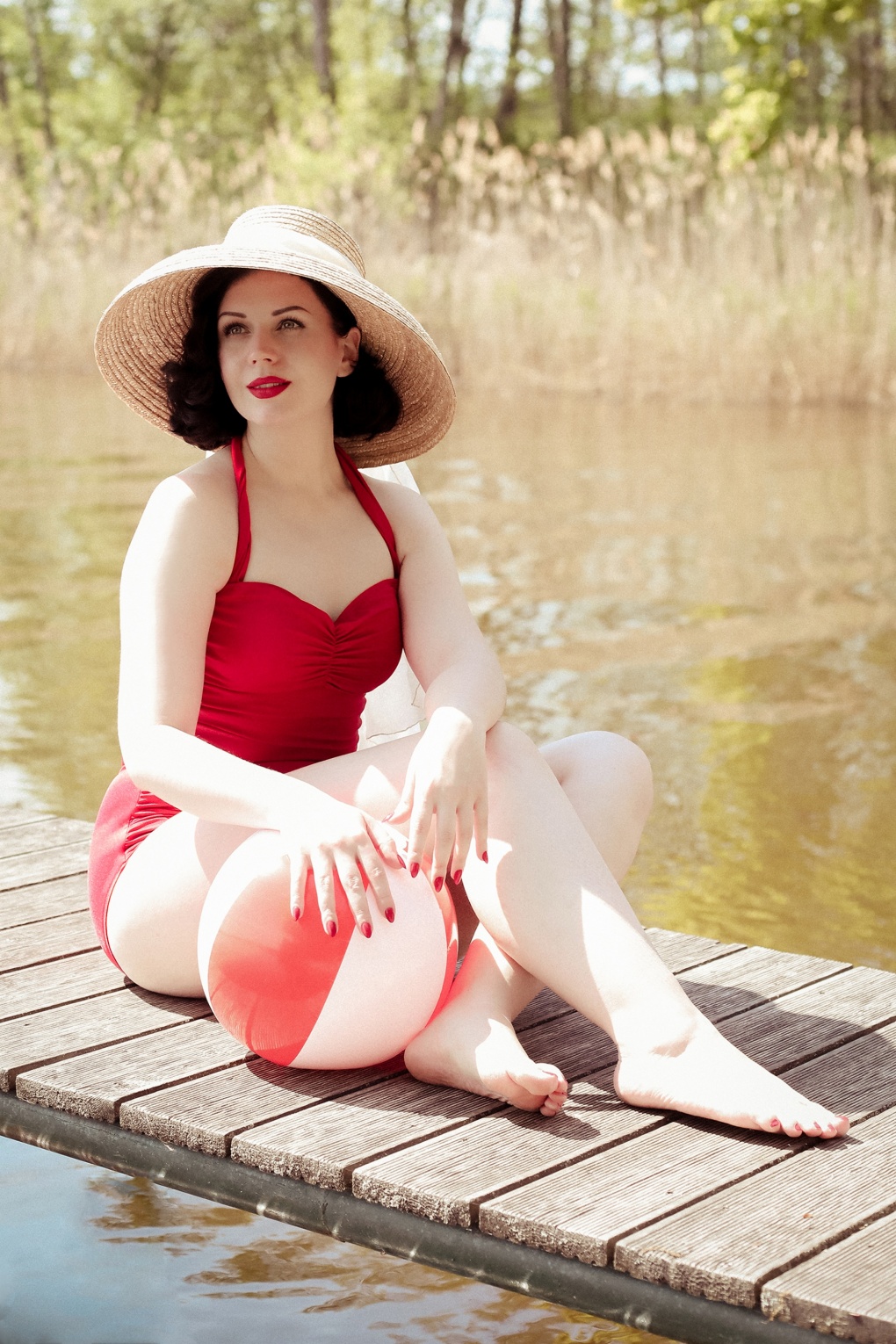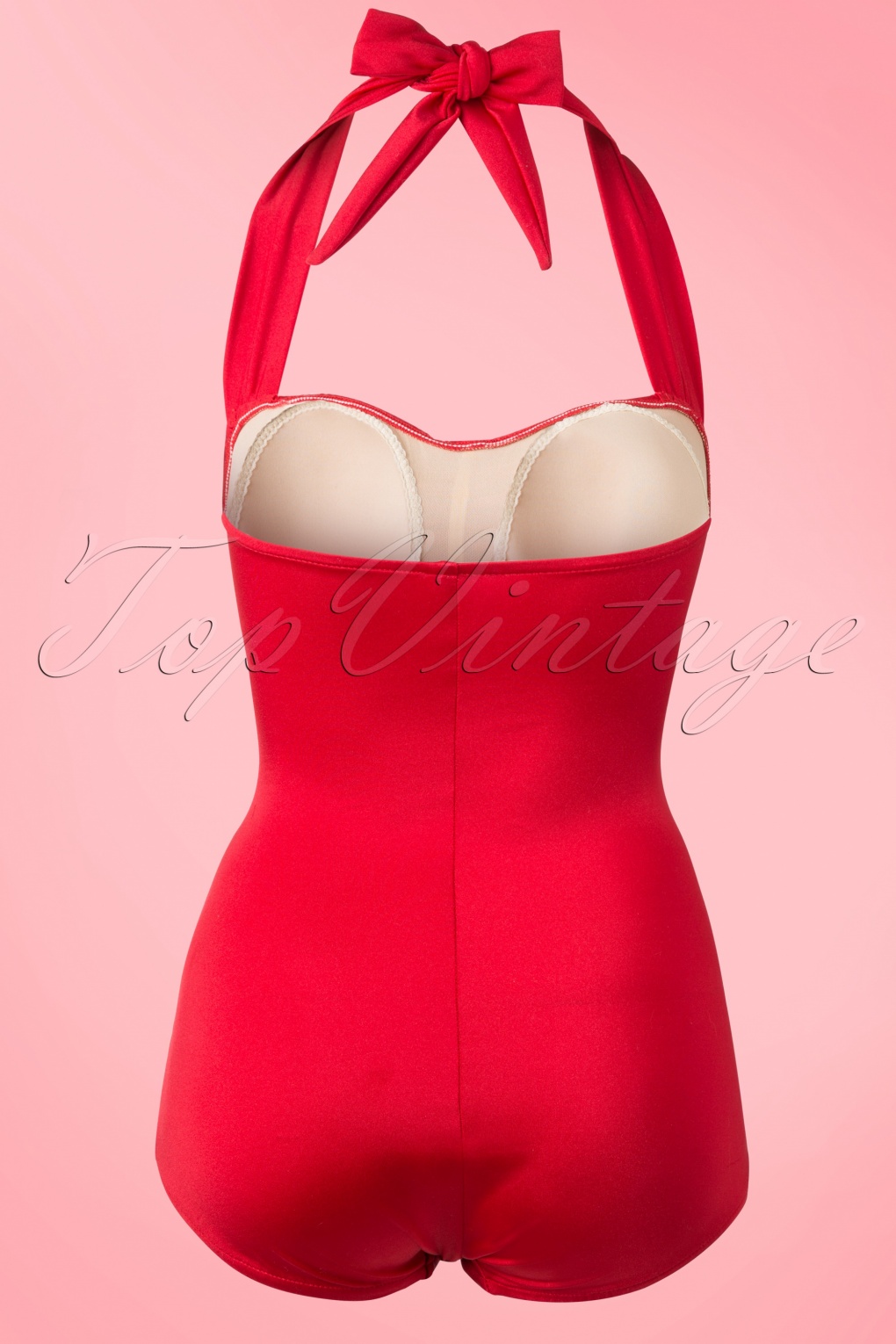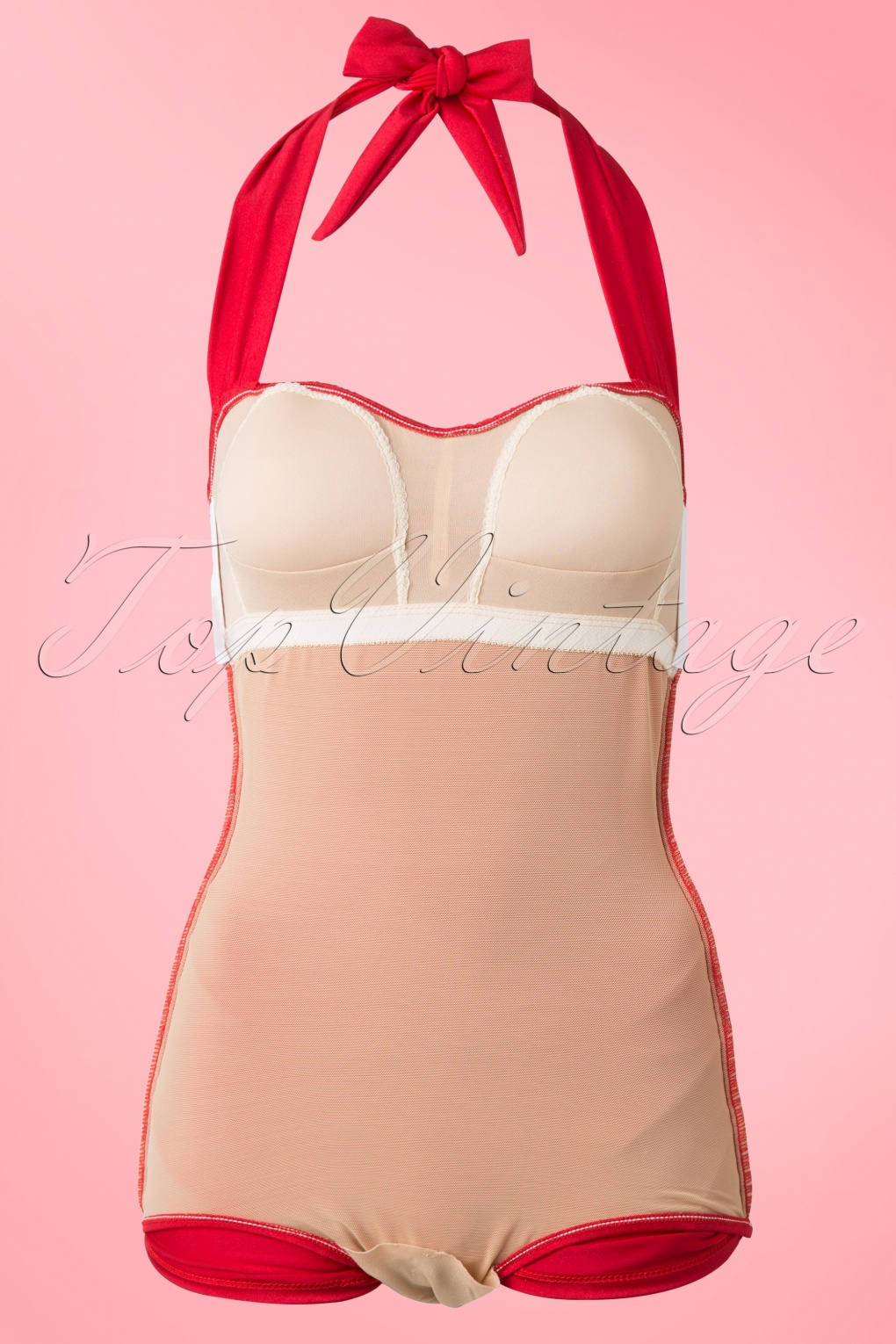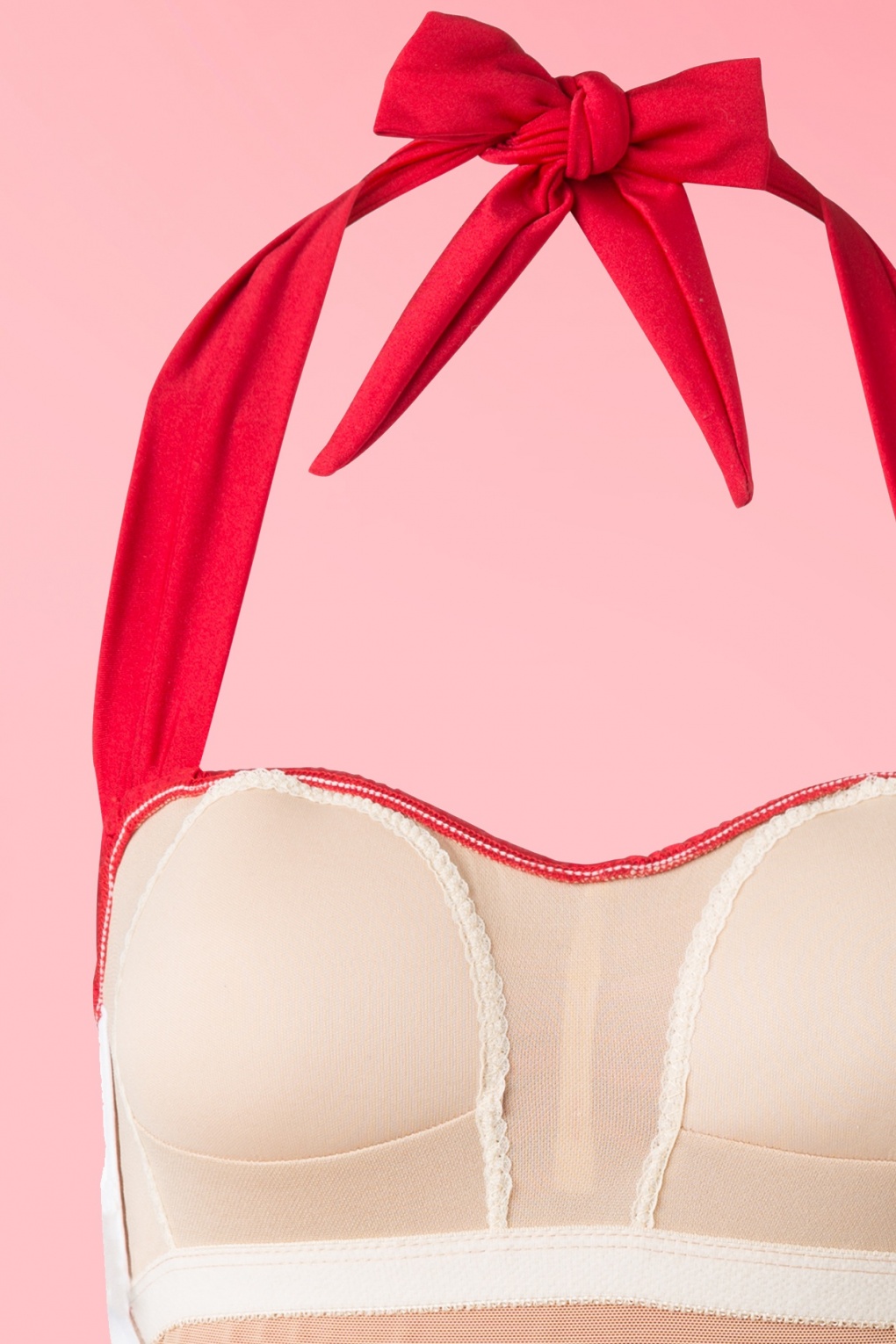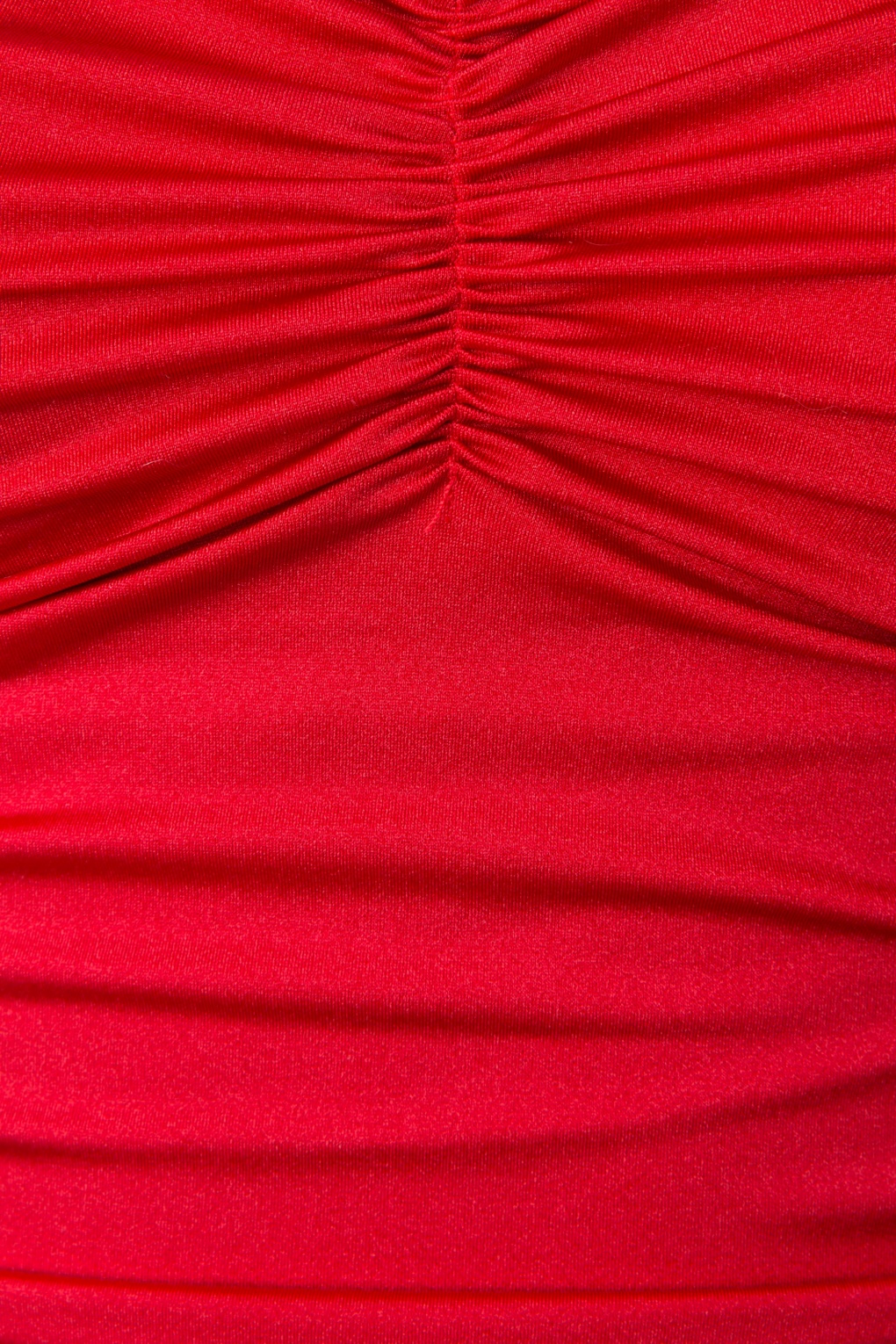 15% birthday discount!
15% OFF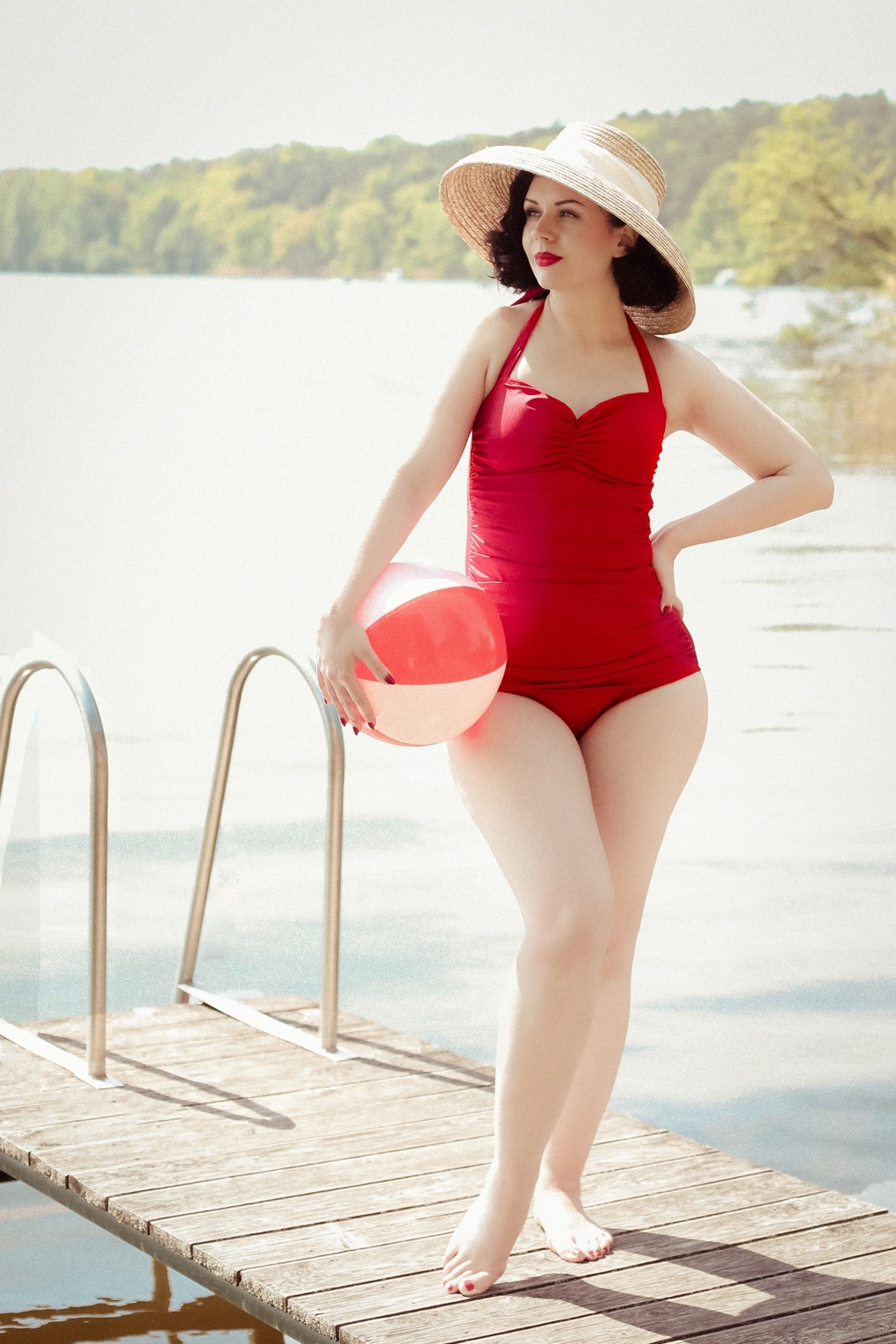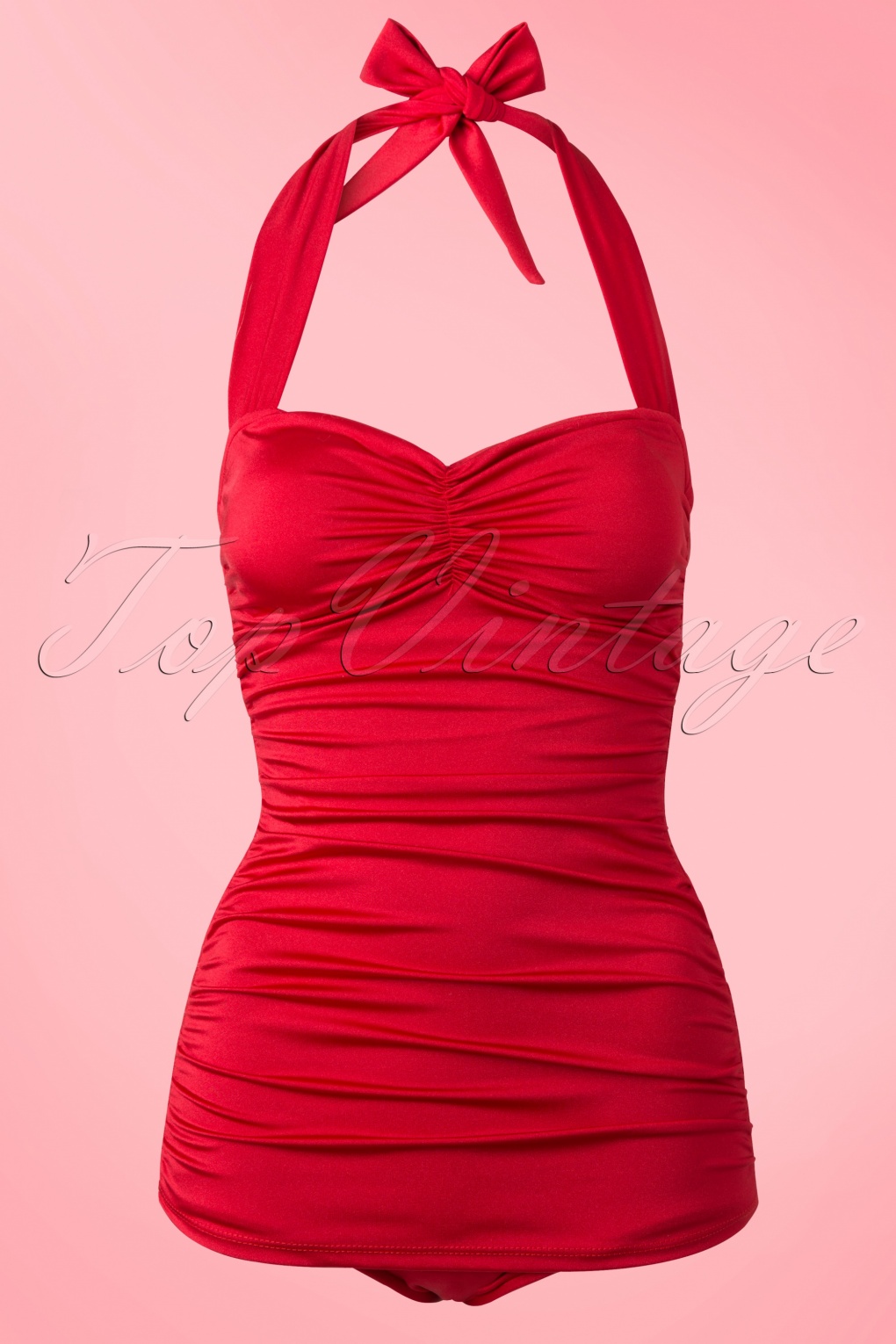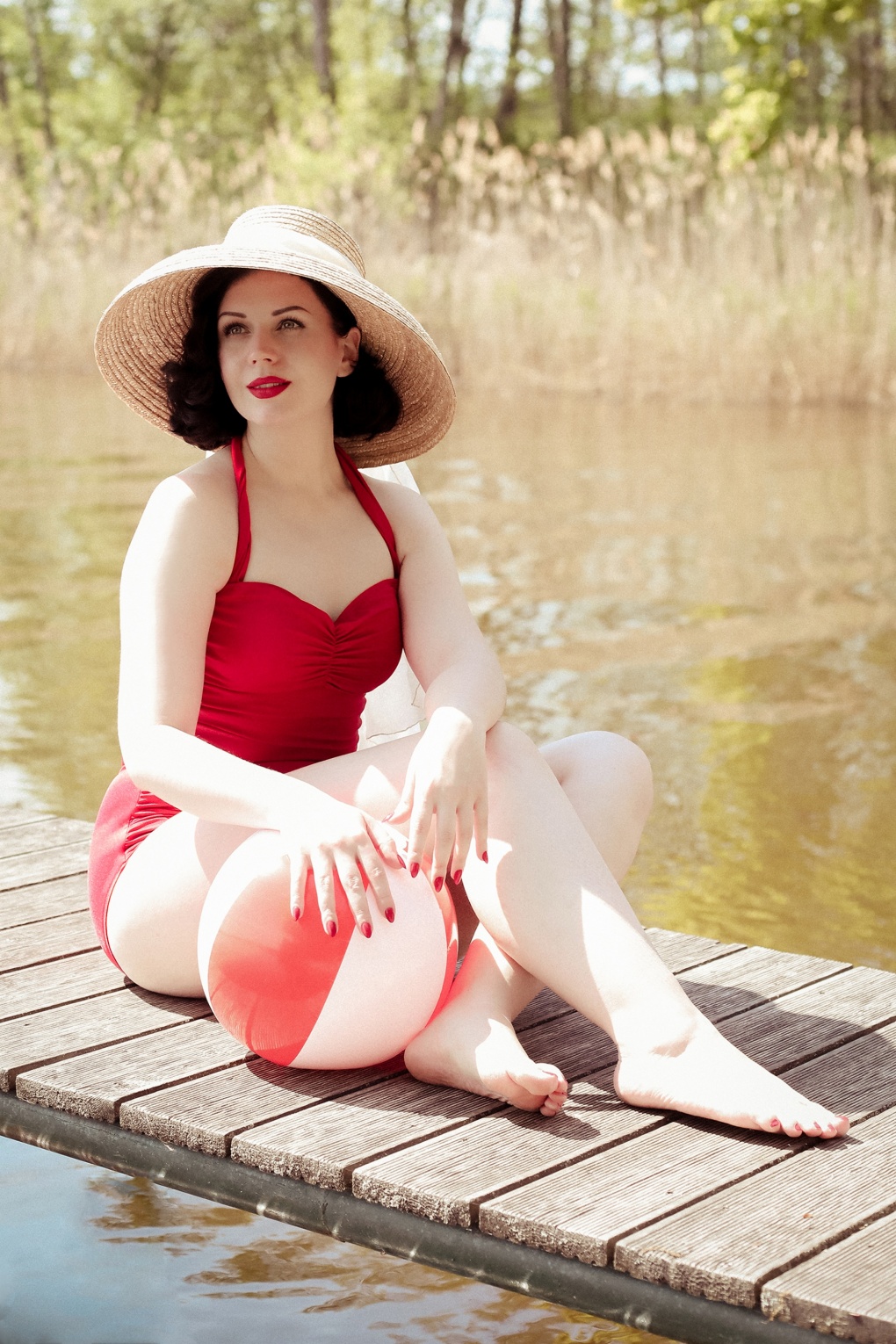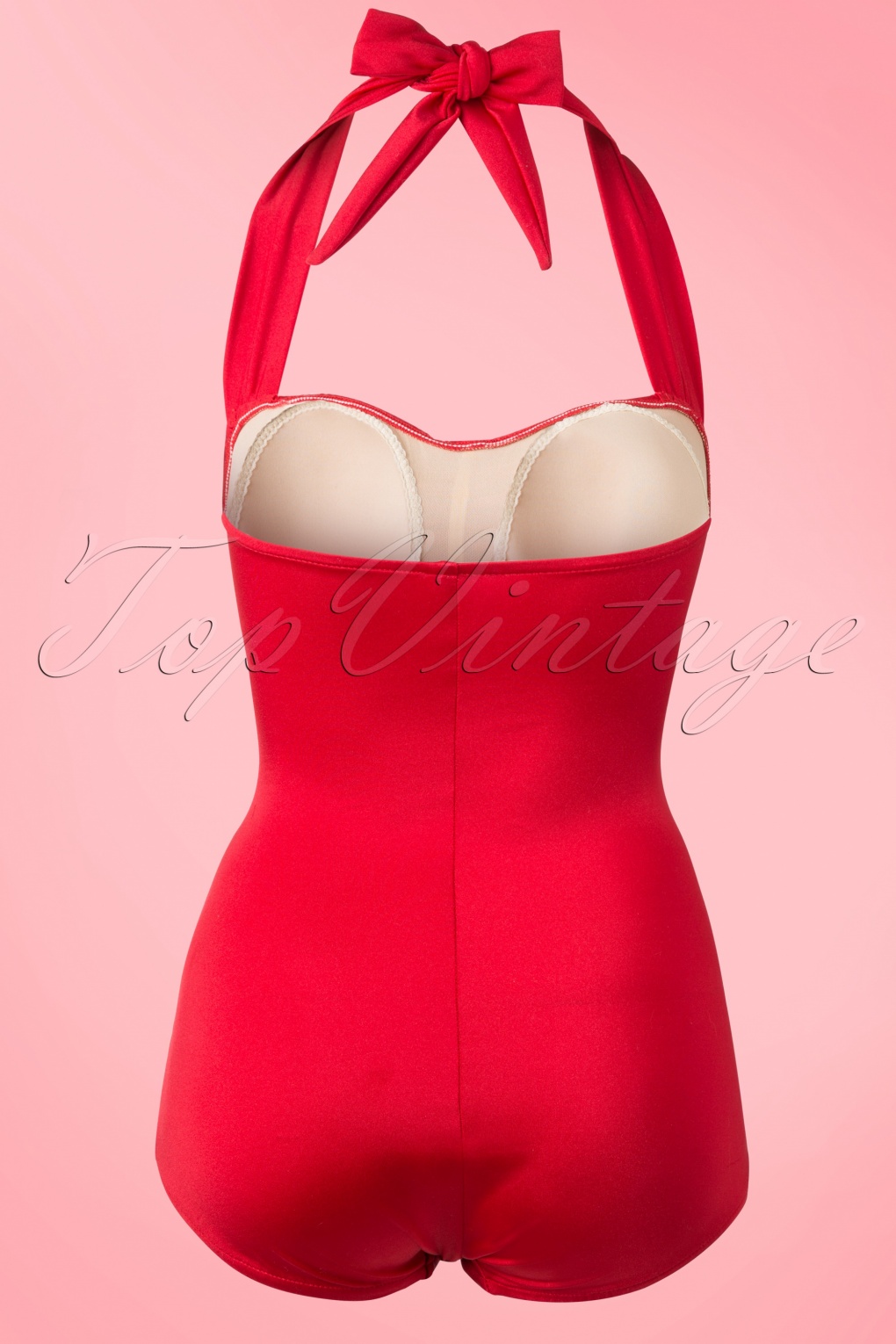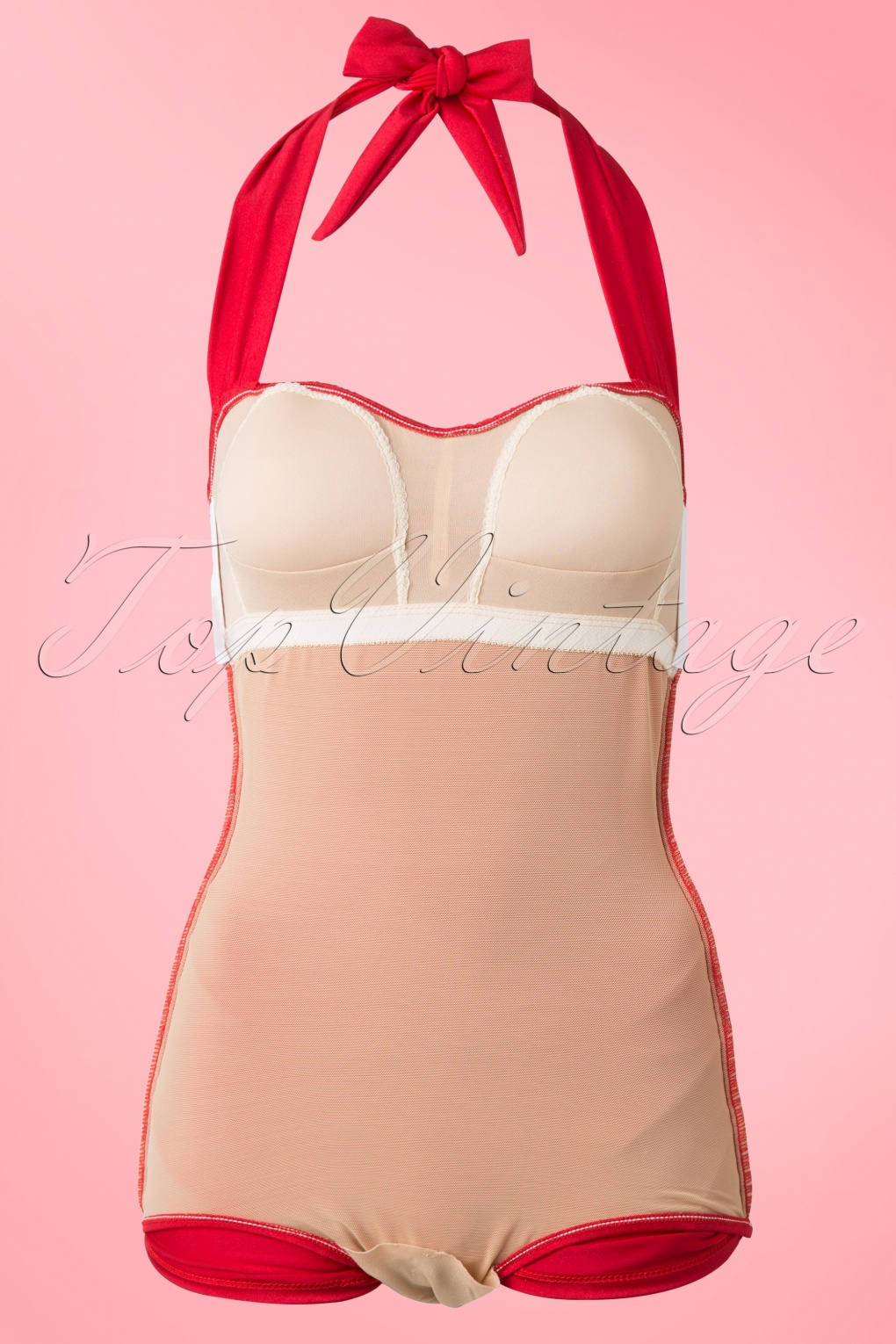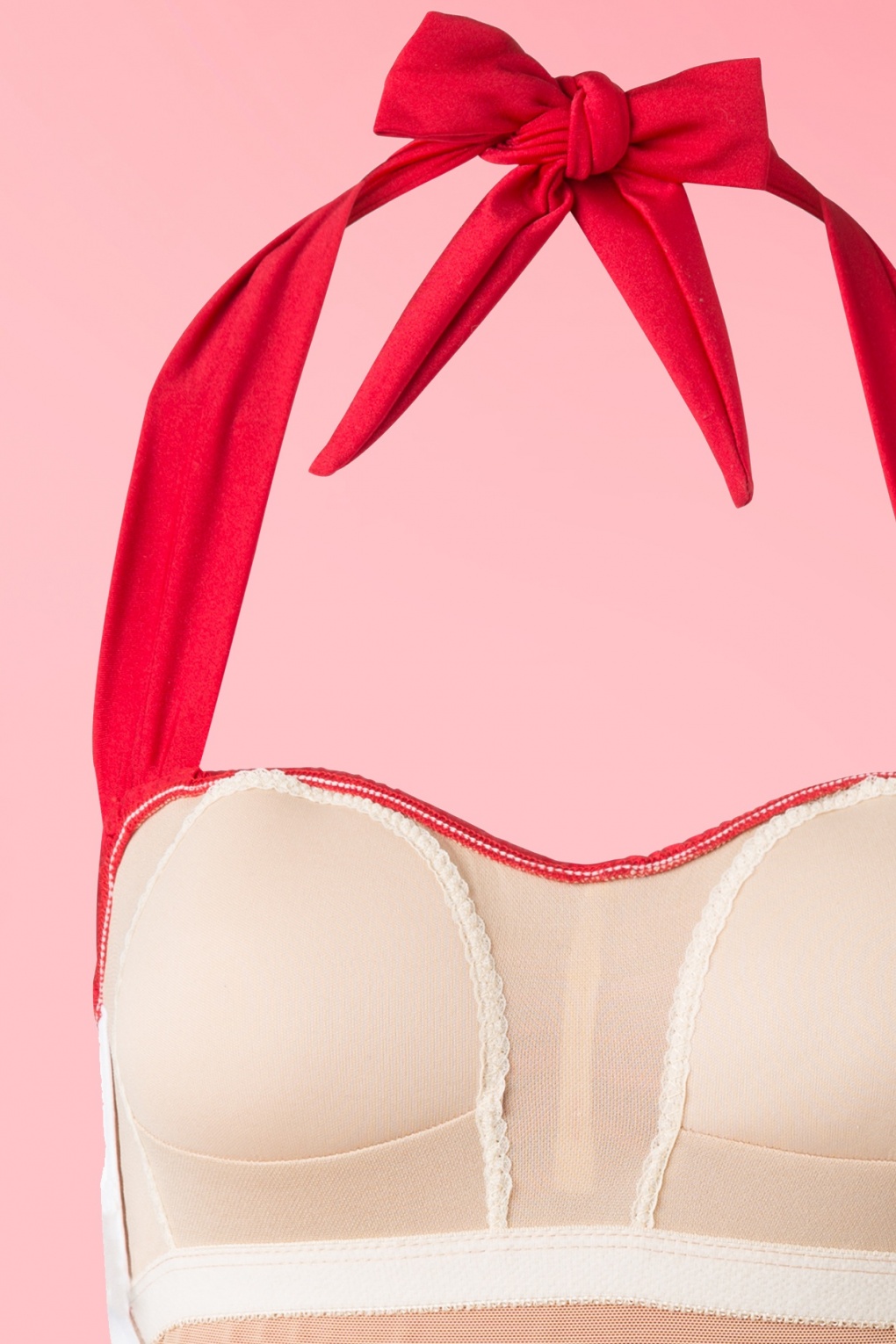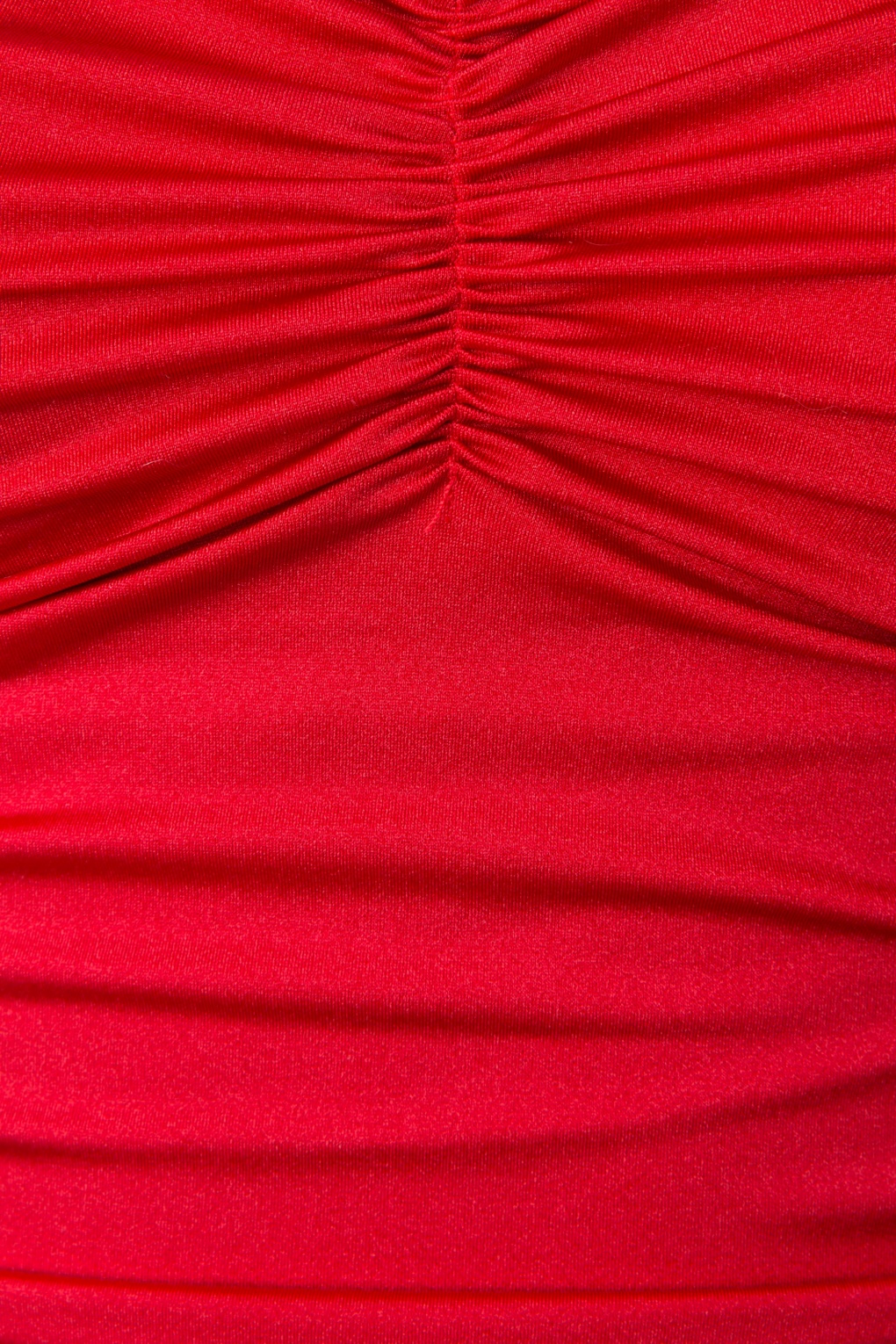 15% birthday discount!
15% OFF
Classic Fifties One Piece Swimsuit in Red
This Classic Fifties One Piece Swimsuit is a stunning 50s inspired swimsuit! We love this beauty just as much as Marilyn Monroe did! Halter top with pleated sweetheart neckline, flattering gathered sides, a skirted typical fifties front and ruching over the tummy. Suits all body shapes and is incredibly slimming thanks to the composition of the fabric and the clever design. Made from a stretchy lipstick red fabric and inside the swimsuit you have all the support you could possibly need; sewn soft cups with an elastic band under the bust ensure a perfect cleavage. Your vintage swimwear collection just can't do without, do it like Marilyn ;-)
Pleated sweetheart neckline
Halter tie straps
Pleated "skirt"
Sewn in soft cups
Elastic band under the bust for extra support
Low cutted legs
Worn by the gorgeous Madame Rhos
The featured pumps and accessories are not available in our shop
Article nr.
15572
Handwash cold (don't leave it in the water)
Made in USA
nl
Deze kleur past niet helemaal bij mij..
Maar fit is prima en stof ook.
Anouk | 2016-07-07 09:08:46
---
de
Hübsch, leider nicht großen Busen geeignet
Aber leider nicht für einen großen Busen (75E) geeignet. Deshalb geht dieser Badeanzug zurück.
Katrin | 2016-06-02 14:43:30
---
Van te voren erg getwijfeld of ik het badpak zou kopen omdat ik hem wel prijzig vond en nog nooit zoveel geld aan badmode had uitgegeven. Maar hij is het meer dan waard!!! En achteraf gezegd had ik het veel eerder moeten doen!
Prachtige glanzend rode stof en hij zit daarbij ook heerlijk door de verstevigende voering. Enige probleem dat ik ervaar is dat ik het badpak nu in nog meer kleuren wil hebben ;)
Nadia | 2016-05-31 16:52:55
---
de
Vavavoom! Auf einmal Beach-Göttin....
Dieser Badeanzug sitzt (dank Größentabelle) wie ein Handschuh, Pinup-Feeling inbegriffen. Gerade auch wenn man das ein oder andere Pölsterchen verstecken möchte, kaschiert und formt der Badeanzug optimal. Ich werde ihn mir wahrscheinlich auch noch in einer anderen Farbe zulegen.
Madeleine | 2016-05-04 05:23:04
---
As a new mum I have been searching a long time for a flattering swimsuit that doesn't make me look old/boring. Finally I found the perfect swimsuit! This is gorgeous and very flattering. I'm super happy with this purchase! I'm a US size 6 / Euro size 39 / UK size 10 and thanks to the very helpful size guide, size 10 fits me perfectly. LOVE LOVE LOVE!
KC | 2016-04-03 14:01:36
---
Alle spullen keurig ontvangen en snel, de volgende dag al.
Laat de vakantie nu maar komen, ik ben er klaar voor!!

Alles past perfekt en de zonnebril is ook erg mooi.
Ben zeer tevreden
Wenny | 2015-06-03 07:58:29
---
nl
Ik... in een badpak!? Gaat nu toch echt gebeuren...
Ik probeer eigenlijk al jaren geen badpak meer. Ze zijn vaak te lang in de torso voor mijn 1.58m, helemaal nu ik een grotere maat nodig heb. Maar bovenal: badpak = truttig. Maar ik had nog nooit de Topvintage merken getracht, dus 2 bikini's en 2 badpakken in de bestelling + fingers crossed.

Het rode jaren 50 EW badpak dat zo veelbelovend leek, zat helaas voor geen meter. Kreeg er ogenschijnlijk nog dikkere benen van en 't bovenstuk zorgde ervoor dat mijn 80E een 80B leek. What the....?! Vond de halter ook niet zo comfortabel. Moet zeggen dat ik het, zeker voor zijn prijs, wat goedkopig vond lijken. Ik dacht dat we dezelfde kant op gingen als normaal en toen...

2. Deed ik het zwarte jacquard multiway WOW badpak aan. Keek in de spiegel... huh? Mijn hulp was er toevallig, dus ik liet het haar zien en zij zei wat ik dacht: Oh, die staat moooooi!

Hoewel ik eigenlijk een kleurtje had willen bestellen (ben erg bleek, zwart dan niet altijd beste keus), ben ik nu blij met zwart. Het kleedt extra af terwijl tegelijkertijd het bladermotief in de stof het iets speciaals geeft.

Doordat het bovenstuk dus te knopen is, is hier de lengte geen issue. Ik verkies een variant zonder een knoop in mijn nek, maar er zijn drie versies mogelijk volgens het bijgevoegde kaartje en je kunt nog creatiever zijn als je wilt ;). Mijn borsten komen echt fantastisch uit in dit badpak - meestal ook een issue zonder beugels - zonder vulgair te zijn. En je krijgt een mooi effect op je rug en in je taille door hoe je het materiaal knoopt: eigenlijk heb je vanuit je middel twee dikke, lange banen stof.
Dit WOW badpak zit ook mooi aan de bil. Een nette jaren 50 bedekking, maar gek genoeg kreeg ik hierdoor niet een TE platte bil of dikkere benen. De uitsnijding is net goed.

Waar ik ook erg blij mee ben: de stof! Niet van dat typische badpak materiaal dat licht tot heel erg kan glanzen, maar een dikke, elastische, zachte stof. Wel bekend van zwempakken, maar duidelijk betere kwaliteit.
Eerlijk, ik zie dit meer als een "lounge op de strandstoel" en meander over de boulevard (met een pareo) badpak dan iets om in te zwemmen. Dit komt voornamelijk door de strik of knot die je om je middel maakt, of, als je wat gekker doet, vanwege de stof die je los op je rug laat hangen. Maar het zit waarschijnlijk wel stevig/ netjes genoeg. Niet gedacht ooit nog een badpak aan te schaffen, maar het is nu toch echt gebeurd ;).
Djamila | 2022-06-27 07:26:35
---
Dieser Badeanzug ist wirklich ein Traum! Er sitzt perfekt und bietet alles was man sich wünscht. Wunderschön! Habe lange nach genau so einem gesucht
Laurie-Ann Zander | 2021-08-28 16:28:33
---
en
Super flattering bombshell swimsuit!
I wasn't expecting this cut of swimsuit to be so extremely flattering, but it really makes my figure pop! The fabric has a satiny sheen to it that looks very glam, and the construction of the cups is supportive. Only downside I can find is that I'll feel overdressed at the local beach!
Ieva Dapkevicius | 2021-05-17 15:30:35
---
en
I actually look not terrible
I love this swimwear. It's very hard to find a costume that fits my hips and my waist without the waist being baggy, but this does the job beautifully.
Also, I have a pacemaker, and it's impossible to find swimwear that doesn't dig into your pacemaker, but the halter neck on this means I don't have that problem!
The material is very luxurious. It's the best swimsuit I've ever owned. Now I just need lockdown to lift so I can use it...
Heather Still | 2021-04-01 08:01:10
---
Das Material ist sehr schön, aber ich finde der Badeanzug verkleinert meine schöne Oberweite zu sehr. Finde das Preis-Leistungs-Verhältnis nicht passend.
Sabine | 2019-08-26 17:50:56
---
de
Nichts für kleine Oberweite
Ich habe den Esther Williams Badeanzug einmal in Rot in Gr. S und einmal in Schwarz in M bestellt. Die Verarbeitung beim Roten war top. Beim Schwarzen hatte ich das Gefühl, dass er in der Mitte vom Ausschnitt irgendwie schief genäht war.
Untenrum saßen beide ganz gut (Hüfte habe ich 98 cm), wobei der in S alles etwas straffer zusammengedrückt hat, in M war er dafür etwas bequemer. Dennoch fand ich, dass beide an den Beinansätzen eingeschnitten haben. Obenrum haben beide nicht gepasst, unter einem C-Körbchen halte ich den Badeanzug für unpassend. Bei beiden blitzte das Innenfutter hervor (ich denke, weil die Cups nicht genug ausgefüllt waren, ich habe einen Umfang von 86 cm, ein keines B-Körbchen). Geht daher zurück. Schade.
Steffi | 2017-01-03 09:25:11
---
Mooi badpak, en echt eens wat anders. De maat kiezen vond ik erg moeilijk. Wat heup betreft had ik zelfs de 10 kunnen nemen maar wat buste betreft moest ik eerder voor de 16 gaan. Uiteindelijk heb ik gegokt en gekozen voor de 14. Mijn borsten passen er echt maar NET in en het is een beetje schuiven en trekken boven in maar dan ziet het er best aardig uit. Gelukkig is de stof best stretchy. Zit ook comfortabel. De kleur is prachtig en springt er echt lekker uit.
Conny | 2016-11-12 09:58:45
---
nl
Eindelijk een reden om te gaan zwemmen!
had deze al een tijdje op het oog, maar twijfelde door de prijs, uiteindelijk toch overstag gegaan omdat ik niks anders vond dat mij aansprak en super blij met mijn aankoop. Zit heerlijk, stof voeld kwaliteitsvol en voorgevormde cup zorgen ervoor dat mijn borsten niet gevangen voelen of er uitspringen als ik beweeg, staat ook heel mooi bij een volslanke vrouw!
Sarah | 2016-07-26 19:31:36
---
Een prachtig badpak van hele goeie kwaliteit. Zit lekker stevig en ook men buikje is perfect bedekt en ziet er mooi uit!
Helaas heb ik wat vollere bovenbenen en het badpak spant naar mijn gevoel iets te hard rond mijn benen waardoor ik mij er minder goed in voel.
Nele | 2016-07-19 07:41:33
---
De Pucci jurk zit geweldig en de complimenten regenen! Het T-shirt zit als gegoten en het maakt me vrolijk, keitof op een wijde spijkerbroek. Het badpak zit als gegoten en de kleur is prachtig!
Silvia | 2022-08-22 19:12:41
---