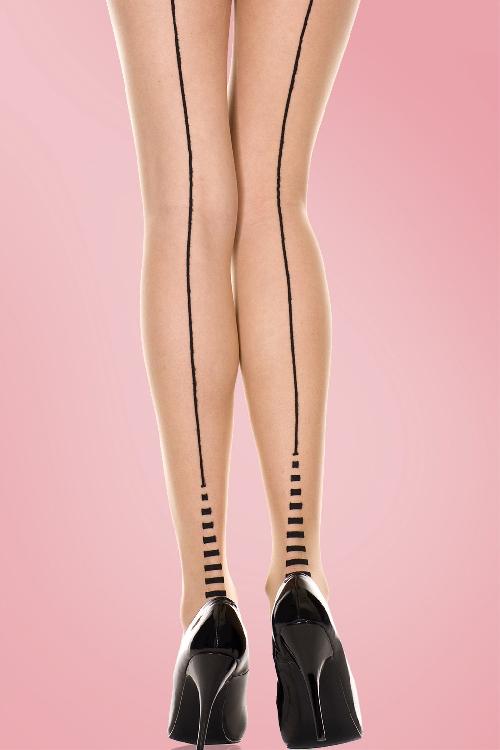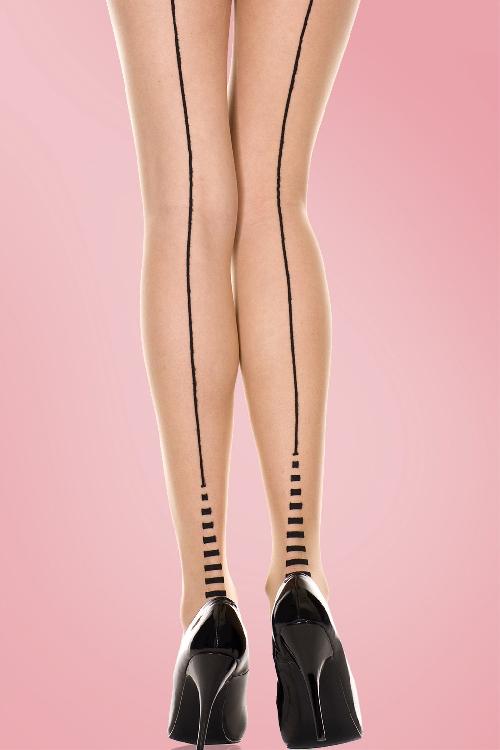 Classic Beige Seamer Tights with Black Striped Cuban Heel
These Classic Beige Seamer Tights with Black Striped Cuban Heel are a playful take on classic, vintage inspired seamed tights. These tights are styled with a striped, black Cuban heel and a black back seam. Finished with a reinforced gusset for a comfy fit. These sexy seamed tights pair old time glamour and allure with everyday comfort!
Seamed tights
Reinforced gusset 
The featured pumps are not available in our shop 
Article nr.
11584
Heigth (cm): 152 - 177 cm/5' - 5'10 cm
Weight (kg): 45 - 80 cm
Handwash cold (don't leave it in the water)
Do not tumble dry
No ironing
rood vestje: knallende kleur rood en een zachte stof. stopt op de taille dus perfect voor swingdresses. normaal heb ik S maar voor dit vest heb ik voor een M gekozen, hierdoor trekt het niet bij mijn borsten. zeker een aanrader!

panty naturel: de zwarte streep is vrij dik en valt op, dit geldt ook voor de horizontale streepjes. Dus ga niet voor deze panty als je een subtiel streepje wil. Ook zie je naast de streep aan de binnenzijde iets de zwarte stof doorlopen waardoor het het geen strakke naad is. Prima panty maar de volgende keer kies ik wat anders

panty zwart: super panty, zit lekker zacht. naad is subtiel en loopt door tot over de billen. Zeker een aanrader!
Gertruud
&nbsp|&nbsp
2018-04-12 11:45:09
---
Ihr Lieben,
ich liebe dieses Kleid! Ich habe es für die Hochzeit einer Freundin gekauft und es ist wunderschön. Trotz dessen, dass ich viel kleiner bin, als das Model auf dem Foto (ich bin 1,58) muss ich es nicht kürzen. Es umspielt die Waden und sitzt super!
Die Verpackung war auch wieder der Hit... Mit ganz viel Liebe eingepackt und kleinen Zugaben, die jede Frau erfreuen :)
Vielen Dank,bei euch bestelle ich immer wieder gerne!
Manuela Pannach
&nbsp|&nbsp
2018-03-23 09:23:29
---
Sehr bequeme Schuhe, sie sehen klasse aus und runden mein Outfit perfekt ab. Danke liebes TopVintage-Team für die stets wundervollen Pakete mit lieben Extras!
martina
&nbsp|&nbsp
2017-06-19 04:43:27
---
nl
lovely and recommended
I loved these so much that I have 3 like them! and other models too. These stockings are very delicate and sexy and I got lots of compliments. They're also very comfortables and feel like they're a second skin. Frankly I won't buy anywhere else my stockings. Very much recommended
Daniela
&nbsp|&nbsp
2016-02-25 22:38:45
---
What a lovely fabric these have! I feel it as my own skin. And actually girls ask me where I bought them... ;)
Daniela
&nbsp|&nbsp
2016-02-08 16:07:55
---
nl
zal het met liefde dragen
heb het met liefde gekocht,gekregen,ontvangen en zal het met veel liefde dragen want het staat me echt fantastisch!!!!!
nelly
&nbsp|&nbsp
2016-01-07 12:19:58
---
de
Ich bin voll verknallt in Euch!
Gestern bestellt, heute war es schon da! You made my day :-)
Das Kleid ist der Knaller!!! Wunderschön, sexy und ein ganz toller Stoff. Die Größe ist genau richtig. Die Jacke passt perfekt dazu. Die Ohrstecker sind witzig und sehen am Ohr toll aus. Die Brille ist ein must zu dem Outfit ;-) Nun kann die 50er Jahre Hochzeit kommen.
Ich werde von nun an so einiges bei Euch bestellen. Ihr hab so tolle Sachen. Vielen Dank!
Ruth
&nbsp|&nbsp
2015-05-13 18:33:48
---
Zeer tevreden over de items en het super snelle levering. Alles past door de uistekende maattabel.
Kom zeker terug.
t
&nbsp|&nbsp
2015-05-02 18:56:02
---
Zeer tevreden over de items en het super snelle levering.
Kom zeker terug.
t
&nbsp|&nbsp
2015-05-02 18:16:01
---
Lekker lange panty (ik ben 175 cm) en zakt daardoor ook niet af.
Danuta
&nbsp|&nbsp
2015-02-16 09:17:40
---
Super schön . Bin nach wie vor sehr zufrieden.
mel
&nbsp|&nbsp
2015-02-01 13:59:33
---
nl
Goeie kwaliteit, wel "opvallend"
Geen idee hoeveel denier deze panty is, maar hij voelt warm en stevig aan. De crème huidskleur is bovendien erg natuurlijk en mooi. De kwaliteit van de stof voelt stevig en ben bij voorzichtig gebruik niet zo snel bang voor een ladder bij deze panty. Hij lijkt me ook in de winter niet te koud om te dragen onder een langere rok.
Een minpuntje: het patroon aan de achterzijde is (in tegenstelling tot de subtiele foto) wel héél erg aanwezig en loopt veel hoger door dan op de foto. Het is fel donkerzwart en vrij dik, waardoor ik toch enigszins met blozende wangen hem zal dragen. Verder vind ik het jammer dat de zwarte verf (of wat is hiervoor gebruikt?) bij de naad aan weerszijde een beetje "uitloopt" in de stof, waardoor de lijn niet helemaal mooi egaal en recht is. Toch een minpuntje. Kwaliteit is verder prima voor deze prijs.
Alessia
&nbsp|&nbsp
2015-01-31 13:16:19
---
This outfit is really wow!!! The tights are really sexy and comfortable, the skirt is cute and shape the body really well. Finally the cardigan is so so soft and lovely with the peterpan collar...love topvintage so much!!!
Valentina
&nbsp|&nbsp
2015-01-12 10:58:40
---
nl
mijn topvintage christmas wish!
wat een verrassing als ik zaterdag de postbode aan de deur kreeg.... nog geen 24u later met mijn pakketje die ik bestelde....
ECHT TOP .... jullie service.... !!!!!
mijn kerstmis kan niet meer stuk.... en ik zal stralen ....
ik wens jullie team spetterende endejaarsfeesten.... en DANKJEWEL..... voor de inzet!!
maria
&nbsp|&nbsp
2014-12-21 08:58:19
---
Vandaag heb ik mijn 6de bestelling ontvangen van Top Vintage en het is wederom weer een fantastisch gevoel als je dan, je kleding die je besteld hebt, aan doet. I feel like a Vintage Woman ;-)
Susan Leenders
&nbsp|&nbsp
2014-02-05 15:02:08
---
Sexy & perfect
Alexa
&nbsp|&nbsp
2019-11-26 20:31:44
---
Omg absolutely LOVE these. Fit like a glove & look amazing on! Now I want them in other colors hehe
Alexa
&nbsp|&nbsp
2019-11-06 23:37:31
---
Love it! Lovely
Alexa
&nbsp|&nbsp
2019-11-06 21:57:14
---
Très jolis mais taillent grand
Carole Anchyse
&nbsp|&nbsp
2019-10-05 13:27:04
---
nl
Fijn zittend, mooie heel
De cuban heel seamed panty's van Music Legs (ik kan ze gek genoeg niet aanvinken) zitten echt heerlijk. En als ik dat zeg is het waar...klinkt gek, maar met een zenuwbeschadiging van onderrug tot en met voeten aan al mijn gevoelszenuwen zeg ik dit niet zo snel. Ik kan deze panty echter met gemak een aantal uur aan zonder extra irritatie omdat hij zacht en glad voelt. En hoewel ik wat extra "op te trekken" heb in de taille regio -bekend probleem als je maar 1.58m bent - zit het niet irritant daar.

Ik heb nog geen enkele panty gevonden die het haalt bij degene die ik ooit kocht bij Trasparenze en die ze uit de collectie hebben gehaald (why, oh why?!: een super zacht materiaal met een platte, lage zachte brede tailleband die in plaats van knellen+ rolletjes kweken zorgde voor aan plattere buik en onzichtbaar resultaat onder een pencil dress), maar hij ligt nu zeker in mijn lingerie-la tussen de favorieten.

Helaas is geen enkele panty of hold-up lang veilig voor me. Ook hier heb ik weer een ladder ingetrokken, maar ik heb er toch nog 5x van kunnen genieten. Ik zou eigenlijk 60 denier panty's moeten kopen, want ik ben een gevaar voor beenmode hahaha, maar ik ben nogal fan van zo'n hele dunne stocking met mooie naad in een nude kleur. Winter, zomer, maakt niet uit. Ik draag alleen nog maar zulke panty's, of als ik ze kan vinden, zulke stockings met een kanten band die goed blijven zitten en niet knellen. Als ze ook nog eens niet een typische 'huidskleur' tonen dan ben ik superblij

Daar voldoet deze panty perfect aan en de blokjes in de cuban heel zijn een leuk effect aan de achterkant. Niet voor niets dat er nu weer eentje in mijn winkelmandje verdwenen is ;-).
Hopelijk overleeft deze wat langer!
Djamila
&nbsp|&nbsp
2019-04-16 01:10:01
---
Nu ik ben aangekomen (van UK8 naar UK12), is het met panties opeens best lastig geworden. In de lengte ben ik helaas nog steeds een dwergje, maar die rondingen zorgen voor knellende tailles en gehijs aan de benen. Een XL kopen zorgt ervoor dat ik hem kan optrekken tot aan mijn nek, dus dat is ook weer niet de bedoeling.

Niet met deze panty!
Hij zit lekker, hij zit prettig aan de benen, is wijd genoeg op alle plekken en lijkt in zijn geheel wat groter te zijn. Ben je wat langer, dan is het ook wel fijn denk ik, want ik heb due ruimte vooral ook omdat hij hoger uitkomt. Maar acceptable! Ik kon dus gewoon de S/M kopen.

Ik heb het liefst heel lichte nude panties - niet van die lelijke bruine oma panties - met een seam, zodat ik die 40s/50s stijl krijg zonder dat de panty afleidt van mijn kleurrijke jurken of rokken (zoveel is zwart, ugh)en zonder dat het zo enorm 'huidskleur' is. Deze panty geeft mij exact dat. De nude valt praktisch weg tegen mijn lichte huid en de cuban heel is ook leuk. Ik denk dat ik er nog eentje koop zodra hij terug is in stock.
Als ze hier nu stay-ups van hadden met verschillende hieltjes dan kocht ik er gelijk 10.
Djamila
&nbsp|&nbsp
2019-03-07 10:33:11
---
Danke für die schnelle Lieferung und die tolle Qualität. Mir gefällt auch die liebevolle Verpackung.Macht weider so.
Der Rock und Pullover passen super.
Ute Wallasch
&nbsp|&nbsp
2018-05-21 08:56:51
---
en
Received lots of compliments on these tights!
I wore these tights to a wedding recently and got loads of compliments. As someone who is a large UK 10/small UK 12, with a height of 5'9'', these tights fit me well. They were stretchy enough for a tall girl like me, but I could also tell that they would fit someone shorter
Elizabeth
&nbsp|&nbsp
2023-03-29 16:20:48
---
de
Leider sehr enttäuschend
Die Strumpfhose ist vom Design einzigartig und wunderschön, ging mir aber beim ersten vorsichtigen Anprobieren gleich kaputt. Bin hier sonst immer zufrieden, deswegen leider ein sehr enttäuschender Kauf und nicht zu empfehlen!
Sophie te Wilde
&nbsp|&nbsp
2020-04-23 12:35:43
---
Entièrement satisfaite comme toujours des articles achetés sur Topvintage ❤️ les tissus sont de bonne qualitée, le service est au top, les envois sont soignés et rapide !! Je ne suis pas peu fière d'exhiber mes nouvelles trouvailles ❤️
Woodie Land
&nbsp|&nbsp
2020-03-28 14:03:17
---