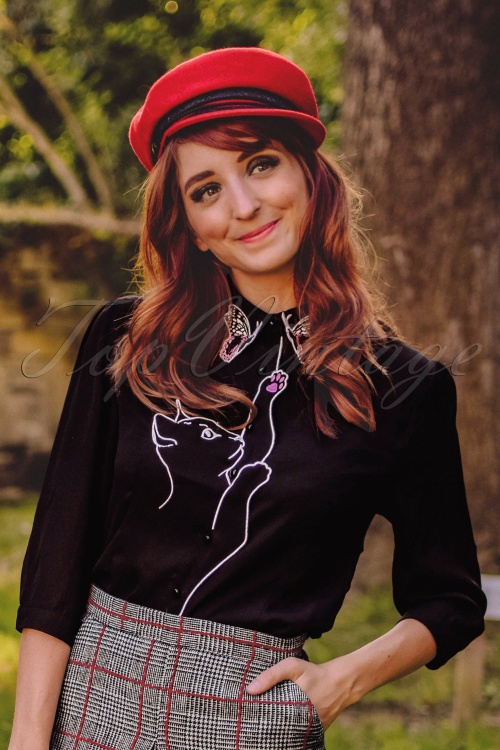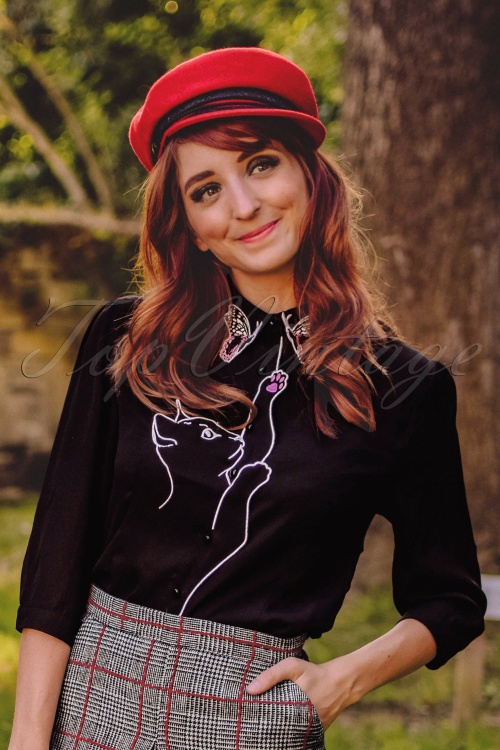 60s Snow Bird Blouse in Black
Cat ladies beware; this 60s Snow Bird Blouse in Black will make your heart beat faster!

Behind every great person, there is a great cat... blouse! Snow Bird is playful, cute and always curious. She's having trouble focusing on one point at once... ''Hey, what's that? Butterflies?!'' This cutie features a pointy collar with butterfly applications, 3/4 puffed sleeves and a row of shiny buttons. Made from a supple, semi-sheer, black, crêpe-like fabric (doesn't stretch!). Oh Snow Bird, stop being so cute!

Pointy collar
3/4 puffed sleeves
Row of shiny buttons
Article nr.
22888
Handwash inside out (don't leave it in the water)
Wash inside out
Machine wash 30c delicates cycle
Do not dry clean
Do not tumble dry
Iron inside out on low temperature setting
Deze blouse is werkelijk prachtig. Hele zachte, soepele stof, prachtige borduursels en het model is superlief. Het regent complimenten wanneer ik deze draag. De witte versie scheen overigens enorm door, met de zwarte heb ik daar geen last van.

Als je een Vollere buste en slanke taille hebt is het wellicht raadzaam een maat groter te nemen en de taille in te (laten) nemen.
Ann
&nbsp|&nbsp
2019-10-14 17:56:44
---
Hallo Topvintage,

Allemaal stuk voor stuk leuke producten. Ik heb meerdere producten besteld en heb een deel terug gestuurd omdat het niet paste, of niet bij mij paste. Helaas voor mij de mintgroene jurk die vlagde bij de borst en dat vond ik jammer.

Ik heb de blauwe hartjes jurk gehouden en die staat mij werkelijk fantastisch!


Janine Evers
&nbsp|&nbsp
2019-02-15 09:09:20
Response from Customer service

Beste Janine, wat fijn om te horen dat je zo blij bent met je nieuwe aanwinsten :-) Uiteraard is het geen probleem om een aantal items terug te sturen, we betalen netjes het aankoopbedrag aan je terug zodra de retourzending is ontvangen!

Groetjes,
Auke
Klantenservice
---
Ich liebe das Leopardenkleid. Ich habe noch nie so ein schönes Kleid getragen. Es sitzt perfekt und macht eine tolle Figur. Ein Traum.

Das Marilyn-, das Giraffen- und das Katzenkleid sind traumhaft, nur leider viel zu lang für mich (gingen mir bis zur Mitte der Schienbeine).

Die Katzenbluse ist ein echter Hingucker und für jeden Katzenfan ein Muss. Ich musste sie allerdings eine Nummer größer nehmen (statt XS in S), da sie am unteren Rücken sehr gespannt hat.

Der Katzenmantel ist für echte Katzenfans, die auch einen Stubentiger haben, eher schwierig zu tragen. Denn ich vermute bei dem Stoff, dass sie sehr fussel- und haaranfällig, so dass dieser leider zurückging.

Der lila Cadigan sieht sehr edel aus und ist auch etwas Besonderes.

Die Boleros kann man mit allem kombinieren und mir gefällt insbesondere der breite Kragen.

Die Schlüsselbluse ist auch ganz bezaubernd.

Der rote Mantel geht leider zurück, rot ist nicht meine Farbe.

Also eine gute Ausbeute, nur einige Teile gingen zurück. Es gibt hier so wundervolle, ausgefallene Kleidung und die tolle Verpackung, die kleinen Präsente sind immer wieder eine Freude.

Vielen lieben Dank dafür. Macht weiter so!

Annika Paßmann
&nbsp|&nbsp
2018-12-09 09:56:36
---
Toujours ravie, très satisfaite à la réception de ces merveilles. Mes nouvelles tenues font toujours l'unanimité. La qualité est irréprochable, et les petites surprises accompagnant les colis sont adorables.
Annabelle AUFAURE-BOMBOURG
&nbsp|&nbsp
2018-06-30 19:08:01
---
This shirt is sooooo cute ! I get a lot of compliments when i wear it . It has a true vintage vibes and it's really well made . I thinks it's fit a little small at the shoulder . I normally order XS but for this one i maybe should go for the S .
stella club pressing
&nbsp|&nbsp
2018-01-12 11:59:43
---
Super schöne, bequeme Bluse die mir wie angegossen sitzt! Die schwarze Bluse sieht sogar hübscher aus, als die weiße Version davon. Auch ist sie nicht sonderlich transparent bzw durchsichtig. Auf jedenfall ein Hingucker und für Katzenfans nur wärmstens zu empfelen ♥
Cat
&nbsp|&nbsp
2017-11-02 19:06:52
---
Wirklich süße Bluse mit einer niedlichen Katze. Die Größe passt der Tabelle entsprechend.

Das Keyhole-Top sieht sehr schick aus und ist sehr bequem. Der Rotton ist wirklich schön.
Ina
&nbsp|&nbsp
2017-10-02 13:52:05
---
Diese Bluse ist so unglaublich süß, fällt aber leider sehr klein aus. Gemäß der Größentabelle habe ich sie in L geordert. Ich habe zwar keinen großen Busen, aber wohl zu breite Schultern (und zu stämmige Arme), was denselben Effekt hat wie eine zu große Oberweite: Die Knöpfe bleiben nicht zu! :-( Wirklich sehr schade. Ich versuche es vielleicht noch einmal, wenn sie in XL wieder lieferbar ist. Trotzdem fünf Sterne, für diesen tollen Hingucker, die rasante Lieferung und die liebevolle Verpackung! :-) Danke!
Petra
&nbsp|&nbsp
2017-09-24 13:22:20
---
Helaas te klein bij de bovenwijdte. Ik had de tip bij maten wel gelezen, maar als ik naar de centimeters keek die er bij de maten stonden, moest het net passen. En hij kan ook dicht, maar als er niet genoeg ruimte is, dan valt de kater niet mooi. Zo jammer dat ik het de blouse terug moet sturen, hij is geweldig mooi en vrolijk.
Vanessa
&nbsp|&nbsp
2017-09-20 08:10:15
---
Rok met bloemen helaas synthetisch(niet gezien) en valt heel klein..dus retour.. groene ruit rok superleuk! Love it! Stoer met kistjes eronder. Groene broek wat lang maar zit perfect verder,dunne stof dus meer voor de zomer. Poezen blouse is zo cute kan niet wachten tot het warmer weer is en ik hem vaak kan dragen❤️
mirjam
&nbsp|&nbsp
2021-02-20 18:57:39
---
Prachtige luxueuze stof, zit als gegoten, en het borduursel van het katje is zeer fijn afgewerkt.
Ik vind het ook geweldig dat de bloes lang genoeg is om goed in een broek of rok te kunnen steken, maar ook niet zo lang dat het vreemd is als je het los laat hangen.
Perfect op elk vlak.
Een echte aanrader!
Cynthia
&nbsp|&nbsp
2021-01-26 20:53:42
---
Joli haut, élégant et avec de belles finitions. Cependant, c'est un modèle plutôt court et donc à porter avec une taille haute. J'ai pris ma taille habituelle conformément aux indications et je trouve la coupe ajustée et non ample. A part ces points, il est de belle qualité.
Nicki
&nbsp|&nbsp
2020-09-21 16:44:02
---
Je m'attendais à recevoir un top un peu plus épais qu'avec cette matière. Il est fluide (heureusement noir donc on ne voit pas à travers) et la matière fait qu'on transpire beaucoup dedans. Il faut donc porter un débardeur dessous pour éviter qu'on voit à travers et/ou un tee-shirt pour éviter de transpirer de trop. Pour l'hiver, ces superpositions passeront sans problème. Le design est très joli.
Maëva
&nbsp|&nbsp
2020-09-21 15:03:40
---
nl
Spijt..... dat ik deze niet eerder heb besteld
Wat een leuke blouse is dit. Als kattenliefhebber natuurlijk een echte musthave. De stof is crêpe-achtig en een heel klein beetje doorschijnend. De mouwtjes vallen net over de elleboog. Als je de maattabel volgt past het perfect en komt er geen spanning op de knoopjes
Tineke
&nbsp|&nbsp
2020-08-01 11:50:36
---
Das Material des wunderschönen Pullovers ist leider ganz unangenehm - und äußerst schwer zu beschreiben...:
Irgendwie weich, aber doch kratzig. Und ich hege die Befürchtung, dass sich unangenehme Körpergerüche womöglich leichter in dem Material festsetzen...
Ging zurück, als einer der ganz wenig retournierten Artikel.
Eva
&nbsp|&nbsp
2020-01-24 14:54:26
---
Totally in love with this blouse. Literally everyone has complimented me on it. Prrrrrrrrr ❤️
Guarasi Mok
&nbsp|&nbsp
2019-11-05 23:49:08
---
Troo beau! Et quel succès... Ce petit chat qui attrape les papillons à l'encolure et le chat sur l'épaule... Trop beaux
Séverine DROUARD
&nbsp|&nbsp
2019-10-18 04:27:34
---
Heerlijke winkel, prachtige kleding en superleuk al die extra bijpassende accessoires!
Mijn kast hangt vol met mooie jurkjes broeken truitjes en meer. En met bijpassende schoenen tasjes en sieraden ben je helemaal klaar.
Zelfs de kerstboom hangt vol met topvintage
Joyce Laurens
&nbsp|&nbsp
2023-01-08 20:39:32
---
Echt heel mooi, past perfect (ik ben wel niet groot) de stof had wel iets dikker gemogen zodat de poes niet half doorzichtig is.
Donna
&nbsp|&nbsp
2021-12-07 14:42:19
---