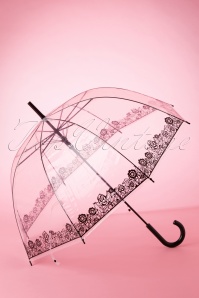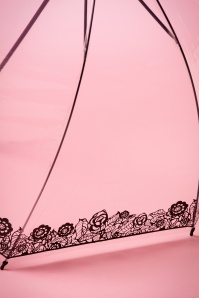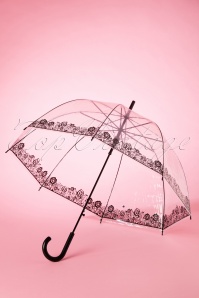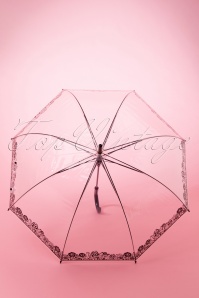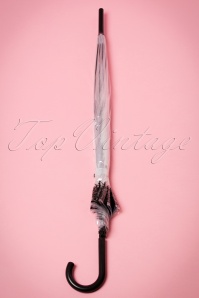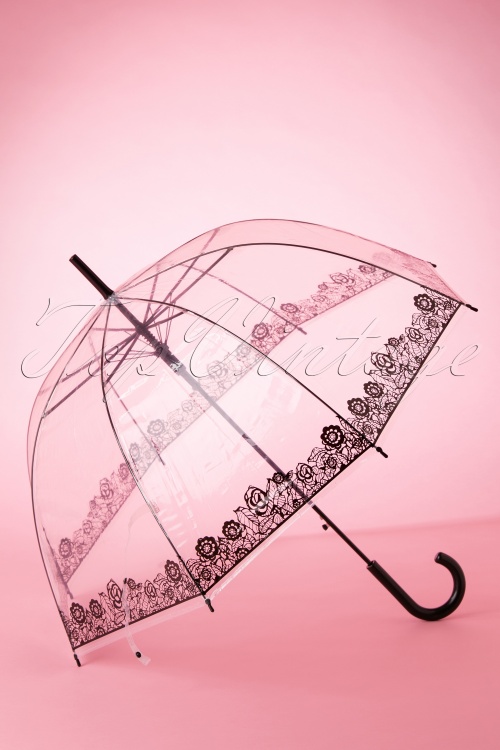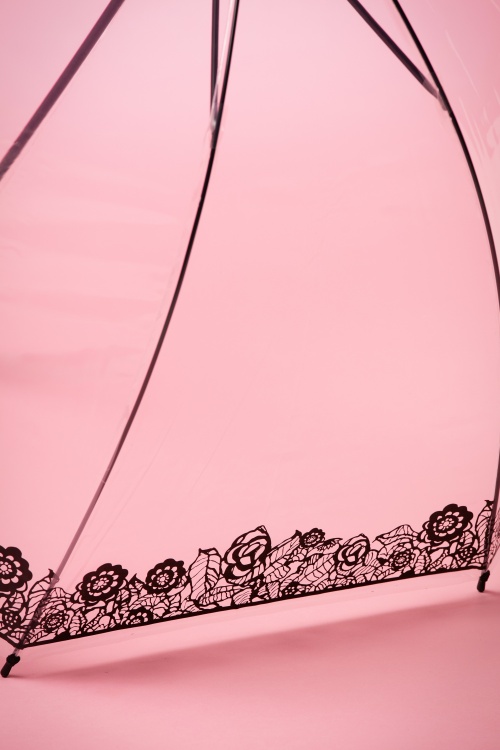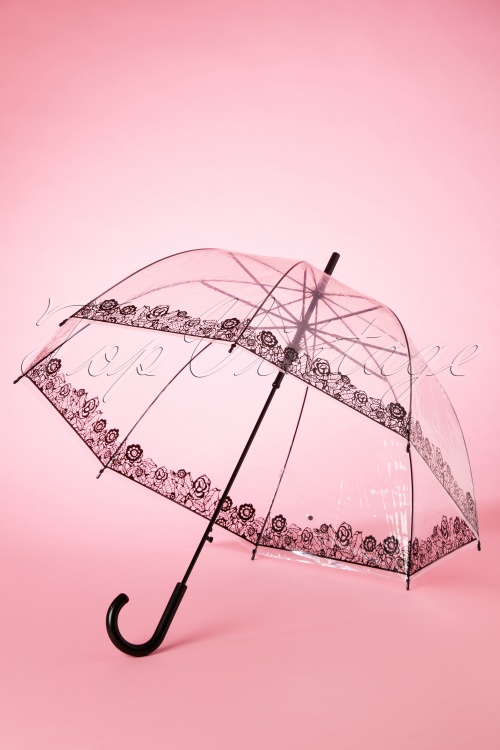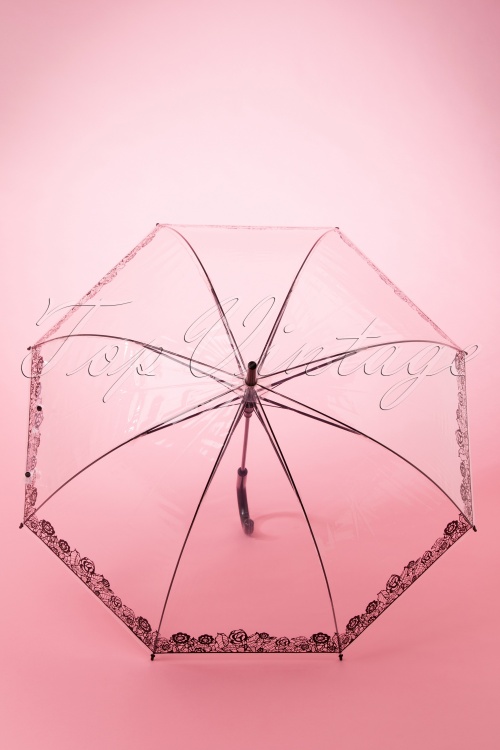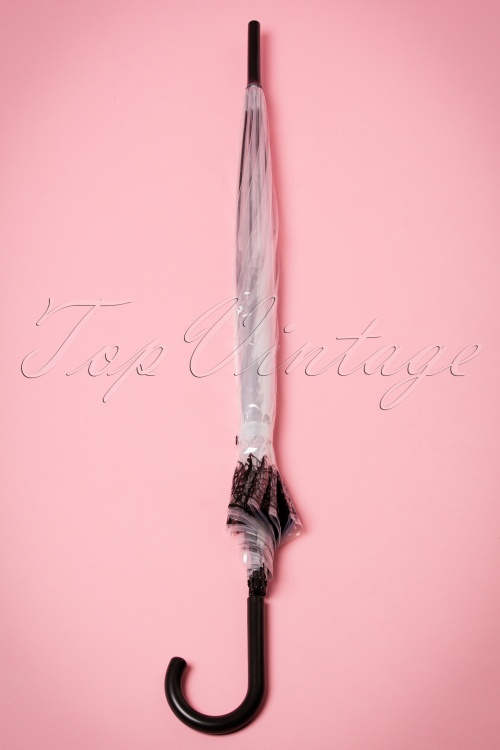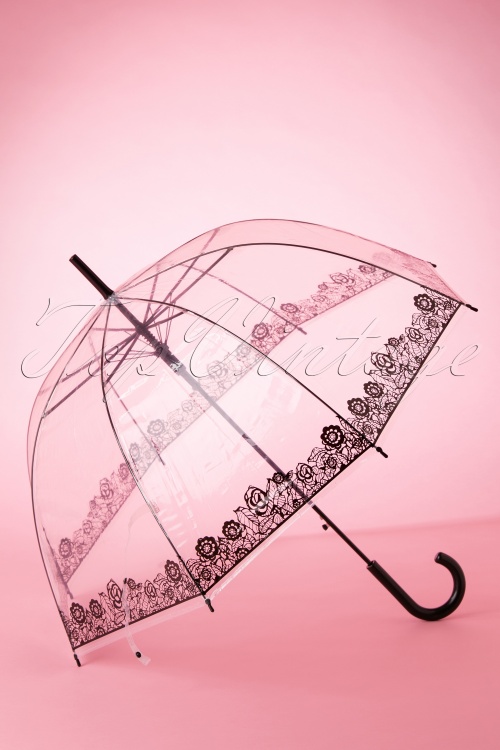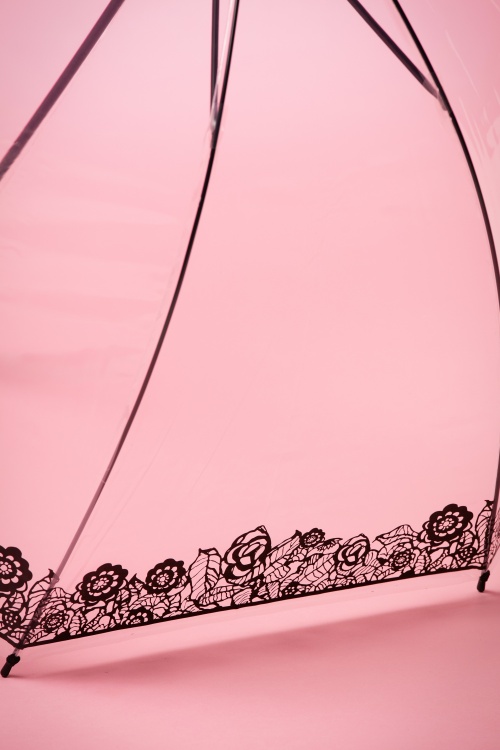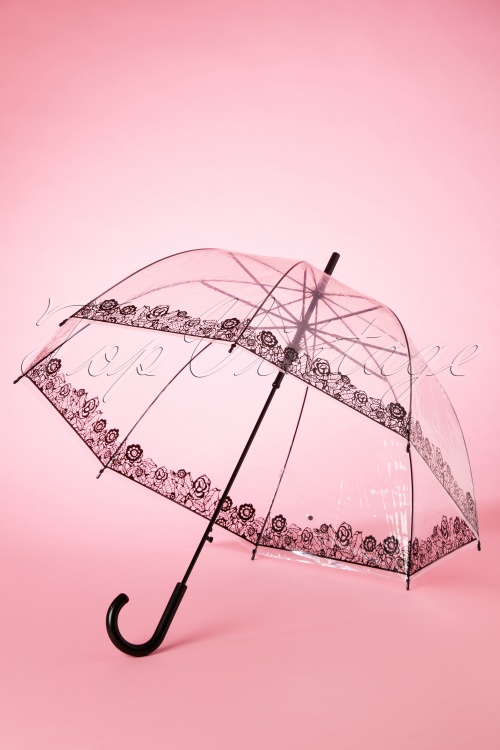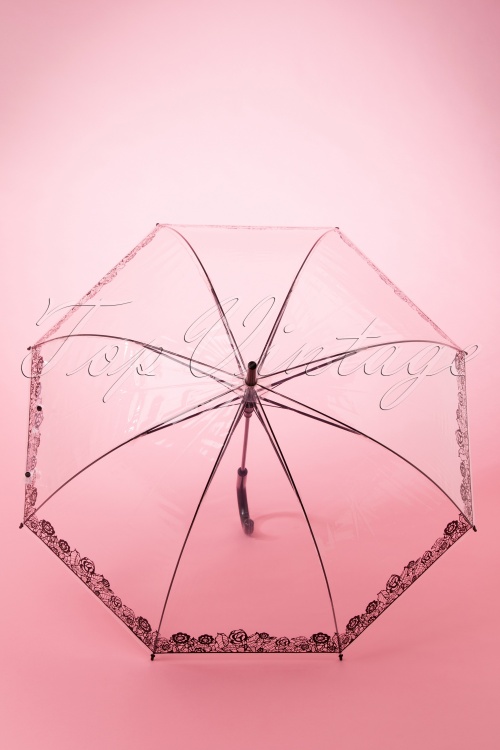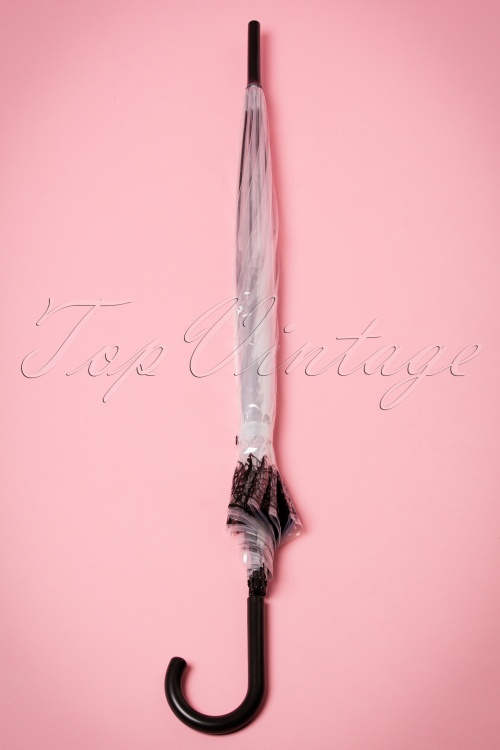 60s Dentelle Flower Transparent Dome Umbrella in Black
With this 60s Dentelle Flower Transparent Dome Umbrella you can see exactly where you're going, convenient and stylish at the same time! With this cute umbrella featuring black flowers you can't wait for rain to fall! The transparent screen is made of waterproof polyester with a black border and is finished off with a black plastic handle. The umbrella opens with a simple push button. I'm singin' in the rain... looking fab as always!
100% waterproof
Firm handle
Opens easily with simple push on the button
Article nr.
20571
Height: 84 cm
Diameter: 84 cm
Im Sale habe ich mir jetzt, zum Ende dieses kaum vorhandenen Sommers, endlich eine Retro-Caprihose bestellt. Sie sitzt perfekt, sogar am Beinabschluss, obwohl ich aufgrund anderer Bewertungen schon befürchtet hatte, dass sie bei meinen dünnen Waden sehr weit abstehen würde. Nun hoffe ich auf viele warme Spätsommertage, um die Hose auszuführen :-)

Um dem ewigen Regen dennoch auch etwas Gutes abzuringen, gab es dazu noch diesen tollen Regenschirm, der schon zum Einsatz kam. Die Qualität scheint sehr gut zu sein, bisher gibt es nichts zu mäkeln. Stattdessen freue ich mich darüber, den Schirm schützend über mich zu stülpen und trotzdem alles rundum im Blick zu haben. Selbst der trübste Regentag ist damit nur noch halb so trist!
Bettina Schwaiger
&nbsp|&nbsp
2021-09-03 09:29:07
---
nl
De paraplu uit mijn kinderjaren!!
Eindelijk een goede paraplu, die niet kan omwaaien en waar ik ook nog eens doorheen kan kijken, zó leuk! En mijn haren blijven zoveel meer droog, hahaha
Anneke'8)
&nbsp|&nbsp
2017-12-05 19:41:09
---
Die Kleider sitzen Perfekt!! Auch für kurvige Ladys ein Gedicht!!! Der Stoff füllt sich super an. Top Verarbeitung. Wie immer blitz schnelle Lieferung und Top Service:D Danke!!!
Monika Howiller
&nbsp|&nbsp
2017-09-25 10:54:21
---
Con mi nuevo paraguas, estoy deseando que llegue una tormenta de verano (bueno... Con la ola de calor en la que estamos, si eso ocurre posiblemente saldría a la calle sin él... pero ya me entendéis). Siempre había querido un paraguas transparente como este. Es muy elegante y clásico. Me encanta.
Añado que comprar en esta tienda es un placer, y la atención al cliente una delicia. El paraguas me llegó en una caja aparte debido a su tamaño, y el portero de mi edificio lo recogió por mi, por lo que sólo me llevé la caja principal con los demás artículos. Escribí un mensaje y en menos de un día me habían contestado ¡en español!, indicándome la situación, e interesándose en si me había llegado el segundo paquete.
Su atención al detalle y el cariño hacia el cliente no dejan de impresionarme.
FELICIDADES, TOP VINTAGE, POR VUESTRO BUEN TRABAJO.
Marta
&nbsp|&nbsp
2022-08-06 19:23:05
---