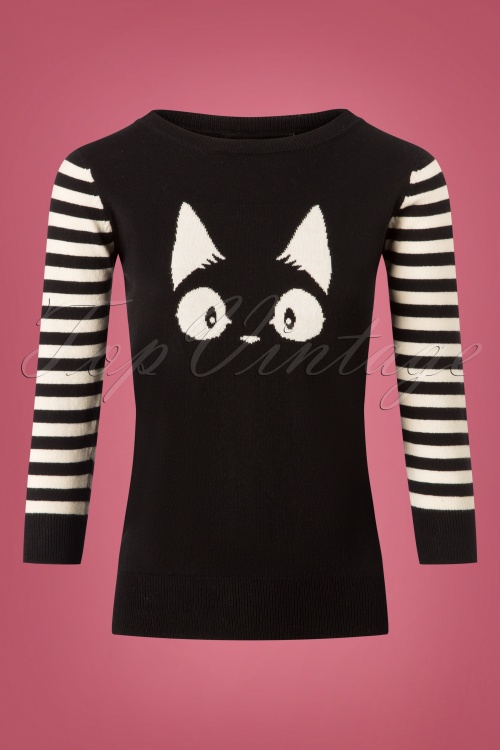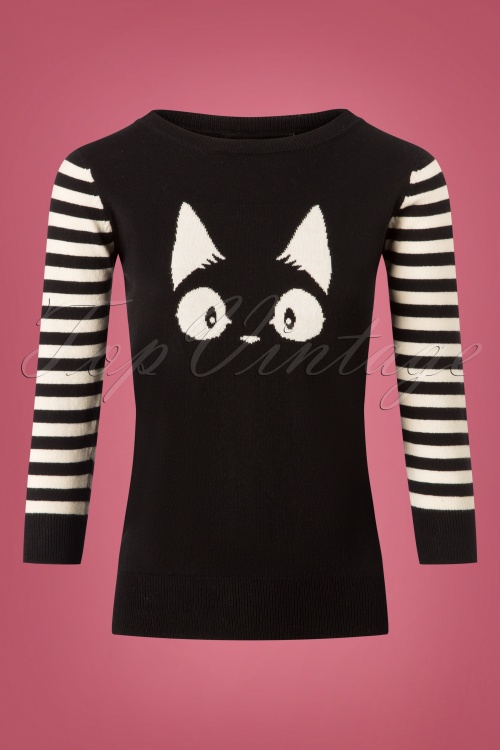 60s Debbie Cat striped Sweater in Black
Go Retro with this 60s Debbie Cat Striped Sweater in Black! It only takes one look at this cutie to make our hearts skip a beat, me-ow! She features a classic cut with a round neckline, striped 3/4 sleeves and is finished off with stretchy rib board for an amazing fit. Made from a lovely supple, fine knitted, stretchy, 100% cotton featuring a cute ivory coloured cat face at the front. Simply CAT-TAS-TIC! 
Round neckline
3/4 sleeves
Stretchy rib board
Long enough to pair with regular trousers
Article nr.
26688
Handwash inside out (don't leave it in the water)
Do not dry clean
Do not tumble dry
Iron inside out on low temperature setting
Got loads of compliments!
Monique S
&nbsp|&nbsp
2019-11-20 20:14:06
---
een hele mooie combinatie trui en broek ohhh love it en voel mij super prrrrrr in deze outfit
Gerda van Loo
&nbsp|&nbsp
2019-10-02 11:24:17
---
Elk jaar koop iets nieuws voor mijn verjaardag en dit jaar was mijn oog op deze jurk gevallen. Wat een beauty! Staat leuk en zit super comfortabel! En jurken met zakken hebben bij mij altijd een streepje voor ;-)
Het truitje is ubercute en zit ook fijn. Wel wat aan de dunne kant, dus ik weet niet of ik deze in de winter veel zal dragen, maar de komende weken zal ik hem vast veel aan hebben!
Voor beide kledingstukken klopte het maattabel.
Daphne ten Duis
&nbsp|&nbsp
2019-09-07 12:24:16
---
fr
Quand nous chanterons le temps des cerises (et gai rossignol et merle moqueur)...
Dans mon petit colis : magnifique pull en coton pour que l'on me confonde avec mes (cinq) chats aimés, une paire de superbes boucles d'oreilles aux motifs cerises (un peu pesantes à la longue mais pour être belle on en fournit des efforts !) et deux paires d'étonnantes boucles d'oreilles en forme de cornets de glace qui seront du plus bel effet avec une tenue estivale.
ATTENTION : elles sont légères mais volumineuses (= 6,5 cm et demi de long x 3,7 à la largeur la plus importante, sans compter l'attache qui les rallonge de 2 cm) Toutefois elles sont jolies !
Je me suis trompée dans la commande voilà pourquoi j'en ai reçu deux paires. On ne peut pas renvoyer ce genre d'article.
En résumé : un jeudi joyeux !
Claude Ranc
&nbsp|&nbsp
2019-04-04 15:02:46
---
Beide truitjes zijn super leuk! Ik ben heel tevreden.
Magdalena
&nbsp|&nbsp
2019-03-24 10:33:04
---
Fijn katoenen truitje. Oren en ogen zitten op de juiste plek!
MImi
&nbsp|&nbsp
2019-02-13 14:27:33
---
One of my favourite tops. Always get cumpliments on it. Perfect sizing.
Paloma Inés Sanz Ruiz
&nbsp|&nbsp
2018-12-22 08:08:23
---
Wenn ich diesen süßen Pulli trage bekomme ich immer liebe Kommentare :)
Dünnerer Stoff...also bei Kälte am besten was drunterziehen.
Passt zu viele Anlässen :)
Tabea Wächter
&nbsp|&nbsp
2018-12-14 07:30:57
---
De kattenkop is aandoenlijk en het truitje zit heerlijk. Ik al vele leuke reacties erop gehad. Het is wel een dun zomers truitje, niet geschikt voor de winter.
Nathalie van der Weiden
&nbsp|&nbsp
2018-11-08 08:06:29
---
nl
Ik shop alleen bij Topvintage
De topper in deze rij is Vintage Chic for Topvintage 50s Patty Pencil Dress. De jurk zit als gegoten en draagt comfortabel. Ik draag hem met het rode truitje van Mak Sweater. Een paar dad sneakers en een handtas van topvintage. Klaar is mijn streetstyle outfit. Ik draag de truitje op mijn zomerjurkjes. Zo lijkt het alsof ik een rok aan heb en heb ik nog langer plezier van ze. Poezentrui teruggestuurd. Lijkt wel een ander model.
Marion Broers
&nbsp|&nbsp
2018-10-19 13:15:31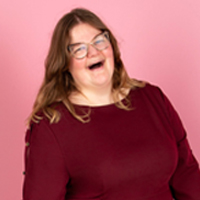 Response from Nicole

Beste Marion, wat fijn om te horen dat je zo blij bent met het grotendeel van je aankopen! Het spijt me echter dat het model van één item helemaal anders uitviel! Ik neem vandaag nog even contact met je op hierover!
Groetjes,
Nicole
Klantenservice
---
de
Sehr niedlich, aber...
... ich finde den Schnitt nicht 100% gelungen, unter der Achsel ist der Pulli etwas zu weit geschnitten für meinen Geschmack, daher ein Stern Abzug. Ich werde ihn mit pinken Fleecestulpen kombinieren. Auf jeden Fall ein Hingucker und die Baumwollqualität ist ebenfalls ansprechend.
Doro
&nbsp|&nbsp
2018-10-02 14:07:49
---
nl
Lief, elegant en supermakkelijk te combineren
Erg leuk truitje met kattenprint! Door de rustige kleuren is deze eenvoudig te combineren met jeans of rok. Nooit eerder kleding van het merk MAK gehad, maar het smaakt naar meer. 100% katoen draagt prettig, zweet niet. De gestreepte driekwart-mouwen maken het extra vlot.
Glow
&nbsp|&nbsp
2018-09-28 15:13:56
---
The dress is so PERFECT for me! My favorite style, my favorite color. The 3/4 sleeves are wonderful, and the cut of the dress - where the detailing is, just under the waist, makes such a flattering shape. Love, love, love, love, love, love, love. x100

The earrings caught my eye at once. And if they can do that on a computer screen, then they can do that in person, and they do! Really lovely without being too "out there".

The cat top is a dream! As cute as it looks. Cuter, even! And you sort of can't go wrong with the sizing, especially if you follow the advice. It's got a nice stretch to it. I have a fuller bust, so I could have gone a size larger, but still it hangs very nicely on me. I'm happy that I got the size that I did.
JSC
&nbsp|&nbsp
2018-09-07 09:34:07
---
Gisteren besteld, vandaag binnen. Ik dacht dat het een online legende was, maar het bestaat dus toch.

Prachtig truitje, aangename stof, zit goed. Gewoon spot on :).

Annemie Decommer
&nbsp|&nbsp
2018-08-22 15:15:03
---
Nice knit top, good quality. Makes a nice indoor winter top or can be worn as an extra layer at night in summer. Strategic statement piece that goes with all colours, adds colour without colour.
Viktoria Gimbe
&nbsp|&nbsp
2021-12-05 14:45:07
---
Vandaag deze schoenen ontvangen: ze zitten heerlijk, ik twijfelde even over de maat, want ze waren er alleen nog in maat 39 en ik heb een kleinere voet, maar ze zitten prima. Lekker stevig en warm en het oog wil ook wat! Een dochter is blij met de sokken en het poezetruitje maar omdat ze lang is gaat deze waarschijnlijk retour en wordt het een groter maatje. Een andere dochter is superblij met de denim jumpsuit: heerlijke stof en haar naam staat er gewoon op! Top!
Aukje
&nbsp|&nbsp
2021-10-13 15:40:53
---
The leopard dress, what an awesome print! The color is to die for and even though the upper part of the dress is not really fitting that well... The beauty of the leopard
Maria Coelho
&nbsp|&nbsp
2021-09-12 10:18:41
---
Prachtige broek , heerlijk stofje , moet wel de large retour sturen , was maar nipt op mijn heupen en speel op zeker dus heb alvast de xl bestelt om niet het risico te lopen dat ze uitverkocht is :-) ook het truitje past er perfect bij
Marina
&nbsp|&nbsp
2021-09-03 19:29:28
---
Ma fille a littéralement craqué sur ce joli pull craquant et tellement rigolo.
Qualité et confort sont également ses atouts.
Conquise totalement
Séverine DROUARD
&nbsp|&nbsp
2021-08-03 19:23:09
---
en
make halloween a national holiday
I love halloween and I love black cats. For me, these are not "seasonal items."
This is the best clothing store in the world as far as I am concerned. My only gripe, no free shipping to Canada. Only to our American neighbours.
Jennifer
&nbsp|&nbsp
2021-01-08 08:58:56
---
De poezenjurk is heel leuk. Valt mooi door de stof.
Het blauwe pak........wow. Zag deze bij Zamarra aan en moest haar hebben.
De trui is te leuk......het kopje zit precies goed
Anita van Leeuwarden
&nbsp|&nbsp
2020-10-11 10:05:00
---
Altijd heel fijn als er een pakketje van TopVintage arriveert.
De broek is heerlijk warm en valt goed. Wel pluist de stof na 1x wassen al een beetje. Hopen dat dit niet erger wordt.
De bruine rok is ook lekker winters maar is erg zwaar en zakte daarom af. Een maatje kleiner is waarschijnlijk weer te krap helaas.
Het zwarte rokje met de katten is erg leuk! De geborduurde katten zijn speels en keurig uitgevoerd. De rok valt bij mij (1,67) iets over de knie. De stof is niet heel dik maar met een panty toch prima voor als het kouder wordt.
Het truitje met de kattenkop valt vrij ruim in maat S/M maar hij zit heerlijk. Ook prima te dragen op een 'normale' broek.
Het groene vestje is van een super zachte dikke stof. Ik heb een maatje groter besteld dan normaal zodat de knoopjes goed dicht blijven zitten en dat werkt goed. Wel is dit duidelijk een kort model, dus alleen geschikt voor taillebroeken en rokken.
Datzelfde geldt ook voor het rode vestje. Wat is die trouwens mooi! Heel mooi patroontje in het breiwerk en echt zo felrood als het plaatje.
Al met al ben ik weer heel tevreden.
Mariëlle de Wind
&nbsp|&nbsp
2020-09-09 18:14:01
---
je suis satisfaite produit tres joli et original
j'adore ce site .
jeanine
&nbsp|&nbsp
2023-01-21 10:43:43
---
de
Aussehen Miau - Herkunft Mau
Der Pulli ist mir persönlich etwas kurz, aber es ist in Ordnung. Sieht hübsch aus und ist angenehm zu tragen. Was ich aber sehr schade finde (und da bin auch echt ein bisschen enttäuscht) ist das ,,Made in China"-Ettiket im Nacken.
Eure Preise sind recht ordentlich und nicht jeder kann sich regelmäßig Klamotten von euch leisten, aber wenn man es mal tut, erwartet man eigentlich nicht etwas das vermutlich unter widrigsten Bedingungen in Fernost produziert und dann um die halbe Welt gekarrt wurde. Das kann ich auch im örtlichen New Yorker haben..

Annika
&nbsp|&nbsp
2022-01-14 16:07:35
---