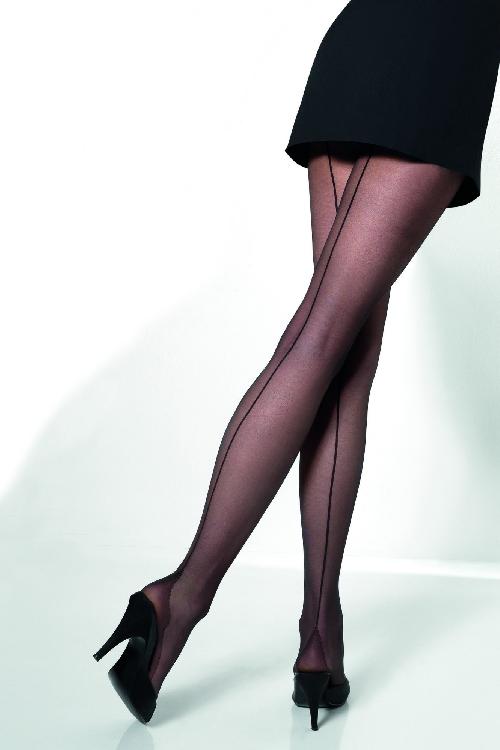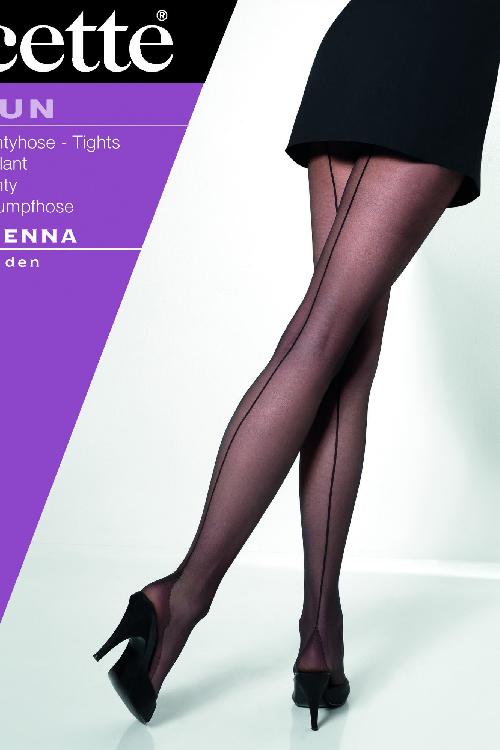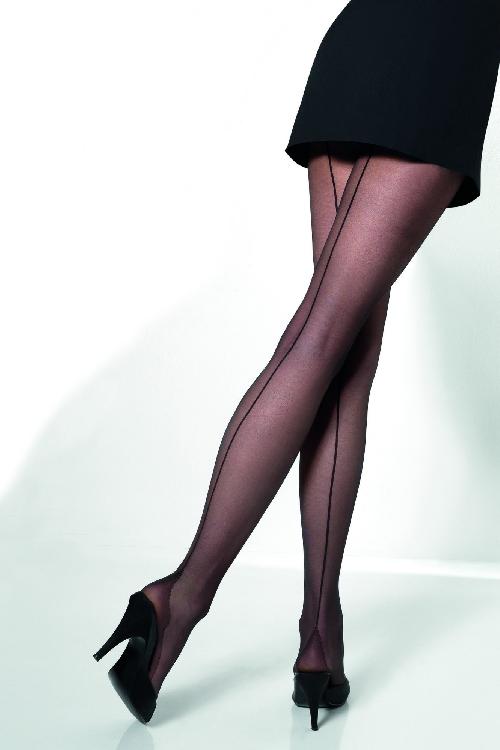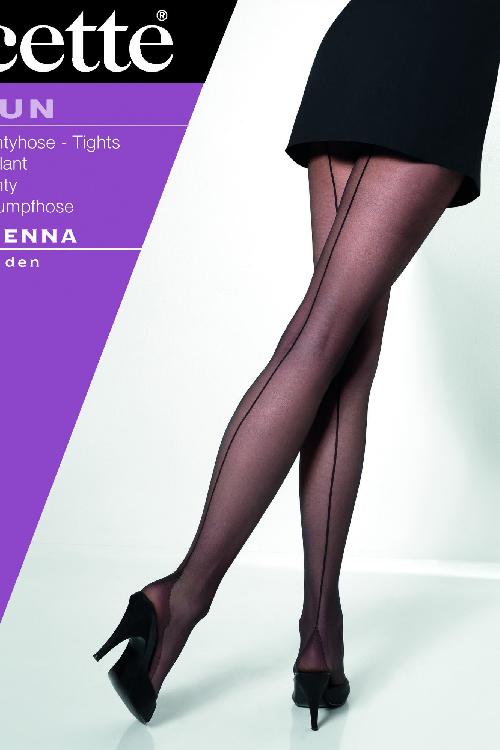 50s Vienna seamed tights black 16 denier
These Vienna Seamed Tights in Black are classic 1950s inspired, sheer (16 denier) tights styled with a pyramidal Cuban heel that runs into a delicate, black back seam. Finished with reinforced toes, a cotton gusset and flat seams. Sexy seamed tights that combine old time glamour and allure with everyday comfort!
Seamed tights
16 denier
Reinforced toes
Cotton gusset
Flat seams 
The featured shoes and skirt are not available in our shop
Article nr.
10035
86% Polyamid
13% Elastane
1% Cotton
Het zwart gestreepte jurkje kwam niet mooi uit met mijn figuur, maar de blauwe is in een woord woaww echt beeldschoon!! helemaal blij mee en inderdaad gister besteld vandaag in huis, de panty is met aandoen meteen stuk gegaan helaas (en deed erg voorzichtig) jammer. Je krijgt je pakje ook echt als een cadeautje mooi ingepakt en een mooie en lekkere attentie erbij, ga zeker meer bij jullie bestellen echt helemaal top!!!
Nancy
&nbsp|&nbsp
2015-01-09 17:48:50
---
Wunderbares Kleid!! Wurde noch nie so oft gefragt woher dieses Outfit stammt und viele Komplimente erhalten!!
Rosa
&nbsp|&nbsp
2014-11-04 12:58:36
---
Vorige week m'n bestelling binnen gekregen.
Ben er super blij mee. En het zit goed!
En ik bestel zeker nog eens wat. Groetjes!



gwenda van der vechte
&nbsp|&nbsp
2014-02-23 12:23:22
---
Prachtige jurk, later bij jullie gekochte bijpassende knalrode pumps en een brede rode riem maakte het geheel compleet!
Marie-Josée Hessel
&nbsp|&nbsp
2013-09-18 22:03:44
---
Fijne kousen, fijne attentie, en zo snel: de dag kon niet meer stuk :)

Inge
&nbsp|&nbsp
2013-09-11 16:05:00
---
de 3de bestelling in 3 weken tijd binnen gehad, nu stop ik even :)
De top en bolero wilde ik al eerder, maar waren er uitverkocht, dus natuurlijk de dag nadat mijn 2de bestelling was binnengekomen waren ze weer in stock, dus onmiddellijk bestellen dan maar :D Natuurlijk hoorde daar dan ook een bijpassende pencilskirt en riem bij en als we dan toch bezig waren hebben we ook maar een paar panty's besteld: Cette 50s Vienna naad panty zwart 16 denier... :D
De bolero M viel wat klein uit, aangezien ik toch altijd een M had ging deze meer naar maat 36 dan 38, dus ook kennis gemaakt met de ruilservice en deze was ook zeer correct en supersnel!!!!
Dus weer tevreden over snelheid en service, kwaliteit en klantvriendelijkheid...
Hier staan alweer een paar dingen in de wishlist, (ook niet meer in stock) die ik hoop snel te kunnen bestellen, ik blijf dus een tevreden klant dat wenste deze site eerder te hebben ontdekt... De zo verder en bedankt voor de kleine attenties ;)
Kristel
&nbsp|&nbsp
2013-08-20 19:45:33
---
Ik vier samen met Top Vintage mijn verjaardag, ieder jaar weer en dat is top! Ondertussen al vele jurkjes en killerheels rijker uit deze mooie webwinkel die niet aanvoelt als een webwinkel, maar als een plek waar vriendinnen voor elkaar de mooiste jurkjes etc. voor elkaar neer zetten ... zo van "heb je die al gezien ... past perfect bij jou" en "ik zag dit jurkje ... was dat niet precies wat jij zocht voor dat ene feest?" ... dat sfeertje dus. En dat is toch wel uniek 'dorps en persoonlijk' te noemen :-) Heerlijk, ook nu weer aan het shoppen voor mijn 43ste verjaardag op 2-4 en dus ga ik mezelf een mooi cadeau doen! Thnx Angelique en de rest van dit top team! Jolan
Jolan Smeets
&nbsp|&nbsp
2013-03-30 21:48:34
---
Helemaal in de wolken met mn outfit!! En met de verrassing elke keer in mn pakket! Bij deze spaar ik jullie lipstick pennen! (staan zo leuk op mn bureau ;-)
Mariska van Oort
&nbsp|&nbsp
2012-12-08 06:21:00
---
Een snelle service! Gelukkig werd het pakketje bij de buren afgegeven anders had ik er een stuk voor moeten reizen om het bij een ophaalpunt op te halen.

Mooie producten! De ketting was overigens een cadeautje voor een vriendin en ze was er super blij mee:)

Leuk ingepakt en een blijde verrassing zat er bij :D
Ik zal zeker nog meer gaan bestellen!
KJJ Kubben
&nbsp|&nbsp
2012-11-22 10:13:00
---
Yes!! Juist mijn Stop Staring aangekregen :)
Heb ze direct gepast en ze zit super !
Bedank aan het topvintage team en voor de snelle levering.
Ik ga zeker in de toekomst nog bestellen.
MVG Debby
Debby Haest
&nbsp|&nbsp
2012-03-21 10:56:00
---
Bedankt voor de artikels. Love 'em. Super kwaliteit en super prijs. Heel blij mee met mijn bestelling.
Ana-Maria Sorina
&nbsp|&nbsp
2016-05-14 08:06:22
---
Het was toch even een twijfelen voor me. De panty is duur en je las al enkele atrikelen dat er bij sommige al snel een ladder in kwam. Maar dure panty's zijn meestal kwaliteit vertelde ze me. Dus ik ging ervoor.
Ik had er 2 in maat L besteld en deze ging nipt zijn. Om geen spanning op de panty tezetten dan toch nog maat super genomen en ook in 2 stuks. Dan heb je er altijd ene in reserve.
Nu trok ik de eerste super aan. Suuuuper voorzichtig maar het kwaad was al geschiet. 1gaatje, aangezien ik naar een chique bedoeling moest gaan dan toch de andere super aangetrokken. Deze hield het vol tot een halve dag later ik een ladder kreeg. Juist onder de lengte nog van de rok. Met spijt ik heb ik deze twee dus de vuilbak in moeten gooien.
De L's liggen nog in mn kast. Schrik om ze aante trekken.
Ik heb er van genoten toen ik deze aan had. Ik voelde me op en top vrouw. Manlief; vond dit natuurlijk ook wel leuk.
Ik hoop dat er andere zijn die er nog meer plezier van gehad.

Beste Julie, onze excuses dat de panty toch kapot is gegaan! Dit mag niet gebeuren en je bent ook nog zo voorzichtig geweest!? Ik ga je zo meteen bellen en dan weet ik zeker dat we er samen uit zullen komen!

Groetjes,
Mandy
Klantenservice
Jules
&nbsp|&nbsp
2016-03-13 10:46:31
---
Een super vrouwelijke sexy panty die ik bij mijn schitterende jurken moest hebben!
Je moet alleen wel echt ongelooflijk voorzichtig zijn met de panty want alleen al bij het passen kwam er een inimini gaatje in, terwijl ik nog zo voorzichtig was.
De panty is gewoon erg kwetsbaar, maar geeft wel een schitterend effect, dus dat is gewoon iets om rekening mee te houden.
Laat ik het zo zeggen, mocht het gaatje op den duur groter worden, dan koop ik deze panty zonder twijfel nog eens en dan er nog voorzichtiger mee zijn, dan komt het helemaal goed.

Hallo Melanie, wat een super reactie en wat fijn dat je zo tevreden bent! Het is natuurlijk niet de bedoeling dat er nu al een gaatje in de panty zit! Onze excuses hiervoor! Ik bel je vandaag nog even op zodat we samen een passende oplossing kunnen vinden!

Groetjes,
Mandy
Klantenservice



Melanie
&nbsp|&nbsp
2015-11-29 17:01:24
---
de
Super Preis - Leistung Verhältnis
Die Strumpfhose fühlt sich gut an - auch nach dem Waschen.
Passform ist auch gut.
Fällt bei mir etwas kleiner aus wie gedacht aber es ist okay.
Freu mich schon sie das erste Mal auszuführen.
Xenia
&nbsp|&nbsp
2015-09-12 14:09:08
---
Vielen Dank ! Bestellte Ware war wundervoll verpackt und passt tadellos. Das Kleid hat ein sehr angenehmes Tragegefühl. Diese Dreier-Kombination trug ich erstmalig auf einer Jugendweihefeier und es war ein Blickfang des Festes.
Madeleine
&nbsp|&nbsp
2015-05-31 09:52:33
---
Mooie , fijne maar stevige sexy kousen die ik al meer dan eens heb kunnen dragen zonder een ladder ....buitengewoon ...voor mij althans.

linda
&nbsp|&nbsp
2015-05-12 06:57:13
---
Super, super , super no need to say more!!!
Lesly
&nbsp|&nbsp
2015-03-08 19:40:05
---
en
Beautiful tights, horrible quality !
I was expecting top quality given the previous comment but I was horribly disappointed. They ripped the very first (and only) time I put them on ! I'll stick to the cheaper tights on this website.
Dear Coralie, what a disappointment is must have been when your tights ripped so quickly. Please accept our apologies! I'll send you an e-mail right away!
Kind regards,
Nicole
Customer service
Coralie
&nbsp|&nbsp
2017-12-23 11:12:52
---
Met kerstmis mijn allereerste topvintage kledingstuk gekregen, een peplum pencil skirt. Staat super, de maat was perfect! Nu dit truitje en kousen besteld. Alweer een super snelle levering in een super leuk pakket! Ook weer heel tevreden van de maat, enkel de panty's, heb ze (na het lezen van andere reviews) super voorzichtig aangetrokken en helaas, daar was de ladder.. voor die prijs vind ik het jammer dat dit gebeurd, ik hoop met het vintagefeestje in aantocht dat ze niet groter gaat worden.. Voor de rest, doe zo verder!!
Beste Birgit, mijn excuses dat er meteen een ladder trok in de panty! Dit mag niet gebeuren! Ik zal je vandaag nog even contacteren en jou een oplossing aanbieden. Ik weet zeker dat je hier blij mee zult zijn!

Groetjes,
Mandy
Klantenservice
Birgit
&nbsp|&nbsp
2016-12-28 11:35:06
---
Klasse Strumpfhose, Größe Super bei 42-iger Größe. Sieht toll aus mit dem Streifen hinten.
Annika
&nbsp|&nbsp
2016-05-23 12:33:52
---