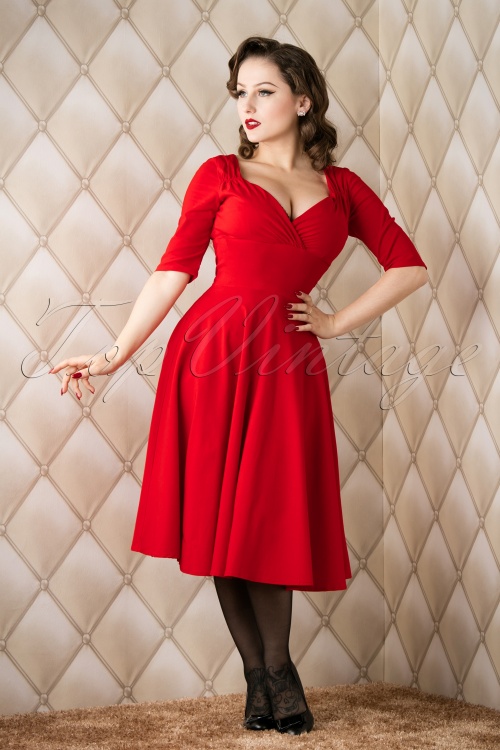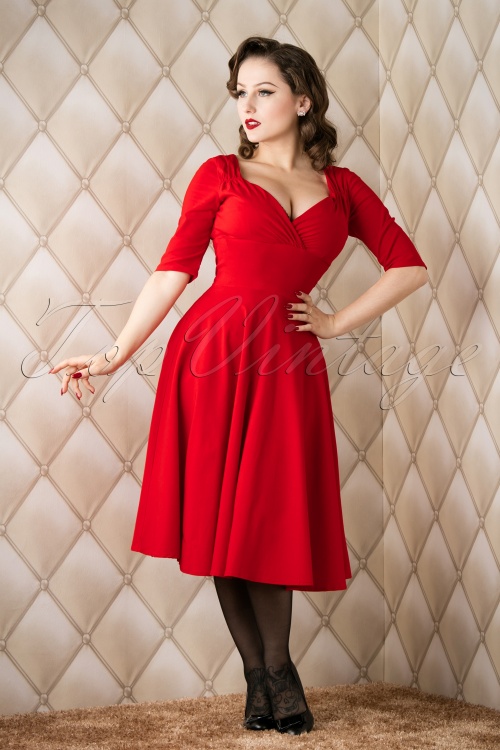 50s Trixie Doll Swing Dress in Red
"The lady in red is dancing with me cheek to cheek, there's nobody here it is just you and me..." you will look and feel like the lady in this love song if you're wearing this 50s Trixie Doll Swing Dress in Red! Romantic, sexy, classy, this dress is all that and more. The beautiful fitted bodice flaunts 3/4 sleeves and a sexy cleavage with a pleated wrap over which makes her suited for both a fuller and a more modest cup size, ooh la la! From the waist down she flows into a full circle skirt for a feminine silhouette. Made of a supple and stretchy, bright-red fabric that is a dream to wear. Time to put on your dancing shoes!



Full swing style
Fixed wrap over
3/4 sleeves 
Pair with one of our petticoats for an extra festive look
Hidden zipper at the back 
Our beauty Acid Doll is 1.55m / 5'1"
The featured pumps and accessories are not available in our shop 
50% Polyester
30% Nylon
17% Cotton
3% Elastane
Handwash inside out
Wash inside out
Machine wash 40c
Do not tumble dry
Ironing reverse cold
Schönes Kleid mit guter Passform. Leider Stoff der leicht knittert
Sabrina
&nbsp|&nbsp
2015-11-05 13:16:58
---
Wat een mooie jurk! Ik heb zowel de zwarte als de rode.
Nou heb ik wel 1 probleempje. Ik ben 1,84 m. Hierdoor zit de bovenste rand van de taille een cm of 2 te hoog, over mijn buste heen dus. Erg jammer......
Meike
&nbsp|&nbsp
2015-09-02 19:51:06
---
Erg leuk jurkje. Stof is mooie kwaliteit. Snelle levering. Nu nog schoentjes erbij uitzoeken:)
Jenny
&nbsp|&nbsp
2015-08-03 08:33:59
---
Fantastisch TopVintage! Heb nu 3 items besteld en alles valt goed uit en ziet er mooi uit. Goede kwaliteit. De broek had jammer genoeg een kapotte rits maar na 1 email was alles gelijk geregeld en kreeg ik een nieuwe broek toegestuurd èn me retourkosten teruggestort! Top service, Top kwaliteit, TopVintage!
Marije
&nbsp|&nbsp
2015-05-13 11:34:45
---
de
Sitzen super, schönes Material
Beide Kleider sitzen nach den angegebenen Größen super und tragen sich angenehm. Sehr zu empfehlen!
Carola
&nbsp|&nbsp
2015-01-21 11:15:02
---
Heel mooie jurk. Er gaat wel een stukje af (te lang) en heb de decolleté ook wat verder dichtgenaaid want het stond wel héél ver open. Top aankoop!
toni
&nbsp|&nbsp
2015-01-20 15:45:53
---
Ich habe das Kleid in 2XL bestellt und trage normalerweise Größe 40/42/44 (je nach Schnitt) bei T-Shirts und UK 14 bei Jeanshosen. Die Größe war genau richtig gewählt, da das Oberteil des Kleides eng anliegt, aber nicht allzu eng anliegen sollte, wenn man ein paar Pölsterchen hat. Der Ausschnitt ist perfekt bei Cup C aufwärts und meiner Meinung nach auch nicht zu groß. Das Rot ist natürlich sehr auffallend, aber gibt dem Kleid das gewisse etwas. Der Stoff ist angenehm weich und sehr stabil, dennoch dehnbar und unglaublich bequem zu tragen.
Franziska
&nbsp|&nbsp
2015-01-20 14:10:59
---
en
Sexy and super retro dress
I've loved this dress!!! I wore it last night for the Christmas Eve and it was a success!!! It had been my first shipment at Top Vintage I am very happy with the customer service and the way that I received the package, your little gift was very nice. I'll come back, I'm sure!!! Merry Christmas from The Canary Islands!!!
Monica
&nbsp|&nbsp
2014-12-25 21:06:19
---
Wat een prachtige jurk! Ik ben er helemaal weg van. De jurk valt heel mooi en accentueert waar hij moet accentueren. Mijn vriend was ook helemaal in de wolken toen ik het jurkje aantrok. Dit kan ook te maken hebben met het feit dat het een heel diep uitgesneden jurkje is ;-) met momenten kwamen de randjes van mijn BH even piepen, dus daar ga ik even iets aan doen. Ik heb het liever iets meer bedekt. Maar dit neemt niet weg dat het een prachtige jurk is en een aanrader voor dames die hun troeven volop willen uitspelen ;-)
Elke
&nbsp|&nbsp
2016-12-26 23:23:24
---
Liebe Engelchen, ihr Helfer vom Christkind auf meinem Wunschzettel habe ich das ROTE Kleid 50 Trixie Swing Dress in Rot in der Größe xxL mir ausgesucht und gewunschen.
Aber leider wie es aussieht kommt Ihr Engelchen vor lauter Arbeit nicht dazu meine Größe noch zu nähen ...
Das ist sehr schade dann bekomme ich nichts vom Christkind ...
Eure liebe Sabrina
Sabrina
&nbsp|&nbsp
2016-12-17 17:40:00
---
Opvallend rode jurk van een dunne stretch stof. Valt zoals in de beschrijving staat inderdaad klein. Ik draag hem graag door het mooie decolleté en de langere mouwen, maar hij kreukelt wel erg.
Veronique
&nbsp|&nbsp
2016-12-01 21:37:54
---
I must say this dress is a catch! Beautiful red, definitely brings attention to the one wearing it, although if you are really conscious about your shape be careful because this material sticks to every curve of your body (I needed a bit of time to get used to it) also with small chest, a bit revealing the underwear so check yourself before taking photos ;)
Natalia
&nbsp|&nbsp
2016-10-22 20:15:13
---
Super bequem, hat erst angst das es nicht richtig passt aber für umsont, ich bin begeistern es sitzt perfekt und die schuhe passen auch super da zu, bestell ich gern wieder *-*
Jessica
&nbsp|&nbsp
2016-07-23 13:17:56
---
Een erg leuke jurk; geeft instant dat vavavoom-gevoel. :)
Erg snelle levering! Kwam toe in een leuk pakketje, maar helaas behoorlijk gekreukt. Dat zal wellicht eigen aan de stof zijn. Het is namelijk te zien dat er erg veel liefde in het pakketje wordt gestopt (leuke verpakking, een presentje erbij). De jurk past perfect, dus de maataanduidingen op de site kloppen helemaal. Helaas hier en daar wat haastig naaiwerk te zien (her en der onafgewerkte garen die ik er nog zelf moest afknippen en een losse naad aan de mouw). Ik voelde me echter zo fantastisch goed in de jurk, dat ik besloot de naad zelf bij te werken en er diezelfde avond nog mee te showen. Ik draag de jurk momenteel zonder petticoat eronder en zelfs dan valt hij prachtig. Met petticoat geeft het wellicht een nog indrukwekkender resultaat. Een fantastische jurk voor elke gelegenheid; complimentjes gegarandeerd.

Beste Nikki, wat vervelend dat je jurk niet helemaal in perfecte staat is aangekomen! Ik zie dat je intussen contact hebt gehad met mijn collega Mandy en ik ben blij dat je toch tevreden bent met de jurk!

groetjes,

Fleur
Klantenservice
Nikki
&nbsp|&nbsp
2016-07-13 08:12:50
---
Ik hou van deze jurk. Ik vind hem fantastisch. De stof zit zooo comfortabel. De model zit overal goed. Ik zou hem graag nog in de andere kleur willen hebben. Maar de naden zijn heel zwak na de eerste keer dat ik hem droeg zaten er overal gaten in omdat het stiksel echter niet goed is.

Ik heb al veel bij jullie gekocht en dat zal ik zeke blijven doen.
Lisa
&nbsp|&nbsp
2016-06-30 11:01:39
---
Past als op maat gemaakt! Met mijn bijpassende 50s kapsel he-le-maal af!!
Nancy
&nbsp|&nbsp
2016-06-21 14:13:11
---
nl
As if made just for me
I bought this red dress with a white and a black petticoat for underneath and it's absolutely amazing! The petticoats are zo fluffy!
I do have a 70cm taille and only a b. An xs is perfect to fit my brest and shoulders but it's tight around my stomach. While an s is too big around my shoulders and brest but fits my stomach perfectly.
I am a small girl (1m60) but I don't look like a tiny dwarf or something so don't let your length hold you back to try this gorgeous dress!
Thank you Top Vintage! My graduation and promnight will be great!
Sarah
&nbsp|&nbsp
2016-06-15 04:40:22
---
XS passt perfekt! Selbst ich habe ein sehr schönes Dekolleté in diesem Kleid! Werde es auf dem Standesamt zu meiner Hochzeit tragen..dazu diese roten Pumps *-* <3
Jessica
&nbsp|&nbsp
2016-03-08 20:21:37
---
deze jurk nog maar net binnen. met de zwarte petticoat en donkere panty, rode pumps, helemaal geweldige outfit. Ik vind m geweldig mooi. en de kleur zo mooi rood. Hij zit super. Jammer dat er niet meer kleuren zijn.
Zwana
&nbsp|&nbsp
2016-02-03 12:41:15
---
Gister besteld en vandaag binnen, zo zie ik het graag! De maat van de rode jurk maar gewoon gegokt daar ik werkelijk overal tussenin viel. Maar hij past werkelijk perfect en met de petticoat eronder voel ik me echt Miss Vintage. Geweldige service en geweldige kleren ik ben helemaal verkocht en een donkerbruin vermoeden zegt me " vaste klant"
Astrid
&nbsp|&nbsp
2016-02-02 14:23:25
---
en
Ready for my 50`s-party!
Very nice dress, fits me perfect. I am looking forward to celebrate my 50 birthday wearing this beautiful red dress.
Anne Beth
&nbsp|&nbsp
2016-01-14 17:52:02
---
nl
Weer een fantastische jurk erbij...
De crêpe jurk is geweldig, een hele prettige stof en een mooi model. De mouwtjes zijn prima, ik merk alleen dat het een beetje trekt als ik m'n armen omhoog doe, maar verder heb ik er niet veel last van. Gewoon niet aandoen naar m'n werk :P Het is geen hele dikke stof, dus in de winter een vestje erover en dan kan ie in het voorjaar ook nog ;) Erg blij mee!

De rode Trixie Doll jurk stond me helaas niet zo mooi en had een naaifoutje dus die heb ik teruggestuurd.

De oorbellen zijn heel erg schattig! Ze glinsteren heel mooi en passen leuk bij m'n kersenrok. Ik was bang dat ze heel klein zouden zijn maar dat valt enorm mee.

De panty staat ook heel mooi, lekker dik materiaal, bijna een maillot, haha. Volgens de maattabel zou ik ook in een 3 gepast hebben, maar heb 4 genomen en die zit precies goed.

Ik moet niet zoveel geld uitgeven hier, hahahaha.
Erika
&nbsp|&nbsp
2016-01-07 15:30:11
---
Das Kleid war meine erste Bestellung gewesen. Echt der Wahnsinn. Leider fällt es bei meinen 158 cm sehr lang aus. Der Ausschnitt ist "Waffentauglich", die Farbe ist sehr schön rot und man fällt sofort damit auf. Habe nächste Woche meine Weihnachtsfeier, ich bin gespannt...
Bianca
&nbsp|&nbsp
2015-11-28 21:19:39
---
Habe letzen Samstag das Kleid bestellt und am Mittwoch wurde es geliefert.
Das Kleid ist wundervoll. Leider geht es bei mir bis zur Mitte der Wade, da ich 158cm groß bin und Größe L brauche. am Mittwoch habe ich nochmal einen Petticoat bestellt und Donnerstag wurde er geliefert. Diesen Samstag habe ich es getragen und ich hätte einen "Waffenschein" für meinen Ausschnitt benötigt :). Ich kann es nur empfehlen.
Bianca
&nbsp|&nbsp
2015-11-15 09:27:51
---
Ich habe mir dieses wunderschöne Kleid bestellt, nachdem ich den romantischen Film "Ein ganzes halbes Jahr" gesehen habe. Emilia Clarke trägt dort ein ähnliches, rotes Kleid und ich war so begeistert, dass ich auch eines haben musste!
Und welcher Shop kommt da natürlich in Frage? TopVintage!
Also, direkt nach dem Film bestellt. Die Lieferung verlief wieder sehr schnell, der Karton war genauso liebevoll gestaltet wie meine letzte Bestellung und das kleine Extra in Form eines Schlüsselanhängers hat mich sehr begeistert.
Aber dann kam das Kleid - und wow! Jede Frau braucht ein rotes Kleid in ihrem Schrank! Und ich habe nun dieses hier
Anna-Lisa
&nbsp|&nbsp
2021-04-11 08:14:20
---
de
Bezauberndes Retro Kleid
nur ein Hacken wie bei vielen anderen Kleidern in die ich mich verguckt habe und hatte,,, nur die Taillen Weite ist viel zu groß bei XS. 68 -74cm. Meine TW ist 61-max. 64 cm. Also Modelle mit 64-68cm gehen noch...64-70 sind SEHR salopp ...ich habe trotzdem viele Kleider von Euch - manche habe ich halt enger machen lassen, Ich bin ein absoluter Fan von Euch...Meine Bitte und Anregung mehr XS aber mit schmälerer TW 60 -66cm. Danke und herzliche Grüße aus Wien!
Brigitte
&nbsp|&nbsp
2020-09-26 09:24:04
---
Wat een geweldige jurk, precies de juiste stretch, stevige stof maar niet te dik, gewoon perfect! In combinatie met de petticoat is het plaatje gewoon af.
kitty uit de Bulten
&nbsp|&nbsp
2020-04-12 20:44:17
---
La robe, ma fille l'adore très jolie, beau tissu, taille bien. Le bijou pour moi, élégant, classe. Merci top vintage, livraison rapide.
Martine DUTHEIL
&nbsp|&nbsp
2020-03-19 21:43:36
---
Mein Kleid wurde ruck zuck geliefert. Es war liebevoll verpackt. Der Stoff ist sehr elastisch und griffig. Das Kleid sitzt sehr gut. Ich bin 1.65 m und trage Kleidergrösse 44. Ich habe das Kleid in 3xl bestellt und es liegt gut an. Mit Pettycoat ist es sehr voluminös und schwingt schön. Man kann es aber auch sehr gut ohne tragen. Ich würde es jederzeit wieder kaufen
Sonja
&nbsp|&nbsp
2020-03-05 19:06:52
---
Wat een heerlijke jurk. Gekocht voor een bruiloft, maar is eigenlijk wel geschikt voor ieder feestje. Zodra ik een ruimte binnen kom is iedereen onder de indruk van mijn prachtige rode jurk. Love it!
Marieke Weijdema
&nbsp|&nbsp
2017-11-19 06:48:03
---
Deze mooie rustige jurk is echt een aanwinst in mijn garderobe. Hij zit als gegoten en het voelt heerlijk om hem te dragen. Geen enkele aanmerking.
sytske
&nbsp|&nbsp
2017-05-26 09:03:05
---
de
Zum wiederholten Male einfach der Knaller!!!
Das knallrote Kleid ist der absolute Hammer, sitzt perfekt, sehr schön gearbeitet, absolut nichts dran auszusetzen außer daß jetzt Winter ist! Naja, ist halt die Vorfreude länger...
Das rote Kleid mit Samtkragen und Knöpfen ging leider zurück, nicht etwa weil an Schnitt oder Qualität etwas auszusetzen war, es stand mir schlicht und ergreifend einfach nicht! Der Tellerrock - ich hasse diese Formulierung und hätte niemals gedacht, daß ich sie einmal benutzen würde - ist tatsächlich ein "must have", toll mit Pettycoat und vielseitig kombinierbar!!! Beide dazu bestellten Oberteile sind fabelhaft!
Ich will Frühling! Jetzt!!!
Simone
&nbsp|&nbsp
2017-01-16 14:46:06
---
Zuerst: tolle Farbe! Aber: Mir war das Kleid insgesamt zu eng. Auch der Ausschnitt war mir etwas zu tief, aber das ist jedem selbst überlassen:) Ich habe mich jedenfalls nicht ganz wohl gefühlt.
Anne
&nbsp|&nbsp
2021-05-14 13:53:14
---
Superschnelle Lieferung. Knallerkleid passt perfekt. Ich bin begeistert.
Martina Gieseke
&nbsp|&nbsp
2021-05-07 15:55:03
---